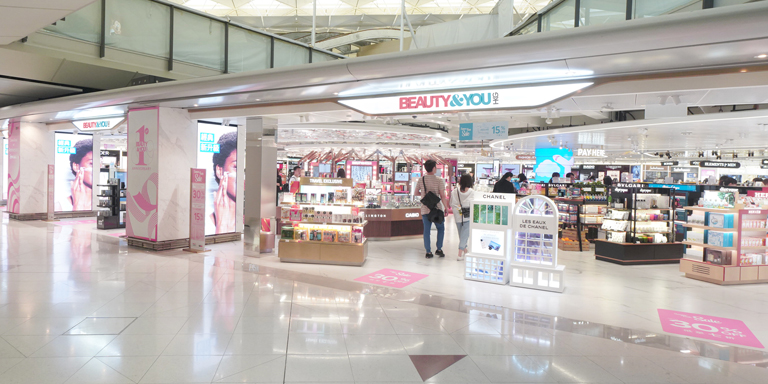 https://origin.hkmb.hktdc.com/en/1X0AICU6
New take on duty-free retail
Given a big footfall of world-wise shoppers, a Korean beauty-product retailer at Hong Kong's airport focuses on customer experience.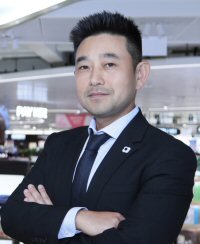 Korean duty-free brand The Shilla hopes to redefine the travel retail experience inside Hong Kong International Airport (HKIA) after introducing its series of Beauty&You concept store last year, allowing customers to mix and match combinations of cosmetics and perfume with fashion and accessories. Focused on travellers' entire beauty experience, these stores are designed to curate "Journeys of Discovery" for each traveller. "'Beauty' represents our core skincare, cosmetics and perfume offer and the 'You' signifies our consumers and their individuality," explained Changha Shin, Managing Director of Shilla Travel Retail Hong Kong, the group's Hong Kong unit. "We believe that beauty is not only about skincare and cosmetics but can also incorporates fashion and accessories. By providing a chance to mix and match unusual product combinations, we deliver a personalised and holistic beauty retail experience," he said.

Tell us about your recent promotional campaigns and how you engage customers at the Beauty&You store.
We've rolled out a series of collaborations and crossovers with different retail,  F&B [food and beverage] and travel lounge operators within the airport community. Customising offers for the very diverse selection of customers at HKIA, one of the busiest airports in the world, has been a top priority. During our first year, we brought 'retailtainment' activities, new brands and experiences to HKIA. We also invited 14 new-to-HKIA brands to join Beauty&You permanently or as exclusive pop-ups, including Balenciaga Eyewear, Find Kapoor, House 99, Filorga, Chopard Parfums and OLENS.

We additionally hosted more than 60 customer engagement activities. These included makeup shows with brands such as YSL, Loreal Paris, MAC, Makeup Forever and NARS; fragrance layering workshops with Diptyque, the Grand Turismo racing Virtual Reality game by Tag Heuer, and collaborations with various brands' mega campaigns including Armani Cinema and YSL Make it Yours.

As you become more attuned to customers' needs, how is the Beauty&You concept evolving?
We have strengthened the range of brands and categories, bringing new brands, product offers and travel retail exclusives. One good example is the introduction of one-stop shopping interactive zone Elements for Men, which enables customers to shop for grooming products and fashion accessory brands such as Happy Socks and Calvin Klein underwear at the same time.

To tailor customers' shopping experience, we also have various stylists in-store, who provide recommendations on how to mix and match different products to create a personalised look.

You stock several brands not available elsewhere at the airport. What else sets you apart from other retail offerings at HKIA?
Over the past year, Beauty&You has been positioning itself at the forefront of the experiential retail trend, incorporating an immersive retail environment to deepen customer engagement in store and at our curated zones. With ever-changing digital markets, it has become even more important to cement digitalisation as part of our strategy. We are currently in the midst of creating a visual communication tool with more than 100 LED panels, digital pillars, and interactive commercial tools throughout our stores.

What are the advantages of doing business at HKIA?
Hong Kong is a highly dynamic, complex and diverse market. As a major international airport, it's one of the strongest travel retail hubs in the world, and the primary gateway for tapping into the China market. Our Perfume & Cosmetics and Fashion & Accessories concessions at HKIA have the advantage of being less than five hours away from half of the world's population, and the opportunity to serve more than 72 million passengers per year with connections to more than 200 destinations.

What trends are you noticing in the travel retail market and how do you hope to capitalise on those?
Today's travellers are very globalised and knowledgeable. Instant communication through social media platforms has increased demands to operators in our market segment to adjust to this fast pace of change. Price comparison is a common practice, especially for customers from Mainland China. There are multiple channels where customers are exchanging information, such as price, promotions and events. Seeing this, we have strengthened our social media strategy to cater to these customers.

How will the Beauty&You concept continue to evolve at HKIA over the next 12 months?
We will incorporate more retailtainment activities and new-to-HKIA brands, and continue to bring new pop-up stores to the airport. We are currently in discussion to launch more than 10 new-to-HKIA brands before the end of 2019, ranging from premium skincare brands to independent fragrance brands. For the fashion category, we are looking to invite affordable to entry-level luxury brands to expand our customer profile.
Related link
Beauty & You

Health & Beauty
Tourism & Hospitality