https://origin.hkmb.hktdc.com/en/1X0AIGWS
China Senior Market Case Studies: On Track for High-End Rail Tour Success
Interview with Du Hui, Vice President of CYTS Tours Guangdong Railway Co Ltd
Older people are much healthier and socially active than their predecessors thanks to a combination of China's economic growth and improving social environment. According to a 2019 HKTDC survey of mainland middle-class consumers' preferences for elderly products and services, over 80% of seniors interviewed had travelled in the past year. Travel has become part of regular spending for older people on the mainland. New-generation elders enjoy visiting new places and are taking after the young by going on holiday whenever they like.
A reputable mainland travel agent, CYTS Tours Guangdong Railway Co Ltd, is faring particularly well in elderly tours and rail tours. Vice President, Du Hui, shared his views on the mainland elderly tour market and the company's experience of operating the luxurious Southern Express tour series, serving as valuable reference for the trade.
Well-received Rail Tours
CYTS is a rail travel agent, established in Guangzhou in 1979. Du explained the reason behind its founding location, saying: "Guangzhou was then one of the few entry-exit ports in China. In the early days, CYTS mainly received inbound visitors. Many travellers from outside would first visit Guangzhou before going to other mainland destinations. In the course of serving visitors, we gained much experience, especially in service details, laying a solid foundation for our elderly tour business where service matters most."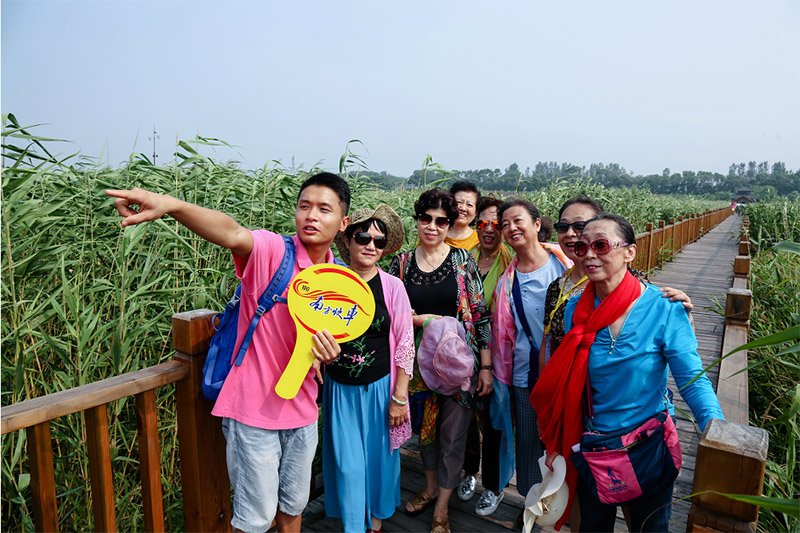 As a subsidiary of China Railway Guangzhou Group, CYTS benefits from easy access to rich railway resources. Du said: "When tourism first boomed in China, railway travel was mainland tourists' first choice. However, as people's income has risen, more and more are opting for air travel.
"Yet, older people have more time to spare and prefer a 'downshifting' way of life. They are the bulk of customers in rail tours. While the expansion of the high-speed train network in recent years has attracted more rail travellers, seniors remain our primary consumer group."
In the early days, dedicated tour trains were run to address difficulties in getting to tourist destinations. Most trips were point-to-point, for example from Guangzhou to Guilin, or Guangzhou to Zhangjiajie. As transport networks improved and train frequencies increased, point-to-point services were phased out. Today, dedicated tour trains run long-haul trips covering a number of tourist destinations along the route. Du said: "A good example is the luxurious Southern Express, which is very popular with seniors. It operates mainly two routes, running through the northwestern and northeastern regions. Every route covers 11 to 30 tourist attractions, allowing travellers to visit places of interest in different provinces and cities in one trip."
Operating since 1999, the Southern Express was modelled after the luxurious Orient Express in Europe. Over the past 20 years it has attracted a pool of loyal customers and become CYTS' flagship product. Du was keen to emphasise that this proven formula was also being kept up to date with new ideas. He said: "This year, we made some changes to the routes in northeastern and northwestern China, stopping at some brand-new spots. Tour themes have also changed. 'A Taste of the Northern Border' has replaced the 'Silk Road' as the theme for the northwestern route, while the northeastern route is named 'Journey to the East Pole' instead of 'Journey to the North Pole'. Through product innovation, we hope some old customers will come back."
Changing Demands
In 2016, the China National Tourism Administration (CNTA) issued the Rules for Travel Agents Servicing Elderly Tourists, specifying standards for travel agents operating elderly tours. Du noted some ambiguity in the regulations, saying: "The CNTA has not specified any restrictions on the age of elderly tourists. Different travel agents have come up with their own requirements based on their own circumstances. At CYTS, a health declaration system is in place, whereby all travellers are required to declare their health condition, regardless of age. Based on this information, we will deploy medical staff to help out as necessary."
According to Du, with rising living standards, seniors' demands are changing. He said: "In the past, older people merely wanted to take a look at the outside world, with few demands and a high degree of tolerance. They would stay happy as long as the itinerary was not too rushed, the food was elderly-friendly, and not raw or cold, and that the tour guide was caring and ready to help. Compared with the previous generation, new-generation elders are physically fitter, richer, and have higher expectations of tour quality."
A case in point is sleeping facilities on trains. In the past, hard sleepers would be fine for seniors, but soft sleepers are now more popular, with the higher-priced soft sleepers often sold out first. Older customers used to be satisfied with hotels as long as they were tidy and hygienic. Now, seniors are looking for new, comfortable, star-graded hotels, which is why Southern Express tours use the best hotels in each location.
Where meals are concerned, elders are looking for local dishes. Customers from Guangdong are particularly fastidious about food, and always ask for local dishes, even if it does not match their taste. Du said: "We have to include local cuisine in each and every stop of our tours."
Older travellers are also more demanding of tour guides, who should command broad-based knowledge and be able to talk fluently about a destination, including people's way of life, social conditions, development, and so on.
Another notable change is that most elderly people now travel with their close friends instead of family members, as in the past. They also come in bigger groups and ask for more entertainment during the tours. Du said: "Audio-visual equipment has been installed on our trains, and different types of events are also staged. Seniors today have a much higher level of participation and interaction."
Attention to Service Details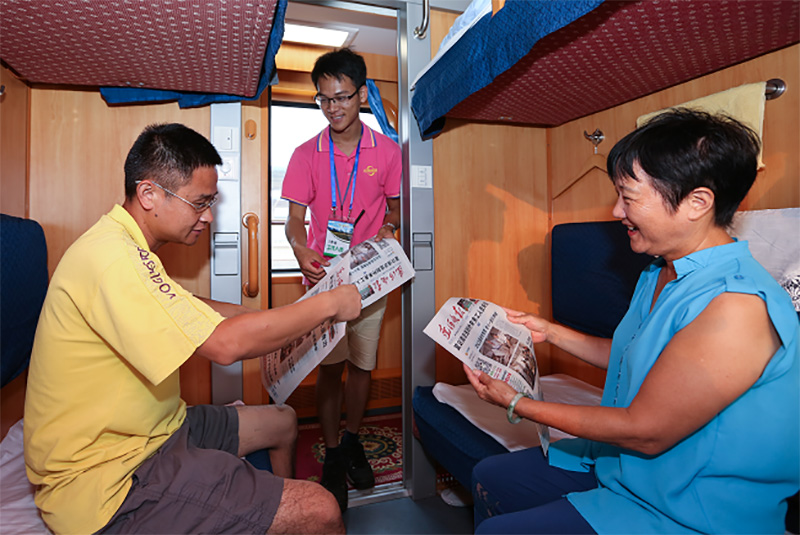 Du said that elderly travel products must be designed with an older person's perspective. A key concern in designing travel for elders is safety. While the six key elements of meals, accommodation, transport, sight-seeing, shopping and entertainment must be included in planning any tour, there should be suitable fine-tuning in execution based on the actual local situation.
In Du's opinion, service details in elderly tours are of critical importance and should have been properly mapped out in the product planning stage. He said: "Take the luxurious Southern Express tour as an example. Apart from the full-service tour guide and local tour guide [1], we assign dedicated work teams to take charge of all tour arrangements. Before the train pulls into a certain stop the work team will have organised everything in advance, down to the last detail."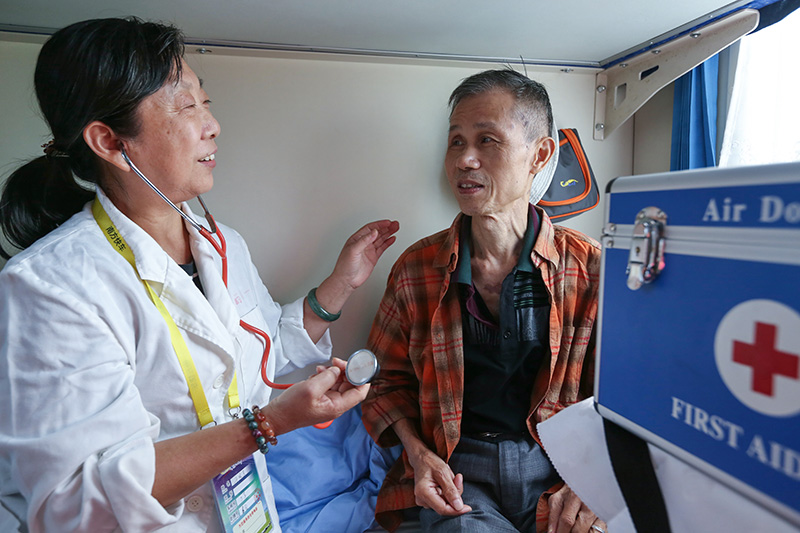 The meticulous attention to detail is evident throughout the tour. For example, when an elderly customer arrives at a train station, the work team will carry luggage to the sleeper, sparing the elderly customer the trouble. When visiting a tourist destination on a hot day, the work team will buy entry tickets in advance, allowing customers to enter immediately and minimising the waiting time outdoors. For meals, there is communication with restaurants beforehand so that food is served as soon as the guests are seated. To facilitate quick and easy check-in at hotels, customers' identity cards are collected in advance.
Meanwhile, taking on board older people's particular preferences and needs, CYTS makes special logistics, personnel and activity arrangements. For instance, seniors tend to be forgetful, so they are given badges containing personal information, information on train compartment and sleeper, name of tour group and tour guide's contact details. To cater to elders' healthcare needs, doctors and nurses are deployed to ensure that proper care is provided to customers in urgent need during the journey. As seniors like to interact with others, various activities, like health talks, singing competitions and essay competitions, are also organised.
Collaboration to Tap Opportunities
With rising disposable income, the new-generation of elders is more willing to spend. Du said: "We charge well over RMB10,000 for a Southern Express tour, and over 70% of customers are older people. We also notice that six or seven elders of similar age will usually travel together, with most of the decisions made by the elders themselves."
As seniors today have a more carefree attitude towards spending and seek pleasant experiences, the elderly tour market is poised for further growth. Apart from taking trips more frequently, seniors are also increasingly mindful of travel quality and comfort. Mid- to high-end tour products will therefore be in greater demand.
Du said that CYTS has long co-operated with its peers in a variety of ways. One example is for CYTS to design travel products, which are then sold by its peers acting as agents. Alternatively, travel agents can put together their own products, with rail resources provided by CYTS. The arrangement can be highly flexible, and even renting a single train compartment is possible. Du said: "Starting from 2017, many Hong Kong customers have joined rail tours departing from Guangzhou and Shenzhen. Some enrol through mainland friends, while others join tour groups organised by our peers in Hong Kong, like China National Travel Service (HK) Group Corporation and Guangdong Travel Co Ltd."
Du noted that China National Travel Service designs and sells its own products, renting train compartments from CYTS. Guangdong Travel organises its own tour groups using CYTS' tour products, and deploys Hong Kong escorts on the tours for quality supervision.
Du is optimistic about Hong Kong tourism players entering the mainland market. He said: "Hong Kong has a mature service sector backed by high industry standards and meticulous attention to service detail." He suggested that Hong Kong traders can introduce Hong Kong's service standards to the mainland market. Mid- to high-end customers could be the target groups for quality service, and efforts should be made to create their own brand advantage. They may consider collaborating with local travel agents who better understand mainland customers' travel preferences.
According to Du, word-of-mouth is much more effective than advertising in the elderly tour market. Utmost attention should be paid to customer feedback. Du said: "Provided that service quality is offered, customers will naturally bring along friends and relatives. If the service is poor, the customers will, of course, never return."
Du also highlighted two areas for special attention. First, from product planning to service execution, elders' safety should be an important consideration and measures should be in place to deal with elders' contingency needs. Second, seniors have a need to share their feelings with people constantly. It is advisable not to treat them as ordinary travellers, but as older, mature friends, and speak to them with sincerity and patience.
---
[1] Based on contractual requirements, the full-service tour guide is responsible for implementing the travel agent's tour programme, supervising the quality of reception at the destinations, sorting out problems during the journey and ensuring customer safety. The local tour guide takes charge of services such as arranging activities at destinations and providing guided tours at attractions.