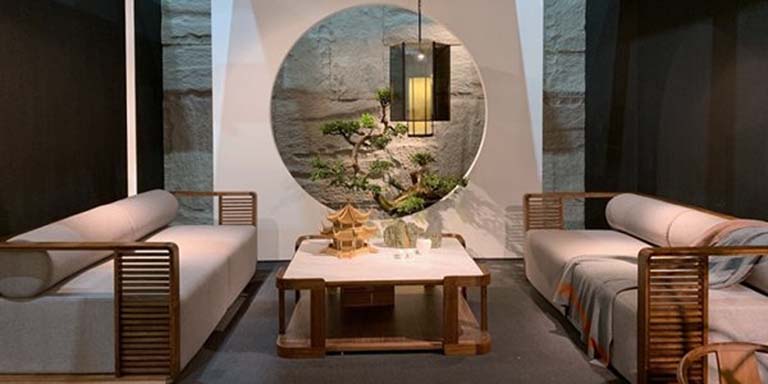 https://origin.hkmb.hktdc.com/en/1X0AIY9X
Young furniture buyers get smart
As a new generation of consumers equip their homes, the emphasis is on modular, intelligent units – from beds and sofas to desks and photo frames.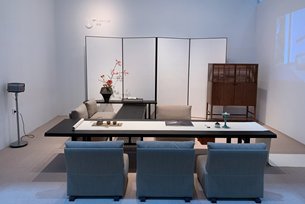 A wide range of smart furniture was on offer at the notably competitive 2019 China International Furniture Fair (CIFF), held in Guangzhou in March. Many manufacturers have turned to modular designs to streamline the process of integrating smart devices, a move seemingly welcomed by the many consumers looking to upgrade and renew their home furnishings. In particular, it is the younger consumer demographic that – according to a number of exhibitors – is now the most demanding when it comes to smart furniture specifications.

The latest CIFF was divided into several themed zones, including a high-end custom furniture area, a design trends area, a modern/Nordic area and a contemporary minimalist area. There were also two other areas that seemed to attract particularly heavy footfall – the whole-house customisation and smart furniture zones.

Understandably, given the surge of interest in smart homes across Mainland China, many exhibitors were keen to emphasise the "intelligent" capabilities of their furniture items at this year's event. One such exhibitor was 37 Degree Smart Home, with the Guangzhou-based company's range of smart furniture extending to sofas, coffee tables, shoe cabinets, wardrobes, dressing tables, desks, children's desks and parent-child dining tables.
Gesture control
On the company's stand at CIFF, it was one particular smart desk that was attracting the attention of passers-by. This was, perhaps, not all that surprising given the wide range of high-tech functions that have been integrated into the unit, including smart lighting, infrared sensors, wireless charging and several other functions.

Most of all, though, it seemed to be the gesture-controlled height adjustment function that was its key selling point. With a sensor located under the right-hand corner of the desk top, users need only place their hand above it and motion downwards to lower the desk height or put their hand below the sensor and push upwards to raise the height. The upward/downward motion ceases once the hand is removed. The unit also comes fitted with a smart lamp as standard, complete with a brightness sensor and a base that doubles as a wireless charger.

Keen to emphasise the flexibility of the 37 Degree Smart Home range, the company's Marketing Manager Ma Min'er said: "All of our smart-home products are modularly designed, with their smart hardware able to be seamlessly integrated with a wide range of home-furnishing products, which offers the choice of a considerable number of flexible combinations."
Smarter living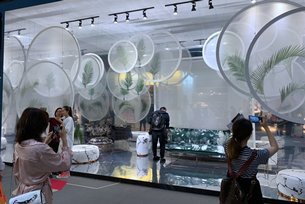 According to Mr Ma, apart from smart desks, a number of the company's other products have also been particularly well-received, including its selection of intelligent sofas. Produced under the company's proprietary 37 Degree brand, these include temperature adjustment options, exercise reminders, lighting sensors and wireless charging. The built-in smart temperature control can warm up the seats relative to the ambient room temperature, while the sofa's built-in pressure sensors start vibrating when someone has been sprawled out on it for an unhealthy period.

A little more forgiving are the company's smart beds, which collect health data during the night and monitor sleep quality using non-sensory detection means. This sees traditional wearable sensors replaced by high-precision acceleration transducers, which can detect nocturnal movements and automatically activate a nightlight. The built-in sleep monitoring function, meanwhile, can track the condition and quality of sleep and upload a detailed report to a linked smartphone app.

Clearly seeing the smart furniture market as having considerable potential, Mr Ma said: "This new generation is very open to smart products, particularly if – like ours – they incorporate avant-garde designs and intuitive interfaces. Our use of modular design throughout also maximises upgradability."

From smart beds to smart bedside ornamentation, Shanghai-based iOart opted to highlight its iFrame smart photo frame at this year's CIFF. Providing a quick introduction to its key selling points, the company's Marketing Manager He Yan said: "The frame's 4K high-definition IPS (in-plane switching) display faithfully recreates the natural picture quality and texture of the original photo, while three recessed sensors allow for the picture to be changed or background information to be displayed at the wave of a hand.

"While the product was originally designed for use in bedrooms, studies or offices, it has subsequently found applications elsewhere. A number of museums and art galleries, for instance, now use our frame for displaying high-quality digital reproductions of famous artworks."

The 2019 China International Furniture Fair (CIFF) (Guangzhou) was held at the China Import and Export Fair Complex in Guangzhou on 18-21 March (first phase) and 28-31 March (second phase) and attracted 4,344 exhibitors.
Related links
CIFF Guangzhou
HKTDC Research
Hong Kong
Mainland China