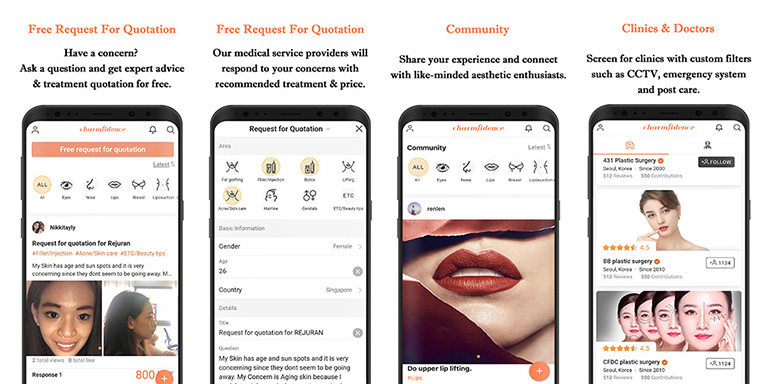 https://origin.hkmb.hktdc.com/en/1X0AIYQG
Cosmetic surgery goes digital
This Korean start-up provides a one-stop platform for those considering treatments.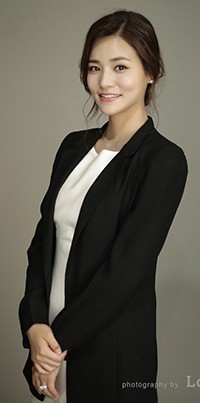 A medical aesthetics platform delivered via a social and mobile app, Charmfidence is challenging misconceptions about cosmetic surgery by providing better access to information and service providers and connecting potential users with those who have previously gone under the knife so they can share their experiences. The start-up, founded this year by Korean entrepreneur Jiyi Kim, is currently looking at expansion opportunities in Singapore and Southeast Asia, where Korean treatments are well recognised, and is especially interested in Hong Kong.

The platform is currently available across all Asian countries, with most of the medical service providers from Korea and users hailing from various countries including the United States, India and Southeast Asia.

"We have more organic user growth from Hong Kong and Singapore due to an increasing appetite and interest in Korean aesthetic treatments both locally and regionally," Ms Kim said. The local beauty/aesthetic market is growing, particularly for non-invasive and regular treatments, she said. "It makes sense for people to consider local options in Hong Kong or Singapore. We like to get onboard with beauty and aesthetic service providers in Hong Kong and Singapore to create more synergy and referrals."
After its soft launch in July, the start-up has focused on developing relationships with partners such as clinics, doctors and beauty spas, and interviews affiliated partners first to qualify them. The start-up is keen to solve problems that it has identified within the industry so it can develop a product that partners and users really need, said Ms Kim, who previously worked in business development for global fintech firms including Bloomberg and IHS Markit.

The start-up also works closely with influencers and aesthetic enthusiasts to build a strong community on its mobile app, collaborating with models, key opinion leaders and clinics to create Youtube content. "All this investment into marketing and business development shows our ambition for Charmfidence to become the ultimate medical aesthetic community platform that provides accurate and up to date information for users to make informed decisions on their treatments," she said.
Addressing information asymmetry

While Koreans are remarkably open about cosmetic surgery, other Asian markets, including Hong Kong, are less so. However, Ms Kim believes this is changing thanks to advancements in technology, better access to data and changing attitudes especially among the younger generation.

"Sharing information in the community is key to helping people to make more informed decisions. People are concerned about how to find the right treatments and service providers for their unique requirements. Due to information asymmetry, people might end up choosing a treatment or provider that's not the best for them," she said. Sharing information in the community can also be beneficial to the reviewer. "We understand that it's not easy to share a personal and private experience. We have a plan to implement a proper incentive system for people to write a review about their experiences. We believe people will be more open when they understand how their reviews are positively impacting others."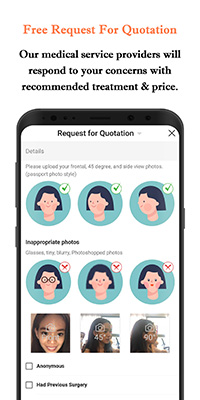 Ms Kim has noticed that people have become more interested in non-invasive treatment such as botox and dermal fillers. "Surgical treatment is not something people frequently consider but non-invasive treatment is used for maintenance and as a regular anti-aging solution. It's getting more advanced in terms of technology, producing results and effectiveness close to invasive treatments." Charmfidence is working with doctors and clinics to share more informative content via Youtube videos and columns. "Our platform enables medical service providers to freely contribute information on the latest treatment so that users can stay updated on the latest trends."

People signing up to have unnecessary treatments had been an issue for the medial aesthetic industry in the past but Ms Kim said the industry is putting more effort into setting guidelines and best practices to ensure people do not become too obsessed and undergo unnecessary treatments. "People are getting smarter and have more information and data across platforms and regions than ever before thanks to the arrival of platforms like Charmfidence."
Hong Kong connections

In her quest to raise the profile of the business, Ms Kim has connected with several start-ups in Hong Kong and regularly attends networking events like RISE and WHUB. "We don't have many direct competitors in Hong Kong but it's exciting to learn about the growth and marketing strategy of start-ups in other industries so we can apply it to our own."

Government organisations such as InvestHK have been actively supporting Charmfidence, connecting it with key counter-parties via their community building outreach, said Ms Kim, adding that traditional benefits such as low tax and the simple process of setting up and running a business entity in the city also make it an attractive place to do business.

As Charmfidence is targeting an English-speaking global user base, it made sense for Ms Kim to set up in an international city like Hong Kong. "Potential partners and third-party platforms are well established locally in the region so it's easier for us to engage with those parties for collaboration." With international start up conferences and networking events additionally well-established in the city, she can keep up to date with international start up trends and new technology, she said.

In the long-term, Ms Kim is interested in bringing artificial intelligence on board to help the day-to-day running of the business. "To leverage on this technology further, we need to focus on acquisition of data and content. Once we have enough data, we can identify patterns that can substantially reduce the time taken for both user and service providers in the consultation and decision process. It can help our users to research more efficiently and get responses more quickly on the questions that they raise to service providers." Service providers can also improve their response time and customer-service efficiency, she said.

The start-up is additionally keen to utilise blockchain and cryptocurrency technology. "We are looking to implement a proper reward system with cryptocurrency in the future as we believe that it can help to reduce cross-border transaction costs."

Related link
charmfidence.com
Health & Beauty
Health & Beauty
Hong Kong
Korea
Korea, Republic Of