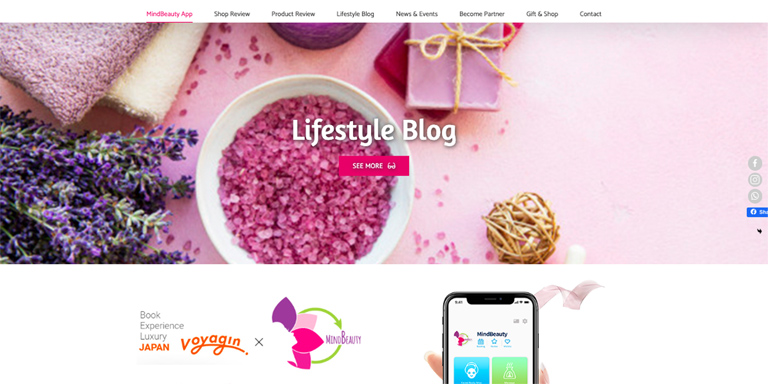 https://origin.hkmb.hktdc.com/en/1X0AJAFR
Beauty on the go
A Hong Kong entrepreneur has set up an innovative booking platform providing a one-stop shop for cosmetic services.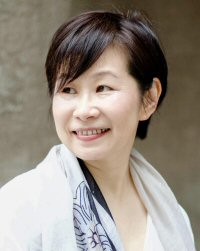 Created to give busy Hongkongers a beauty booking platform that gathers treatments from haircuts and nails to massage and yoga all in one place, the MindBeauty app lets users seek shops based on the user's GPS location and such features as district, price and rating. Bookings can be made in as little as 15 minutes or as much as one month before the appointment, advised company founder Joei Lau, a Hong Kong woman based in Tokyo. She makes monthly trips back to Hong Kong to manage her business. The entrepreneur believes that spending time in the two cities has helped her maintain a mix of insider and outsider perspectives towards the Hong Kong market, enabling her to effectively drive the company forward.

Soft-launched in November 2017, the app's most popular treatments are currently massage and hair, both of which represent fast-growing segments for the app, with users keen to rate the services offered, Ms Lau said. Building reliability and trust in its platform in an environment where online payment and bookings were not so popular was the biggest challenge the firm faced in the early stages, she said. Over the past two years, it has built up a solid client base among Hong Kong's beauty-treatment lovers; many discerning clients now use the app to manage their beauty treatments.

"We're very happy that our customers not only rely on us for deciding which are the best available spas in Hong Kong but also use the app to make bookings well in advance," she said.
Japanese hospitality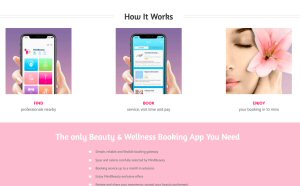 The brand is inspired by omotenashi, the core philosophy behind the Japanese hospitality style, which is about offering services beyond customers' expectations and making them feel at home, Ms Lau said. "We take pride in our customer service team, which offers extensive offline communication, and we don't charge customers until we've ensured that the shop or spa have fully confirmed the booking."

The app is funded by a small group of female entrepreneurs, and Ms Lau is passionate about this low-key approach to funding. "I feel that a lot of the [venture capital] and start-up community today believe that massive funding and aggressive scaling is the key to growing a company. However, I strongly believe that a robust business model that delivers a balance between profit and maintaining a loyal customer base comes first. Having said that, we are always open to discussing investment opportunities from investors who share the same values with us and can invest in the long-term success of our platform."

Ms Lau said the firm is aware that new booking apps similar to MindBeauty are expanding rapidly in the market but is not particularly worried about the competition. "[Rival beauty apps] often partner up with a huge number of shops and offer many treatment selections – but it seems there is a lack of control in the quality." The entrepreneur said she and her team are increasingly careful about who they choose to partner with as they seek to sustain the high-quality of treatments and services the app currently offers. To boost the brand's profile, it regularly organises offline events to strengthen trust among its customers, such as its recent Hallowe'en make-up party at the Moksa Slow Beauty + Juice bar in Hong Kong's downtown Central district. "These offline events aim to connect more professionals across the landscape to help everyone grow the industry," she explained.
Sophisticated customer base
Ms Lau is based in Tokyo but said there are many advantages to setting up a business in Hong Kong. "It's a very compact market yet it's packed with an abundance of interesting shops and informed consumers, both local and international. From a logistical point of view, the small geography of Hong Kong has enabled us to expand quickly and create a dense network of shops that our customers can access easily." The supportive regulations in Hong Kong, particularly towards growing businesses like MindBeauty – not to mention the lucrative market size itself – is another definite advantage compared with other international markets, she added.

Many small businesses tend to start thinking about expanding overseas, considering Hong Kong's small size, but Ms Lau is firmly focused on being the No 1 player in the local market. "We will continue searching for ways that can strengthen our image from local Hongkongers and expats as the prime beauty platform. Given the strong customer base we've built up so far, many of whom are discerning consumers, we are planning to expand the sphere of beauty treatments that our customers can currently access to include categories such as health and prevention."

Many start-ups and small to medium-sized enterprises from Hong Kong and elsewhere are going through their paces at the HKTDC SmartBiz Expo at the Hong Kong Convention and Exhibition Centre until 6 December.

Related Link
MindBeauty