https://origin.hkmb.hktdc.com/en/1X0AJC3X
The Greater Bay Area: Safety, Security, Solutions
TÜV Rheinland's laboratory and office in Hong Kong provides a glimpse into the breadth and depth of its testing and inspection services, which cover electrical products, cookware and houseware, LED lighting, toys and many other items. At the laboratory, products are put through exhaustive tests day and night to ensure they are safe and fit for purpose. The facility plays a vital role in examining incoming and outgoing products to and from the Chinese mainland and across the Asian region.
The laboratory is accredited by the Hong Kong Laboratory Accreditation Scheme (HOKLAS), the national accreditation body for the Federal Republic of Germany (DAkkS), the China National Accreditation Service for Conformity Assessment (CNAS) and the GCC Standardization Organization (GSO) of the Gulf Cooperation Council, etc. For its part, Hong Kong is already viewed as an established regional centre for testing and certification and is home to some 820 establishments providing quality certification and product testing particularly for mainland enterprises. In addition, the Hong Kong Council for Testing and Certification has been set up to enhance professional standards and services on an international basis.
TÜV Rheinland, which has its headquarters in Germany, maintains – together with its multi-functional Hong Kong laboratory – some 30 offices and 113 laboratory facilities in mainland China. It carries out testing, inspection and certification, all of which meets the specific requirements of Europe and much of the rest of the world. The company made €533 million in revenue from its businesses in Asia (which extend across Greater China, Africa and the Middle East) in 2018, just over a quarter of its total global revenue of nearly €2 billion.
Martin Fan, managing director of TÜV Rheinland Hong Kong, noted the importance of the work to his company, saying: "This reflects Hong Kong's specific role in purchasing from the mainland and the Asian region, where many regional buyers and international companies are present; that's very important to us as a technical service provider, as testing and product certification represents an important part of the Hong Kong unit's revenue."
Hong Kong's Unique Role
Fan said that Hong Kong, with its additional systems auditing and regulatory compliance regime, plays a unique role for TÜV Rheinland. The company can contact mainland clients and manufacturers through its network, while Hong Kong is also a leading trade centre for its international clients, such as Germany's Aldi, Lidi, Reweand Metro, and France's Carrefour. Its additional testing work involves inspections for rail networks and industrial firms, areas where TÜV Rheinland can rely on its global testing expertise and expertise in regulatory compliance.
Fan added that the Greater Bay Area (GBA) provides very different challenges for international players. While major retailers such as Aldi and Costco know how to enter the mainland China market, it is a different proposition for SMEs and others unfamiliar with the many different authorities and required standards on the mainland.
Predicting that many companies, including locally based Hong Kong SMEs, will make use of Hong Kong to expand into the GBA, Fan said: "While SMEs from Europe could well see very large potential in the Greater Bay Area as a fast-developing initiative, Hong Kong companies may be keen to take advantage of the increasingly wealthy urban consumer markets there too." This could be particularly significant for the growing consumer electronics sector, whether or not the final products are assembled on the mainland.
Fan claimed that TÜV Rheinland is well placed to understand the differences between the required standards in mainland China and the international practices prevalent in Hong Kong which are compliant with those in international markets such as Europe and North America. Pointing out how these differences work in practice, Fan said: "In areas such as houseware and electronic goods, safety standards are important. Different tests are required that are relevant to mainland markets such as in the Greater Bay Area."
Harmonisation of Standards
Fan would like the GBA to implement a greater harmonisation of standards, ideally one weighted towards the international approach taken by Hong Kong. While TÜV Rheinland and other Hong Kong-based testing companies are familiar with global product standards and regulations, they cannot obtain the China Metrology Accreditation (CMA) – a mandatory accreditation system designed to assess the metrology capabilities of testing or calibration laboratories that will test products being sold into the Chinese market. Test reports bearing the CMA mark are accepted as legal documents in China. Explaining how important acquiring such accreditation for the sector, Fan said: "I would hope to see the Hong Kong government negotiating to ensure that its laboratories are duly accredited on the mainland in time to help promote harmonisation in line with the overall GBA plan."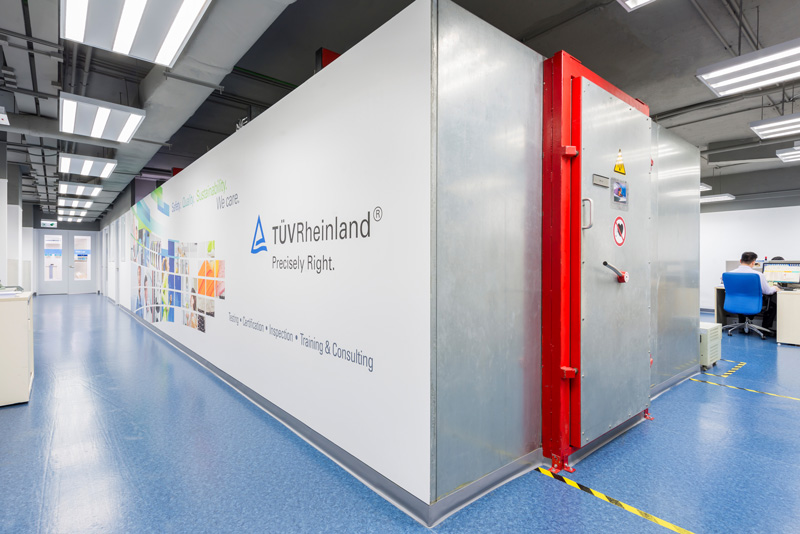 TÜV Rheinland's expertise is spread across six business streams and 27 business fields globally, covering industrial manufacturing, automotive and transportation (including rail networks), energy (including solar), infrastructure and building, together with hard and soft products, healthcare, digital transformation and cybersecurity – in short, most of the "test-related" developmental requirements of the GBA.
TÜV Rheinland is committed to the UN-backed Agenda 2030 to move towards sustainable development, and greater sustainability is an important element of the company's auditing and inspection businesses. Mainland China is adjusting its manufacturing sector towards sustainability, tightening regulations on environmentally sensitive products over the past five years, and Fan explained that his company has been encouraged by this, saying: "This involves the use of recyclable materials and re-use of plastics, which requires greater control of factory output. We have introduced a training programme with this in mind, to promote compliance with testing and standards in international markets."
Hong Kong, given its contact with many international buyers, has been a positive force for encouraging sustainable industrial standards, while the GBA's blueprint for 'liveable cities' has forced the factory sector to upgrade as older generation factories increasingly close or move out. This trend has been accelerated even further by the focus on China's Made in China 2025 project, which includes upgrading manufacturing and developing robotics.
Carbon Emission Reductions (CERs) Trading
The growing need for compliance with environmental standards has motivated TÜV Rheinland to introduce and facilitate carbon trading audit and Carbon Emission Reductions trading solutions. Several years ago, it established a carbon trading technical team in Hong Kong, where there is a sizeable pool of expertise in this sector. The company is hoping that the relaxing of restrictions within the GBA over travel by experts between Hong Kong and the mainland will allow for more integration of its carbon trading activities.
TÜV Rheinland is very active in many areas of technology. The company is one of the largest global service providers of information and communication technologies (ICT) security and is also pre-eminent in the Internet of Things (IoT) sector. This is highly relevant to the 'smart city' and 'smart living' wireless projects increasingly promoted under the GBA blueprint.
Recently, Bosch and Daimler received approval for their automated parking system in the parking garage of the Mercedes-Benz Museum in Stuttgart. This pilot project was accomplished thanks to experts from TÜV Rheinland and relevant local authorities, with the company seeing similar opportunities emerging in the GBA. In Hong Kong, the government is actively considering the opportunities for smart mobility. In line with this, Fan pointed out that Hong Kong is quite advanced in this field and far from starting from scratch. He also noted that GBA is a location where the mainland government is looking to adopt a 'smart city' approach, a development that could help TÜV Rheinland make an impact there and increase its overall level of GBA business.
Quality Inspection and Testing
Hong Kong
Germany
Hong Kong
Mainland China
Western Europe