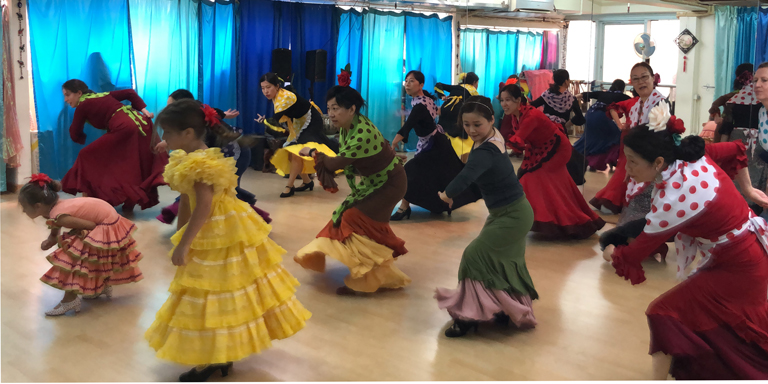 https://origin.hkmb.hktdc.com/en/1X0AJSRX
Spain dances into Hong Kong 
A flamenco school uses dance to promote Spanish language and culture in the city.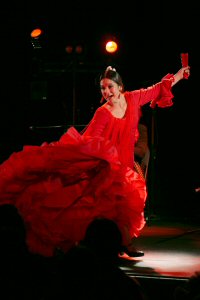 Teaching local people how to master the fiery flamenco dance, Esencia Flamenca has been steadily building its business in Hong Kong as interest in Spanish culture grows. Japanese-born entrepreneur Mariko Drayton moved to Hong Kong with her family in 2010 and founded the company in 2015. 

"Flamenco was not well known in Hong Kong back then, although Spanish companies or restaurants were opening one after another," she recalled. Ms Drayton explained that flamenco is very popular in her home country, with more flamenco schools in Japan than Spain. "Many Spanish flamenco artists go to Japan to teach, perform or even live, and many Japanese visit Spain to learn flamenco," she explained. 

Inspired by what she saw in Japan, Ms Drayton was keen to promote this passionate art form to a Hong Kong audience. So she set up her company, initially focusing on organising workshops with Spanish dancers, singers and guitarists, and performing live to raise the profile of flamenco locally. "Now I'm teaching almost every day and performing regularly at Spanish restaurants with my students in Hong Kong. I aim to have flamenco shows with Spanish artists in Hong Kong, Japan, and [Mainland] China once or twice a year," she said.

Besides mastering the moves and steps of flamenco, Ms Drayton believes more and more Hongkongers are keen to learn Spanish and sample the country's cuisine. "Spanish food goes down very well in Hong … locals enjoy sharing tapas plates and trying the many pork-based dishes," she said.
Spain comes to Hong Kong
Extensive contacts in the flamenco world have enabled Ms Drayton to bring top Spanish artists to the city, many of whom she previously took classes or worked with. One of the artists keen to perform in Hong Kong was Adrian Santana, who Ms Drayton has performed with many times before. Now she is planning to bring female flamenco dancer Guadalupe Torres, to Hong Kong this April. Ms Torres came to Hong Kong when Ms Drayton started Esencia Flamenca and has been very supportive of her endeavours to promote flamenco in Hong Kong, she said.
Passion for dance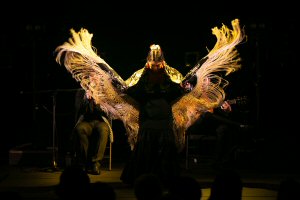 Ms Drayton has been impressed that her students are so motivated to learn flamenco.

"It's one of the most difficult dance forms ... the rhythm, footwork, the body coordination. Many people find it very difficult in the beginning and give up after trying once or twice. But my students are working hard to keep up and getting better all the time." 

Ms Drayton hosts classes for children and adults at the Oasis Dance Centre in Wan Chai, with the Saturday class incorporating castanets. "Castanets are hard to play but it's good exercise for the brain too, as you need to use your fingers for concentration and coordination." The flamenco beginner class, meanwhile, is very popular at the moment. "Some of my students only joined last September and they've already done some performances. They are so enthusiastic, which makes me work harder."


Flamenco products
Ms Drayton can kit out her students in the correct gear, as she sells flamenco shoes and outfits in addition to teaching flamenco. "The shoes are the heart of flamenco … it's a musical instrument, a form of percussion. You don't need a flamenco costume but you definitely need a pair of shoes," she said.
As her flamenco business takes off in Hong Kong, Ms Drayton was invited by the government of southern Spain's Andalusia region to attend flamenco fashion show Salon Internacional de la Moda Flamenca (SIMOF) in the regional capital Seville in late January. It was the entrepreneur's first time at this event, where she could meet flamenco gear vendors in addition to watching the catwalk show. "They are keen to expand the market [for flamenco] across Asia," explained Ms Drayton.
Chamber support

A corporate member of the Spanish Chamber of Commerce, Ms Drayton said the chamber has been very supportive of her business. "Whenever members need some entertainment, they introduce me to them, and whenever I have events they can promote them through their channels. I may be Japanese, but I love flamenco and Spanish culture and like to promote it as much as I can," she said. She also performs flamenco once a month at La Paloma restaurant in Sai Ying Pun and twice a month at Plaza Mayor in Wan Chai. 

Ms Drayton has collaborated with another chamber member, language school Spanish World Hong Kong, to deliver Spanish language workshops that incorporate flamenco movements. This has enabled students to learn Spanish and flamenco steps simultaneously.

In her quest to bring flamenco and Spanish culture to a wider audience in Hong Kong, Ms Drayton is hosting an intensive workshop at Oasis Dance Centre during the Easter holidays for beginners alongside classes exploring Sevillanas – the folk music and dance of the Sevilla region – and footwork classes. The entrepreneur will also host a flamenco show at K11 Musea in May, and a Spanish artist workshop in the same month. Towards the end of the year, more flamenco shows with Spanish artists are planned.
Related link
Esencia Flamenca
Hong Kong
Western Europe
Spain