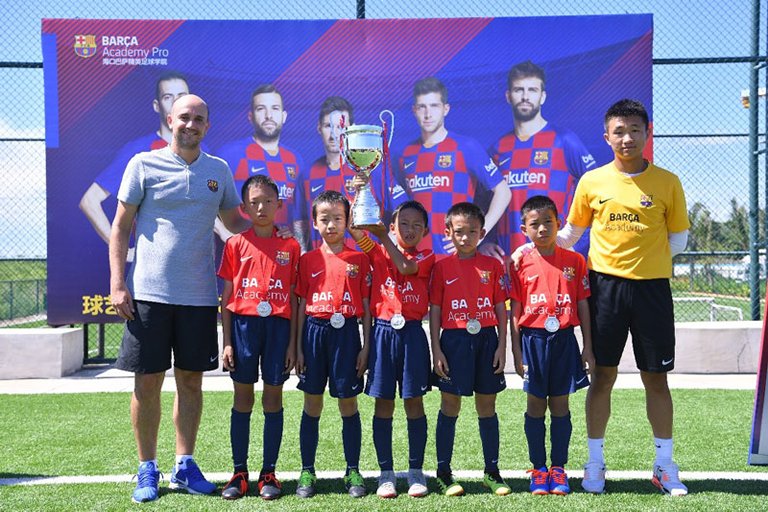 https://origin.hkmb.hktdc.com/en/1X0AK0Y2
The Greater Bay Area: Pitching for the Beautiful Game
FC Barcelona hopeful that commercial opportunities in the GBA can help drive its on-going footballing success
Ask someone with little or no interest in the game of football, and they're still likely to have heard of a few of the sport's major clubs. Perhaps the first name on their lips would be Barcelona – or to give the club its proper name, FC Barcelona.
Thanks to a star-studded history that has involved sustained success on the field of play and the pulling power of 21st Century global television deals, you are almost as likely to see a kid wearing a Barcelona team shirt on the back streets of Chongqing or Jakarta as you are on the streets of the club's home town, the capital of the fiercely passionate Catalan region of Spain.
That passion is the beating heart of a football club which to this day is run like no other in the world of top-flight soccer insofar as it remains a sporting endeavour rooted in community ownership whilst keeping a team of players on the pitch who can compete – and beat – the very best.
Simple Formula
For all its grass-roots history and community spirit, however, the club realised some time ago that passion alone would be insufficient to sustain the level of on-field performance required to keep the team winning. A clear-headed global business strategy was needed.
For Jordi Camps, FC Barcelona's Hong Kong-based Global Business Development Director and Managing Director for Asia-Pacific, a significant part of that strategy has to be focused on China – and with it the Greater Bay Area (GBA) initiative.
"It is quite a simple formula," says Camps. "As a football club we need to win games; in order to win games we need talented players; and in order to have talented players you need to have the money to pay for them. And that's where we come in."
The GBA was conceived to closely link nine major provincial cities in Guangdong province with the Hong Kong and Macao Special Administrative Regions (SARs), thereby creating an economic zone which will be a key component in the next phase of China's economic development. The area covered by the initiative has a combined Gross Domestic Product of US$1.6 trillion.
Values-based Strategy
Camps is keenly aware of the football club's history, its deep sense of belonging to the community it calls home and the passion Barcelona and its fans have for the stylish way the football team plays the game.
But he is also aware that to ensure the continuation of the culture of Barça – as the club are also widely known – a solid business backbone to the operation is required.
"In recent years football has changed," he says. "The amount of money in the game and the costs of putting the best team on the pitch have gone up dramatically."
To address this challenge, Camps and his Barça colleagues have drawn up a new strategy. It's one that involves not only pushing traditional bread-and-butter business buttons such as securing sponsorship partnerships, making the most of marketing opportunities and growing the club's profile and accessibility on digital platforms, but also requires engaging with the communities, such as the GBA, in which Barcelona seeks to do business.
Youth Academies
One thing FC Barcelona values highly is a sense of responsibility to teach young people 'the Barça way', not only when it comes to the team's style of playing football, but also in relation to conducting yourself in life and in the community where you live and work.
According to Camps, this approach means FC Barcelona will consider its options very carefully before making a decision to open one of its football academies in the GBA.
"We have been contacted by many, many people about the possibility of opening up a Barça academy in China," he says. "But for us the opening of an academy is not just a business decision. First of all, we are talking about the development of children; we are also very careful to protect not only the Barcelona brand but our values, which include the fact that FC Barcelona is, at heart, a community club."
He adds: "From a strategic point of view, we would like to have something in the Shenzhen area. But we have to make the right decision as regards Barcelona's culture and the football club's values. It is not something we are going to rush into lightly.
"It's not just about launching an academy and teaching more kids the club's footballing philosophy; it is about also convincing commercial brands to invest and come to the market with us."
Massive Fan Base
FC Barcelona opened its first office in Hong Kong five years ago, because like many other foreign companies it saw the city as a gateway into mainland China.
The picture has changed somewhat since then, however, and Camps believes that if a number of obvious cross-jurisdictional issues can be ironed out, the GBA initiative linking two Special Administrative Regions and nine cities across Guangdong Province can help businesses overcome the challenges of a changed economic and political landscape.
"Hong Kong can bring a wealth of international expertise and connections, while other parts of the GBA offer other components such as fast-paced new technology innovation, a thirst to invest and a large and willing labour market," he says.
Camps adds that one thing has remained unchanged since Barça's arrival in Hong Kong, and that is the broad brand recognition the club enjoys. That, he says, has allowed it to develop and grown significant business partnerships in the region.
Football at the Core
In the half decade of its presence in the city, the FC Barcelona team in Hong Kong has grown from just three people initially to 20 now. It has also gone from having no sponsorship deals at the outset to at present having 14 working partnerships with companies, spanning a range of sectors, across Asia, including China.
Camps says: "The business model, if I can describe like that, has at its very core the football team that Barcelona puts out on the pitch. To make that happen and be sustained we need to establish a global business presence through sponsorship deals, merchandising, our legends programme and digital development.
"We are involved in all those areas from our Hong Kong office as obviously China and the rest of Asia is a big marketplace and there are hundreds of thousands, if not millions, of Barcelona fans or potential Barcelona fans."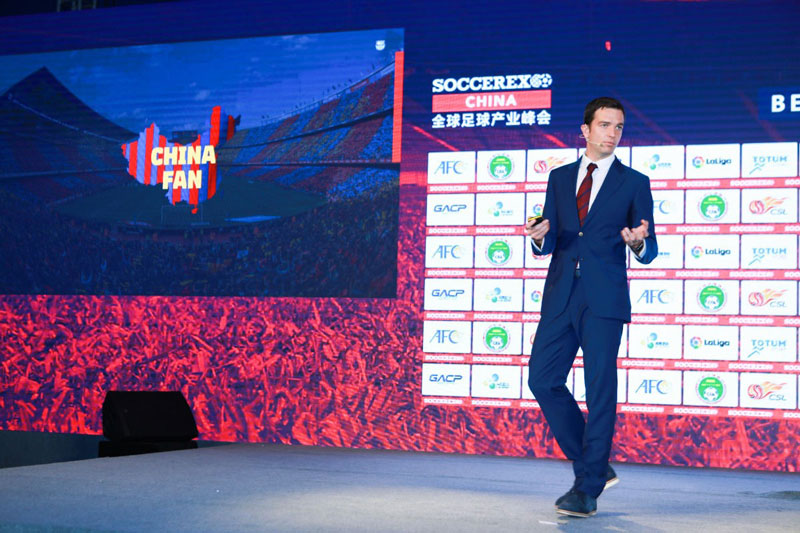 GBA Supports Barça
FC Barcelona data, compiled from a range of authoritative sources, reveals that the GBA is home to more Barcelona fans than most other regions of China.
In a list detailing the number of Barça fans in different parts of China, in percentage terms, the top five are as follows: Shanghai Province, 10.24%; Guangdong Province, 7.90%; Beijing, 5.26%; Sichuan, 4.18% and Shandong, 4.02%.
"So, as you can see, the GBA – even excluding Hong Kong and Macao – is the second 'densest' area of Barça fans in China. Third party sources tell us that we have a fan potential of 47 million in China as a whole," said Camps.
Spain
Western Europe
Mainland China
Hong Kong