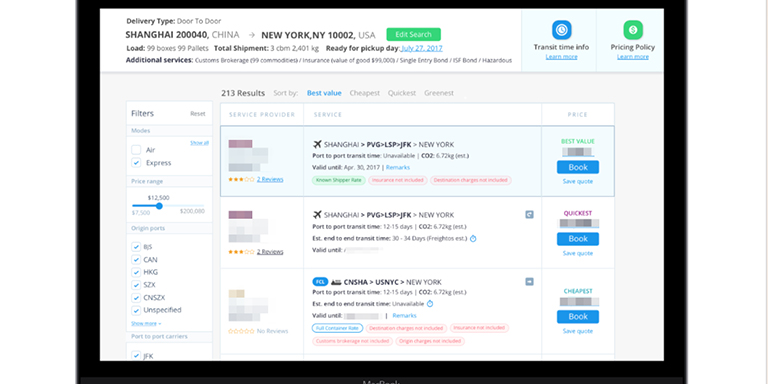 https://origin.hkmb.hktdc.com/en/1X0AKHZM
Logistics transformation surges
Trade flocks to a digital freight platform as physical networking shuts down.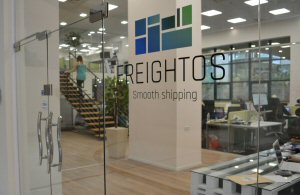 Mature digital logistics start-up Freightos Group finds itself front and centre in the massive, global supply-chain overhaul the COVID-19 outbreak has precipitated.

The outbreak brought an abrupt end to personal travel – even within cities in many countries. This leaves the field open to buyers, traders and forwarders who have gone completely digital. Freightos, which aims to usher the logistics industry into the digital era, is in the middle of the field.
Digitally nimble
Trade shows - where buyers, suppliers and forwarders network physically – have been skipped for April this year, the peak spring season.

Freightos CMO Eytan Buchman said the industry is rapidly adapting to the new digital reality. "In a world without trade shows, our customers will head online," he said. "The Hong Kong Trade Development Council's [HKTDC] Spring Virtual Expo is the perfect example of the type of sourcing channel our customers thrive in.

"Sourcing and importing online - at least for now - is still largely the purview of digitally native importers," Mr Buchman said. "Which means that not only are many of our customers surviving during these times, they're thriving. A good example of this was the recent Amazon restriction on the sale of non-essential goods for third-party sellers. Since a good 10% to 15% of our customers are Amazon sellers, this immediately led to a 50% drop in shipments to Amazon fulfilment centres. The following week, it climbed back up by 25%, not because Amazon changed restrictions - because our customers adapted by selling essential goods."

Freightos has grown internationally since being established in Hong Kong eight years ago by Israeli entrepreneur Zvi Schreiber, who is the company's CEO.

"Hong Kong plays a critical role in the global economy," Mr Buchman said, explaining the firm's close ties with the city. "It links the east and the west, functioning as a bridge between some of the world's largest economies while seamlessly linking supply and demand in a world increasingly shaped by globally distributed production and consumption. For a start-up bent on making global trade frictionless, it only made sense that our company would be established in Hong Kong. This was true when we got started in 2012 and today, with tens of thousands of customers globally, it is even more true.

"Hong Kong remains an incredibly favourable place to be established," he said. "As Freightos has grown, we've opened even more offices around the world, from Barcelona to Shanghai, Chennai to Jerusalem. While they are in different locations, have different business units, and different focuses, they are all subsidiaries of Hong Kong's Freightos Group. As we become a larger entity with more enterprise customers, supporting organisations that themselves power billions of dollars of global trade, a favourable corporate environment remains even more critical."
Rerouting a supertanker
Laying out plans for Freightos six years ago, Mr Schreiber described the logistics industry as vast "but very old-fashioned – about 15 years behind other industries like passenger travel". He aimed to make freight booking as easy as buying a passenger ticket.

Reviewing progress since, Mr Buchman said: "Global freight is a difficult business to change. Since it is so large - nearly US$20 trillion of global trade annually - it is hard for companies to make leaps of faith for new technology. However, we do see major change. Five years ago, not one top-tier logistics provider was selling freight services online. No airlines offered instant pricing, and certainly were not able to provide instant clarity into available space on specific planes.

"Today, we have over 200,000 users registered on Freightos.com, the world's largest freight marketplace," he said. "Our logistics technology solutions are used by over 2,000 global freight companies, including over half of the world's top 100 providers. Some of the world's largest airline groups - like IAG, Lufthansa and Etihad - offer live air-freight pricing and e-booking through the network, and last year, one importer registered, searched, and booked a global shipment in under 180 seconds. It happens slowly but then suddenly. And while we're not close to the end of the marathon, the first few miles have gone well."
Data business
The business has taken unexpected turns – Freightos has greatly expanded its data and information business, launching the Freightos Baltic Index: Global Container Freight Index.

"Going from start-up models to reality always meets some surprises," Mr Buchman said. "When we started, we had no idea that we would end up launching a global freight index. This, in part, triggered a US$44.4 million funding round. Of course, some parts of the business have not worked as well; part of the challenges of scaling a start-up is identifying what works and doubling down on it, as well as killing what doesn't work, early and often."

Mr Buchman sees the expansion of Freightos as part of a global move on to platforms. "Many consumers don't realise how much effort and how many people are involved in the full design, sourcing, production and distribution of any simple household good. As platform businesses take over the world - businesses that connect millions of businesses or consumers with each other - it becomes more important than ever to connect the dots. Global trade is at a magical place where the barriers to manufacture and sell anything have dropped. Fast. A person in an apartment in New Jersey can source goods on Alibaba, ensure compliance with on-demand tech solutions, import with Freightos, and sell on Amazon to reach 60% of United States households. We're proud to be one of the players connecting the dots."

He sees the data and information components of the business as critical to its growth. "One important aspect of our business is empowering other business to optimise supply chains. It's a simple principle that many start-ups overlook. When we sell logistics technology to a company, they're really looking to buy clarity on how to provide better service to customers, not just looking to automate pricing. When a customer searches on our freight marketplace for a freight rate, they're really looking to understand how to import better. Education has become part of our mission; data is the best way to do this in a way that sticks out and provides our customers and users with an edge."
Traditional mindset
Mr Buchman said many big firms in the logistics industry operate with a traditional mindset and were initially change-averse when considering a digital transformation. "One of the most challenging obstacles is providing something radically new to an industry unfamiliar with it. Shipping cargo (or providing customers with shipping services) includes entrusting a stranger with goods that can make or break your business. As a small start-up, it became difficult to get in the door and get that trust. So we had to earn it. Here, that educational component became key. We had to not just develop the technology but also show our prospects that we understood logistics technology better than anyone else in the world - and then follow through on that."
Glass four-fifths full
He does not foresee the global COVID-19 outbreak creating lengthy paralysis in global trade. "At the height of the 2008-2009 financial crisis, global trade was down roughly 20%," he pointed out. "I see the glass four-fifths of the way full. Goods are essential. We need food, we need clothing, and, yes, we need new mobile phones. COVID has imposed some restrictions and challenges but global trade, at this point, is like electricity and water; it will keep running. We've shifted to providing more insight into rapid changes for our customers, making our daily freight index - the FBX - free, launching new software for air-freight forwarders, following rapid fluctuations in air cargo capacity availability, and more. We're going to keep doing that, providing the education that users need to keep the flow of goods frictionless."
Freight reshuffle
The COVID-19 outbreak had driven an increase in demand for personal protective equipment (PPE) gear shipments but Mr Buchman expected this to level off. "There tends to be a bullwhip effect where trying to accommodate for rapidly changing demand first leads to over-compensation," he said. Ocean cargo demand had dropped, leaving rates about 5% lower than the same time last year, he said, but air-freight rates have stayed well over triple typical rates, driven in part by lower passenger-plane availability and the need to ship urgent medical gear.

The container-shipping business was not facing a crisis of the same magnitude as the oil-shipping business, he said. "In Southeast Asia, production is nearly back to normal; even offices in Wuhan, the epicentre [of the COVID-19 outbreak], are largely back to normal. While demand is certainly dropping, the use of basic materials, like metals, food, and clothing, is still strong, fuelled by the lifeline of ecommerce. While demand is down, container liners can control this by leaving ships in port, reducing supply and shoring up prices. For now, a record number of ships are remaining in ports but there is still ample demand."
Related link
Freightos
Hong Kong
Middle East
Israel