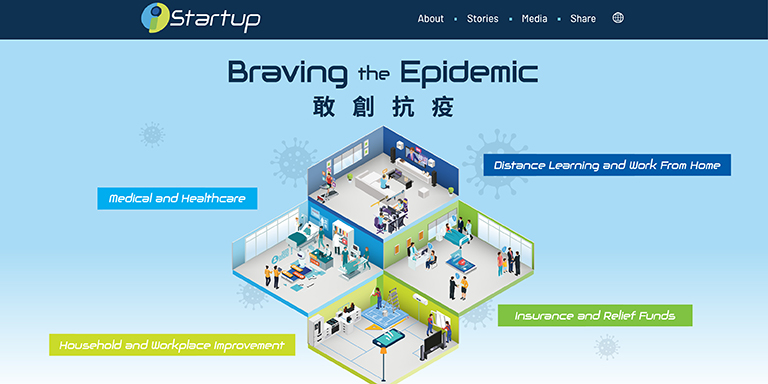 https://origin.hkmb.hktdc.com/en/1X0AL8QM
COVID innovators win accolades
From food-delivery robots to crowd-scanning temperature monitors, entrepreneurs are at the frontline in the pandemic fight.
The fight against COVID-19 requires much more than vaccines. Tools to help maintain social distancing, environmental hygiene and disease monitoring are also essential. And all these call for information technology-heavy applications–and innovators.
A number of Hong Kong companies who have contributed to the effort recently earned recognition from an inaugural government-supported award scheme –the Pandemic Innovative Digital Solution Awards, organised by the Hong Kong Computer Society.
Among the awardees are four start-ups based at Cyberport, one of the major communities of innovative digital companies in the city. They are Wildfaces, which has developed a vision-based artificial intelligence system; Rice Robotics, an inventor of delivery robots and disinfection robots; and education technology start-ups Snapask and GRWTH.
IT solutions
Wildfaces received the 2021 Outstanding Tracking and Surveillance Award for its automated vision-based artificial intelligence (AI) system, which measures body temperatures of people entering premises without staff needing to manually check individuals. The technology is part of a comprehensive suite of anti-contagion tools designed to cut contagion risk.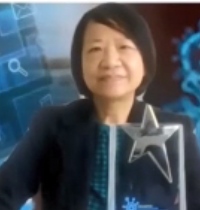 "The system will work with crowds of people. You don't need to stop as you enter the building – you just walk through," said Executive Director Ivy Li, who founded Wildfaces in March 2018.
"We can detect the temperature of 30 to 40 people simultaneously from a distance of 8 to 10 metres. This makes our system very suitable for factories, railway stations and any setting with a high volume of people traffic," she added.
To achieve the 97% accuracy, Wildfaces' solution takes multiple readings of the same person in quick succession before confirming the result.
"Normally, a very small percentage of people would be sick. Further studies have shown that people may be quite normal when they first enter their office, but may develop a fever later in the day," Ms Li continued.
"To address this, fever detection cameras would need to be placed throughout the facility but the cost of manning all of them cannot be justified," she said.
"The real cost of fever detection is not in the cameras but in the ongoing cost of manning the system which can be 10 times higher than the capital cost. The automated Wildfaces system is extremely cost-efficient as it eliminates these operating costs.
"If a person is detected with an elevated temperature, they are tracked and an alert is sent automatically to the building's security staff along with a photo of the person and their exact location at any time so that they can be apprehended and helped," she explained, adding that social distancing alerts can also be sent if people are walking too close to each other.
After many months of trial at Cyberport, the system is now in use in construction sites in India, at a military hospital in Indonesia, and in multiple buildings in the United Kingdom, Australia and Saudi Arabia, Ms Li said.
Users in high labour-cost economies such as the UK or the United States, and even Hong Kong, can achieve return on investment, in terms of staff costs saved, is as little as four weeks. In low-cost countries like India or Indonesia, the payback period is about four months, according to Ms Li.
Robot courier
The autonomous delivery robots and disinfection robots developed by Rice Robotics can operate elevators, dock to chargers and navigate in crowded areas without help, reducing the spread of COVID-19. The company, founded by CEO Victor Lee in December 2018, won the Outstanding Productivity Award.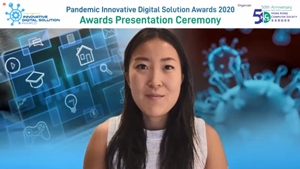 Rhaime Kim, General Manager, said Rice robots had already been used in hotels, offices, hospitals, residential buildings and other properties both in Hong Kong and other parts of Asia.
"For example, our robots deliver drinks from the ground floor to Mizuho Crowd Brain, Mizuho Bank's accelerator space on the 10th floor of K11 Atelier, Tsim Sha Tsui, and greets customers with hand sanitiser at Boucheron jewellery's Ocean Terminal store," she explained.
"At L'hotel Island South, we have three robots delivering to quarantined guests. The robots also previously delivered beers during staycations.
"We also have Jasmine, our disinfection robot developed in response to COVID, on duty at MOKO mall in Prince Edward," she said. "And we have done numerous deployments in Japan and Thailand."
Ms Kim said the pandemic had accelerated robot adoption as "people want to minimise contact". "We feel lucky that our business has been able to grow during these really difficult times," she added.
School everywhere
Education technology (edtech) start-up Snapask, which won an Outstanding Education Award, was founded by Timothy Yu in 2015. With 350,000 A-grade tutors on its books, the company now serves the online education needs of 3.5 million primary and secondary students in nine different regions – Hong Kong, Taiwan, Singapore, Malaysia, Indonesia, Japan, Korea, Thailand and Vietnam – based on the local curriculum in each.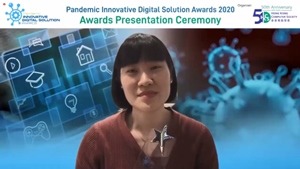 Chief Marketing Officer Katherine Cheung said the award recognises Snapask's efforts to support students' at-home learning during school closures due to the pandemic.
"To complement our usual Q&A format whereby students can ask questions to our tutors, via the website or mobile app, we also developed bite-sized videos to help boost their study and prepare for exams," she said.
Adding value
GRWTH, which also received an Outstanding Education Award, adapted its business model during the pandemic to support students' home leaning via online video-on-demand (VOD) services.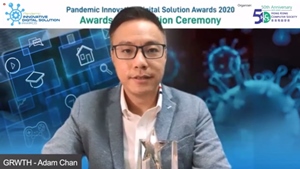 It was the idea of CEO and Founder Adam Chan who, as soon as COVID hit, anticipated school closures would occur as happened during the SARS epidemic 17 years earlier. The entrepreneur wasted no time approaching Mainland China's gaming giant Tencent about a possible partnership to enhance GRWTH's three-way online learning platform facilitating communication between the school, parents and students.
The platform was designed by Mr Chan, leveraging his 20-year career in the edtech industry, with an app launched in 2015. Users can also shop via GRWTH's e-commerce store and parental community for education-related content and extras provide by about 300 business and content partners.
Mr Chan believes GRWTH's competitive advantage over other e-learning platforms is its online purchasing and payment option. "Most of our competitors don't offer that," he said.
The benefits were particularly evident during the pandemic lockdown. "For instance, business was stopped for most uniform manufacturers, because people couldn't get to the shops" Mr Chan said.
"However, our suppliers kept busy, because using our GRWTH Pay system, which integrates different kinds of payment gateway with school systems (also in the mobile app), parents can order their [children's school] uniforms online and receive the goods at their home."
Related links
Cyberport
Wildfaces
Rice Robotics
SnapAsk
GRWTH