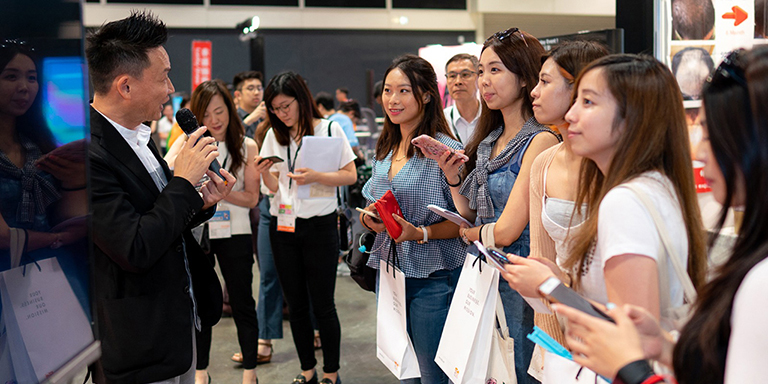 https://origin.hkmb.hktdc.com/en/1X0ALMPH
HKTDC Beauty & Wellness Expo
This event draws a comprehensive range of exhibitors from across the health and beauty industry.
WHAT: The fifth edition of the HKTDC Beauty & Wellness Expo offers a chance for the industry to promote and consumers to check out a wide range of goods and services in the sector. Categories include beauty appliances, cosmetics/skincare products, hair care products, spa massage products, nail polish, fitness products, healthcare products, perfume, beauty & fitness service provider, dental care products & accessories.
WHEN:
Date                           Hours
12-15 August     10am to 10pm
16 August           10am to 6pm
The expo is open to the public by ticket admission. Children under three and seniors above 65 will be admitted free of charge. There will be no admission 45 minutes before closing time.
WHO: Organised by the Hong Kong Trade Development Council
WHY: The HKTDC Beauty & Wellness Expo provides an effective platform for promoting cosmetics, skincare, haircare, healthcare and related products. The expo is staged concurrently with the HKTDC Food Expo, HKTDC Hong Kong International Tea Fair and HKTDC Home Delights Expo. These events, which together attracted nearly 450,000 visitors last year, offer a one-stop shopping experience. Other concurrent events include a special edition of the HKTDC Hong Kong International Wine & Spirits Fair and the International Conference of the Modernization of Chinese Medicine & Health Products.
WHERE: Hong Kong Convention and Exhibition Centre
AND YOU CAN QUOTE ME: Our company offers five skincare and personal-care products under our AO+ brand ... Our products have received a lot of interest not just from consumers in Hong Kong but also from overseas buyers from Canada, India, Taiwan and the United States. We have also found two potential distributors through this expo. We'll consider returning to the Expo next year."
Shanshan Liu, Head of Marketing at AOBiome Cosmetics of Hong Kong, speaking as an exhibitor at the 2019 HKTDC Beauty & Wellness Expo
EVENT WEBSITE: https://event.hktdc.com/fair/hkbeautyexpo-en/HKTDC-Beauty---Wellness-Expo/