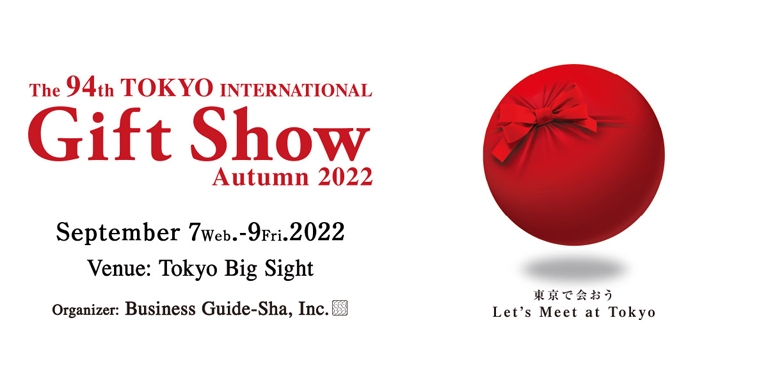 Product Showcase at Tokyo International Gift Show (Autumn Edition), Tokyo, Japan
Country / Region
Tokyo,Japan
Event Details
Tokyo International Gift Show (TIGS) is the largest trade show in Japan. It consists of 7 exhibition categories with two concurrent shows, LIFExDESIGN and GOURMET & DINING STYLE SHOW. Previously the 93th Tokyo International Gift Show Spring 2022, the 11th LIFExDESIGN and the 31st GOURMET & DINING STYLE SHOW Spring 2022 held in February 2022 marked 100,383 visitors and 2,164 exhibitors including 59 companies from 7 overseas countries and regions.
Participants
Applicant must be a Hong Kong registered company with substantial operation in Hong Kong. It is at HKTDC's discretion to accept or reject applications.

Eligible non-listed enterprise registered in Hong Kong can apply for the SME Export Marketing Fund (EMF) from the Trade & Industry Department (TID) to cover 50% of the participation fee, subject to TID's final approval. For details, please visit:
https://www.smefund.tid.gov.hk/english/emf/emf_update.html
Participation Fee
HK$15,900 includes
One showcase display at Tokyo International Gift Show (Size approx. 0.5mx0.5mx0.5m)
Business enquiries collection
One-way shipment (max. 5kg without electrical parts from Hong Kong to fair destination; all samples and marketing materials will NOT be returned after the event)
E-catalogue promotion
COMPLIMENTARY:
One showcase display in HKTDC Tokyo Office after the trade show (Tentative: 12 Sep – 7 Oct 2022)
Online business matching connections through HKTDC's network (Subject to buyers' availability and interests)
Interpretation service for online meetings
1GB media storage for 2-month exposure on hktdc.com Sourcing
Industry
Toys & Games,Baby Products
Organiser
Business Guide-Sha, Inc.