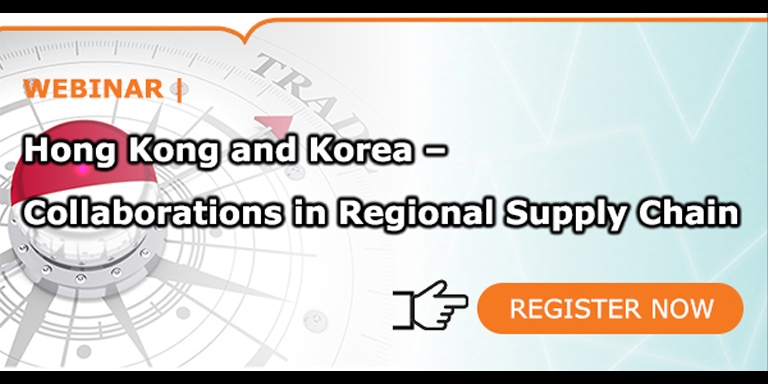 Webinar on "Hong Kong and Korea – Collaborations in Regional Supply Chain"
Date
9 Aug 2022 (Tuesday), 2:30pm-3:50pm
Country / Region
Hong Kong,Korea
Format
Seminar & Workshop
Language
English and Korean (Simultaneous interpretation between Korean and English will be provided)
Event Details
Interested to get a glimpse of Hong Kong and Korea's latest supply chain development in digitalisation, innovation and technologies? Ready to reset your supply chain to overcome challenges in the fast-paced Next Normal? Don't miss this webinar in which our heavyweight speakers from Hong Kong and Korea are going to lend you a helping hand to re-plan your supply chain.

They will share their valuable insights into how innovation and digital tools can help identify pain points and assess risks of your supply chain before optimising it, and also the importance of factoring in sustainability trends when modernising your supply chain and aiming at steady business growth. Sign up now if you also want to know more about rising business opportunities in the supply chain management sector of Hong Kong and Korea!
Speaker
Welcome Remarks
Mr Bob Chong, Hong Kong Chair, Hong Kong/ Korea Business Round-table
Mr Myung-bae Choi, Korea Chair, Hong Kong/ Korea Business Round-table
Understand Your Supply Chain: Risk Management and Innovative Planning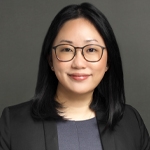 Ms Ivy Tse, Co-Chief Executive Officer & Co-Founder, FreightAmigo
Ivy has 15 years of regional management experience in several Fortune Global 100 companies, including ICT, cloud services & the logistics industry. Most recently held various leadership roles in program delivery, client implementations and compliance. She is also an ISO 9001 auditor, awarded as 2021 Deloitte Tech Fast Female Award Winner and a member of the Hong Kong Logistics Development Council since 2021.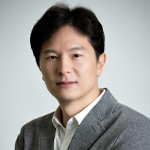 Mr Kyong-hoon Kim, Senior Researcher, Institute for International Trade (IIT), KITA
Established in 1946 currently with 13 domestic offices and 11 overseas branches, KITA aims at advancing the Korean economy through trade and providing support for Korean trade companies, including SMEs, and is the largest business organization in Korea with over 70,000 member companies.

As KITA's Senior Researcher, Mr. Kim identifies and analyses domestic and foreign supply chain trends at KITA's Global Value Chain (GVC) Industry Analysis Task Force. He also collaborates with governments and related agencies to identify supply chain difficulties and anomalies, and study policies and strategies for stable supply chain operations.
Enhancing Sustainability in Supply Chain Management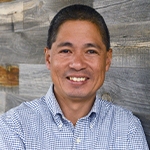 Dr Mark Yong, Managing Director, APAC & EMEA, Blume Global
Mark joined Blume Global in August 2019 as Managing Director (Asia Pacific), a multimodal global supply ecosystem that leverages 27 years of data and exploits AI and Machine Learning as some of the tools for predictive and the optimization of supply chain. In April 2021, Mark expanded his role to as Managing Director of APAC & EMEA. Prior to joining Blume Global, Mark had held various positions in Alibaba.com, INTTRA and BMT.

Mark is also a business mentor for SOW Asia, a venture philanthropy incubator/accelerator program.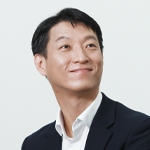 Dr Bong-ki Choi, Cello Square Business Team Leader, Samsung SDS
Established in 1985 as the ICT arm of the Samsung Group, Samsung SDS (Samsung Data Systems) aims to bring data-driven digital transformation by providing IT solutions and consulting services across different industries. Samsung SDS has provided smart logistics services since 2012 with its global network across 36 countries and integrated "Cello" platform, which enables users to manage global operations. Users can thus plan their supply chains while reducing costs and monitoring shipments 24/7 for risk management. It also offers 4PL (fourth-party logistics) services so businesses may outsource the entire supply chain management and logistics to Samsung SDS as well.

Mr Choi is in charge of the digital forwarding platform and global e-Commerce logistics services, particularly Cello Square, which was recently launched by Samsung SDS. Cello Square, a digital logistics solution catering to rapid changes in the logistics market, automates logistics processes with the aid of new IT technologies such as AI, IoT and Blockchain, and thus maximises convenience for shippers.
Industry
Logistics & Transport Services
Organiser
Hong Kong Trade Development Council and Korea International Trade Association