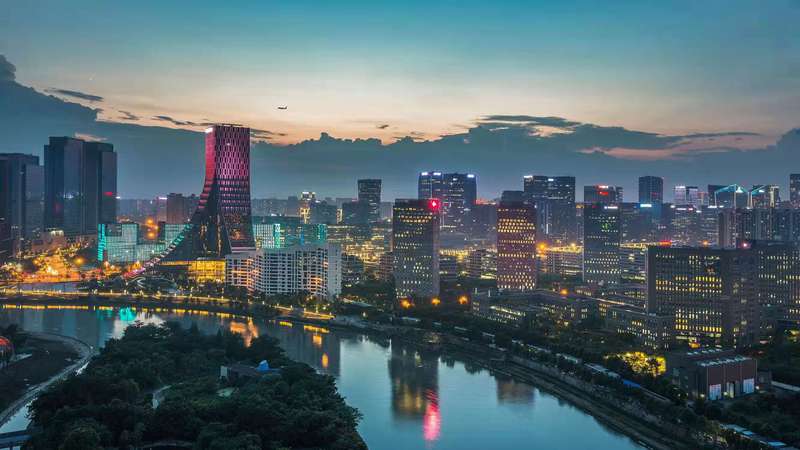 https://origin.hkmb.hktdc.com/en/MTA3MjMxNjQzNQ
Chengdu-Chongqing Economic Circle: Manufacturing Industries and Scientific Research
C H Poon
As stated in the Master Plan for the Construction of the Chengdu-Chongqing Economic Circle (Master Plan), Sichuan and Chongqing are now the epicentres of manufacturing in western China. Not only is there a solid industrial foundation, there are also other conditions favourable for manufacturing and research development such as a high population density, rich natural resources and a convergence of factors supporting innovation. The Master Plan points out that, in the course of becoming a key economic and technology innovation centre with nationwide impact, the Chengdu-Chongqing Economic Circle would have to form distinctive, relatively complete, safe and reliable regional industry-chain and supply-chain systems with a reasonable division of labour. The Chengdu-Chongqing region has a solid manufacturing foundation: in 2020, industrial production accounted for 28% of Chongqing's GDP and 24% of Chengdu's (and a combined 28% of the provincial GDP of Sichuan). In order for Hong Kong companies to gain a better understanding of the opportunities for industrial development in the Economic Circle, this article analyses the direction and layout of industrial development in this region. The aim is for it to serve as a reference for companies which are considering industrial transfers and seeking business partners.
Advantageous industries scaling new heights
According to the Master Plan, a nationally important advanced manufacturing base will be formed in the Economic Circle. The twin cities of Chengdu and Chongqing will first have to form an industrial structure in which the modern services industry is the core component while advanced manufacturing forms a solid industrial foundation. Through industrial transfer and a dispersal of functions, advanced manufacturing bases, commercial logistics centres and regional professional services centres will be set up in districts within the Economic Circle that have the necessary attributes. This will strengthen the foundation of real economic development in these districts. To understand the direction of development of advanced manufacturing in the Economic Circle, one needs to know the existing structure of manufacturing industry in the area. The following table summarises the main industries in Chongqing, Chengdu and Sichuan Province, where 32% of the business revenue of its industrial enterprises is attributable to that of Chengdu.
Top Five Industries in Chongqing, Chengdu and Sichuan Province, by Business Revenue
(figures in brackets represent shares in city/province's total)

Chongqing

Chengdu

Sichuan Province

Manufacture of computers, communication and other electronic equipment (24.3%)

Manufacture of computers, communication and other electronic equipment (29.1%)

Manufacture of computers, communication and other electronic equipment (14.6%)

Manufacture of automobiles (17.8%)

Manufacture of automobiles (8.3%)

Manufacture of non-metallic mineral products (8.9%)

Manufacture of non-metallic mineral products (6.1%)

Production and supply of electric power and heat power (8.3%)

Manufacture of liquor, beverages and refined tea (7.8%)

Manufacture of electrical machinery and apparatus (5.0%)

Manufacture of non-metallic mineral products (4.8%)

Processing of food from agricultural products (5.5%)

Manufacture of railway, ship, aerospace and other transport equipment (3.8%)

Manufacture of railway, ship, aerospace and other transport equipment (4.4%)

Smelting and pressing of ferrous metals (5.3%)

Source: Chongqing Statistical Yearbook 2021, Chengdu Statistical Yearbook 2021 and Sichuan Statistical Yearbook 2021
The above data reveals that electronics and automobile manufacturing are the most important industries in the Chengdu-Chongqing region, and these two industries are now highly concentrated in Chongqing and Chengdu. But the two cities are also strong in the manufacture of non-metallic mineral products (such as cement and glass) as well as that of transport equipment (such as railway and ship equipment). In other Sichuan cities, in addition to heavy industries like non-metallic mineral products manufacturing and ferrous metals smelting and pressing (such as steel production), complete agricultural industrial chains are also present.
Therefore, in order to construct an industrial structure supported by advanced manufacturing, the Master Plan proposes establishing high-calibre automobile R&D and manufacturing bases mainly through intelligent networks and new energies. At the same time, the Economic Circle will focus on fields such as integrated circuits, new-type displays and intelligent terminals. By nurturing innovative applications such as ultra-HD videos, artificial intelligence (AI), blockchains and digital cultural creation, the Economic Circle will collectively develop internationally competitive industrial clusters in electronics and information technology to construct a comprehensive electronics industrial chain.
To provide reliable data services, the Chengdu-Chongqing region will accelerate the building of a fifth-generation mobile communications (5G) network, expand the coverage of gigabit optical fibre connections, speed up the deployment of the IPv6 based next-generation internet and advance bandwidth expansion at national level internet backbone straight points. As these infrastructures gradually come into being, the Economic Circle, with the support of a mature mobile communications network, will actively develop an internet of things (IoT) to build a ubiquitous urban smart network1 and embark on a pilot internet of vehicles (IoV) project.
The above statements from the Master Plan provide a blueprint for the development of the traditional advantageous industries in the Economic Circle. The electronics and automobile industries in the Chengdu-Chongqing region top the national leagues. According to the China Statistical Yearbook 2021, the total production of micro-computers and mobile phones from Chongqing Municipality and Sichuan Province in 2020 accounted for 44% and 18% of the national total respectively, while their production of automobiles and integrated circuits accounted for 9% and 6%. The Master Plan states that the Economic Circle will not only seek to expand existing production capacities but will also concentrate on making the corresponding industrial chains more advanced and complete. This implies that, in addition to producing electronics and automobile consumer products, the Economic Circle will also participate in more processes for developing these products, adding more research and innovative inputs on top of processing and manufacturing. In Yubei District in Chongqing, for example, there are already several intelligent automobile manufacturers offering smart products and services to some 20 automobile companies locally. Another three domestic automobile companies have already installed or are installing new-energy automobile assembly lines in Chongqing.
Bolstering emerging and green industries
Along with the electronics and automobile industries, the Economic Circle will also develop various emerging and green industries. Among emerging industries, the Economic Circle will support the advanced materials industry and the co-ordinated development of the biomedicine, medical equipment and modern Chinese medicine industries. The biomedicine industry in Chengdu has been growing rapidly in recent years. According to the Bio-industry Development Bureau of Chengdu Hi-Tech Industrial Development Zone, the size of the bio-medicine industry in the Chengdu zone, comprising more than 3,000 companies, had already exceeded RMB100 billion in 2021. The Chengdu-Chongqing region can become one of China's main bio-industry centres, after the Beijing-Tianjin-Hebei region and the Yangtze River Delta (YRD) region, because of its abundant medical resources. As well as boasting several nationally leading hospitals and a huge population, it is one of China's major production bases for Chinese medicines. The area has become an ideal location for the research, development, testing and sales of Chinese medicines and medical equipment. In September 2021, a Memorandum of Understanding of the High-Level Meeting cum the Second Plenary Session of the Hong Kong/Sichuan Co-operation Conference (the MOU, Chinese only) was signed between the Hong Kong SAR Government and the People's Government of Sichuan Province. The MOU stated that the two governments will strive for stronger co-operation in the areas of nurturing talent, technology innovation, medical technology services and product R&D in traditional Chinese medicine.
The Master Plan also says that the Economic Circle will focus on nurturing world-class equipment manufacturing industrial clusters in aviation and aerospace, rail transportation, energy equipment, industrial robots, instruments and meters, computer numerical control machining tools and motor vehicles. At the same time, it will consolidate the high-quality resources of major Chinese baijiu (white liquor) producing areas to cultivate industrial clusters in health foods, boutique clothing and speciality light industries, and nurture speciality consumer products. These are all industries with existing foundations in the Chengdu-Chongqing region. It is likely that the production capacities of all related industries will be expanded to increase their competitiveness on a national scale.
The Economic Circle will leverage the rich natural resources of the Chengdu-Chongqing region to boost industries in energy conservation, environmental protection, clean production and clean energy as a way of establishing itself as a national demonstration base for green industries. Firstly, it will bring forward the construction of a wind-solar-hydro complementary energy base and actively promote the development of distributed energy systems2, while also studying the possible launch of a pilot demonstration project in hydrogen energy application. Secondly, it will promote the adoption of circular production by businesses and the circular combination of industries, step up efforts to promote and apply energy conservation technologies and products, and implement the strictest water resources management system. Thirdly, it will entrench cross-provincial and cross-city trading and co-operation in wastewater discharge rights, water rights, energy usage rights and carbon emission rights. It will also improve and unify standards and certification systems for green buildings and promote the adoption of prefabricated buildings, steel-structure buildings and new-type construction materials. With electric cars becoming increasingly valued by the market, the Economic Circle will also co-ordinate the layout of supporting facilities for the charging and battery swapping of electric cars. The adoption of these policies makes it clear that industrial upgrading will be carried out in concert with the promotion of green production.
In addition to describing how advantageous, emerging and green industries will be developed, the Master Plan also describes the pattern of industrial layout. The Economic Circle will develop its electronics and automobile industries in the city clusters of Chongqing and Chengdu, with the central areas focusing on R&D and the peripheral areas focusing on manufacturing. As far as developing emerging and green industries is concerned, the Economic Circle will set aside its northern area for advanced materials and automobile and motorcycle accessories, while the southern area will concentrate on developing industries in foods and beverages, equipment manufacturing, energy and chemicals, energy conservation and environmental protection. When developing these industries, the Economic Circle will make the best use of its advantages - its relatively low costs of production, its markets and its connections to various domestic and overseas regions - by receiving industrial transfers from eastern regions and overseas. Nevertheless, because the objective of industrial transfers is to supplement what is lacking in its industrial chains, the standard for acceptance will be higher than before.
Industry-university-research collaboration
The key to the construction of a complete advanced manufacturing industry system is developing research, in which the government will take a leading and co-ordinating role. The Master Plan indicates that the Economic Circle will focus on the development of strategic products in areas such as nuclear energy, aviation and aerospace, smart manufacturing and electronic information. It will set up major technological infrastructures and an array of scientific education infrastructures in Chengdu Tianfu New Area and the Chongqing High-Tech Industrial Development Zone. It will also direct local authorities, research institutions and companies to establish a series of cross-research platforms and technology innovation bases. To maximise the synergy of existing research facilities, the government will team up the Chengdu Tianfu International Bio-Town, Chengdu Hi-Tech Industrial Development Zone, Chongqing University City and Chongqing High-Tech Industrial Development Zone to build the Western (Chengdu) Science City and the Western (Chongqing) Science City.
As well as carrying out its leadership and co-ordination roles, the government will also encourage the participation of all sectors of the community. It will encourage companies with the necessary capabilities to establish research institutes focusing on generic technologies3 and the development of cutting-edge technologies. It will also support collaboration among universities, research institutions and companies to build joint laboratories or modern research institutions and jointly undertake science and technology projects. The Economic Circle will also implement attractive policies to lure and nurture high-quality innovation talent, and will support such talent regarding free movement, independent career choices and starting up businesses.
The Chengdu-Chongqing region is known for its solid foundation in education and research. In the second-round list (Chinese only) of "double first-class"4 universities and disciplines released by the Ministry of Education in February 2022, 10 universities and 19 disciplines in the area were recognised. Recognised disciplines include mathematics, chemistry, material science, engineering, mechanical engineering, electronic science, petroleum and natural gas engineering, and traditional Chinese medicines, all of which match well with the industries the Chengdu-Chongqing region wants to develop.
The Chengdu-Chongqing region also has an ample supply of human resources. According to the Sichuan Province and Chongqing's Report on Employment Situations of Tertiary Graduates in 2020, the total number of people who had completed their graduate, undergraduate or college studies in 2020 was over 600,000, among which some 30% were engineering graduates. The report also reveals that more than 60% of these graduates chose to remain in Sichuan Province/Chongqing to find employment after graduation. This means that the Chengdu-Chongqing region has the potential to develop research in earnest.
Hong Kong has already been participating in the industry-university-research collaboration in the Chengdu-Chongqing region for some time. Some universities in Hong Kong have been actively making a presence in the area by, for example, setting up medical research centres and research institutes (see Chengdu-Chongqing Economic Circle: Hong Kong Industry-University-Research Collaboration). These universities are keenly aware of the excellent talent, rich resources and huge markets in the Chengdu-Chongqing region. Through collaboration, research in Hong Kong could reach new heights. These research institutions can help companies set up shop in the Chengdu-Chongqing region and identify research results available for commercialisation.
Takeaways for Hong Kong businesses
Currently, research and technology innovation occupy prominent positions in the development of the global economy. For a region to reach the threshold of a developed economy, it increasingly needs to rely on fostering sufficient innovation drivers to provide new development momentum for its existing industries. The direction of development of the Chengdu-Chongqing Economic Circle is to bring in more research and innovation factors - not only to strengthen existing local industries, but also to contribute to China's development into an innovative country. The development of manufacturing industries and scientific research in the Chengdu-Chongqing region, therefore, will not be confined to a single area or city. Instead, it will encompass in-depth co-operation in key national strategies such as the integrated development of the Beijing-Tianjin-Hebei region, the Guangdong-Hong Kong-Macao Greater Bay Area (GBA) and the YRD region. By doing so, more comprehensive, safe and reliable regional industry-chain and supply-chain systems can be established in the inland regions of western China.
From the viewpoint of Hong Kong businesses, the Chengdu-Chongqing region has the advantages of having relatively complete industrial chains, efficient logistics capabilities, adequate human resources and stable power supplies. As such, the area is worth considering as a destination for expanding production capacity or industrial transfer. However, the advantages of the Chengdu-Chongqing region as a site for manufacturing and research projects are far more numerous. The area is also an important hub for China's electronics, equipment, automobile, energy, agriculture and pharmaceuticals industries. Under the planning of the Economic Circle, these industries will certainly draw more attention and receive more resources, and their local markets will only become larger. At present, the development of the GBA requires the in-depth integration of the industrial chains and markets in Guangdong and Hong Kong. If companies can bring some of their research processes to the Chengdu-Chongqing region, thereby linking up the area with Guangdong and Hong Kong, their research capabilities will be stronger, their supply chains will be more comprehensive, and they can expand into much larger markets.
---
1 A ubiquitous network is one that allows connection at anytime, anywhere.
2 Distributed energy systems use small-scale power generators to generate electricity directly at the user end. Electricity can be generated by renewable energy sources such as solar energy, wind energy, hydropower and so on.
3 Generic technologies refer to technologies extensively applied by different industries or fields.
4 Developing "double first-class" refers to the development of first-class universities and first-class disciplines. Under the initiative (Chinese only), universities and disciplines recognised in the list should have outstanding advantages in running the institution/discipline concerned. The central government will offer supports (including financial ones) to the first-class universities and disciplines in the list.