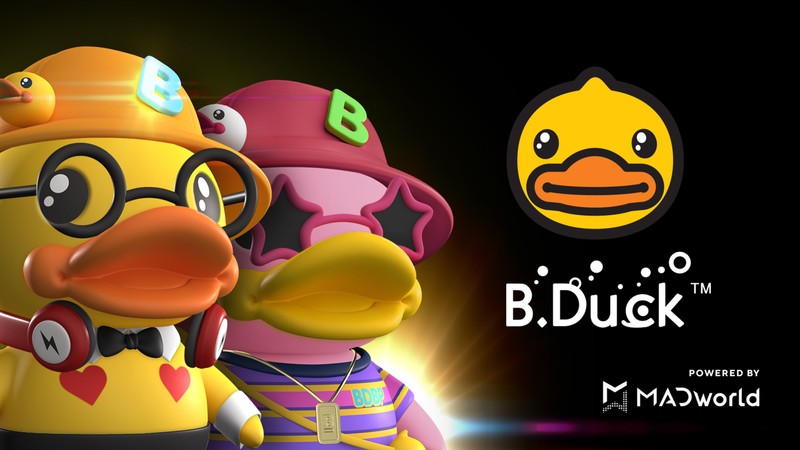 https://origin.hkmb.hktdc.com/en/MTA5NzM5NDg1Nw
Hong Kong Toy Story: Playing the Metaverse Game
Louis Chan, Simeon Woo
Covid-related restrictions over the past few years have accelerated the digital transformation and made online shopping, working from home, and remote learning the new normal. Businesses are coming up with technical solutions and creating online sales and marketing channels to give customers new experiences. The metaverse is said to be an emerging mass-appeal sector that allows traditional supply chains to transcend the limits of reality. Tech giants like Apple, Google, Meta (formerly Facebook) and Microsoft are racing to explore metaverse business opportunities. Fashion brands and intellectual property (IP) owners (licensors) are also looking at how they can make the most of the boundless metaverse. The potential revenue of the metaverse worldwide, according to Bloomberg Intelligence, could grow to US$800 billion in 2024 from around $500 billion in 2020. [1]
Non-fungible tokens (NFTs) have played a crucial role in the birth of the metaverse and their popularity has spread rapidly with the endorsement of famous brands and celebrities. NFTs generated over $23 billion in trading volume in 2021, up more than 20,000% from 2020. [2]
Many Hong Kong companies are riding the crest of the NFT wave to market their own brands and IPs in the form of NFTs. B.Duck, an original IP brand from Hong Kong, is arguably the best known example — the first batch of 4,000 B.Duck NFTs sold out within five hours of public sales.
The Global Research Team of HKTDC recently interviewed Cheung Chin Yiu, Executive Director, General Manager and Head of Licensing Operations of Semk Holdings International Ltd to find out how a traditional IP licensing company and toymaker plans its metaverse growth.
Hong Kong Brand Makes It Big Through Licensing
B.Duck is a Hong Kong original brand that began with the design and manufacturing of gifts and premiums. As the brand following grew, the company branched out into the retail business and expanded its range of apparel and gifts. In recent years the fame of the brand has slowly spread on the mainland. With the increasing popularity of e-commerce, B.Duck now supplies products directly to consumers and it has gradually developed a new mode of business that combines production, licensing, e-commerce and O2O operations.
B.Duck has developed more than 25,000 stock-keeping units (SKUs) of products so far. Explaining how licensing makes possible the application of B.Duck characters on a wide variety of products, Cheung said: "We collaborate with gaming platforms and grant them licences to use B.Duck IPs in the scenario and character designs of games. There is no need for us to develop and run online video game platforms ourselves. In our experience, distributing products and designs through licensing is a successful way to develop new markets, new businesses, new customers, new projects and new profit growth points."
Continuous Innovation
B.Duck is said to be the "best-selling Chinese IP in the live stream market" as well as one of the most popular IP cartoon characters in China. It has won numerous awards and its wide range of products covers every aspect of daily life. In recent years it has expanded by means of crossover collaborations with online gaming platforms and developers. Young people are expected to spend more time socialising, playing games, attending meetings and classes, and buying and selling in the virtual world in future. So B.Duck recently decided to collaborate with MADworld, a well-known Animoca-backed NFT Origination Platform, to launch its first NFT collection and enter the metaverse.
Regarding this new area of business, Cheung said: "We have spent a lot of time trying to find out how NFT smart contracts can help our IP brand in metaverse development and create new values and business models. Each of our NFTs is designed in 3D format with unique characteristics and utility and marketed in a mystery box. Buyers will receive in their digital wallet a "rare", "epic" or "legendary" B.Duck NFT that has been minted for them. The NFT can be used to breed second generation B.Ducklings.
"When preparing for the launch of "B.Duckling Breeding", we joined hands with award-winning creative director and movie director Ben Hansford to produce a collection of creative works to increase the value of B.Duck NFTs as collectibles. The newly created "B.Duckling Pilot" will operate the MECHADUCK and guide the NFT owner into the playing mode. NFTs can provide certification for digital assets and eliminate forgery. B.Duck NFT owners can enter Duckverse to enjoy all the rewards and fun being offered. We are also developing the GameFi, a "play-to-earn" metaverse game that allows players to win cryptocurrencies and other rewards. This will enhance the online-offline experience of our brand."
Real-virtual Ecosystem
B.Duck hopes to create new forms of business through the metaverse to meet the needs of the future virtual world. Cheung explained: "Our ultimate goal in launching NFTs and building the Duckverse is to build a metaverse ecosystem and a private traffic pool of B.Duck fans. This will not just aid the development of our brand but also allow us to analyse our target customers and design product and marketing strategies based on their preferences and spending habits to improve our business performance. We also hope to direct traffic from different platforms to a platform controlled by our brand and develop more brand marketing models that allow us to directly interact with fans.
"A pain point usually encountered in product design and development is that investors need to carry out production and marketing first to gauge market response. The entire process is expensive and risky. By attracting fans into the private traffic pool of our metaverse through the launch of NFTs, we can access reliable data, helping us to predict market needs and accurately position our products. By analysing the feedback of fans and users, we will be able to optimise product design and development, pricing and marketing strategies and have a precise grasp of consumer preferences and the market situation.
"We hope that interactions within the metaverse community can strengthen our connections with fans and improve the customer engagement model. Interactions in the metaverse can extend to offline sales and brand experience and increase brand loyalty and attract new fans. Likewise, in-person sales and offline brand experience can offer fans all kinds of virtual treasures and rewards for use in the metaverse. For example, B.Duck rubber duckies that come with NFTs will give buyers digital assets to join the metaverse community, to build a closed-loop fandom and ecosystem straddling the real and virtual world.
Forging Ahead
The metaverse is still in its early stages of development and digital assets like cryptocurrencies and NFTs have yet to become the mainstream. Since the value of NFTs is pegged to the price of cryptocurrencies, most people associated with NFTs are either investors or speculators. For this reason, they may not bring any immediate benefits to the offline business of the NFT issuers. Diehard fans may not be interested in taking part in the metaverse activities of their favourite brands. However, Cheung believes that the growing popularity of the metaverse is an irreversible trend. "As in the case of the development of the internet, the metaverse will slowly become an indispensable part of people's everyday life. With the growing popularity of the metaverse, more fans will be willing to join the private traffic pool of their chosen brands, making it possible for these brands to obtain better-quality customer data from the metaverse community. Although it is hard to tell at this stage how long this will take, with the rapid advances in science and technology, more and more brands will be using the metaverse to build their brand community. Full connectivity between virtual and bricks-and-mortar business is in sight."
Seeing that traditional supply chains can transcend the limits of reality through the metaverse, Hong Kong brands are willing to give it a go. If small and medium-sized enterprises in Hong Kong are interested in developing the metaverse and NFTs, they should first consider what corporate objectives they expect to achieve through the metaverse and whether they can develop a sustainable new business model through the development of metaverse business. Cheung said: "There is no doubt that Hong Kong, as the main hub for licensing activities, has huge potential in metaverse development with its reliable information and communications technology infrastructure and its position as one of the major international financial centres of the world. Hong Kong should be able to play a prominent part in bringing the metaverse in China in line with the metaverse abroad."
Toys & Games
Licensing