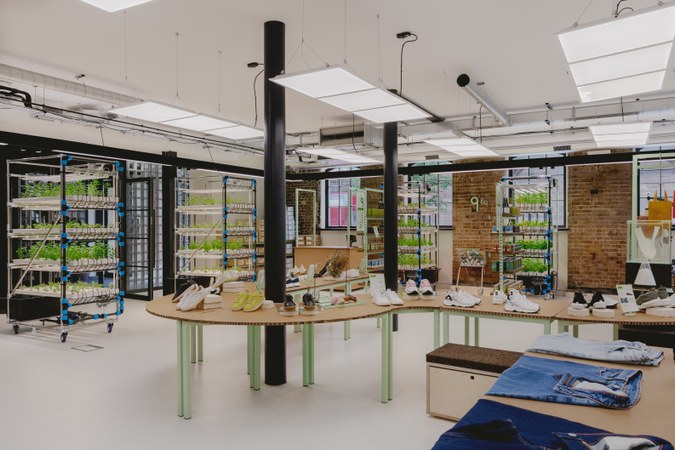 https://origin.hkmb.hktdc.com/en/MTAxODk2NTI0MA
Hong Kong-UK Business Incubation: Fashion and Food Tech
Louis Chan, Simeon Woo
The shutdown of economic activity caused by the global pandemic has changed the way people live, with the pause offering a glimpse of a greener alternative economy. Regulators, businesses, and citizens are now placing greater emphasis on delivering sustainability in the post-Covid recovery. More and more countries and regions are applying ESG legislative frameworks to industrial and economic development, and considerable business potential is evident across different sectors.
Although the pandemic and subsequent social restrictions have introduced a raft of new normals, there is little change when it comes to the demand for basics such as fashion and food. The unprecedented rise of consumer awareness goes hand in hand with an ever-increasing demand for sustainable products, especially from Gen Zs and Millennials. Both corporates and entrepreneurs are working to deliver sustainability by designing and producing innovative products.
In the business world, the environmental and social implications of production and disposal have made fashion and food central to worldwide ESG development. The fashion industry and food production industry account for 10% [1] and 34% [2] of global carbon emissions respectively. Making their supply chains more sustainable is therefore essential to meet sustainability goals, including but not confined to the 17 United Nations Sustainable Development Goals or Global Goals.
The growing consumer desire to put the environment first has encouraged many existing fashion and food companies to invest significantly in product development and refinement, while giving plenty of room for start-ups to try out their innovative sustainability ideas. However, not every entrepreneur or start-up has the same ability or resources to transform their businesses. Funding, entrepreneurial business networks, production facilities, and other supports are indispensable on anyone's ESG business journey.
To help start-ups turn their vision into action The Mills, a Hong Kong-based regeneration project stemming from the Nan Fung Group's textile legacy in Hong Kong, opened The Mills Fabrica in the heart of London's vibrant King's Cross tech district in June 2021 as its first overseas branch. The London outpost, as its first international expansion, is a solutions platform championing and accelerating social and sustainable innovators focusing on techstyle (the intersection between technology and lifestyle) and food and agritech.
Against a challenging backdrop – most notably the social distancing requirements and multiple lockdowns triggered by the Covid-19 outbreak – the UK's tech sector has proven resilient, managing to grow in the wake of the Brexit transition period, which ended as of 31 December 2020. This saw the nation's 2020 level of venture capital (VC) investment ranked third in the world, (behind only the US and mainland China), hitting a record high of £15 billion.
With its start-up and scale-up ecosystem valued at more than £585 billion (an increase of more than 120% from 2017), this is more than double that of Germany, the next most valuable ecosystem. This has seen London, the UK capital, established as the leading tech VC investment destination in Europe, while lagging behind only San Francisco, Beijing, and New York on a global basis.
To discover how the international expansion of The Mills Fabrica can promote HK-UK fashion and food tech collaboration and how the cross-border incubation programme can cross-pollinate, Louis Chan, Principal Economist (Global Research) at HKTDC talked to Amy Tsang of The Mills Fabrica London.
Chan: The Mills Fabrica currently has two property portfolios, the first in Hong Kong and the second in the King's Cross area of London. Are there any special reasons for choosing London as the first overseas destination for The Mills Fabrica, especially when the investment was made after Brexit? 
Tsang: London is often ranked as one of the world's most innovative cities, home to a thriving ecosystem of talented innovators and knowledge clusters generating strong economic growth for the country. At The Mills Fabrica we are dedicated to championing and accelerating social and sustainable innovators focusing on techstyle (the intersection between technology and lifestyle) and food and agritech. With its advanced tech scene, diverse culture and top universities nurturing the next generation of entrepreneurs, London is the ideal location for The Mills Fabrica's first international expansion. We continue to build our growing community of start-ups, brands, corporates, venture capitals (VCs), academic institutions, NGOs and more. We look forward to hosting more events and curated programming, bringing our network together to facilitate exciting collaborations.
The Mills Fabrica is located in King's Cross, a stone's throw away from one of the UK's busiest and most connected transport hubs, King's Cross St. Pancras station. The area is also home to the Knowledge Quarter, a cluster of over 75 academic, cultural, research, scientific and media organisations large and small: from the British Library to Google, Central Saint Martins, the Francis Crick Institute and the Wellcome Trust. With such a diverse range of creative and innovative organisations right on our doorstep, The Mills Fabrica is exploring collaboration opportunities to further support and advance this knowledge hub for the industry and general public.
Chan: The London outpost was officially launched in June 2021. Did the Covid-19 pandemic have any impact on the project, with regard to both the experiential retail and the start-up incubator segments? Why does The Mills Fabrica host not only fashion tech start-ups but also agri-food tech? Do you see any comparative advantage in the accelerator's Asian/Hong Kong background that would enable it to better support its incubatees? 
Tsang: Since lockdowns and social-distancing restrictions have eased in the UK, we are seeing a lot more businesses returning to work in the office. Our co-working space provides a creative and safe place for our members and visitors to mingle, share ideas and collaborate.
Fabrica X, our innovation gallery and concept store for sustainable brands, is constantly reinventing itself, giving many young and innovative designers a platform to share their products not only with the general public but also with industry stakeholders. The variety of products and concepts attracts new customers daily. For example, in October 2021 during London Craft Week, we created an installation for Bolt Threads' Mylo (mushroom leather), which was the world's first showcase of all the Mylo consortium brands in one physical location, including Adidas, Lululemon and Stella McCartney. Among the other B2B innovations and brands showcased in Fabrica X were Bananatex, Waes, Hylo Athetics, as well as some of our incubates / portfolio companies, notably Unspun, Colorifix, Provenance and Modern Synthesis.
We have expanded into agrifood tech because we see a lot of high potential start-ups innovating in this sector. Food impacts our daily lives in a similar way to techstyle, since we choose what clothes we wear and purchase every day, and so we consider it an incredibly important industry for innovation. There are also lots of great synergies between the two sectors and endless opportunities for each to learn from the other. As a cross-border incubation programme, our vast network across Asia and Europe brings with it valuable connections for our incubatees and portfolio companies, especially for those looking to expand internationally.
Chan: How has the Covid-19 pandemic changed the landscape of the European fashion industry? Are there any particular concepts – such as slow fashion, second-hand fashion, fashion rental, customisation, textile waste collection and recycling, supply chains traceability on the back of IoT, or blockchain and other technologies – which are rapidly gaining momentum among the European fashion industry and consumers?
Tsang: Covid-19 has accelerated the development of technologies and the adoption of circularity particularly within the fashion industry. Consumers are actively making their garments last longer, either through buying better quality and upcycling or recycling, or by choosing to rent instead of buy and purchasing second-hand items instead of buying brand-new. All of these trends are helpful ways to reduce the fashion industry's environmental footprint.
Chan: A wide range of European regulations aimed at sustainability issues require fashion businesses to monitor their global supply chains with a view to social sustainability (the UK's Modern Slavery Act 2015, France's Corporate Duty of Vigilance Law, Germany's Supply Chain Law and the EU's proposed Human Rights Due Diligence Law) and environment sustainability (the UK's proposed mandatory climate-related financial disclosures). How are European companies, brands and retailers in particular, coping with these tightening regulations? How are innovative services and solutions by tech start-ups playing a role here? Is there a demand from European companies for such sustainability-related measures?
Tsang: The regulations can certainly help drive businesses towards more sustainable practices and there is a general consensus on reducing carbon emissions. The apparel and food sectors are both revamping their conventional production models, introducing such developments as carbon capture, reduced chemical inputs and digitised supply chains, benefiting both the environment and the stakeholders.
There are two types of co-operation between established enterprises and tech start-ups. The first one involves partnership. For example, Adidas taps into NTX's waterless colouring technology to colour fabric materials without heat and save up to 90% of its water use, while H&M has partnered with Colorifix to launch a collection using sustainable dyes.
Another form of co-operation is through strategic investment such as Lululemon's investment in Genomatica, a start-up that produces plant-based nylon. There has been an increasing number of similar strategic investment projects in the face of a growing demand from international companies to explore and launch sustainable products.
Chan: Textiles are identified as one of the priority sectors for Europe's development of sustainable industry, and various governments have been introducing comprehensive legislation frameworks (such as the EU's strategy for sustainable textiles) and significant investments to build an ecosystem for sustainable textiles. Meanwhile, enormous public funding has been channeled to the private sector to drive a green reboot after the pandemic. Do these public and private efforts create new opportunities for start-ups in Europe and Asia? Are there any success stories you can share, particularly on HK-UK collaboration?
Tsang: Textiles is one of the seven key sectors targeted under the European Commission's Circular Economy Action Plan introduced in 2020, which aims to make sustainable products the norm within the EU. More apparel brands are looking into alternative materials, be it recycled or bio-based materials, in a bid to reduce reliance on fossil fuels. There is increasing interest in material tech companies and The Mills Fabrica has long invested in the field. One of our notable investees is Renewcell, a Swedish company that recycles old clothes into biodegradable raw material Circulose, which was listed on the Nasdaq First North Premier Growth Market in 2020. Currently, Europe is leading the charge in circularity and Asia is following the pace closely. We believe there will be more cross-border learning and crossover across the regions that could create impact on worldwide ESG development.
Garments, Textiles & Accessories
Food & Beverages
Hong Kong
Western Europe
Hong Kong
United Kingdom