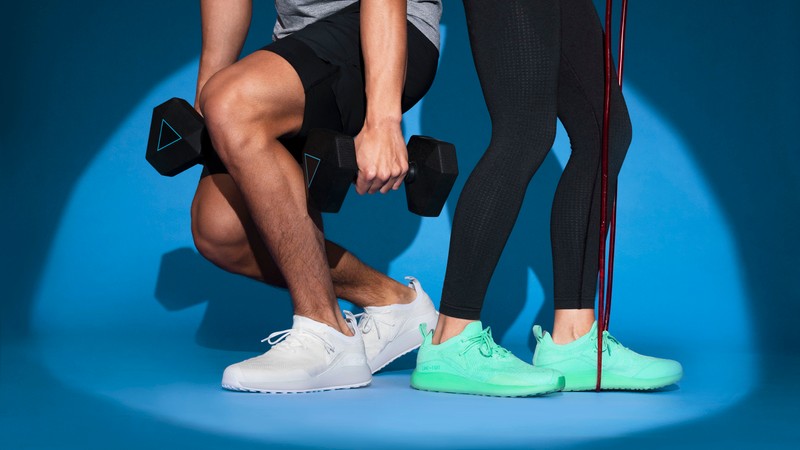 https://origin.hkmb.hktdc.com/en/MTAzNDQzOTkxNA
Delivering Sustainability: A High-Performance Local Footwear Brand
Louis Chan
The pursuit of environmental, social and governance (ESG) goals has grown rapidly over the past few years, driven in part by the ongoing global health and economic emergency which has encouraged entrepreneurs and business executives to rethink the sustainability of their business models.
The global fashion industry accounts for as much as 10% of global carbon emissions, including materials sourcing through supply chains to washing and waste, and is estimated to consume more energy than the aviation and shipping industries combined.
The industry is responsible for up to 20% of wastewater worldwide, with chemicals from dyes contaminating the environment, while US$500 billion is lost every year due to product under-utilisation and lack of recycling or upcycling.
To contribute to the future-proofing of the fashion industry, two brothers, Josh and James Shorrock, founded LANE EIGHT, a high-performance footwear brand in Hong Kong. The company develops shoes for everyday athletes using sustainable materials that not only work well but look and feel great for both the wearer and the planet. Their father worked in the footwear industry, and they travelled extensively in Asia, the US and the UK while they were growing up.
The brothers' roots in the footwear industry and firm belief in sports as a common language connecting people have motivated them to develop shoes for sports buffs that can withstand all the rigours of a hard workout, with features like a stable base, durable materials and a supportive fit. Louis Chan, Principal Economist (Global Research) at HKTDC talked to the two brothers behind the pioneering local footwear brand about their experiences.
Chan: Your family is deeply rooted in the footwear industry and has career experience at Adidas (Josh) and Hypebeast (James). What changes did you see in the industry during the pandemic? In what directions do you see the industry heading post-Covid?
Shorrocks: While it is not necessarily a result of the ongoing global pandemic, the Covid-19 crisis has undoubtedly encouraged a more sustainable approach to manufacturing and investing in a substantial way.
We've seen a shift on the consumer side towards comfort and functionality, as well as a growing concern over the environmental impacts. Moving towards the use of more sustainable materials and the adoption of greener production processes will continue to be a big focus for the footwear industry in the long term.
At the same time, the dramatic acceleration in digital transformation at both the corporate and industry levels has forced a lot of shoemakers and brands to review their supply chains and logistics, and to build in resilience and flexibility against future disruptions.
For our brand, sustainability is woven into the very fabric of our shoes and is central to our ethics. We choose to focus on progress, committing to ever-evolving positive change, and reducing our footprint by utilising sustainable innovations across our business operations. Our sustainability journey is not unlike a fitness journey: starting is everything, failure is inevitable, adjustment is vital, and practice makes perfect.
To achieve our goals, we have begun with three actions across our operations, logistics and products: (i) understanding our footprint by carrying out meticulous measurement throughout 2021 and 2022 to define the basis against which we will measure our progress in the future; (ii) reducing our carbon footprint by minimising power use through identifying the most energy efficient practices and adopting smaller footprint materials; and (iii) offsetting the carbon footprint that we cannot reduce by working with the right partners and projects (e.g., purchasing offsets for the emissions created by the transportation of our shipments) until our reduction efforts take us to the ultimate goal of carbon neutrality.
Chan: Sustainability or ESG has taken centre stage in the fashion industry. Brands have launched collections featuring recycled materials and low-emission production processes. How do you see your Hong Kong-grown products winning a share of the competitive green consumption market? How do you differentiate your brand from the big brands and your close competitors? How are you going to position LANE EIGHT in the industry and market? Any benchmarks or milestones to share? What are the next steps?
Shorrocks: Whilst big brands are looking at active people as if they were world-class athletes looking to break a record, we differentiate our company and product with a focus on delivering product performance and sustainability for real-world, everyday athletes by creating versatile, stylish and sustainable footwear.
A lot of casual or lifestyle footwear products are moving towards being more sustainable, but often at the expense of performance. The functional considerations with respect to materials and manufacturing, or in other words, the happy marriage of performance and sustainability, is what we aim for to bolster our brand positioning in the market. Many companies strive to make their product more sustainable without sacrificing quality, but we want to go further by making LANE EIGHT products 100% sustainable while actually improving quality and performance.
When it comes to the use of sustainable materials, every pair of our Trainer AD 1 incorporates materials made from recycled plastic bottles. At the same time, we've taken steps to reduce our reliance on ethylene vinyl acetate (EVA) – a rubber-like elastomeric polymer commonly used in the footwear industry for softness and flexibility but derived from petrochemicals. In addition, our BLOOM foam midsoles incorporate algae, reducing the amount of EVA used.
In harvesting and processing the algae, we're also helping to capture CO2 and produce clean water in the areas where our algae is harvested. Every pair of our Trainer AD 1 captures 64 cubic metres of CO2 and returns 31.5 litres of clean water back to local waterways.
So, we have a continuing shift to recycled and natural materials, and our HIIT Trainer marks another milestone: our first plant-based knit upper. From a mixture of recycled plastic and vegan microfibre to plant-based materials, we have made steady advances in the materials we have used since 2019. Now we are using the best combinations of available materials across our products to balance for performance, aesthetics and sustainability. All these achievements have not only meant a lot to us as a small company, but also hopefully inspired others to assess (or re-assess) their possibilities.
In the future, we will look at creating materials together with our partners and vendors to meet our product development and long-term sustainability goals. We are hard at work developing our full roadmap to achieve carbon-neutrality as a responsible business. We will continue to focus on footwear as the foundation of our business but will explore complementary products featuring both performance and sustainability that can be added to our footwear offers.
Chan: Lane Eight has been working with Bloom (the US) and Tencel (Austria), with production facilities in Vietnam and product development handled in Hong Kong. How did this production model work with Covid-19? How have the global pandemic and the ensuing supply chain bottlenecks affected your business plans? Are there any reasons why you chose to start your footwear venture in Hong Kong? How are your sales to Asia and the US going? Do you have plans to open new shops in HK or elsewhere?
Shorrocks: In common with the rest of the footwear industry, and the world at large, we have had to deal with the challenge of supply chain bottlenecks. As a result of the shipping container shortage, we've seen delays of a month or more with product shipments, which have forced us to reprioritise our markets to operate more efficiently. We have, for example, opened a new site in Sha Tin in order to better serve our home market.
These problems have also caused knock-on delays to the launch of future products and designs, and so we've had to rearrange our product range and development plans. We have strived to stay flexible and agile during what has been a dynamic and turbulent period for the world.
On the demand side, Hong Kong has gone through quite a few ups and downs over the past few years. One of the biggest challenges to consumer brands and retail has been the dramatic curtailment of international travel. As a result of the city's strict quarantine rules, for example, we have not travelled to the US since 2019, which has prompted us to change our plans in the US market.
As to why we chose Hong Kong as the starting point for our dream of building our own shoe company, the city's proximity to our supply base was of utmost importance. As a matter of fact, we spent a lot of our early years in Hong Kong, so it has always been home for us, and therefore a natural place to start a business. For the future, we are looking to broaden our distribution network across key markets in North America and Asia to better serve our customers, riding on our success in the competitive Hong Kong market.