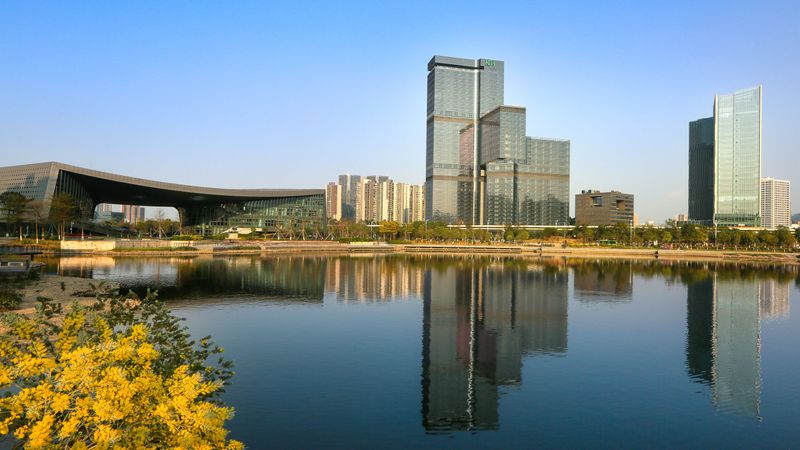 https://origin.hkmb.hktdc.com/en/MTEwMjQ4NDEzMg
The Nansha Masterplan: Objectives and Key Features
C H Poon
On 14 June 2022, the State Council unveiled the Master Plan of Guangzhou Nansha on Deepening Comprehensive Co-operation between Guangdong, Hong Kong and Macao with Global Perspective ("Nansha Plan", Chinese only). So far, the Central Government has drawn up medium-to-long-term plans leading up to 2035 for the three major co-operation zones in the Guangdong-Hong Kong-Macao Greater Bay Area (GBA), - Qianhai, Hengqin and Nansha (see The Qianhai and Hengqin Masterplan: Business Prospects and Key Facts).
The Nansha Plan proposes enhancing the mutually beneficial co-operation between Guangdong, Hong Kong and Macao through five key development directions: 1) speeding up the establishment of a technology innovation industry co-operation base; 2) creating a youth entrepreneurship and employment co-operation platform; 3) jointly developing a high-standard gateway for opening up to the outside world; 4) becoming a centre of excellence for facilitating the alignment of rules and regulations; and 5) setting up high-quality urban development benchmarks for developing Nansha as the powerhouse promoting Hong Kong and Macao's integration with the country's development. Under the plan, Nansha can provide support to Hong Kong in the development of trade, innovation and technology, and entrepreneurship. To provide Hong Kong companies with a better insight of the opportunities presented by Nansha, this article analyses the key features of the Nansha Plan with an overview of the most recent economic developments in Nansha.
Development objectives
Nansha is an administrative district of the city of Guangzhou in Guangdong Province, located at Guangzhou's southern tip and the centre of the Pearl River estuary, adjoining Dongguan to the east and Zhongshan to the west. It has been designated as one of the locations in Guangzhou which will be opened up to the outside world. In 2015, an area of 60 sq km in Nansha was incorporated into the China (Guangdong) Pilot Free Trade Zone, which became one of the three subzones of Guangdong Free Trade Zone (the other two are Qianhai Shekou Area and Hengqin New Area). The current Nansha Plan covers the whole of Nansha District, which has a total size of 803 sq km and accounts for about 11% of the total area of Guangzhou1. However, the development of Nansha will not be implemented in all parts of the district concurrently. Instead, it will expand from a site to a cluster in an orderly manner while strictly protecting local agricultural land and the natural environment. It will start from a pilot area of some 23 sq km covering Nansha Bay, Qingsheng Hub and Nansha Hub in the Nansha Area of the China (Guangdong) Pilot Free Trade Zone.
The Nansha Plan has also drawn up phased goals for the Nansha development. The year 2025 will see the initial formation of a local innovation and industrial transfer system and a business environment that operates as an international market following the rule of law, while a green intelligent energy-saving and low-carbon operation model will be implemented. Coupled with the optimisation of its education, healthcare and other public resources, Nansha aims to become the new preferred home and workplace for young people in Hong Kong and Macao. The next goal is to establish a mature regional innovation and industrial transfer system and first-class international business environment by 2035, which will allow Nansha to play a leading role in supporting the GBA's participation in international co-operation and competition while serving as an important platform for comprehensive co-operation between Guangdong, Hong Kong and Macao.
Guangzhou's new hub
Nansha has become one of Guangzhou's hubs for attracting foreign capital, and in the fields of R&D and foreign trade. In 2021, Nansha's actual utilisation of foreign capital for the year amounted to US$1.53 billion (HK$12 billion), 18% of Guangzhou's total utilised foreign direct investment2. Its R&D intensity is also among the top few districts in the city. In 2020, Nansha District's R&D expenditure was RMB6.78 billion (equal to 3.67% of its GDP3), ranking it second among the 11 administrative districts of Guangzhou in terms of R&D share of local GDP4.
Nansha is also the in-and-out gateway for Guangzhou's trade in goods. In 2021, Nansha Port handled a total of 17.66 million TEUs, 72.2% of Guangzhou's entire port container throughput5. Clearly, Nansha is capitalising on the advantage of its geographic location at the centre of the Pearl River estuary, and through its development of its port logistics industry, it has gradually become Guangzhou's new centre for foreign capital and R&D.
To support its development and strengthen the transport network within the GBA, Nansha has rapidly developed its transport infrastructure in recent years. In April 2019, the Nansha Bridge connecting Guangzhou with Dongguan came into operation, thereby relieving the traffic pressure on the Humen Pearl River Bridge. The opening of Guangzhou Metro Line 18 in 2021 means there are now two metro lines running between downtown Guangzhou and Nansha District (the other one is Guangzhou Metro Line 4). In the same year, the Pearl Bay Bridge also came into operation, so that now it only takes about an hour to travel from Nansha to Shenzhen Bay Port via the Pearl Bay and Humen Pearl River bridges. These new developments have given Nansha geographic and infrastructural advantages in terms of its connections with various GBA cities.
Technology innovation and industrial co-operation
According to the Nansha Plan , the district will capitalise on its R&D advantages to: (a) strengthen collaborative technology innovation between Guangdong, Hong Kong and Macao; (b) set up a major technology innovation platform; and (c) nurture/develop high-tech industries.
In order to promote collaborative technology innovation between Guangdong, Hong Kong and Macao, the plan sets out a number of policies to advance trilateral co-operation, including exempting Hong Kong and Macao's scientific research institutes from compulsory product certification for products and samples required for scientific research, testing, inspection and certification, and helping eligible Hong Kong private equity funds take part in the corporate financing of Hong Kong-funded innovation and technology (I&T) companies operating in Nansha. The Nansha Plan also mentions that Hong Kong's innovative achievements in the fields of electronic engineering, computer science, marine science, artificial intelligence and smart city will be actively transferred and transformed through the establishment of the South China Technology Commercialisation Center and a mainland headquarters base for the transfer and transformation of scientific innovation achievements under The Hong Kong University of Science and Technology6.
When it comes to setting up a major technology innovation platform and nurturing/developing high-tech industries, Nansha will focus on strengthening its technology resources. Measures include: (a) speeding up the establishment of the Southern Marine Science and Engineering Guangdong Laboratory (Guangzhou) in collaboration with the Chinese Academy of Sciences and The Hong Kong University of Science and Technology ; (b) expediting the development of an intelligent connected vehicle industrial park and promoting the R&D and industrialisation of intelligent battery electric vehicles; and (c) pushing forward the establishment of a professional robotic innovation centre and setting up an international fibre-optic cable landing station. It should be noted that automobile manufacturing and electrical machinery and equipment manufacturing are Nansha's most important industries. They accounted for 45.5% and 8.6% respectively of Nansha's gross output value from industries above a designated size in 2021, while the output value of automobiles and air-conditioning machinery made up 28% and 77% respectively of Guangzhou's total output value7. The policies outlined above indicate that in the future, Nansha will not only promote basic research through tertiary education institutes, but will also drive high-tech development among local industries in conjunction with major local enterprises.
Taxation policy support
To support the development of high-tech industries and pool Hong Kong and Macao's talent, Nansha will implement corresponding financial policies. For example, enterprises engaged in encouraged sectors in the pilot area will enjoy a reduced enterprise income tax rate of 15%, while Hong Kong and Macao residents working in Nansha will be exempt from paying individual income tax in excess of their corresponding tax burden in Hong Kong and Macao. While the offer of a reduced enterprise income tax rate of 15% to enterprises engaged in encouraged sectors listed in a catalogue of priority industries is a common mainland policy (having already been implemented in region including Qianhai and Hainan), the policy of exempting Hong Kong and Macao residents from paying income tax above what their tax burden in Hong Kong and Macao is a breakthrough measure. Currently, in the nine mainland cities of the GBA, the municipal governments offer subsidies to non-locals in high-end professions (or in professions where talent is in short supply) to cover their income tax burden in excess of 15%. Nansha, however, has gone further, waiving the entire portion of their individual income tax portions above what their burden would be in Hong Kong and Macao. With this policy covering all Hong Kong and Macao residents working in Nansha, it will benefit talent in all areas, not just in the R&D sector. However, it should be noted that as of June 2022, the implementation details for these income tax policies had not yet been released.
Opening up and service industry co-operation
Under the Nansha Plan, the district will push forward its opening up policy and actively promote co-operation between the service industries of Guangdong, Hong Kong and Macao, in order to develop into a high-standard gateway for opening to the outside world. To do this, it will: (a) speed up the phase-four development of the terminal automation project at the Nansha Port Area of Guangzhou Port; (b) boost sea-rail transport capacity by maximising the use of the existing railways; and (c) set up the GBA supply chain management platform for commodities including bulk materials, consumer goods, food and artworks, together with a showroom and trading centre for engineering plastics, foodstuff and red wines, through the Nansha Comprehensive Bonded Zone. In addition, Nansha will also improve co-operation with Hong Kong in the areas of shipping logistics, sea-to-sea transit, rail-sea transport, shipping finance, maritime service and cruise and yacht service, and will speed up development in various maritime services including ship management, inspection and testing, seaman training and marine dispute resolution. The first China-Europe Railway Express departing from Nansha Port began operating in May 2022, signifying one of the latest upgrades of Nansha Port. Nansha is expected to consolidate the position of its port as Guangzhou's international shipping and logistics hub through the ongoing upgrade of its facilities.
Capitalising on its expertise in the trade in goods, Nansha will strengthen and enhance its economic and trade co-operation with Japan, South Korea and ASEAN countries through the implementation of the Regional Comprehensive Economic Partnership (RCEP) agreement. Nansha will also step up its connections with the highly-developed economies of the European Union and North America in several fields, including finance and technology innovation. At the same time, it will encourage Hong Kong and Macao's business associations and chambers to set up representative offices in Nansha. It will also actively undertake to host major international forums – such as the annual global conference of the International Finance Forum (IFF) – and other international exchange activities, including large-scale cultural and sports competitions, with a view to increasing integration with regional and global economies.
Professional services
Other service industries are also covered by the various opening-up policies set out in the Nansha Plan, many of which focus on strengthening co-operation between Nansha and Hong Kong. In terms of professional services, Nansha will step up its concerted efforts with Hong Kong to build a comprehensive online-offline integrated international investment and financing service system. It will also optimise the mainland's partnership association mechanism involving Hong Kong and Macao law firms. For the printing industry, Nansha will push forward the establishment of a GBA printing industry platform to facilitate its opening to and connection with the outside world. As regards the financial sector, Nansha will provide support for eligible investors from Hong Kong and Macao to apply for the establishment of licensed financial institutions such as securities companies, futures companies and investment fund companies, and for Renminbi overseas investment and lending funds to be set up jointly by operators from Guangdong, Hong Kong and Macao.
In the construction and engineering sector, Nansha will recognise the professional qualifications of Hong Kong architects, structural engineers and building surveyors who are members of their respective professional associations and institutes in Hong Kong. Hong Kong and Macao companies will be allowed to apply the construction management models from Hong Kong and Macao to development and construction projects undertaken in Nansha in the form of a sole proprietorship or holding company. Operators and professionals with Hong Kong qualifications in architecture or related engineering consultancy may provide services directly in Nansha once filing procedures have been completed.
Nansha will also explore ways to actively attract the participation of Hong Kong and Macao professionals and international talent through serving on statutory bodies or by appointment. It should be noted that the Qianhai Shenzhen-Hong Kong Modern Service Industry Co-operation Zone has already taken the lead in implementing the above mentioned measures regarding the construction and engineering sector8. The plan for the zone, released in 2021, also proposes exploring the possibility of allowing eligible Hong Kong, Macao and foreign professionals to serve on the statutory bodies of the Qianhai co-operation zone. All this shows that Nansha is attempting to further implement the favourable experience from the co-operation between Qianhai and Hengqin with Hong Kong and Macao in enhancing its co-operation with Hong Kong's service industry. It also intends to capitalise on its advantages as the shipping hub of Guangzhou to actively expand the scope of its opening up.
Entrepreneurship promotion and healthcare
While actively opening up to the outside world and increasing co-operation in the service industry, Nansha is also looking to encourage young people from Hong Kong and Macao to start a business or take a job in the district. Eligible Hong Kong and Macao residents starting a business in Nansha will enjoy the same benefits under local support policies as their mainland counterparts, including guaranteed start-up loans and discounted interest rates. Start-up teams subsidised by the Hong Kong and Macao Governments (such as the Youth Development Fund and CreateSmart Initiative of the HKSAR Government) can directly access benefits under Nansha's start-up support policy. Hong Kong university students taking up jobs in Nansha through the Greater Bay Area Youth Employment Scheme of the HKSAR Government will be entitled to subsidies offered by the local government. Nansha will also consider driving local state-owned institutions, statutory bodies and state-owned enterprises to bring in eligible young talent from Hong Kong and Macao.
The local government in Nansha is also set to upgrade the district's healthcare services through public and private sector co-operation between Guangdong, Hong Kong and Macao. To expand healthcare provision, Nansha will help medical and health services providers from Hong Kong and Macao set up medical facilities in Nansha in the form of a sole proprietorship or partnership. With reference to the investment, operation and management model of The University of Hong Kong – Shenzhen Hospital, it will develop a major general public hospital, to be fully funded by the local government and adopting the modern management approach of Hong Kong and Macao. Nansha will also speed up the implementation of the Work Plan for Regulatory Innovation and Development of Pharmaceuticals and Medical Devices in the Guangdong-Hong Kong-Macao Greater Bay Area, promulgated in 2020 to allow designated healthcare institutions operating in the GBA to use pharmaceuticals and medical devices registered in Hong Kong or Macao and procured by their public hospitals for urgent clinical use and with advanced clinical applications, subject to the approval of Guangdong Province. These policies will help to ensure that Hong Kong and Macao residents working in the district are able to enjoy a full range of healthcare services.
Education and the elderly
In addition, Nansha will also focus on the development of education and elderly services. As regards education, it will optimise Nansha's university admission system for Hong Kong and Macao candidates, and expand the admission channels for students from Hong Kong and Macao. Vocational education and training institutes in the two cities will be encouraged to co-operate with mainland institutes, enterprises and organisations to set up vocational training schools and internship bases. Nansha will also implement policies regarding applications made by Hong Kong and Macao residents for mainland accreditation of primary and secondary school teacher qualifications.
Elderly people from Hong Kong who want to spend their retirement in Nansha will, when they move into qualifying Nansha elderly institutions, enjoy the same level of subsidies as they would in Hong Kong. It is planned they will also be allowed to use Hong Kong's Elderly Health Care Vouchers at Nansha's designated healthcare institutions. These policies will not only attract Hong Kong and Macao residents to attend schools and spend their retirements in Nansha, they will also provide development opportunities for Hong Kong's educational, medical and healthcare institutions.
Takeaways for Hong Kong businesses
In order to explore the opportunities available to Hong Kong businesses in Nansha, one first has to understand the role of Nansha in Guangzhou. As many of Guangzhou's commercial and trade developments are very mature, Nansha's advantages are mainly down to its high-end manufacturing industry and logistics industry. The Nansha Plan takes into account Nansha's advantages and positioning. Through the comprehensive development of its logistics and shipping service industries, Nansha will be shaped into another Guangzhou hub for opening up to the outside world. Through the development of tertiary education institutions and high-standard laboratories, Nansha will become another industry-academia-research collaboration centre in Guangzhou and the GBA. In addition to its efforts in these two sectors, Nansha will take great strides to promote youth entrepreneurship by capitalising on its advantages of having abundant land resources with rentals lower than those in other Guangzhou downtown districts. It can then create a win-win option whereby start-ups can enjoy lower operating costs in the district and Nansha can diversify its economic structure through the pooling of start-ups and related commercial services. It should be clear, therefore, that the opportunities on offer in Nansha are particularly prominent for Hong Kong's shipping service industry and technology innovation businesses.
Some of the policies outlined in the Nansha Plan have already been implemented in Shenzhen's Qianhai, Zhuhai's Hengqin and other mainland cities in the GBA. As this is the case, what other attractions can the Nansha development offer to Hong Kong businesses? For one thing, Hong Kong companies operating in Nansha should be able to enjoy the opportunities presented by its rapid economic development. In recent years, Nansha has become one of the districts of Guangzhou with the fastest economic development. In 2021, its GDP grew by 9.6%, higher than the 8.1% figure posted by the whole of Guangzhou; its gross output value from industries above a designated size saw a rise of 11.2%, compared to 7% for Guangzhou overall; while its fixed asset investment went up by 22.3%, significantly higher than the municipal growth rate of 11.7%9.
Under the Nansha Plan , the authorities in Nansha will give priority to those Hong Kong and Macao projects that align with the directions stated in the plan. With many policies for attracting businesses and talent and for upgrading public resources already promulgated or in the pipeline10, Hong Kong companies based in Nansha should be able to enjoy even more benefits and greater convenience.
---
1 Source: Guangzhou Municipal People's Government
2 Source: Statistical Communiqué of Guangzhou Nansha on the 2021 National Economic and Social Development and Statistical Communiqué of Guangzhou Municipality on the 2021 National Economic and Social Development
3 Source: Guangzhou Statistical Yearbook 2021
4 Huangpu District ranked first in the Guangzhou municipality in terms of R&D intensity in 2020 when its R&D expenditure reached RMB20.9 billion, accounting for 5.71% of its GDP.
5 Source: Statistical Communiqué of Guangzhou Nansha on the 2021 National Economic and Social Development
6 The Nansha campus of The Hong Kong University of Science and Technology (Guangzhou) will be open for classes in September 2022
7 Source: Statistical Communiqué of Guangzhou Nansha on the 2021 National Economic and Social Development and Statistical Communiqué of Guangzhou Municipality on the 2021 National Economic and Social Development
8 Examples include two sets of record‑filing measures for allowing professional firms and qualified practitioners respectively from Hong Kong's construction and engineering sector to practise in the Shenzhen Qianhai Shenzhen‑Hong Kong Modern Service Industry Co-operation Zone (Shen Qian Hai Gui Nos. 7 & 8 [2020]) released in 2020 
9 Source: Statistical Communiqué of Guangzhou Nansha on the 2021 National Economic and Social Development ; Statistical Communiqué of Guangzhou Municipality on the 2021 National Economic and Social Development; Guangzhou Municipal Statistics Bureau
10 Examples include the policies stated in a circular on promoting the intensive integration of the innovation chain, industry chain, funding chain and talent chain in Guangzhou Nansha (Sui Nan Kai Guan Ban Gui No. 3 [2022]) released in June 2022
Technology
Medical & Healthcare Services
Hong Kong
Mainland China
Hong Kong
Macau