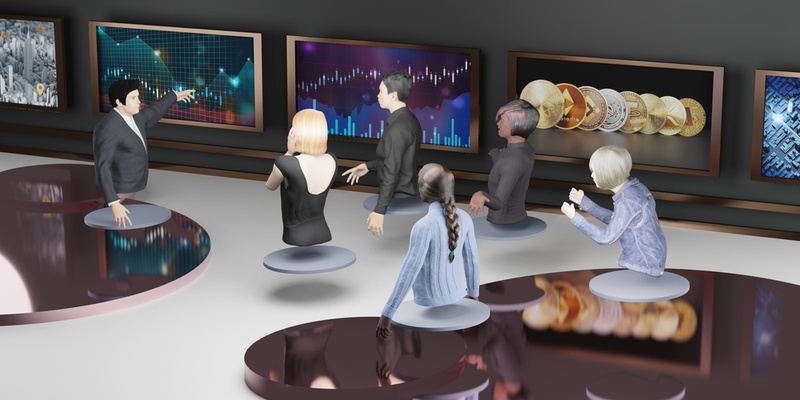 https://origin.hkmb.hktdc.com/en/MTExMzE0Nzg1Ng
Exploring the Metaverse: Industry Aggregation and Crossover Opportunities
Louis Chan, Simeon Woo
In a recent webinar "Exploring the Metaverse: Industry Aggregation and Crossover Opportunities", HKTDC Research invited two experts to discuss the opportunities and challenges of the metaverse, and suggest how metaverse integration can increase business competitiveness.
Four Elements and Five Opportunities
The metaverse ecosystem has four elements, explains Simeon Woo, Economist (Global Research) of HKTDC Research. There is the space, or the open virtual world where users interact; the interface, meaning the hardware that enables users to connect to the space, including Augmented Reality (AR) and Virtual Reality (VR) headsets, computers and smartphones; the monetary infrastructure, which enables users to trade digital assets in the metaverse using digital payment systems; and finally the computer, which supports the operation of the metaverse.
Woo identifies five opportunities in the metaverse.
                                        (Cantonese)
First of all, rapid growth projected for the metaverse. Globally, the metaverse has approximately 3 million current active users, with roughly 300,000 active users on the VR social platform of Meta - owner of Facebook - alone. According to a survey, the number of internet users connected via 5G globally stands at about 1 billion this year, with current market size of the entire metaverse estimated at US$60 billion. By 2030, the number of users active in the metaverse is projected to exceed 5 billion, with potential market size reaching or even exceeding US$8 trillion.
​​​​​​​Secondly, businesses can expand their digital footprints with the metaverse. An example is the metaverse fashion week from 24-27 March, which saw more than 60 brands showcasing over 500 fashion items. Many brands including Samsung have opened metaverse concept stores where consumers can shop for products and take part in related activities. Singers like Justin Bieber have also staged metaverse concerts using avatars.
Thirdly, businesses can build fan communities in the metaverse. It provides a space where fans can interact and connect, and unique fan communities can be promoted with the incentive of NFT (non-fungible token) products verifiable using blockchain technology, by offering events exclusive to NFT-holding fans.
Fourthly, the metaverse offers the possibility of novel business models and services. Breweries, for instance, may mint NFTs for collectors and investors when offering limited releases. As blockchain-based NFTs enable investors to ascertain product origin and authenticity, physical releases may be traded directly in the secondary market without third-party authentication.
Fifthly, businesses can build up an ecosystem that integrates the virtual and physical world. In addition to purchasing NFT products issued by brands to establish unique communities, fans may take part in activities to earn cryptocurrencies or discounts in physical stores. For their part, brands may use feedback gathered from fans in the metaverse to improve their products. In this way the metaverse can improve the consumers' offline experience and create synergy between the virtual and physical businesses by attracting new fans to the metaverse.
Three Threats to Watch out for
Developments in the metaverse are not without risk, however. The virtual world also suffers from wilful damage and theft. According to Woo, the FBI's Internet Crime Complaint Center received over 840,000 complaints in 2021. The majority of the complaints related to phishing, including last December's phishing hack of the NFT project Monkey Kingdom, which resulted in losses to the tune of US$1.3 million. Total potential losses amounted to US$6.9 billion, a marked increase over 2020.
Cryptocurrencies remain an uncertain factor and there is a lack of co-ordinated international regulations. The US and the EU are currently undecided on how to regulate crypto, whilst Singapore is content with its existing regime, and the UK is working on a new regime in tandem with its development of stablecoins. Investors and users should be mindful of the risk that regulatory changes could affect usefulness and value of cryptocurrencies.
The volatility of crypto and digital assets is another threat. Bitcoin nosedived from US$68,000 towards the end of 2021 to its present value of just under US$20,000. Luna's value initially went from a couple of US dollars to US$120 before plunging to practically zero amid a widespread selloff in crypto assets. Governments around the world are therefore intent on introducing some form of regulation while warning against investment in virtual currencies.
Applicability of NFTs in IP and Physical Products
Ivan Mok, Deputy CEO (Asia Pacific) of MOVE Network, observes that although NFTs have fuelled the growth of the metaverse over the past two years, the virtual worlds that existed in gaming before this were themselves part of the metaverse. Businesses may integrate tangible and intangible assets with NFTs to make them sellable on online platforms.
NFTs have wide applicability to intellectual property (IP) products like musical compositions, characters, avatars and product images, suggests Mok. By acquiring the rights of use and ownership of products, investors may profit from reselling their NFTs. In music NFTs, for instance, investors may get a handsome cut of the profits if a song goes viral. Additional developments are possible with the launch of virtual idols, virtual concerts and metaverse products. The virtual tokens may in turn be used as admission tickets for physical events or vouchers for certain products without the need for identity verification.
Mok stresses that NFTs have more to do with community building than mere transactions. Community cohesion can be stronger with NFTs and the metaverse compared to traditional social media communities and offline groups. The integration of IP products with NFTs therefore makes for a great business model, allowing businesses and creators to interact with fans and customers who enter the metaverse market via NFTs.
NFTs have also been used in the marketing of physical products. Mok cites a set of NFTs that his network recently designed for a foreign distillery. Different NFTs were minted according to the distillery methods, grains and containers employed. The NFTs underwent step-by-step transformation as the whiskey was put into the cask, bottled and delivered to the client. The distillery also held offline tasting parties exclusive to NFT holders, and organised promotions on social media. The company stands to take a cut of the profit every time whiskey NFTs are traded in the secondary market.

Issuing NFTs before Entering the Metaverse Market
To small businesses interested in entering the metaverse market, Mok's suggestion is to issue NFTs to attract customers and investors, build a community, and generate profits to serve as initial investment funds, before actually establishing a presence in the metaverse. To start with, a company can purchase a plot of land in Sandbox or Decentraland and hire a software developer to deal with the technical issues.
Businesses may then establish an exhibition or a museum on the purchased land by uploading and displaying brand history and events for documentary and promotional purposes. The costs are lower than in the physical world, and the venues may one day open for public admission with entry fees, attracting potential customers and investors. Mok notes that many clothing and catering brands are converting casual customers into Very Important Customers (VICs) or investors by issuing NFTs that allow purchasing members to redeem rewards like discounts and gifts.
Given that the metaverse is still a work in progress and profits may be slim, Mok advises companies investing in the metaverse to have realistic expectations and treat it as a brand-building and publicity-generating opportunity. The key is to stay abreast of the latest market developments to engender customer confidence.