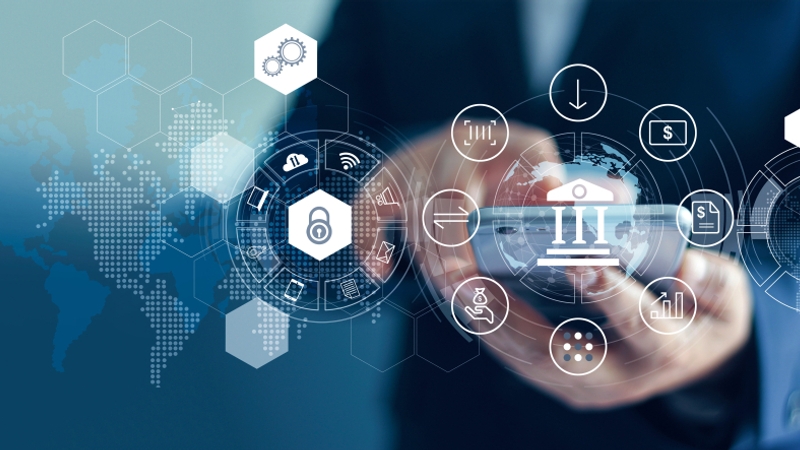 https://origin.hkmb.hktdc.com/en/MTEyMDAxMDAwNQ
Enhancing Fintech Services and Customer Experience
Interview with Simon Loong, Founder and Group CEO of WeLab
Alice Tsang
The granting of virtual bank licences is a key move for Hong Kong in the new era of smart banking, providing customers with innovative services via financial technology (fintech). WeLab Bank was granted a virtual banking licence by the Hong Kong Monetary Authority (HKMA) in 2019. The Bank is a wholly owned subsidiary of WeLab, a leading pan-Asian fintech platform with over 50 million users in Hong Kong, mainland China and Indonesia. The group also offers seamless B2B enterprise fintech solution to more than 700 enterprise customers. Simon Loong, Founder and Group CEO of WeLab, shared with HKTDC Research his views on the development prospects of virtual banking in Hong Kong as well as the opportunities for expanding into overseas markets.
Game-changing Digital Wealth Advisory Solutions
WeLab, the parent company of WeLab Bank, founded in 2013. Loong said: "WeLab leverages its proprietary risk management system, patented privacy computing techniques, and advanced artificial intelligence capabilities, to provide innovative financial services to consumers as well as customised fintech solutions to financial institutions and businesses."
WeLab Bank provides innovative intelligent banking experiences to individual customers in Hong Kong, more flexible than the online financial services offered by traditional banks, to help them manage and grow their wealth. Loong remarked: "The greatest difference between us and traditional banks is that we not only allow customers to open an account anywhere at any time, but we also make use of technology and data to design and provide the appropriate personal wealth management solutions for them." The cost of personal wealth management services is normally high, so that the wealth management consultants of traditional banks mainly serve high net worth users. But by using fintech, the business model can be reimagined and personalised digital wealth advisory services can be provided to customers in the mass market, filling the gap in services provision.
Loong said: "WeLab Bank launches GoWealth and becomes Asia's first purely-digital bank to launch digital wealth advisory solutions. GoWealth combines the strengths of WeLab Bank in fintech and the professional investment management knowhow of AllianzGI (one of the world's leading asset management companies) to provide seamless, intelligent wealth advisory solutions to customers. Unlike most risk-based wealth management services available on the market, GoWealth is a goal-based wealth advisory solution. It ties the entire investment experience with customers' goals through an end-to-end advisory process, ranging from financial planning and investment portfolio recommendations to fund transactions and financial goal tracking. Customers can set multiple personal goals (such as saving one million dollars by the age of 30) on their mobile app and GoWealth will then make recommendations for a customised investment portfolio (including a basket of money market funds, equity funds and bond funds managed by professional fund managers). WeLab Bank's Intelligent investment engine can instantly calculate the "probability of success", providing investment recommendations and managing risk for customers under all circumstances by projecting market trends in the next 50 years. It tracks the progress of customers' financial goals, and helps customers stay on track." Of course, the prerequisite of any investment (buying real estate, pursuing further education etc) is having available funds. Providing mass public with personalised wealth management services by way of fintech, encouraging them to set financial goals and establish investment habits, is the first step towards managing and growing their wealth thereafter. It is also one of the advantages of virtual banking.
Innovative subscription model
To adapt the popular subscription model, WeLab has teamed up with the authorised resellers of leading tech brand Apple to launch the Subscribe+ for Apple Products subscription programme. WeLab is the first and only financial services provider in Asia to offer such a programme. Under the subscription business model, customers can purchase their favourite gadgets by monthly payments according to their budgets. This is designed to meet the demand of the new generation for more flexible and transparent payment options that meet their spending needs. Loong explained: "When a consumer applies for the programme, the high trade-in value of the product he or she wants is deducted in advance. WeLab then uses its fintech to work out the credit score of the applicant within five minutes, allowing him or her to choose the most acceptable payment terms. The interest rate can be as low as 0%, with no down payment required. At the end of the term, the customer can either trade in the device and upgrade to a new device at a specified trade-in value or keep the device by paying off the final instalment." Another special feature of the programme is customers are only required to make a one-time application and can purchase different Apple devices and accessories at the same time.
Customers span broad age groups
Fortunately, Hong Kong started promoting fintech proactively well before the Covid-19 outbreak so that people and businesses were able to make use of digital financial services during the pandemic to handle daily financial matters. It is generally believed that young people are more receptive to fintech than the older generation, so it is natural for virtual banks to target young customers. However, Loong remarked: "Although 70% of our customers belong to the 20-40 age group, we also have older customers, the most senior being 83 years old. In other words, the customer base of virtual banks is very broad."
Overseas market expansion
According to Loong, Hong Kong virtual banks have first-mover advantage over their counterparts in other parts of Asia. He said: "The Hong Kong Monetary Authority has issued eight virtual banking licences since 2018. Hong Kong was one of the first financial centres in Asia to introduce virtual banking, and has more virtual banks than other markets in the region. In Singapore, the Monetary Authority of Singapore issued four digital banking licences in 2020, two of which were Digital Full Bank licences serving individuals and companies, while the other two were Digital Wholesale Bank licences serving only corporate clients. Hong Kong is more mature and comprehensive in terms of oversight and policies for virtual banks. After several years of development, the financial products and services available in Hong Kong have diversified greatly.
"Indonesia is another market of Southeast Asia where conditions are ripe for developing virtual banks. Indonesia is a vast country with a large population yet it is also one of the largest financially underserved markets in Asia, there are few financial institutions outside major cities. Virtual banks can help promote financial inclusion. Indonesia has a young population with an average age of 30, which is digitally savvy and highly receptive to fintech. In December 2021 WeLab announced the acquisition of Bank Jasa Jakarta, using our fintech know-how and head-start of operating WeLab Bank in Hong Kong to expand our digital banking presence into the Indonesian market."
Loong does not think it wise to purely "replicate" the Hong Kong model of virtual bank operation in Indonesia. He said: "We have built a local team and have also conducted field studies to gain a better understanding of the consumption pattern and lifestyle of the local people. We found that most of the young people there do part-time jobs after work, such as running an online shop or working for ride-hailing and delivery platforms. In Indonesia as well as Southeast Asia, the gig economy1 is very common. Consequently, the local demand for banking services is different from that in Hong Kong. In view of the cultural differences between Hong Kong and Indonesia, it's vital for us to work with local partners who can help us understand and integrate into the local market as quickly as possible."
Hong Kong fintech's next move
As an international financial centre, Hong Kong has devoted great effort to developing fintech. In recent years, central bank digital currency (CBDC) has gained increasing importance. For instance, in mainland China, CBDC is used to enhance the efficiency of the central bank's payment system and to serve as a back-up for the retail payment systems run by the tech giants. On the development prospects for e-HKD, Loong responded: "HKMA co-operates with the Central Bank of Thailand, the Central Bank of the UAE, and the Digital Currency Research Institute of the People's Bank of China in studying the cross-border application of the wholesale Central Bank Digital Currency (wCBDC). As global connections are becoming closer and closer and cross-border transactions are growing more frequent, CBDC can serve as a new format for the international payment system in the long term." HKMA has already conducted research on the feasibility of issuing retail Central Bank Digital Currency (rCBDC) in Hong Kong, including technical and policy issues. As fintech trends, financial centres around the world will increase investment in technology, leading to more intense competition. Against this backdrop, Hong Kong must advance fintech to maintain its competitive edge and strengthen its position as an international financial centre.
---
1 Gig economy refers to an economic model under which the self-employed make a living by undertaking short-term jobs.
Banking Services
Finance & Investment
Hong Kong
Hong Kong
Indonesia