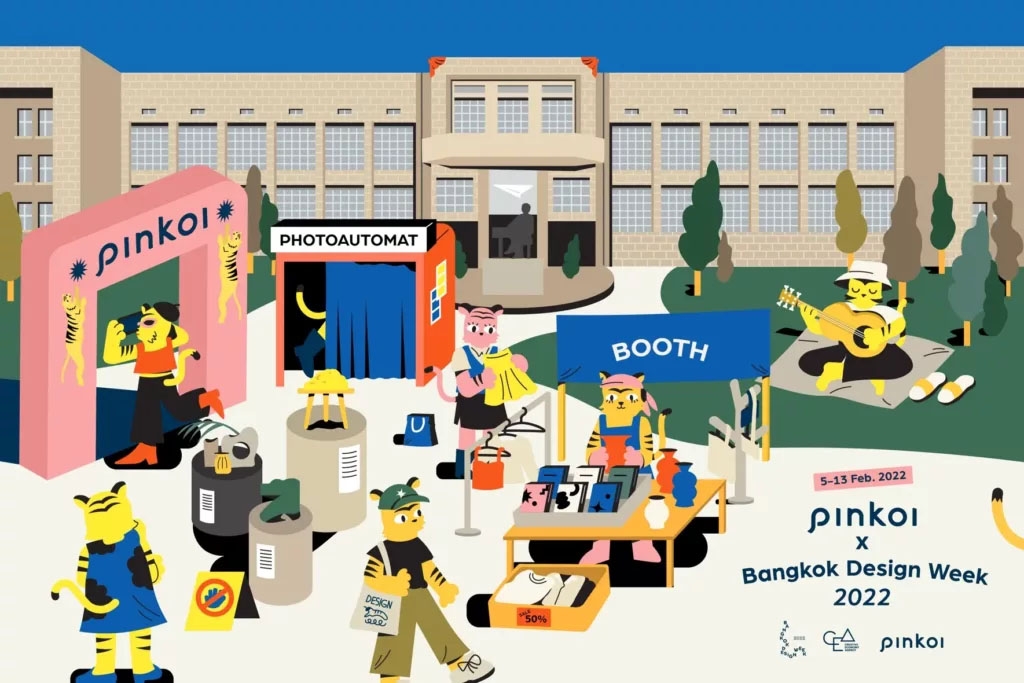 https://origin.hkmb.hktdc.com/en/MTEyNTIxNDA1Mw
E-Commerce Platform Helps Hong Kong Design Brands Venture Overseas
Interview with Tina Lo, Chief Operating Officer of Pinkoi
Doris Fung
The rapid growth of e-commerce and the mushrooming of online shopping platforms have given small and medium-sized firms plenty of opportunities to expand their business. Pinkoi, a Taiwan-based design shopping website, provides a platform for designers to establish their brand value and expand to overseas markets. It was founded in Taipei in 2011 as a traditional Chinese website and actively expanded overseas in 2015 and 2016, with Hong Kong as its first destination before venturing into other parts of Asia. Today the platform supports six languages and transactions in 12 currencies. In an interview with HKTDC Research, Pinkoi's Chief Operating Officer Tina Lo said the international outlook of people in Hong Kong has helped to lay the foundation for Pinkoi's overseas expansion. Citing Thailand as an example, she outlined the issues that overseas brands should bear in mind when venturing into a local market. She also discussed the characteristics and trends of the Thai consumer market and added that she hoped that Pinkoi could help more Hong Kong brands expand overseas.
Fostering international designer brands
Pinkoi carries more than 30,000 designer brands and has sold more than 12 million design products to date. Lo explained that Pinkoi mainly guides brand growth on three levels - assisting designers in establishing commercial brands that meet market needs and consumer preferences, assisting designers in gradually expanding their business, and helping brands go global. Outlining the company's success so far, Lo said: "We have over 5 million members today and the number is growing at a double-digit rate annually. Promotion on the Pinkoi platform can help speed up the internationalisation of brands. Over 86% of the Hong Kong brands on this platform have received overseas orders through it." Pinkoi also encourages and facilitates brand collaboration aimed at driving mutual growth.
To ensure the quality of the brands it carries, Pinkoi examines the originality and design sense of each brand designer before signing them up. Explaining that attention to detail in platform design helps achieve a lower return rate than that of rival platforms, Lo said: "Online shopping platforms usually have a fairly high rate of returns, such as up to 60% for fashion items. Pinkoi's return rate is under 3% because our brand designers provide consumers with sufficient information through product descriptions, photos and so on. Pinkoi's web design also provides a channel for direct contact between brand designers and consumers."
For footwear items, brand designers provide guidelines to help consumers find the right size. When consumers have questions about the products, the brand designers are more than happy to communicate with them to help them find what they desire.
Hong Kong office as model
When Pinkoi began actively expanding overseas in 2015 and 2016, it chose Hong Kong as its first destination, before eventually venturing into Tokyo, Bangkok and Shanghai with the establishment of local offices in those cities. Reflecting on the decision to choose Hong Kong as the first destination, Lo said it was because Hong Kong and Taiwan both use traditional Chinese characters and so the Taiwanese website could be used in Hong Kong as well. Hong Kong's main advantage, however, is that it is a bilingual city, something quite rare in Asia. Hong Kong is a cosmopolitan city. Its people are known for their international outlook and readiness for cross-regional and cross-cultural exchanges and development. As such, Hong Kong was an ideal bridge and base for Pinkoi's overseas expansion.
Lo mentioned in particular the exemplary role played by the Hong Kong team for other Pinkoi teams in Asia. Citing as an example Hong Kong's part in the launch of the Pinkoi x Miffy limited collaboration, Lo said: "In 2019, Pinkoi Hong Kong joined with Pinkoi Taiwan to launch - to wide acclaim - a variety of design products in collaboration with the beloved Dutch rabbit Miffy. The project was re-run the following year and its success attracted the participation of the Japanese team."
The Hong Kong team subsequently mapped out marketing strategies and invited sellers from Thailand, Japan and mainland China to participate in its projects while taking care of contracts, merchandise screening and other matters to help push product brands to other Asian markets.
The Thai consumer
Pinkoi has been operating in Thailand for a number of years. Lo noticed that Thailand provides a wide range of support for young designers, including training courses, internship opportunities, government subsidies and a business matching service, which she said has contributed to Thailand's cultural and creative boom. An important regional hub in Southeast Asia, Thailand is a country of many ethnic groups. Cultural diversity helps the development of overseas designers.
Pinkoi's local teams actively publicise overseas brands in their day-to-day promotions. Alongside online channels, the company also regularly hosts the Pinkoi Design Fest live in Thailand. In order to make the brand promotion more effective, half of the participating brands are local and half are from overseas. Overseas designers can take the opportunity to get in touch with local clients and local designers can assist overseas designers in communicating with local clients.
Lo is optimistic about the development of the Thai consumer market and encourages Hong Kong design brands to venture into Thailand. Although the spending power of Thai consumers is not as strong as their Hong Kong counterparts, younger people are willing to spend money on and try out unique brands to display their personality. Because Thai consumers have a high level of acceptance for international brands, Hong Kong brands are likely to receive a good response in the Thai market.
Lo has the following three suggestions for Hong Kong designers. Firstly, use bright colours. Thailand is hot all year round, with the average temperature approaching 30°C. Pinkoi's data suggests that black and dark-coloured products do not sell well in Thailand. On the contrary, consumers welcome bold colours. For more mature consumers, designers could use golden colours with flashy elements. Secondly, cotton and linen materials sell better because of the hot climate. And thirdly, sandals are popular with local consumers because most working-class people in Thailand wear sandals to work.
Pet market
Citing a market study which forecasts that the pet market will grow to 66.7 billion baht (HK$14.3 billion) by 2026, Lo said: "Some analysis suggests that Thailand owes its pet market boom to the late king's adoption of stray dogs and his readiness to share his love for pets with the people. There are about 15 million registered pets in Thailand today, averaging about one for every five people." Thais' love for pets has stimulated the rapid growth of the pet products market. Since consumers love to take their pets outdoors and increasing numbers of venues are becoming pet-friendly, there is a strong demand for pet apparel and accessories.
Two types of Hong Kong products have benefitted from the Covid-19 pandemic. One is pet supplies, with sales on the Pinkoi platform registering a year-on-year growth of 320%. 50% of this growth originates from consumers aged between 26 and 35. These consumers are willing to spend and regard their pets as family. Young consumers also like to use online shopping platforms to find pet supplies that display their personality. The other product type that prospered during the pandemic was household items, sales of which showed a year-on-year increase of 328%. Sales of fashion items paled in comparison.
Challenges from Southeast Asia
Lo cited two major challenges to the promotion of Hong Kong brands in Thailand. Firstly, high levies imposed on postal parcels are putting many Thai consumers off. At present, parcels worth up to 1,500 baht (HK$325) are exempted from value-added tax (VAT). For products of Hong Kong brands which are usually worth more than 1,500 baht, Thai buyers need to pay VAT on top of the purchase price and shipment fee, which may reduce consumers' enthusiasm to buy the product, or may even prompt returns. Secondly, parcel loss is not uncommon. Most Hong Kong brands use the public postal service to reduce cost. After the parcels arrive in Thailand, postal tracking is not always dependable and parcels are difficult to track once they get lost. This affects the development of Hong Kong brands in Thailand.
Lo called on design brands to join Pinkoi in the Southeast Asian market – although she made clear the obstacles involved, saying: "E-commerce is subject to regulation in Thailand. A brand needs to obtain a permit to do business there. Moreover, since different methods of payment are used in different countries, brands are advised to use all payment gateways." Through the Pinkoi network, Lo hopes to help Hong Kong's brand designers comply with the rules and standards in Southeast Asian markets, reduce their technological costs and go global.
Hong Kong
ASEAN
Southeast Asia
Thailand