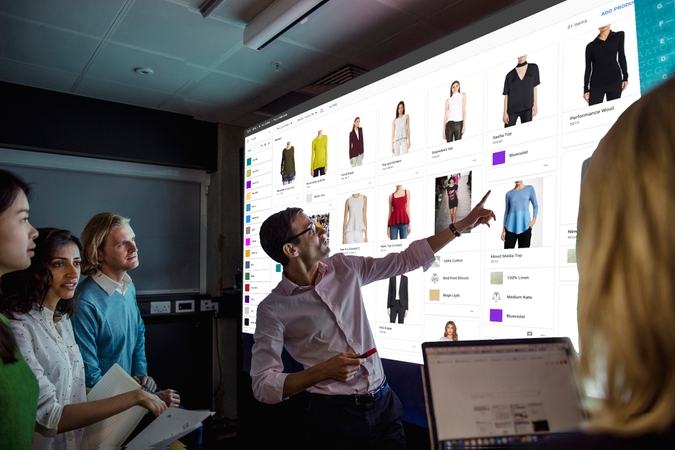 https://origin.hkmb.hktdc.com/en/NDc5Nzk1OTQ4
Navigating Covid-19: A Product Lifecycle Manager
The economic damage caused by the Covid-19 pandemic and the efforts to contain the spread of the virus are clearly visible in the global data on industrial production (see the graph below). This has brought with it a host of challenges to international value chains. National lockdowns and factory closures have shattered the complex structure of global manufacturing dynamics, while the grounding of most flights has pushed air freight costs up greatly and brought international air travel to an abrupt halt.
In this atmosphere of rapid and wholesale change and transformation that manufacturers worldwide are having to deal with, it is almost impossible to anticipate what may happen in the coming days, weeks or even months. The sweeping repercussions have left many sectors, especially in non-essential consumption sectors such as design apparel and footwear, in survival mode. Manufacturers, aside from relocating production and making increasing use of furloughs, pay cuts and layoffs, are looking for other solutions to stay in business. They are looking to maintain rapid and proactive collaboration with their brand and retail partners to prepare to jumpstart their business operations as they emerge from the current crisis.
In such an uncertain world, going digital is increasingly becoming a requisite for survival. Waves of technology, featuring connected, smart solutions such as automation, additive manufacturing or 3D printing, and artificial intelligence (AI), are washing over the corporate world, redefining the nature of product lifecycle management (PLM). This affects all the people, processes and tools used to manage a product from conception, through design and development, to production.
There are no playbooks and few best practices available to help manufacturers and brands manage digital transformation. In order to provide some sort of guide to the process, HKTDC Research interviewed Nick Wei, Regional Sales Director at Centric Software, the world's leading PLM solution provider. The aim was to get a better understanding of how manufacturers, brands and retailers can work together to reboot in the best way possible, and begin moving forward to prepare for recovery and business in the post-Covid-19 world.
Industry reshuffle 
The Covid-19 crisis has taken an enormous toll on global manufacturing and has left a scar that will endure for years to come. Many businesses, big and small, have been forced to delay or abandon the fulfilment of contracts, while thousands of exhibitions and trade shows across the world have been cancelled or postponed, derailing sourcing, product development, marketing, branding and networking plans globally.
Sectors that rely on long and complex supply chains such as the fashion industry are facing the greatest problems from the widespread supply and demand shocks. National lockdowns and factory closures have ended basically all non-strategic production, while the grim economic reality is driving consumers to squeeze their spending and brands to make cuts in product development.
It is, of course, still too early to fully quantify the effects of the supply chain disruptions triggered by Covid-19. However, if businesses are to avoid prolonged economic distress, they need to undertake a comprehensive review of their approach to the international outsourcing of production, to try to avoid future bottlenecks and breakdowns while increasing the resilience of supply chains by embedding digital solutions as soon as possible.
Wei, however, admits that this is easier said than done, saying: "In the fashion industry, which represents the lion's share of our clientele in Hong Kong, pre-production can easily take up half of the whole product lifecycle management process, which can last up to six months. For more complicated designs, pre-production can take up as much as 80% of the time. This makes a quick fix post-Covid-19 a mission impossible, unless the trade acts now to bring technology fully into play"
Over the past four decades of globalisation, much of manufacturing production worldwide has been organised in a way to maximise profit and cut costs. After the coronavirus pandemic, flexibility and resilience empowered by digital supply chain transformation are likely to become more important to businesses looking to prepare for the Covid-19 recovery and beyond.
Explaining how his company can help businesses do this, Wei said: "To reboot and re-energise the supply chains in the Covid-19 aftermath, our PLM solutions enable all the stakeholders in the product development stage to have real-time access to the most up-to-date tech packs [1], to streamline communication and collaboration between designers, engineers, factory foremen and salespeople, and to make well-informed decisions to reduce the risk of cost and schedule overruns."
The spread of the pandemic from country to country has been so rapid that any effort to relocate production or diversify supply chains has been to no avail. This has left brands and manufacturers with no option but to embrace digital transformation. However, Wei explained that there are still there many challenges to tackle, saying: "The lack of adequate supply chain support in alternative production destinations and clarity and scope of contingencies in contracts has provided little room for different players in the supply chains to manoeuvre. For example, the additional shipment costs and import taxes following a change of country of origin means extra cost being borne by different parties in the supply chain."
Now that it has become clear that the Covid-19 virus may be here to stay, brands and manufacturers have become more willing to move forward their plans to digitally transform their supply chain in order to strengthen their ability and readiness to deal with the aftermath of the crisis.
Wei predicted that this will have a profound and lasting effect on the economy, saying: "Despite governments worldwide putting into place a wide array of relief measures to bail out cash-strapped businesses, many SMEs have gone bust with their major clients putting aside their expansion plans and shutting down their factories. This is giving rise to a profound industry reshuffle which is going to reshape the global manufacturing and production ecosystem in the years ahead."
Survival of the fittest
The surviving players – brands and manufacturers – are moving fast to get themselves ready for the warp speed of change that is about to hit them.
One of the most common headaches in a transformation process is product development. The conventional process of bringing a design into life involves a back-and-forth process in which concepts are discussed and ideas are critiqued among designers, brand owners, product engineers, factories and even salespeople. Multiple prototypes are created in the run-up to final production. 
This can become extremely intricate. Brands may have many collections to release each season, all of which involve different materials, gradings, seams, colourways, measurements, trim, labels, and so on. At the same time, as Wei pointed out, manufacturers may have to work with multiple clients at the same time.
Wei argues that the economic distress caused by the Covid-19 crisis is putting businesses on the fast track to technology adoption, saying: "Business agility is a crucial component for success regardless of market conditions, but it's especially important in light of the lack of commercial visibility imposed by the Covid-19 outbreak. By utilising cutting-edge digital transformation technologies, such as PLM,, and leveraging on such innovations as 3D, artificial intelligence, mobile apps and more, brands, retailers and manufacturers can stay close to consumers, push forward with innovation and, ultimately, cut their time to market."
Wei explained: "Our collaborative PLM solutions are helping manufacturers, who cannot fly to meet their overseas clients in-person during Covid-19, to maintain smooth, interactive communication through our own online teleconferencing platform and work systems. This allows them to ensure that every counterpart in the loop can be on the same page at the same time. Meanwhile, digital mock-ups (DMU) are helping to speed up the whole process by greatly reducing the need for paper drawings and physical prototypes that, because of the widespread lockdowns, cannot be sent back and forth as cheaply and as quickly as before."
Manufacturers and other players along the supply chains are scrambling to try and find digital solutions to ride out of the current storm. Companies often start to implement PLM plans with high hopes, but few understand how to embed them into their existing configuration to achieve the best results. Wei detailed how he and his team have held a number of webinars to walk their clients, committed or prospective, through their PLM solutions, saying: "PLM remains a novelty for many Asian manufacturers, but thanks to the Covid-19 distress, we've pitched this brilliant idea to a pool of wide-ranging industrial players in Asia, big and small, at the more than 10 well-received webinars we hosted between March and June this year. One of the recent events targeting manufacturers in India, for instance, saw more than 1,000 attendees." 
In addition to its knowledge sharing and sales pitch initiatives, the company has also introduced Quick-Start Collaboration packages, which are intended to facilitate a rapid response to the Covid-19 challenge and help cash-strapped manufacturers adopt digital strategies as a means of countering any current difficulties.

Noting that this has proved very successful for the company, Wei said: "Even though fashion brands and their manufacturers are feeling the pandemic pinch, we are signing up new clients who are eager to stay ahead of the competition and reap the benefits of the hoped-for Covid-19 rebound. Unsurprisingly, client growth has been especially fast in the rapidly recuperating mainland China market ever since the pandemic was brought under control there."

With the pandemic whetting the appetite of brands and manufacturers for smart supply chain solutions, and Asia sustaining its position as the world's manufacturing powerhouse, Wei is optimistic about PLM adoption and implementation in the region. He believes at least two fundamental supply chain trends in the fashion industry – co-creation and sustainability – will keep driving the demand for product development digitalisation, saying: "With manufacturers playing an increasingly important role in the product development process, brands will have to establish a common, real-time platform to engage and communicate with them and other players such as designers and product engineers. These co-creation processes are likely to supersede the one-way communication commonly seen in traditional OEM–supplier relationships."
If there is anything positive to take from the current turmoil in the global economy, it might be that it will act as a wake-up call for businesses to start operating in a more globally sustainable manner. The shuttering of large swathes of the global economy has offered a glimpse of a disorienting new green reality and alternative carbon-free future, challenging businesses to consider how things might be done differently after the pandemic.
Wei believes this push for sustainability will prompt fashion brands to step up their efforts to establish greener supply chains. PLM solutions that enable designers, brands and manufacturers to work on virtual prototyping processes and paper-free drawings are, to name just a few examples, potential tools that can help companies improve accuracy, cut lead times and reduce waste. It appears to be self-evident that, in the near future, many more brands will piggyback PLM solutions onto their digital supply chain strategies.
---
[1] A tech pack is a blueprint created by a designer, detailing all the components and instructions needed for a manufacturer to turn the design into a finished product.
Garments, Textiles & Accessories
Garments, Textiles & Accessories
Garments, Textiles & Accessories
Garments, Textiles & Accessories
Garments, Textiles & Accessories
Garments, Textiles & Accessories
Garments, Textiles & Accessories
Garments, Textiles & Accessories
Garments, Textiles & Accessories
Garments, Textiles & Accessories
Garments, Textiles & Accessories
Hong Kong
Hong Kong
Hong Kong
Hong Kong
Hong Kong
Hong Kong
Hong Kong
Hong Kong
Hong Kong
Hong Kong
Hong Kong
Hong Kong
Hong Kong
Hong Kong
Hong Kong
Hong Kong
Hong Kong
Hong Kong
Hong Kong
Hong Kong
Hong Kong
Hong Kong