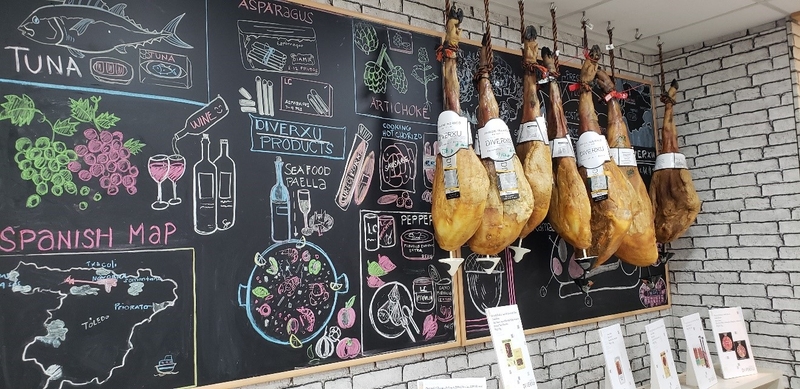 https://origin.hkmb.hktdc.com/en/NDg2NzUzNTU5
The Greater Bay Area: An Appetite for Success
When it comes to culinary indulgence you would be hard pushed to find a place with a bigger appetite for fine dining than Hong Kong. Thanks to its history, geography and reputation as an international melting pot, the array of culinary experiences on offer in the Special Administrative Region (SAR) is rightly something to be proud of.
Among the businesses which have helped put the city's food and beverage sector on the map is Diverxu, a home-grown brand of imported gourmet Spanish food, whose founder, Esther Ng, steeped herself in the culinary life of the southern European country before launching her company in 2011 and growing it into a significant player, not only in Hong Kong but also in its sister SAR, Macao.
But while the company's success in Hong Kong and Macao has followed a fairly smooth path, Diverxu has found entering the mainland market more of a headache. This is due to the often byzantine and ever-changing maze of rules and regulations which stand in the way of importing foodstuffs directly into the mainland market.
Landmark Agreement
Now, however, thanks to a landmark agreement relating to the importation of fresh and processed pork items – the company's signature product range – signed during President Xi Jinping's visit to Spain in late November 2018, Diverxu is on the verge of exporting its first products to the mainland market. It believes its success in Hong Kong and Macao, and the connections it has made in the two SARs, will provide it with bridges into the Greater Bay Area (GBA), an economic project it hopes will lead to further growth.
Explaining the difficulties the Kwai Chung-based company has experienced in the past when trying to break into the mainland market, Carman Wong, Diverxu's Marketing Development Manager, said: "We have been in Hong Kong for more than seven years and have been planning to move into mainland China for a long time. However, this process has proved to be very complicated, especially for our meat products.
"In the mainland, policies and regulations are constantly changing and we have found ourselves having to keep changing partners and completely re-organise the way we approach things on multiple occasions. It has been quite frustrating."
Wong believes that the agreement signed in 2018 should help change that. The deal covers on-the-bone legs of pork with more than 313 days of curation, a Diverxu specialty, as well as other top-of-the-range valued-added pork products, such as loin, sausages and chorizo. It followed lengthy negotiations between the two countries, and a memorandum of understanding between Spain and mainland China also allows for more meat products to enter the mainland more easily.
Wong called the agreement an important step forward, saying: "We see this as a watershed moment and we hope to begin importing our products into the mainland market for the first time shortly after the Chinese New Year, hopefully in February 2020. The GBA is clearly a region we see as being a big driver of what we hope will be a growing business in an exciting market."
Bridges into the GBA
According to Wong, the key to making a success of the opportunities offered by the GBA initiative will be the customer base and business connections which Diverxu has developed since it first launched in July 2011. Also important will be a recent partnership deal it entered into with a subsidiary of Gold China Development Limited in Dongguan.
A measure of the company's success in Hong Kong is that it has even performed well in the challenging economic environment of 2019 – one of the most turbulent years in the city's recent history. Diverxu grew at a rate of 5-10% during the year after introducing a new catering product line for parties, events, celebrations and fairs.
Explaining Diverxu's success, Wong said: "Our customers in Hong Kong tend to be aspirational and from the middle class. They not only have a taste for the finer things when it comes to dining but are also eager to get acquainted with food products and culinary trends from other countries – and importantly, how to enjoy them to maximum effect. We think that given the business environment in which we found ourselves in 2019, growth of between 5% and 10% is pretty decent."
Wong also pointed to the growth Diverxu has achieved in Macao in recent years, a market which she believes can serve, alongside Hong Kong, as a bridge into the GBA. As in Hong Kong, the bulk of the company's business in Macao is of the business to customer variety and has been driven by showcasing their products at food expos, selling to supermarkets and catering to private events.
Stressing the importance of Macao's Iberian heritage, Wong said: "We have expanded to Macao already. The business-to-customer market in Macao is good and I think one reason for this is the Portuguese influence, Macao consumers are even more familiar with European cuisine. We showcased our products in exhibitions in Macao and the response has been very positive."
Wong added that people in Macao appear to be more willing to spend at a higher level on average than those in Hong Kong. This may be due to the fact that in recent years the Macao SAR government has adopted a policy of annual cash handouts to the adult population.
Education and the Mainland Market
Despite not being able to import directly into the mainland market over the past few years, Diverxu has not been inactive in terms of exposing potential mainland customers to their gourmet food products. The company has been careful to give its products exposure at food fairs and exhibitions in places like Shenzhen, Guangzhou and Shanghai. Wong believes it is a strategy which will bring long-term returns, saying: "When it comes to promoting our products, a lot of our emphasis is on education and making people familiar with what is required for them to make use of our products in their daily lives."
The company is, however, acutely aware of the complexities and difficulties which the mainland market presents. That much was clear in comments which Diverxu's founder, Esther Ng, made in a presentation to an agri-food discussion forum on the mainland China market held late last year.
Outlining the strategies needed to sell to the Hong Kong and mainland markets, Ng told the gathering: "The Hong Kong market is characterised by having a high variety of products, in addition to having a very cosmopolitan population, which makes gourmet and western products very popular. The products should be presented in a small format and be of perfect quality and with high food safety standards. If the quality is good the consumer does not mind paying a high price.
"The mainland China market is very complicated, so you need to invest in the brand, use small packaging and engage in careful study of the markets you intend to enter to achieve success."
Food & Beverages
Food & Beverages
Food & Beverages
Food & Beverages
Food & Beverages
Food & Beverages
Food & Beverages
Food & Beverages
Food & Beverages
Western Europe
Mainland China
Hong Kong
Spain
Hong Kong
Western Europe
Mainland China
Hong Kong
Spain
Hong Kong
Hong Kong
Mainland China
Western Europe
Macau
Spain
Hong Kong
Mainland China
Western Europe
Macau
Spain
Hong Kong
Mainland China
Western Europe
Macau
Spain
Hong Kong
Mainland China
Western Europe
Macau
Spain
Hong Kong
Mainland China
Western Europe
Macau
Spain
Hong Kong
Mainland China
Western Europe
Macau
Spain
Hong Kong
Mainland China
Western Europe
Macau
Spain