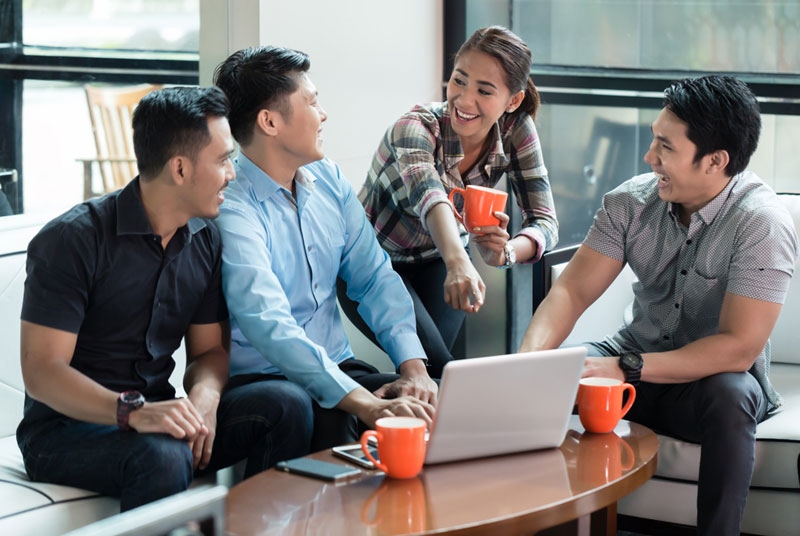 https://origin.hkmb.hktdc.com/en/NDk2ODQ3ODgx
Greater Bay Area: A Springboard for Hong Kong Start-ups to Explore the Mainland Market
Hong Kong has long been an important conduit by which mainland products are exported to overseas markets. Companies in Guangdong in particular have worked closely with their counterparts in Hong Kong for many years to develop international business. Many Hong Kong entrepreneurs have been attracted to Guangdong because of its advanced industry chain and export production base, complemented by Hong Kong's wide-ranging professional services and market resources. They have started businesses in the mainland cities of the Guangdong-Hong Kong-Macao Greater Bay Area (GBA), utilising local resources to develop their export business.
However, with the effects of the Covid-19 pandemic damaging global market demand, many Hong Kong companies now want to put more effort into expanding the mainland market. The stabilisation of the mainland's economic development, coupled with various facilitation measures introduced by the authorities in Guangdong, has led some experts to predict that the GBA can serve as an effective platform for both Hong Kong companies and entrepreneurs looking to explore the domestic market on the mainland.
Zhang Ping is the Director of the Office for the Promotion of Foreign Investment under the Department of Commerce of Guangdong Province. At the Guangdong-Hong Kong-Macao Greater Bay Area Entrepreneurship Seminar [1] held online recently, Zhang - in dialogue with Hong Kong Trade Development Council Director of Research Nicholas Kwan - noted that the central government has launched a series of policies aimed at supporting foreign-backed enterprises looking to expand their domestic sales. She said young people and entrepreneurs in Hong Kong would be well-advised to take advantage of the GBA's policies and facilitation measures, both to develop exports and to take advantage of business opportunities in the domestic market.
Zhang remarked that start-ups are one of the key targets of the support being offered by the Guangdong provincial government. Since the central government announced the Outline Development Plan for the Guangdong-Hong Kong-Macao Greater Bay Area in February 2019, Guangdong has introduced a series of supporting policies and measures designed to improve the business environment and pave the way for young people from Hong Kong and Macao to go and work there. Action has also been taken to support the innovation and entrepreneurship of young people from Hong Kong and Macao, build platforms for innovation and entrepreneurship, and boost exchanges in order to encourage young people and entrepreneurs from Hong Kong to start their businesses or seek employment in Guangdong. In particular, Zhang said, young people from Hong Kong who are interested in starting a business in mainland GBA cities should take special note of the policies and measures implemented by Guangdong in seven areas, so that they can make better use of the resources in the GBA to pursue innovation and development. These areas are:
The "12 scientific and technological innovation policies" issued by the Guangdong provincial government in March 2019 [2]. These focus on the construction of the Guangdong-Hong Kong-Macao Greater Bay Area International Scientific and Technological Innovation Center and aim to resolve cross-boundary problems such as personnel flow, money flow and goods flow. They also provide businesses, colleges, scientific research institutions and technological personnel with a detailed interpretation and guidance on the preferential policies they are entitled to.
The nine policies and measures introduced by Guangdong province promoting employment, including various preferential policies such as strengthening financial and capital support, offering start-up subsidies to entrepreneurs, and granting guaranteed loans.
Guangdong's talent policy - attempting to attract domestic and foreign high-level talent to come to Guangdong by offering subsidies of up to RMB600,000.
The plan announced by the Guangdong provincial government in May 2019 to build innovation and entrepreneurship platforms [3] for young people from Hong Kong and Macao. This was designed to accelerate the construction of Guangdong-Hong Kong-Macao youth innovation and entrepreneurship bases, with an emphasis on building the Guangdong-Hong Kong-Macao Innovation and Entrepreneurship Incubation Base, the Shenzhen-Hong Kong Youth Innovation and Entrepreneurship Base, the Qianhai Shenzhen-Hong Kong Youth Dream Factory, and the Nansha Guangdong-Hong Kong-Macao Youth Entrepreneur Hub.
The enhancement of intellectual property protection through the introduction of policies to improve the business environment and encourage start-ups to pursue innovation development.
Exchange platforms to promote connections among young people within the GBA, including the organisation of events such as cultural tours for young people from Guangdong, Hong Kong and Macao, and sports festivals for GBA students.
Activities promoting innovation resources integration, such as the hosting of entrepreneurship competitions aimed at encouraging young people in Hong Kong and Macao to bring their innovation projects to Guangdong, exchange ideas with their peers, and develop their business.
The HKTDC's Nicholas Kwan pointed out that each of the nine mainland GBA cities has its unique characteristics and advantages, while Nansha, Qianhai and Hengqin (as part of the Guangdong free trade zone [4]) offer different preferential policies and facilitation measures and have different development focuses. This, he said, meant that many Hong Kong entrepreneurs thinking about heading north to start a business are on unfamiliar territory and find it difficult to make the most suitable choice of location in the GBA. Zhang answered this by observing that not all businesses and individuals need the same sort of environment, saying: "Different entrepreneurs have different business development goals. The nine mainland GBA cities have introduced various policies encouraging young people from Hong Kong and Macao to come to Guangdong to work or start their business. These offer Hong Kong young people a wide range of options."
However, warning that companies should consider the market they are looking to enter as well as the support on offer, she added: "Nevertheless, Hong Kong entrepreneurs should give priority to their business growth and must first consider whether the industrial development in a certain location can effectively complement their business before taking into account the various supporting policies or platforms available in the location of their choice."
Several mainland cities in the GBA are implementing measures to help Hong Kong and Macao start-ups pursue innovation development. Examples include: the Implementing Measures of Guangzhou Nansha New Area (Free Trade Subzone) on Encouraging and Supporting Hong Kong and Macao Youths in Innovation and Entrepreneurship (Trial), promulgated by the Guangzhou Nansha Development Zone Management Committee Office/Nansha District Government Office, which offer a number of subsides and incentives to young people from Hong Kong and Macao [5]; Several Measures on Supporting the Development of Hong Kong and Macao Youths in Qianhai, issued by the Shenzhen Qianhai Shenzhen-Hong Kong Modern Service Industry Co-operation Zone Management Bureau, under which 36 preferential measures were introduced to support young Hong Kong and Macao entrepreneurs and innovators [6]; and the Interim Measures for Further Supporting Macao Youths in Innovation and Entrepreneurship in Hengqin [7], issued by the Hengqin New Area Management Committee Office, which are also available to young people and start-ups from Hong Kong. All these provide extra support to young people from Hong Kong to help them start their business in the GBA.
See also: Greater Bay Area: Playing a Key Role in the Success of Young Hong Kong Entrepreneurs
Mainland China
Hong Kong
Hong Kong
Mainland China
Hong Kong
Hong Kong
Mainland China
Hong Kong
Hong Kong
Hong Kong
Mainland China
Hong Kong
Mainland China
Hong Kong
Mainland China
Hong Kong
Mainland China
Hong Kong
Mainland China
Hong Kong
Mainland China
Hong Kong
Mainland China