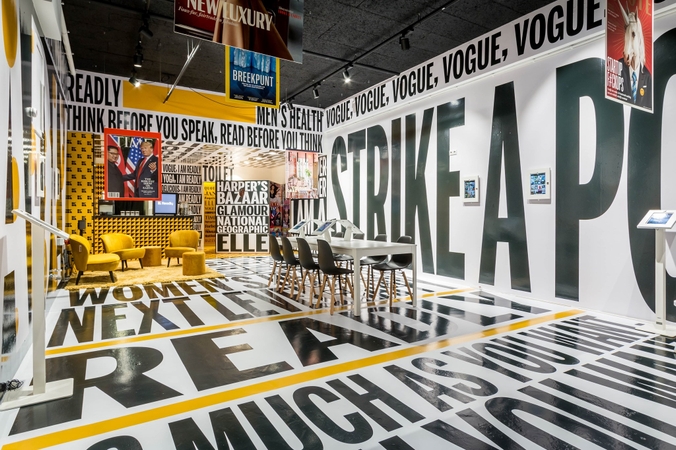 https://origin.hkmb.hktdc.com/en/NDk3OTM5ODQ0
The Greater Bay Area: A Storefront for All
If simple ideas are the best, then the idea of short-term real estate for businesses (or pop-up stores) in a fast-moving city with a reputation for sky-high rents could be seen as a very good idea indeed. Springing up in vacant spaces, according to Florian Garnier, the Chief Operating Officer of Storefront, these fresh formats are breathing new life into bricks-and-mortar retail.
Since its launch in 2016 in Hong Kong, Garnier says Storefront has become the world's largest marketplace for short-term retail spaces. While offline channels still drive a majority of retail sales and allow brands to connect with their customers in a personal way, he believes retail is no longer about just buying products but rather it's about providing an experience that consumers delight in.
With a mission to connect brands, e-commerce businesses and artists with space owners for temporary rentals, Storefront – which has sometimes been styled as "the Airbnb of retail" – maintains it is building the future of retail by making pop-up stores and events around the world more engaging, transparent, productive and accessible. The San Francisco-born operation is now aiming to take its experience and know-how from that particular bay to the embryonic bay area currently taking shape in the Pearl River Delta.
The Greater Bay Area (GBA) initiative – the outline plan for which was launched by the Central Government in Beijing in February last year (2019) – aims to create a Pearl River Delta powerhouse, linking the Hong Kong and Macao SARs plus nine Guangdong cities. The transformation of the region – which encompasses a massive market of 70 million potential customers, with a combined GDP of US$1.6 trillion – is part of a global vision. It is connected to China's bold aim of creating an inter-linked world through its wider Belt and Road Initiative (BRI), which aims to establish long-lasting economic ties not only with its closest neighbours, but far beyond.
Since opening up in Hong Kong, Storefront has been keen to transcend its initial tag as 'the Airbnb of retail'. Increasingly looking to be perceived in its own right, it now has more than 10,000 listings in New York City, Paris, London, Los Angeles, as well as many more in Hong Kong.
Opportunities and Challenges
For Garnier, Hong Kong offers both great opportunities and considerable challenges. He sees the very nature of the city as the reason Storefront has made it the main hub for its business in the Asian region, saying: "The city is known for its ability to draw crowds of people who are eager to discover new products and take in new experiences of all kinds. Hong Kong is also packed with special and flexible commercial venues available for rent for periods ranging from a few days to a couple of months.
"For example, Hong Kong has many old warehouses, apartments, and studio spaces with differing outlooks and specifications. It's the type of city where – no matter what type of space you are looking for and whether to provide exposure for your brand or business or to hold an event – you are likely to be able to find it."
Storefront's online marketplace features an array of spaces and locations of all shapes and sizes, offered at day-rate rents starting from just several hundred dollars up to tens of thousands. The company has convinced many retailers and landlords that its business model is the way forward and has built up a portfolio that allows it to offer an average of more than 1,800 spaces for rent at any given time.
Started in Los Angeles, and now found all over the world, pop-up stores – also known as flash shops – are the mainstay of the trend for opening short-term, temporary sales spaces that last for anything from days to weeks before closing down. This allows brands – usually ones without a physical presence – to interact with current customers and communicate their message to potential new ones. While a pop-up space can look like a regular store, many brands use them to create a unique, engaging physical shopping experience, often to catch a fad or a timely event.
Early Days
Initially, Storefront found that landlords in Hong Kong operated on a traditional model and were quite often set in their ways when it came to renting out space. Things, however, definitely started to change in line with the increasing need to align commercial estate cycles with the reality of brands and retailers. This is particularly true when both up-and-coming and big, luxury brands are becoming increasingly receptive to pop-ups as a way to avoid exorbitant rents.
Garnier said: "We have seen many changes since we arrived in Hong Kong in 2016. In the beginning it was a very traditional market. You had to sign long leases, often up to four years, and many brands and businesses didn't want to commit to that. We have found that, as time has moved on, retailers have become very open to our model, but it is taking a bit longer for landlords to come around to our way of thinking."
The company seeks to make things hassle-free for landlords and as such uses a commission-based business model, which effectively means that, for every booking, Storefront is committed to walking the client through the entire store lifecycle. The company, in addition to custom-made contract and invoice solutions, also offers a "Concierge Service" – a "white-glove" service to their clients – small but important details which are extremely valuable for landlords, especially in a city where it is not easy to find through-train solutions to cover short-term property rentals.
According to Garnier, a pop-up space is an accessible way for businesses of all sizes and budgets (digitally native brands in particular) to test the waters of physical retail before making a large investment. In a vibrant and bustling metropolis, such as Hong Kong, the average length of a short-term pop-up rental can be as short as 15 days.
This type of arrangement is not just a quick and easy way to sell products to the public, with Garnier saying: "A flexible space rental not only allows you the option of not committing to a long-term or permanent lease, it also allows you to raise brand engagement, launch new products or validate the potential of a Hong Kong neighbourhood, while benefiting from great flexibility."
An illustration of this is the sheer range and breadth of Storefront's selection of spaces in the city, which cover everything from pop-up stores to showrooms, art galleries and event venues. That multiplicity of offerings is also set to expand, as the company moves deeper into the realm of digital shopping and events with the provision of virtual pop-up stores and events online.
Empowered by technological advances, Garnier believes a pop-up store is also an increasingly important channel for brands to gather useful customer information, such as demographic profiles, interest levels in certain products and buying trends. As a way of nurturing smart retail development, Storefront is working with GS1 Hong Kong, a not-for-profit, global supply chain standards organisation headquartered in Brussels. The collaboration offers GS1 Hong Kong's smart retail solutions to storefront brand owners as a way of enriching pop-up offers. Its solutions – including Smart Trays and Smart Kiosks – make use of the latest IoT and AI technologies, including video analytics, radio-frequency identification (RFID) sensor and deep learning for predictive analysis.
GBA Game-changer
After just three years operating from its Hong Kong hub, the company has made inroads across Asia, including Shanghai, Singapore, and South Korea, while the GBA accounts for as much as 30% of Storefront's business in the region. In addition, the company is at present in ongoing talks with as yet un-named partners in the GBA to further extend its operations in the Pearl River Delta region.
Garnier said: "After successfully validating the pop-up store market in Hong Kong in 2016, and expanding into the GBA between 2016 and 2019, we are now planning on accelerating our growth trajectory in the region by adding Guangzhou and Shenzhen by mid-2021. Since our launch in 2016 in Hong Kong, we have added 3,000 listings in Hong Kong and another 500 in the GBA region."
While Garnier freely admits that most of those non-Hong Kong GBA listings are in Macao, that situation will change as negotiations with potential mainland partners come to fruition. He said: "We are in talks with potential partners across the GBA and are sure that, in the not too distant future, we will be able to build on the sort of growth we have seen in Hong Kong and the wider Asian region.
"For example, we have been growing on a double-digit basis since 2016 in terms of number of bookings, which represents several hundred events and pop-up stores arranged via Storefront every year. In Hong Kong, despite a slowdown in 2019 due to the social disturbances and the Covid-19 outbreak, we remain very confident in the resilience of its retail sector. In the meantime, we have seen an increase of 80% in the number of requests in Shanghai and Singapore."
Real Estate Services
Real Estate Services
Real Estate Services
Real Estate Services
Real Estate Services
North America
Mainland China
USA
North America
Mainland China
USA
Hong Kong
North America
Mainland China
Macau
USA
Hong Kong
Mainland China
North America
Macau
USA
Hong Kong
Mainland China
North America
Macau
USA
Hong Kong
Mainland China
North America
Macau
USA
Hong Kong
Mainland China
North America
Macau
USA
Hong Kong
Mainland China
North America
Macau
USA