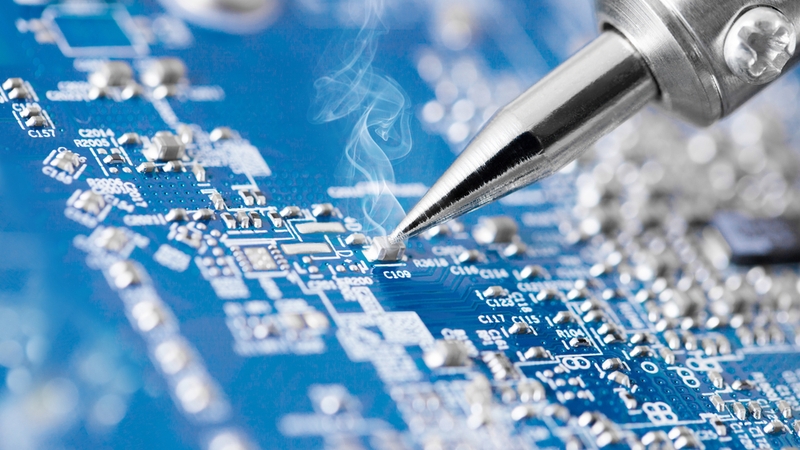 https://origin.hkmb.hktdc.com/en/NTA4MDUwNjc0
Hong Kong: Delivering Industry 4.0 to the GBA
Hong Kong, as an international business hub for the Guangdong-Hong Kong-Macao Greater Bay Area (GBA), is home to a full range of financial and professional services providers, offering strong support for the development of industrial electronics enterprises. According to Lai Yiu Wah, Chairman of Trio Industrial Electronics Group Limited, locating the operation centre of his company in Hong Kong gives him access to the free flow of information, a deep pool of talent, and strong financial reserves. Lai shares how his company leverages the advantages and resources of the GBA to capture opportunities in the huge markets in China as well as countries and regions along the Belt and Road routes.
From GBA to Global Market​​​​​​​
Lai Yiu Wah is chairman of the board of Trio Industrial Electronics Group Limited. Founded in 1983, Trio is an electronics manufacturer specialising in the production and sale of custom-made industrial electronic parts and products. The company has its operation centre in Hong Kong with its production base in Guangzhou's Nansha district. As an OEM of industrial electronic parts and products, Trio devotes great efforts to providing customers with a full spectrum of services ranging from raw materials sourcing, manufacturing to product delivery. Trio also provides technical consultation and engineering solutions to customers for product design and development. According to Lai, the company has customers from 15 countries around the globe, with Europe being the largest market, followed by North America and Southeast Asia.
Trio's major strategy is internationalising its business and production by leveraging the advantages and resources of regions around the world. Lai believes this enables the company to better serve customers and further expand its markets, including capturing the huge opportunities arising in China and along the Belt and Road routes.
Hong Kong Offers Strong Service Support
According to Lai, locating the company's operation centre in Hong Kong gives him access to free flow of information, a deep pool of talent, and strong financial reserves. The listing of Trio on the Hong Kong Exchange Main Board in 2017 testifies to the important role played by Hong Kong in raising funds. Lai adds that Hong Kong has superior professional services in accounting, finance, law, marketing and consultancy. The expertise, strong service awareness and extensive scope of these professionals set them apart. In addition, the business culture of Hong Kong is closer to that of Europe and America, so that Hong Kong companies can better understand the demands of the customers in those regions. Lai also points to the sound legal system as another Hong Kong advantage. For instance, Hong Kong's labour legislation fully protects the legitimate rights and interests of both the employer and employees.
In Lai's opinion, Hong Kong faces two major potential challenges. First, compared with other regions, the competitiveness of Hong Kong's low tax rates has been declining. Trio has businesses located in Hong Kong, mainland China and Ireland. As the company is entitled to tax concessions granted to new and high-tech enterprises on the Mainland and in Ireland, the applicable corporate tax rates in Hong Kong turn out to be the highest among the three places. In view of this, the company has to plan its transfer pricing practices more carefully. Second, the current unstable macro environment in Hong Kong has undermined the confidence of overseas customers. Political and economic uncertainties have already caused some foreign customers to postpone or cut orders, or ask the company to resolve possible country-of-origin issues.
Cutting-Edge: Trio's Biggest Advantage
Trio's future development strategy focuses on two main areas, according to Lai. First of all, the company aims to further enhance production and operation efficiency and, having obtained Industry 4.0 Level 1i Maturity Recognition certification, will move forward to achieve Level 2i. The company is currently seeking to upgrade and strengthen the machinery and manufacturing technology at its production base in Nansha. Production capacity is expected to double upon completion of the upgrade. The company is also looking at robotics, artificial intelligence and big data analytics to raise the level of its production processes. Secondly, the company will pursue further internationalisation and expand its marketing and production capabilities. Trio will maintain its export-led marketing strategy and seek to enhance its competitiveness by delivering quality products and providing value-added services. According to Lai, the company is looking at forging strategic co-operative links with electronics manufacturing giants on the Mainland in a move to boost long-term growth in areas such as parts manufacturing, production management systems and operation modes.
Lai said the company currently adopts a two-pronged approach in technological R&D. The first is research and development of production systems on the Mainland to improve production efficiency and product quality. As customer loyalty is quite high in the industrial electronics manufacturing sector, Trio has over the years successfully maintained good customer relationships by raising production efficiency and product quality. The second approach is to establish a R&D centre in Ireland. Lai points out that Ireland has three advantages as a location to establish a research centre. First, Ireland has a large number of internationally renowned research institutes as well as a strong science and technology skills base. Second, Ireland is close to the European market, which is the company's major customer source. Third, English is the language used in Ireland which makes communication with customers easier.
Launch Pad for Going Global
Lai remarks that for an export-led manufacturing enterprise, in terms of market, costs and skills, the GBA is an indispensable base for the company in its drive towards internationalisation. The GBA will also serve as the company's launch pad for expanding the mainland market, where it sees great opportunities.
Favourable Business Environment: Government's Role
Commenting on what the government could do to promote the development of the GBA, Lai suggested the government should minimise unnecessary administrative interference. The business community is known to be quick in identifying regions or sectors with investment potential; the government should focus on creating a favourable and stable business environment and improving policies in areas such as public administration, legal systems, accounting, finance, labour and logistics, so that businesses can compete on a level playing field.
Company interview conducted by PricewaterhouseCoopers Advisory Services Limited
---
Note 1: The opinions and views expressed are those of the interviewees and do not necessarily reflect the views of HKTDC or PwC. HKTDC or PwC shall in no way be responsible for the accuracy, completeness or timeliness of the information provided by them, and for any loss associated with the use of such information.
Note 2: This English version of the case study is translated by HKTDC based on the Traditional Chinese version prepared by PricewaterhouseCoopers Advisory Services Limited. Should there be any inconsistency or ambiguity between this English version and the Traditional Chinese version, the Traditional Chinese version shall prevail. PricewaterhouseCoopers Advisory Services Limited will not have or accept any liability, obligation or responsibility whatsoever for any loss, destruction or damage (including without limitation consequential loss, destruction or damage) however arising from or in respect of any use or misuse of or reliance on the English version of this case study.
Electronics & Electrical Appliances
Raw Materials
Hardware
Machinery
Electronics & Electrical Appliances
Raw Materials
Hardware
Machinery
Electronics & Electrical Appliances
Raw Materials
Hardware
Machinery
Electronics & Electrical Appliances
Raw Materials
Hardware
Machinery
Electronics & Electrical Appliances
Electronics & Electrical Appliances
Electronics & Electrical Appliances
Electronics & Electrical Appliances
Electronics & Electrical Appliances
Electronics & Electrical Appliances
Electronics & Electrical Appliances
Electronics & Electrical Appliances
Electronics & Electrical Appliances
Hong Kong
Mainland China
Hong Kong
Macau
Hong Kong
Mainland China
Hong Kong
Macau
Hong Kong
Mainland China
Macau
Hong Kong
Mainland China
Macau
Hong Kong
Mainland China
Hong Kong
Mainland China
Hong Kong
Mainland China
Hong Kong
Mainland China
Hong Kong
Mainland China
Hong Kong
Mainland China
Hong Kong
Mainland China
Hong Kong
Mainland China
Hong Kong
Mainland China