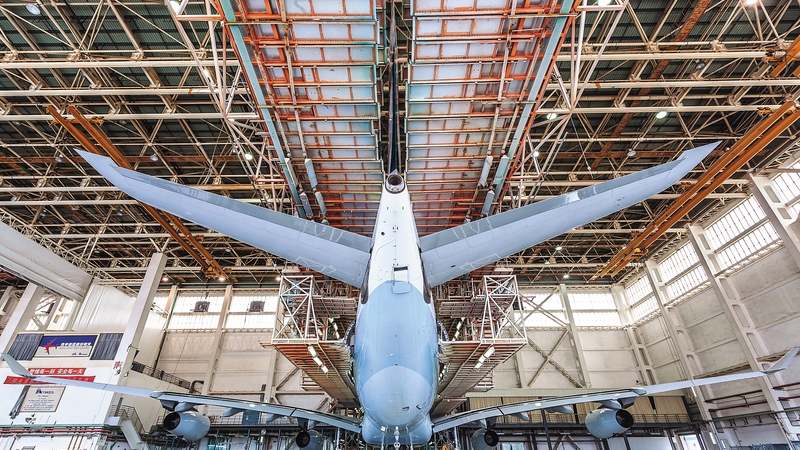 https://origin.hkmb.hktdc.com/en/NTA5Nzc0ODc2
Hong Kong: Established Business Reputation Proves Key to Greater Bay Diversification
Hong Kong has long been an excellent gateway for international businesses to venture into the Chinese mainland, where the Swire Group has been doing business for over 150 years. The Swire Group has successfully run a highly diversified business with a base in Hong Kong. Arnold Cheng, Director of Hong Kong and Pearl River Delta for John Swire & Sons (China) Ltd, explained how the group has furthered its business by tapping the potential of the Guangdong-Hong Kong-Macao Greater Bay Area (GBA) as the region becomes more closely integrated with international practices.
Hong Kong as Regional Headquarters
Founded in the UK, the Swire Group is a highly diversified global conglomerate that has done business in the Chinese mainland for over 150 years. The group employs over 133,000 people worldwide. Its headquarters in the UK are where overall strategies for the group are mainly formulated, and they also provide recruitment, employment and training services within the group. Swire's businesses are grouped into five categories: Property, Aviation, Beverages and Food Chain, Marine Services and Trading and Industrial. Hong Kong is the Asia-Pacific regional headquarter for the group.
Diversification, with Hong Kong as GBA Core
With Greater China as its core market, Swire has long used Hong Kong as a base in diversifying its business. The group's mainland business depends on local and Hong Kong staff working hand in hand. Cheng discussed the development of Swire's Chinese mainland business across a number of key segments, as follows:
Swire Properties has investments in Hong Kong, the Chinese mainland, Singapore and the US and develops and manages large-scale, comprehensive urban renewal and revitalisation projects. Swire's major property investment portfolio in Hong Kong includes commercial development projects like Taikoo Place and Pacific Place. Swire's property projects are mainly high-end commercial complexes in the city centre. It designs, invests in, builds and manages its properties as long-term investments. Thanks to its successful projects in Hong Kong and its trusted brand name and reputation, in addition to its successful commercial projects in core Chinese mainland cities, Swire's property projects are welcomed by local governments across the Chinese mainland. Its principal property investment portfolio in the Chinese mainland includes Taikoo Li Sanlitun and Indigo in Beijing, Sino-Ocean Taikoo Li in Chengdu, Taikoo Hui in Guangzhou and HKRI Taikoo Hui in Shanghai. Swire Hotels, wholly-owned by Swire Properties, comprises The House Collective, a group of small luxury hotels, and East, a group of lifestyle business hotels.
In order to maintain the highest quality standards, Swire Properties engages top international consultants, including consultancy teams from Hong Kong, for its Chinese mainland property projects. Swire is now actively considering making new investments in other GBA cities to put its outstanding project management and execution experience to work in the GBA's development.
The Swire Group has four airlines in Hong Kong, in addition to an aircraft engineering and maintenance business. It has aircraft maintenance bases at the Hong Kong International Airport and in Xiamen, providing not only airframe services, line services, parts manufacturing, technical training and other services, but also private jet solutions.
Cheng said Swire owes the development of its aviation and auxiliary businesses to Hong Kong's three major advantages. The first is the city's convenient geographical location. Facing Southeast Asia with the Chinese mainland at its back makes Hong Kong a favourable location as an aviation hub. Next is its connectivity to overseas destinations: Extensive air freedom rights connect the airport to over 220 destinations worldwide. Thirdly, good air transport infrastructure facilities have helped Hong Kong become one of Asia's biggest, safest and most efficient transit hubs. These favourable conditions boost the growth of Swire Group airlines and auxiliary businesses such as aircraft maintenance and flight catering.
The Swire Group has been a strategic partner of The Coca-Cola Company since the 1960s. Swire Coca-Cola has the exclusive right to manufacture, market and distribute products of The Coca-Cola Company in 11 provinces and the Shanghai Municipality in the Chinese mainland, as well as in Hong Kong, Taiwan and an extensive area of the western United States. As of the end of 2019, it manufactures 61 beverage brands and distributes them to a franchise population of 736 million people. Within the GBA, it operates three production plants, located in Guangzhou, Huizhou and Sanshui, and serves over 80 million consumers.
Swire's food production and marketing business covers Taikoo Sugar, a household brand. Today, Swire Sugar packages and sells premium sugar products as well as branded and private label single-serve sachets of sugar, salt, pepper and tea to the retail and catering sectors in Hong Kong and the Chinese mainland. The Swire Group also develops its food business through acquisition.
Hong Kong Airport Brings New Opportunities
Cheng cited the development of Hong Kong's airport as an example of how to tap the potential of the GBA. The GBA will attract more and more foreigners in search of business opportunities as the region becomes more closely integrated with international practices. An increasing number of GBA residents will also go out to look for opportunities. Thus, the development of the GBA will spur growth in aviation. Making sure that passengers can reach Hong Kong Airport easily is therefore an important consideration in boosting the competitiveness of Hong Kong's air transport industry.
In Cheng's opinion, SkyPier at Hong Kong Airport – which provides speedy ferry services to transfer passengers going to the Pearl River Delta and Macao – is a very effective solution. For example, passengers going to Hong Kong Airport via the Shekou Ferry may drop off their baggage at the ferry terminal's check-in counter, go through immigration and then board the ferry, which takes them to the boarding gate area of Hong Kong Airport. They are also entitled to airport tax waivers. This arrangement makes it more convenient for residents of the GBA to travel to other cities of the world via Hong Kong Airport.
The Hong Kong-Zhuhai-Macao Bridge is another important transport link between Hong Kong and cities in the western part of the Pearl River Delta (such as Zhuhai and Zhongshan). Cheng said the Hong Kong Airport Authority is planning to build a bonded bridge connecting the new bridge's Hong Kong Port to the restricted area of Hong Kong Airport, in addition to an inter-modal transfer terminal that will allow passengers to travel between the airport and Macao or Zhuhai via the Hong Kong-Zhuhai-Macao Bridge. These two facilities are slated for completion in 2022 at the earliest. Upon completion, passengers can go through immigration at Zhuhai or Macao, check in their baggage and directly arrive at the airport's gate area. This will make it a lot more convenient for residents in the western part of the Pearl River Delta to go to Hong Kong Airport and make them more willing to use Hong Kong's air services, thus increasing the airport's competitive edge.
Cheng said Hong Kong should make more effective use of the Hong Kong-Zhuhai-Macao Bridge so that residents in the western part of the Pearl River Delta can reach the airport more conveniently and enjoy its facilities. After the completion of the bonded bridge and inter-modal transfer terminal, Hong Kong Airport will be able to offer a more convenient and seamless inter-modal transfer experience to passengers.
​​​​​​​Strengthening Connectivity
In Cheng's view, the GBA should be seen as the frontier of national development and a big aid to regional growth. Asked about how to strengthen connectivity between cities in the GBA, he put forward the following recommendations:
Using Zhuhai to Help Boost Hong Kong's Aviation Industry
Hong Kong Airport employs 70,000-80,000 people – but it still faces a manpower shortage of about 5,000 people. The airport will need an estimated workforce of over 100,000 people when the third runway becomes operational, which means the airport's air freight and aircraft engineering facilities will face an even more acute shortage of resources, including manpower and land shortage. Cheng said Hong Kong may consider using the Hong Kong-Zhuhai-Macao Bridge to make more effective use of Zhuhai's resources, including manpower and land, to make up for what Hong Kong lacks and to benefit the further development of Hong Kong's airport and aviation industry.
Promoting Passenger and Logistics Transport between Hong Kong and GBA Cities
Cheng suggested that Hong Kong should further strengthen the mobility of resources within the GBA. For example, in terms of the flow of people, Hong Kong may consider opening a green channel for cross-border vehicles to go directly to Hong Kong Airport, providing passengers with an express service to get to the airport.
The Hong Kong-Zhuhai-Macao Bridge is still under-utilised. Cheng said the government should consider easing its quota limits on vehicle licences and allow trucks to use the bridge, thereby promoting passenger and cargo transportation between Hong Kong and other cities in the GBA.
Promote Mutually Complementary Development
Cheng added that the government should consider offering more convenient policies to improve the efficiency of cross-border transport and promote mutually complementary development in the region. For example, since Hong Kong is largely dependent on the Chinese mainland for food supplies, the government may consider drawing up a list of reliable food suppliers and simplifying customs clearance procedures to improve efficiency.
Moreover, the Hong Kong market is limited in scale and is subject to land shortage and other restrictions. These factors make it difficult for the circular economy to develop effectively in a unitary market. The fact that there are three independent customs territories in the GBA also restricts the free flow of recycling materials (such as plastic bottles) within the region. Cheng said that if the government could provide policy support for breaking down barriers between different customs territories and integrating resources within the region for the promotion of the circular economy, the environmental protection industry would be boosted.
To help the aviation industry, he added, the government should consider offering tax and customs clearance facilitation for aircraft parts processing and storage to help optimise cross-border utilisation of resources within the region and further speed up the region's development as an aviation services centre.
Company interview conducted by PricewaterhouseCoopers Advisory Services Limited
---
Note 1: The opinions and views expressed are those of the interviewees and do not necessarily reflect the views of HKTDC or PwC. HKTDC or PwC shall in no way be responsible for the accuracy, completeness or timeliness of the information provided by them, and for any loss associated with the use of such information.
Note 2: This English version of the case study is translated by HKTDC based on the Traditional Chinese version prepared by PricewaterhouseCoopers Advisory Services Limited. Should there be any inconsistency or ambiguity between this English version and the Traditional Chinese version, the Traditional Chinese version shall prevail. PricewaterhouseCoopers Advisory Services Limited and John Swire & Sons (China) Ltd. will not have or accept any liability, obligation or responsibility whatsoever for any loss, destruction or damage (including without limitation consequential loss, destruction or damage) however arising from or in respect of any use or misuse of or reliance on the English version of this case study.
Real Estate Services
Food & Beverages
Machinery
Real Estate Services
Food & Beverages
Machinery
Real Estate Services
Food & Beverages
Machinery
Real Estate Services
Food & Beverages
Machinery
Real Estate Services
Food & Beverages
Machinery
Real Estate Services
Food & Beverages
Machinery
Real Estate Services
Food & Beverages
Machinery
Real Estate Services
Food & Beverages
Machinery
Real Estate Services
Food & Beverages
Machinery
Real Estate Services
Food & Beverages
Machinery
Real Estate Services
Food & Beverages
Machinery
Real Estate Services
Food & Beverages
Machinery
Real Estate Services
Food & Beverages
Machinery
Hong Kong
Mainland China
Hong Kong
Macau
Hong Kong
Mainland China
Hong Kong
Macau
Hong Kong
Mainland China
Hong Kong
Macau
Hong Kong
Mainland China
Hong Kong
Macau
Hong Kong
Mainland China
Hong Kong
Macau
Hong Kong
Mainland China
Hong Kong
Macau
Hong Kong
Mainland China
Hong Kong
Macau
Hong Kong
Mainland China
Hong Kong
Macau
Hong Kong
Mainland China
Hong Kong
Macau
Hong Kong
Mainland China
Hong Kong
Macau
Hong Kong
Mainland China
Hong Kong
Macau
Hong Kong
Mainland China
Hong Kong
Macau
Hong Kong
Mainland China
Hong Kong
Macau