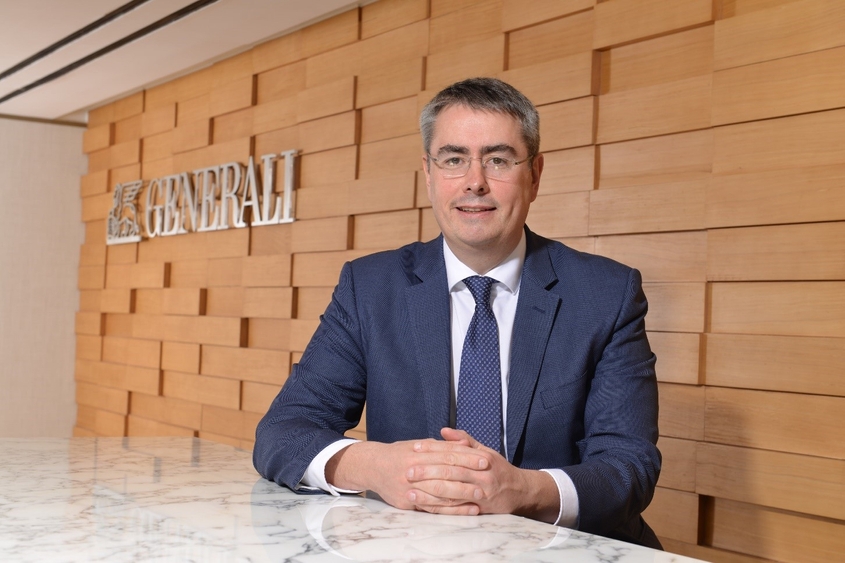 https://origin.hkmb.hktdc.com/en/NTAzODUxODIy
The Greater Bay Area: Harnessing the Wow Factor
The assessment of risk and protection against the uncertainties inherent in life are at the very core of what insurance companies do, so it is hardly surprising that one of the world's biggest companies in the field is taking a positive, yet measured, approach to the Greater Bay Area (GBA) initiative.
For the Italian multinational insurer, Generali – which has a history stretching back 188 years and has been doing business in Hong Kong for nearly 50 of those – the GBA is an undoubted opportunity. However, as Cillin O'Flynn, CEO of Generali Life (Hong Kong) Limited ("Generali Hong Kong"), points out, a number of questions need to be answered before what he describes as a "fantastic idea" can reach its full potential.
Those questions are almost certainly set to be asked when top figures from the Asian insurance and finance industries meet soon in Hong Kong to discuss the GBA and how to push it forward.
Dedicated Team
In order to prepare for the opportunities and the challenges of the GBA, Generali Hong Kong has set up a dedicated team that will work in conjunction with the Italian insurer's operations in mainland China.
The GBA aims to link nine cities in Guangdong province with the Hong Kong and Macao Special Administrative Regions (SARs) to create an economic zone with a population of 70 million and a combined GDP of US$1.6 trillion. It is designed to form a key component in the next phase of China's economic development.
It is an enormous logistical, economic, regulatory and political undertaking. But pointing to Generali Hong Kong's positive attitude towards the GBA, O'Flynn said: "The GBA is definitely part of our strategy. My initial reaction to the GBA idea when it was introduced to me was 'wow' because I think it has the potential to deliver benefits to a wide group of customers, it's a fantastic idea."
Perplexity and Population
The ability to reach bigger markets is an obvious benefit to any insurance company, and in raw terms, the GBA certainly offers that. The region is home to a population almost ten times that of Hong Kong – and that number is growing.
Explaining the advantages to Generali Hong Kong, O'Flynn said: "Hong Kong is a highly developed international market. The majority of the population is well-educated and wealthy; and they understand the concept and the importance of insurance. For an insurer, the opportunity to reach a bigger population is always a benefit. Insurance is a numbers game and for everyone to benefit, you need a diversified population to help you manage the concentration risk."

But while Hong Kong has obvious limitations as a market, expansion into the Pearl River Delta region also brings problems – such as the myriad of regulatory alignment issues, financial complications and cultural differences which have to be taken into account.
O'Flynn pointed to the complexities involved in the project, saying: ''The fact that there is now a bigger opportunity (in the GBA) being proposed is very interesting. But I think the initiative is perplexing. The reason is that the GBA is a two-way street. Just as Hong Kong insurers will look at the GBA as an opportunity, insurers on the mainland will look at Hong Kong as an opportunity. It isn't clear to me who knows who best."
He added that a related difficulty that insurance companies in China will face when they try to conduct business across the GBA is that, while it is not uncommon for mainland people to buy insurance products in Hong Kong, it isn't common for Hong Kong people to buy products in the mainland.
Mass Market Needs
O'Flynn also underscored the need for Hong Kong insurance companies to discover how to adjust their insurance pitch or proposition so that they can reach the mass market in China, and work out the best medium through which to connect to people there and understand their needs.
Raising some of the issues involved, O'Flynn said: "What is the appetite of people in Mainland China to do their insurance business in Hong Kong? How would people pay their premiums for instance, given the strict currency controls on the mainland? I think these are questions that need to be answered, and I am confident that they will be answered."
Another core issue for Generali Hong Kong is whether or not life insurance will be included in the proposition for the GBA. Life insurance – whether that be savings and investment or protection – carries large ticket prices and may raise issues around capital outflow controls.
However, O'Flynn claimed that one insurance product in particular is likely to see major growth, saying: "For me, the biggest opportunity in the GBA will be health insurance –delivered digitally, with a really strong focus on services. There are some companies in Hong Kong who do that relatively well."
Light Years Ahead
O'Flynn believes that when it comes to technology, mainland Chinese companies are ''light years ahead'' of Hong Kong where, while strides are being made to fully integrate with cashless payments and the like, traditional ways of doing things persist.
Citing this as a warning to Hong Kong-based companies, O'Flynn said: "Maybe the fact that mainland insurance companies – and others – are so far ahead in the digital field will give them an edge. Hong Kong companies really need to ramp up their game in terms of the technology because if they are going to move into the GBA and China market, they are going to have to embrace and understand the way in which people on the mainland conduct their business, especially in the financial services sector."
Strategies to do just that will no doubt be part of the discussions due to take place at the Hong Kong's Insurance Authority's second Asian Insurance Forum (AIF) in December 2019. Its theme is "Connectivity and Innovation – The Key to Competitiveness and Inclusiveness".
Among the forum's keynote speakers this year are Liu Fushou, chief counsel of the China Banking and Insurance Regulatory Commission, and Jonathan Dixon, secretary-general of the International Association of Insurance Supervisors.
In November 2019 the authority's chairman, Moses Cheng, told the media: "Financial connectivity and technological innovation are crucial to the sustainable growth of the insurance market. There are enormous opportunities arising from the GBA development and the Belt and Road Initiative, which will allow Hong Kong to play a larger role in promoting internal connectivity among the 11 cities in the GBA and external connectivity between mainland China and rest of the world."
Describing how technology will drive the insurance industry forward, Cheng added: "Insurtech is also a powerful game changer, which will make insurance services and products more accessible to different segments of society and help foster financial inclusiveness. It is important to formulate a pragmatic strategy, which ensures prudential supervision without stifling innovation."
Hong Kong
Hong Kong
Hong Kong
Hong Kong
Hong Kong
Mainland China
Western Europe
Italy
Hong Kong
Mainland China
Western Europe
Italy
Hong Kong
Mainland China
Western Europe
Italy
Hong Kong
Mainland China
Western Europe
Italy
Hong Kong
Mainland China
Western Europe
Italy