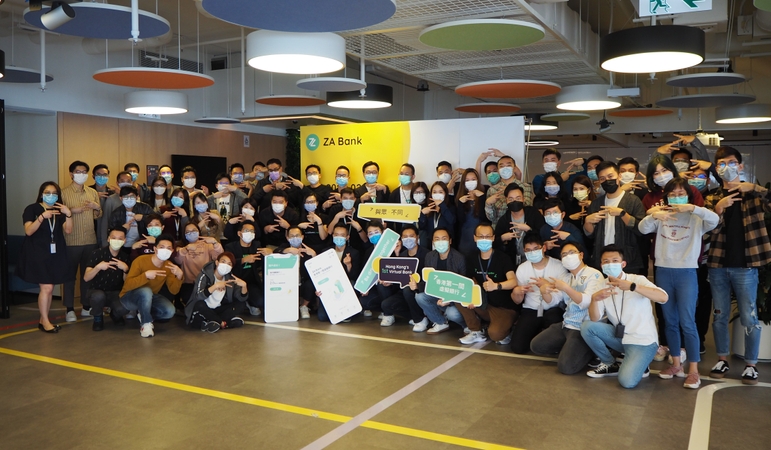 https://origin.hkmb.hktdc.com/en/NTE1OTQ0MTI0
Navigating Covid-19: A Virtual Banker
One of the many results of the coronavirus pandemic is an acceleration of the digitisation process as people and companies find ways to continue working while maintaining social distancing, making business tech innovation inevitable. As important conduits of the economy, banks and other financial service providers feel compelled to implement digital strategies to stay competitive and relevant to rapidly changing consumer expectations.
While established players are busy improving their decades-old legacy systems, newcomers such as virtual banks are emerging fast to push for end-to-end, customer-centric and data-driven digitalisation.
ZA Bank was one of the eight virtual banks licensed by the Hong Kong Monetary Authority (HKMA) in March 2019 to boost FinTech development and smart banking in the city. The start-up launched on 24 March 2020 at the height of the Covid-19 pandemic. This not only makes it the first fully-operating virtual bank in Hong Kong, but also a ready candidate to participate in the HKSAR Government's HK$10,000 Cash Payout Scheme.
In a recent interview with HKTDC Research, Rockson Hsu, the CEO of ZA Bank, explained how the Cyberport community member is spurring financial innovation in the city and eyeing regional expansion.
From Tradition to Digitalisation
In an effort to promote financial innovation, HKMA has been developing and promoting new FinTech infrastructure and regulations since 2016. Among many initiatives, such as the Faster Payment System (FPS), which enables round-the-clock Hong Kong dollar or renminbi transactions among Hong Kong licensed banks and stored-value facilities (SVFs) or e-wallets starting 2018, the introduction of virtual banks in 2019 is considered a key pillar supporting the city's entry into the smart banking era.
Subject to the same supervisory requirements as conventional banks, the city's newly minted virtual banks include Airstar Bank, Ant Bank (Hong Kong), Fusion Bank, Livi Bank, Mox Bank, Ping An Oneconnect Bank (Hong Kong), Welab Bank and ZA Bank, which are expected to deliver retail banking services through the internet or other forms of electronic channels instead of physical branches. As members of the Deposit Protection Scheme (DPS), eligible deposits taken by the virtual banks are protected by the Scheme up to a limit of HK$500,000 per depositor per DPS member.
Unlike conventional retail banks, virtual banks should play a more active role in promoting financial inclusion by, for example, not imposing any minimum account balance requirement or low-balance fees on their customers.
As the city's first fully-operating virtual bank, ZA Bank has decided to adopt a mobile-only approach. Explaining the advantages of this approach, Hsu said: "We believe smartphones are the best and most secure channel to deliver modern-day banking services. This is not only because the smartphone cameras and sensors are ready tools to facilitate facial recognition and identity verification for account opening, but also the bonding and application of the app-based banking services afterwards.
"To log in from a new phone, our account holder has to do the verification and authentication again, which in turn gives a great deal of security to our customers."
When designing the app, Hsu has taken the opportunity to review the entire traditional banking processes and followed a community-driven approach to help customers save time and cost on banking by tackling some of the pain points in the traditional banking model. For example, the virtual banker has waived the address proof from prospective account holders as all the correspondence will be done digitally via the app, email or SMS message. Thanks to the streamlining of the banking processes, ZA Bank is able to provide 24/7 instant mobile account opening service in as fast as five minutes.
To further smooth the path of identity verification and authentication, the virtual bank has developed in-house a live-video graphic recognition technology. Explaining how it works, Hsu said: "The smartphone camera can be used to capture the HKID card security features, such as changes in colour with wave and 3D relief effects which could only be viewed from different angles. Our graphic recognition technology can then verify the security features, except for the HKID number which will call for a centralised HKID database, a hopeful development in tandem with the recent launch of new smart identity cards.
"Aside from account openings, to maximise efficiency, for example, we pledge to deliver personal loans within 30 minutes upon receipt of a full and complete set of documents for loan amounts of as much as HK$100,000 during the service hours (i.e. Monday to Sunday, between 9:30am and 1:00am). In the event of delays, we will offer the affected customer a HK$10 cash rebate up to HK$500 for every minute of overtime."
Leveraging the savings from lower rental expenses and staff costs, the virtual bank has plenty of room to improve the customer experience by bringing new dynamics to the banking sector. As Hsu said: "There are around 1,200 branches of the top 20 retail banks in Hong Kong, running a business model that is highly reliant on the branch network and the number of customer-facing staff. As a virtual bank, we can therefore save all those branch-related overheads and offer our customers more attractive deals, such as the juicy offer of a three-month time deposit of up to 6.8% p.a. for first 2,000 clients and the 1% Savings Go annual interest rate."
Launched in a Storm
When asked about the decision to launch as the city was at the height of the Covid-19 pandemic and businesses were struggling for survival under the "new normal", Hsu showed great confidence in his bank's agile and nimble operations. He said: "Almost from day one, all our employees were using laptops with virtual private network (VPN) setups. We're therefore no stranger to flexible work modes, such as work-from-home (WFH) arrangements.
"It is proven that the extended work-from-home timeline between 29 January and 11 May 2020 has not undermined our full launch. If a bank can launch in a global health and economic crisis, we also see it as a shot in the arm for all businesses to understand how technology can be applied to tame the business impacts of a global pandemic."
Following a community-driven approach, with a mission to help other industries and the whole community, the bank has encouraged its users to directly contribute to its product development and design process. This user interaction helps to guide the development of innovative products and services that will better serve the needs of its customers. By listening to consumers' needs in this way the bank is striving to help its customers to ride out of the pandemic-triggered economic fallout.
The virtual bank, and its parent company ZA International, have been actively reaching out to and collaborating with public and private bodies. Aside from relief funds to SMEs and members of ZA Fam (i.e. membership program established by ZA International) infected with Covid-19 which are funded by ZA International, the bank has joined with companies such as Towngas to support businesses by, for example, giving out dining coupons. It also volunteered to participate in the government's HK$10,000 Cash Payout Scheme.
The bank's participation in the government initiative has turned out to be a win-win in terms of awareness and engagement with potential customers. As conventional retail banks have a long heritage of brand awareness and a clientele that has been passed down from generations, virtual banks will have to go the extra mile to overcome the disadvantages of the lack of a physical presence.
Hsu said: "Our customers can receive the HK$10,000 from the government with a few clicks on the app. To promote virtual banking, we also reward new customers with an extra cash bonus of HK$1,000 upon fulfilling certain requirements set out in the promotional terms and conditions, including choosing us to receive the payment. During the registration period of our promotion campaign, the ZA Bank app has become the most downloaded free app in Hong Kong on Google Play and Apple Store."
Hsu is content with the widespread adoption of virtual banking across the demographic spectrum since his bank's full launch in March 2020. He said: "As of 21 April 2020, our oldest user was 87 years old. And now, the latest record is 93!
"We are also seeing greater receptiveness to virtual banking among female users, with the percentage of male users of our app dropping from some 70% in April to about 60% currently. It really shows how technology could be applied and adopted to break age and gender barriers to virtual banking."
Banking in the Cloud
As a leading financial centre, Hong Kong has been competitive in terms of its cloud readiness since 2016, boasting the fastest access to cloud services and best international bandwidth connecting domestic cloud users and international cloud solutions.
While public cloud services offered by different cloud computing companies are conveniently available in Hong Kong, ZA Bank, as the city's first virtual bank, has decided to establish a private cloud, housed in data centres in Hong Kong. This enables the efficient use of server resources empowered by virtualisation technology that pools the data storage space and computing power from multiple physical servers, as well as the maximum cybersecurity expected by local regulators and customers.
It is no secret that the virtual bank was launched in Hong Kong with a vision to become an international player. Hsu explained, saying: "Digital opportunities like virtual banking and other FinTech innovations are not bounded by geography. The key challenge of overseas expansion concerns the multi-jurisdictional regulatory compliance. But thanks to the city's respected banking standards and regulations, our success in Hong Kong can lend great support to our regional expansion plan.
"We're already serving Hong Kong residents living in different parts of the world with our existing IT infrastructure, including an app that can be downloaded and accessed anywhere and anytime. Moving forward, we are keen to explore opportunities for further cross-jurisdiction expansion, including, of course, the gigantic opportunities in the Greater Bay Area."
When talking about the next wins in Hong Kong, Hsu looked forward to the launch of its virtual SME-focussed corporate banking services. As of today, ZA Bank offers deposits and transfers to individuals and businesses as well as personal loans, but as a customer-centric business, Hsu planned to broaden the range of banking facilities, saying: "Other value-added services, such as sales of investment and insurance products could also be in the pipeline."
Banking Services
Banking Services
Banking Services
Banking Services
Banking Services
Banking Services
Banking Services
Banking Services
Banking Services
Banking Services
Banking Services
Hong Kong
Hong Kong
Hong Kong
Hong Kong