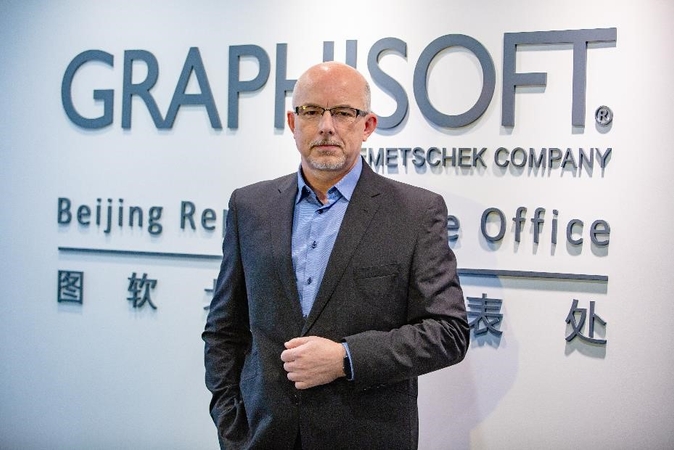 https://origin.hkmb.hktdc.com/en/NTE2MTA4NzA3
The Greater Bay Area: Modelling for the Future
With a population of just under 10 million, Hungary is only slightly better off than Hong Kong in terms of human resources, despite being 30 times larger in size. Although relatively small in size and population, the former Soviet satellite state has produced world-renowned scientists and engineers in surprisingly large numbers.
This may go some way to explaining why a company from this EU member state is a leader in the field of building information modelling (BIM). Graphisoft, a member company of the Nemetschek Group, has built a strong reputation in this field from its Budapest headquarters.
Playing Catch-up
Managing Director of Graphisoft Asia, Tibor Stahl, believes that Hungarians' apparent flair for science and engineering may go some way to explaining the company's success in BIM. He said: "I am often asked why a company from a relatively small country like Hungary is up there as one of the leading players in BIM technology. I think at the heart of the answer is the fact that Hungary has – per-capita – one of the largest numbers of Nobel laureates, especially when it comes to the fields of science."
Stahl sees Hong Kong as beginning to catch up in BIM, which will – literally – shape the physical landscape of the Greater Bay Area (GBA) initiative.
Stahl hopes that the company's expertise will reap rewards, not only in the Hong Kong Special Administrative Region (SAR) and the rest of the GBA, but across the whole of China. He sees laying down the necessary industry standards and educational strategies as being vital to expanding the use of BIM technology in the Asian region.
The GBA initiative aims to create a Pearl River Delta powerhouse which links both the Hong Kong and Macao SARs, plus nine other Guangdong cities. The transformation of the region – which encompasses a massive market of 70 million potential customers, with a combined GDP of US$1.6 trillion – is part of a global vision of creating an inter-linked world through China's wider Belt and Road Initiative, This aims to establish long-lasting economic ties, not only with China's closest neighbours, but far beyond in the wider world.
Digital Twin Innovation
BIM is the process by which three-dimensional, digital representations of design information, construction and operational data are produced throughout the life cycle of a built asset – creating a 'digital twin' of a building, from its conception to completion and beyond. It is also an innovative technology for communication between all the stakeholders in the construction industry, including architecture, engineering and construction professionals, facility managers, owners and even the officers of relevant government agencies.
In 2018 the Hong Kong government introduced a policy to adopt BIM technology in the design and construction of major government capital works projects. It also mandated that the Construction Industry Council (CIC), which named 2019 as BIM Year, formulate BIM technical standards to help equip the industry and encourage the use of the technology in the private sector.
This followed the establishment of the Hong Kong Institute of Building Information Modelling (HKIBIM) in 2009, with a stated aim to "uphold and advance the standard of competence for the profession and to promote the interests and recognition of its members within the industry and community".
Accelerated Progress
According to Stahl, Hong Kong and the wider GBA still has a significant way to go in adopting BIM technologies, despite "accelerated progress" over the past few years. This is partly due to the fact that many sections of the construction industry are still wedded to traditional 2D computer-aided design (CAD)-based drawing practices.
Stahl said: "In the last few years, the BIM market has changed a lot in Hong Kong. Up until that time the city was lagging behind other places globally and regionally. About two years ago there was a big change and this has accelerated the rate of adoption of the technology in the construction industry."
Stahl saw BIM regulation alignment as a potential obstacle its widespread adoption. He said: "In terms of Southern China and China as a whole, BIM has been talked about for quite some time. Efforts are being made nationally to put the necessary regulatory frameworks in place to facilitate its proper adoption and application. However, sometimes alignment of those regulatory frameworks among the many large cities, provinces and smaller regions of China can be difficult."
Co-operative Strategy
Stahl was keen to stress that Graphisoft has a clear strategy as the GBA initiative unfolds. Key to the company's approach is promoting co-operation, communication and education across the many construction industry stakeholders. He said: "Our strategy in Hong Kong and across the GBA is to work with and upskill the construction industry and educate them on the benefits of BIM technology. As a vendor, we recognise that this is a role we have to play. We want to work together with all the stakeholders, be they private, government or institutional.
"The aim is to help them understand that there are many options when it comes to BIM. It's possible for everyone across the disciplines involved in the construction industry to work together using agreed standards. Examples of this have already been deployed in other markets internationally."
Graphisoft, along with other buildingSMART[1] members, has launched a global campaign in the architecture, engineering and construction (AEC) industry to promote 'OPEN BIM'. This supports a transparent, open workflow to allow project members to participate, regardless of the software tools they use.
By using common data formats, as well as relevant workflows and processes, industry and government can procure projects with transparent commercial engagement, comparable service evaluation, assured accessibility and enduring project data for use throughout the asset lifecycle.
Looking Forward
The Covid-19 pandemic notwithstanding, the potential for BIM technology internationally was spelled out in a report sponsored by the Institution of Civil Engineers. It predicted that the global construction market will grow by 85% to reach US$15.5 trillion by 2030, due to rapid development in the US, India and China.
The report said: "The evolution in the project deliverance techniques and construction management marked the introduction of Virtual Design Concept (VDC), including virtual building information modelling, which outstandingly helped in forming mechanical, electrical, and plumbing designs and blueprints for a building. Due to such aids and applications it delivers, BIM market is progressing at a global compound annual growth rate of 10.88% during the forecast period of 2020-2025."
With advancing urbanisation creating an urgent need for affordable quality space for many people, Stahl believes that BIM could be of great value. BIM systems and similar technologies featuring more than just 3D information (width, height, and depth) but further dimensions, such as 4D (time), 5D (cost), and even 6D (as-built operation), could be further expanded to serve the rapid urban development demand.
As technological disruption is transforming every aspect of the future of the architecture, engineering and construction (AEC) industry, Stahl believes that better alignment, organisation and management of BIM deliverables and geographic information system (GIS) data is key to the 'city information modelling' (CIM) process which supports IoT data visualisation for the planning, construction and management of futuristic, smart cities.
Stahl again emphasised the need for interdisciplinary cooperation to make this futuristic vision a reality. He said: "At Graphisoft, we're more than prepared to work with all software vendors, AEC practices – designers, engineers, constructors, as well as project owners to streamline BIM collaboration and exchange in the CIM era."

---
[1] buildingSMART, formerly the International Alliance for Interoperability (IAI), is an international organisation which aims to improve the exchange of information between software applications used in the construction industry.
Technology
Architecture & Planning
Technology
Architecture & Planning
Technology
Architecture & Planning
Technology
Architecture & Planning
Technology
Architecture & Planning
Hong Kong
Eastern Europe
Mainland China
Hungary
Hong Kong
Eastern Europe
Mainland China
Hungary
Hong Kong
Eastern Europe
Mainland China
Hungary
Hong Kong
Eastern Europe
Mainland China
Hungary
Hong Kong
Eastern Europe
Mainland China
Hungary