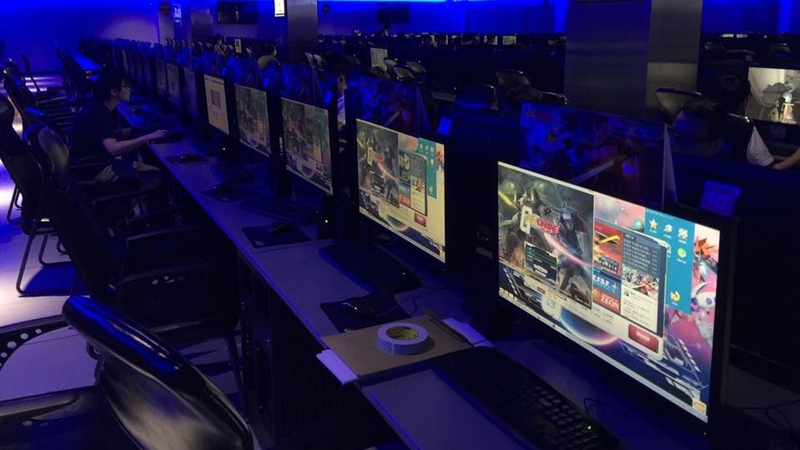 https://origin.hkmb.hktdc.com/en/NTYxOTEwNDcw
Navigating Covid-19: A Game Developer
In order to minimise social contact and encourage people to stay at home, most educational institutions have suspended classroom teaching since the outbreak of the Covid-19 pandemic, while many public and private institutions have adopted flexible working arrangements. This not only encourages more people to turn to food delivery and online shopping for their daily needs, but also increases the demand for "stay-at-home entertainment". Due to the growing popularity of electronic products and information technology in recent years, people can easily access all kinds of audio-visual entertainment and video games at home through personal computers (PCs), tablets and smartphones.
The global games market, including PC and mobile gaming, was worth about US$146 billion in 2019, similar to $157 billion market value of the global audio-visual entertainment industry [1]. According to Newzoo, a company specialising in games and e-sports analytics and market research, the market value of the global game industry is expected to reach $159 billion this year amid the outbreak, surpassing the global audio-visual entertainment market for the first time. During the pandemic, gamers in the Asia-Pacific region, which accounts for about 50% of the global games market, are particularly active in playing and live streaming. As a result, Asian market leaders such as Nintendo and Tencent all recorded substantial revenue growth in the first half of 2020.
Hong Kong has more than 100 game-development companies, providing mainly Chinese-language online and mobile games in Hong Kong, Macao, Taiwan and certain Southeast Asian countries. Given the size of the local games market, game-development companies employing 50-100 people are few and far between. One of them is Gameone Holdings Ltd, which has 60 employees in Hong Kong. HKTDC Research interviewed Sze Yan Ngai, Chairman of Gameone Holdings Ltd as well as the Hong Kong Game Industry Association (HKGIA), to find out how the city's game industry fares amid the Covid-19 outbreak and his views regarding the post-pandemic market.
High Engagement Levels Do Not Necessarily Mean Increased Revenues
Sze has maintained close ties with 300-400 local peers since founding the HKGIA in 2004, and notes that the "stay-at-home" lifestyle since the pandemic began has no doubt increased gamers' engagement levels. Yet he points out that this does not necessarily mean increased revenue for the industry, explaining: "Only some of our peers have seen their number of gamers increase during the pandemic. Overall, most gamers are spending more time playing. In the past, the peak hours for online games were 9 p.m. to midnight, followed by the commuting time in the morning and lunchtime. During the pandemic, the number of online gamers between noon and 7 p.m. amounts to 30-50% of the total gamer number, skyrocketing from the previous 10%.
"What this means is that white-collar workers can now spend more playing time to earn those skills and achievements they used to buy with real money in the past. Nowadays, most mobile games adopt a free-to-play model to keep new gamers playing and encourage them to make in-game purchases. For example, we organise 'guild wars' regularly in our mobile games and about 5-10% of our gamers would pay HK$100-1,000 to increase their chances of winning. However, now that gamers can spare more time to slowly upgrade their skill levels, they spend less often."
Game revenue at almost 70% of Hong Kong's gaming companies has dropped by 30-50% during the pandemic. As staff costs make up about 70-80% of their regular expenses, some small and medium-sized companies have been unable to bear losses and wage expenses during the past six months, even with the 50% wage subsidy under the Hong Kong government's Employment Support Scheme. As a result, they have no choice but to cut manpower, and this in turn slows the game-development progress.
Global Competition Heats Up
Sze points out that although some of the games developed by international brands have been selling hot amid the pandemic, only a few industry players have actually been able to make a profit out of it, explaining: "One of my friends who is distributing Japanese party games in Hong Kong has made big money during the pandemic. Japanese party games require the game console to be connected to the television and wireless Bluetooth controllers and allow gamers to play as a team or as rivals. These games are particularly popular during Christmas, New Year and other long holidays. In recent years, some party games are even designed to be played with body-motion sensors, allowing gamers to work out while following the storyline. These party-game developers have made substantial investments in hardware and software development over the years. They already have a head start in this business through the sale of game consoles, gamecards and other accessories. Hong Kong industry players need to invest more time and money if they hope to join the race."
Investment in game development can be divided into four tiers. Investment in S-tier games, the highest rank, exceeds HK$10 million. A-tier games require a minimum investment of HK$8 million and a development team of 20-30 persons. B-tier games involve an investment of at least HK$3 million and a team of about a dozen. C-tier games need HK$500,000-1,000,000. Game developers in Hong Kong mainly develop A-C tier mobile games. Their in-house teams normally spend six months to two years developing the game system, while scenery and character designs, dubbing and music production are outsourced to professionals or freelancers in the relevant fields.
Hong Kong has a free and open games market. Local game developers not only face the challenge of international S-tier games but also competition from mainland counterparts. Sze explains: "In recent months, many mainland games have chosen to launch in Hong Kong first because the pandemic has slowed down the approval process on the mainland. Our mainland peers simply change the language from simplified Chinese into traditional Chinese, then they can release the game on Google Play or App Store and start online promotion on various social platforms."
According to Sze, Hong Kong's game industry is playing a diminishing role in the launch of mainland games in the city. He says in the past, the internet and traditional media both played important roles, with game production and the supporting industry thriving side by side. For a mainland game to enter the Hong Kong market, it had to put its Hong Kong version on a local server and rely on the city's industry players for referrals to various advertisers and celebrities and the staging of physical promotions. There were as many as 10 local gaming magazines a decade ago, yet the industry today is dominated by international apps download platforms and social platforms, which greatly reduces the work and cost required for games distribution and promotion.
Sze says Hong Kong's game industry can also take advantage of the convenience provided by international platforms to promote local games overseas, explaining: "Our Chinese-language mobile games are equally popular among overseas Chinese communities, such as Taiwan, Macao, Malaysia and Singapore. Occasionally, some Chinese-language games would be translated into English and launched in countries such as the US, Japan and South Korea. Due to cultural differences, however, the English-speaking markets regard games translated from Chinese as desserts rather than the main dish." Sze suggests that industry players interested in venturing into international markets should spend more time studying the culture of the target markets and put promotion in the hands of partners who are well acquainted with the local conditions.
Market Opportunities in GBA
In a mainland consumer survey conducted by global management consulting firm McKinsey during the Covid-19 pandemic, 15% of respondents said they spent more time playing online games while 5% played online games for the first time. The Guangdong-Hong Kong-Macao Greater Bay Area (GBA) has seen strong economic growth in recent years. As their living standards continue to improve, the region's 70 million people can somewhat sustain their spending on "stay-at-home entertainment" even amid the pandemic. Following the gradual implementation of the Outline Development Plan for the GBA, government departments in the region are expected to introduce different measures to deepen cross-border co-operation and market openings in cultural and creative industries. Known for its East-meets-West culture, Hong Kong is well placed to assist in the opening up of the game and creative market in the GBA.
As Macao and the nine GBA cities share the same cultural roots with Hong Kong, the close cultural exchanges in the region are bound to generate a wealth of opportunities for local game-production companies. As Sze explains: "The GBA has a population 10 times bigger than that of Hong Kong and shares the same language and culture with us. It is a market with huge potential for Hong Kong's game industry."
Sze says most Hong Kong companies seeking access for their games to the mainland market would choose to sell their copyright to mainland online game operators. According to the Trade and Industry Department, under the CEPA Agreement on Trade in Services, game companies in Hong Kong may co-operate with mainland companies in the early stage of development and production of online games, but not their online operation. Hong Kong game companies and mainland-Hong Kong joint-venture companies are both classified as "foreign-invested internet cultural business entities" and, as such, must apply for permission to launch online and mobile games through mainland enterprises holding the licence for online publishing services.
In order to further open up the GBA games market, Sze recommends granting quotas to Hong Kong game companies to directly distribute and operate games in the GBA to begin with. Apart from helping micro, small and medium-sized Hong Kong firms develop their entertainment businesses in the GBA, this would also attract foreign investment to the city's game-creation industry and boost the long-term development of cultural and entertainment industries in the region.
While continuing to follow the development in the GBA, Sze also encourages young people interested in the creation of online games to better understand gamers' tastes and demands as well as technological developments and their applications. Explaining that online games are not only for mass entertainment, he says: "They can also act as a medium for interpersonal communications. Even though we cannot meet our friends or relatives in times of social distancing, we can still keep in touch and interact through online games. Game creators must know what gamers need in order to design an irresistible product.
"Moreover, the development of 5G will greatly increase the volume and rate of information transfers and provide more creation and innovation space for the game industry in future. Although the pandemic may slow down the completion and popularisation of 5G infrastructures and disrupt big game developers' plans on 5G games development, it will also give stakeholders more time to perfect their game designs and promotion strategies. Since 5G is expected to be the main axis for the future growth of the game industry, industry players should pay greater attention to its development in order to have a better grasp of opportunities in this field."
Toys & Games
Toys & Games
Toys & Games
Toys & Games
Toys & Games
Toys & Games
Toys & Games
Toys & Games
Toys & Games
Hong Kong
Hong Kong
Hong Kong
Hong Kong
Hong Kong
Hong Kong