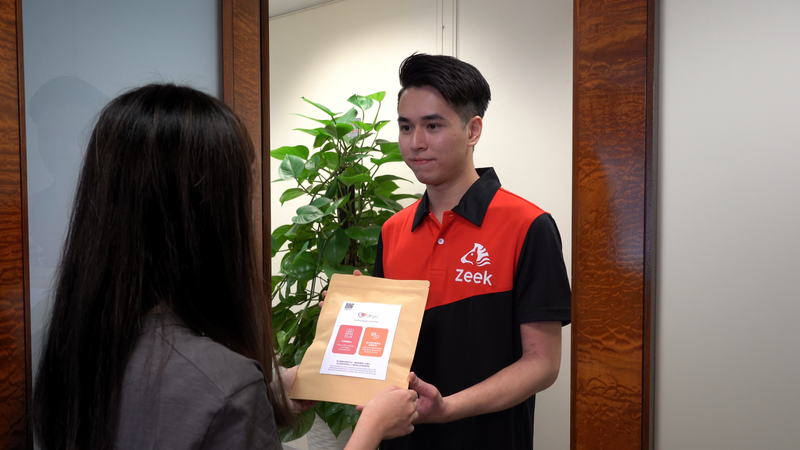 https://origin.hkmb.hktdc.com/en/NjAwNzQwNjk0
The Post-Covid New Normal: Telemedicine Poised to Take Off
One consequence of the Covid-19 pandemic is the growing importance of non-contact telemedicine. One of its main advantages is that it delivers convenient and efficient healthcare services remotely through advanced electronic communication technology. In August 2020, the HKT Group (HKT) launched DrGo, a one-stop remote healthcare app platform that connects users with Hong Kong-registered doctors who provide medical advice and suggestions via a video consultation. Prescribed medicine can be delivered to a user's designated address so that they can complete the entire medical consultation process without leaving their homes. HKT Consumer Group's Managing Director Ringo Ng talked to HKTDC Research about the development and business model of the DrGo video healthcare platform, and how healthtech can be applied in hospital, clinic and university settings.
Partnering with Private Hospitals​​​​​​​

DrGo is a platform that offers medical and healthcare services to Hong Kong-based users by allowing them to consult Hong Kong-registered doctors at appointed hours by using the DrGo app1. Ng gave more details on how it currently works and how the service it provides may develop, saying: "DrGo is now partnering with Gleneagles Hospital Hong Kong and Precious Blood Hospital (Caritas) to offer video consultation services. In other words, the services are provided by doctors in private hospitals, who primarily give a diagnosis and treatment to patients with general symptoms such as fever, coughing, and diarrhoea or vomiting. The scope of services will in future extend to specialist consultations, as well as the regular follow-up and health management of chronic diseases."
There are now over two million patients in Hong Kong with chronic diseases. The most common, such as hypertension, high blood cholesterol and diabetes, all require regular follow-up by doctors to adjust prescriptions and dosages. Paying regular follow-up visits to a hospital or clinic can be a problem for older people and patients with mobility problems. One possible solution to this is the use of remote consultations.
DrGo does not yet offer any emergency medical services or treatment for acute illnesses. Describing the app's response in these circumstances, Ng said: "If a user has developed sudden, severe or critical symptoms, DrGo will suggest that emergency medical services are called. The DrGo app will also show users nearby hospitals with accident and emergency departments to help them seek assistance."
Fully Remote Consultation ​​​​​​​

DrGo users in Hong Kong can access the one-stop medical consultation services through a smart mobile device. Using the DrGo app, users can enter what symptoms they have and request an appointment. If their condition is deemed suitable for a remote consultation, they can wait at their home or workplace to talk to a doctor without having to queue up in person at a hospital or a clinic. Outlining the benefits of this approach, Ng said: "Given that we have to maintain social distancing during the pandemic, telemedicine offers people convenience and peace of mind. I believe this pandemic will turn out to be a major opportunity to develop telemedicine in Hong Kong."

Once a video consultation has been completed, DrGo sends an eight-digit code to the user's DrGo app. When DrGo's third-party logistics team delivers any prescribed medicine, medical certificate, medical referral letter and receipt in a specially designed pouch to a user's designated address, the courier will verify that eight-digit code to ensure an accurate delivery. At the moment, couriers can deliver a medicine pouch from a hospital to the user usually within four hours of a user finishing a video consultation and settling payment. Users can, at any time, access their doctor's diagnosis and audio prescribed medicine instructions via the DrGo app.
Target Users
Ng explained that the aim of the platform is to make it easier for patients to access medical services, saying: "DrGo is the first business HKT has launched in the healthtech sector. The idea behind it is to provide services to the general public. Backed by HKT's understanding of its four million-plus users' needs, DrGo's user interface was designed with particular concern for its user-friendliness."
For now, the DrGo video consultation service is available only to people physically in Hong Kong who are older than 14, not pregnant, and holders of a valid Hong Kong identity card, passport or birth certificate. In future, with more private hospitals and healthcare institutions expected to join the platform, it's hoped that the range of services that DrGo can offer will expand to include specialist consultations, care for chronic disease patients and other healthcare services.
Development Challenges
It took HKT's dedicated IT team almost a year to design and create the DrGo app, and the team will continue to manage the app as it expands and develops. One of the biggest challenges of designing the app is working out how to link up with the intranets of all the departments of the different private hospitals.
Underlining the difficulties, Ng said: "Generally, there are five main divisions in a hospital, dealing with matters related to doctors, nurses, administration, pharmacy and accounting. DrGo has to make adjustments carefully with the systems and processes of each division so that video consultation can be carried out on the DrGo platform. All kinds of patient information are personal data, so they have to be kept confidential and handled with the utmost care."
Future of Healthtech
Ng said HKT is now exploring the possibility of applying healthtech in hospitals, clinics and universities in order to provide services like telemedicine, remote mentoring and clinical training. As a leading supplier of information and communications technology (ICT) with the capability of applying 5G, internet of things (IoT) and artificial intelligence (AI) in big data analytics, HKT is in a position to facilitate medical research as well as disease prevention and diagnosis, thereby expanding the potential scope of telemedicine services in Hong Kong.
The increasing maturity and ubiquity of home-use smart healthcare products and technology is also likely to boost the long-term development of telemedicine. For example, there are now smart Bluetooth blood glucose/cholesterol meters which can not only record the time, date and results of the measurements they take, but can also upload the data instantly to the cloud so that it can be checked by the user's family members or doctors.
Ng pointed out that the growing use of this technology will make it cheaper and more efficient, saying: "As technology advances, the production costs of home-use smart healthcare products will be reduced. When the majority of chronic disease patients can log their physical health data (such as blood glucose, blood pressure, blood oxygen saturation and pulse rate) at home, telemedicine will become the most efficient way to manage chronic diseases for the whole society."
During the pandemic, people in Hong Kong have become more aware of and more receptive to telemedicine. Nevertheless, telemedicine is a way of supplementing traditional health consultation processes and is in no position to completely replace in-person consultations at hospitals or clinics. Making an estimate of how much of an impact telemedicine may make, Ng said: "In the foreseeable future, telemedicine is expected to have a 20-30% share of the healthcare market, because patients with some illnesses will still need to have physical examinations carried out by a doctor. However, if we can make the best use of technology to carry out telemedicine, we can improve Hong Kong's overall healthcare efficiency."
---
1 Currently consultation hours are from 8am to 8pm daily.
Medical & Healthcare Services