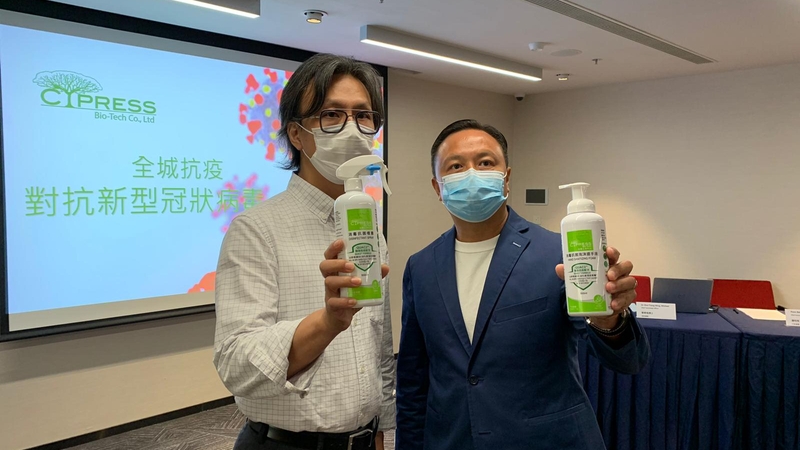 https://origin.hkmb.hktdc.com/en/NjEwOTc2NjI2
Start-Up Hong Kong: Boosting Local R&D Via Enhanced Test Facilities
In 2015, there was an outbreak of Zika virus in Central America. Humans contracted the virus through the bites of infected Aedes mosquitoes. Infection with the virus could cause microcephaly birth defects, epilepsy, slow development and mental retardation, and it posed a serious threat to human health. Stanley Poon, founder of Cypress Bio-Tech Co Ltd, had previously worked in the packaging business. He was deeply concerned with the threat of Zika virus, and began to pursue the idea of producing mosquito-repellent products. In 2016, he founded Cypress to focus on the application of these products. Michael Choi, the Chief Technology Officer of Cypress, talked recently to HKTDC Research. He shared the history of its products from research and development to market launch, and discussed the hurdles to local product R&D which he encountered, including a lack of versatility in Hong Kong testing services.
Trial Use Enhances Confidence
The initial idea of Cypress was to produce anti-mosquito clothing from fabrics made of mosquito-repellent fibres. But the use for anti-mosquito fabrics seemed limited, so Cypress applied its mosquito-repellent technology to the more popular household item of fabric softener. The repellent could be infused into clothing during the washing process to produce the desired effect. After conducting tests for three to four months, Cypress successfully registered the product with the Agriculture, Fisheries and Conservation Department (AFCD) in June 2017. (Note: Mosquito-repellent products are classified as pesticides and governed by the Pesticides Ordinance.) Available through online stores and retail chains, the product has been well received by the public. Cypress has also launched other products including mite and bedbug repellent softener, mosquito, mite and bedbug repellent mist spray, and mosquito-repellent liquid spray.
At the start of its operations, Cypress provided trial products to clients in order to generate market confidence, and gain market feedback for product improvement. When Hong Kong was plagued by dengue fever in 2018, Cypress donated mosquito-repellent products for use by front-line anti-mosquito workers. Subsequently, they were successfully admitted to the Public Sector Trial Scheme under which their mosquito-repellent products were provided to front-line police officers stationed at Sai Kung and Tin Shui Wai. As front-line officers need to work outdoors under the scorching heat, their heavy perspiration may undermine the effect of the mosquito-repellent fabric softener.
Analysing the feedback from these trials, Cypress began to conduct research on anti-perspirant and waterproof mist sprays so that users could freely increase the mosquito-repellent effect as needed. Choi believes that the trial use by the Hong Kong Government greatly enhanced the acceptance of their biotech products, boosting consumer confidence and allowing Cypress to reach out to overseas clients successfully.
In June 2018, Cypress successfully applied for admission to the Incu-Tech Programme of Hong Kong Science and Technology Parks Corporation (HKSTP) and subsequently moved into the Science Park. The Programme has provided Cypress with a laboratory, greatly reducing its R&D costs. Through the commercial matching activities organised by the Programme, Cypress secured Ztore as its first online sales channel. Cypress has now developed mature products ready to market. In the future, it will focus on sales and marketing by building up a commercial network, expanding its sales channels and seeking product registration in overseas markets. At the moment, sales support is particularly important to Cypress: "Through the Student Internship Programme of HKSTP, we have hired the talents we need to take forward the development of Cypress."
Local Testing Options Short of Versatility
In the opinion of Choi, the Hong Kong Government plays an important role in nurturing the local start-up ecosystem. Given the rigidity of existing government regulations, start-ups find it difficult to seek consultation, advice and assistance from the relevant departments in the absence of precedents. For example, Cypress came across many hurdles when it tried to register its fabric softener with AFCD because it belonged to a new product type. As he recalled: "When we first planned to set up a laboratory for keeping mosquitoes to conduct mosquito-repellent tests for our product, we expected the Hong Kong Government to provide some leeway under the existing legal framework. But we were told to contact one government department after another with no concrete response whatsoever."
The small number of biotechnology companies in Hong Kong, Choi believes, means there is a low demand for relevant services, and local laboratories have little incentive to meet the requirements of biotech start-ups for tailor made product tests. The testing services available in Hong Kong not only lack versatility, but are also costly and time-consuming. Given the circumstances, Cypress had to turn to overseas options. "Eventually we gave up doing the tests in Hong Kong and turned to an existing mosquito laboratory in Taiwan to conduct the mosquito-repellent tests." Choi feels the Hong Kong Government should provide more long-term support in this area.
According to Choi, start-ups have little chance of competing for orders under the present inflexible government procurement system. Although Cypress has been a GLD (Government Logistics Department) Supplier since September 2018, it has never made a successful bid. When a government department invites tenders, the lowest bid is usually chosen. If price is the only consideration, start-ups can hardly compete with their market rivals. GLD once indicated at its seminar that it would set up a more flexible tender assessment scheme so that start-ups can also be listed in its supplier system. But so far, Choi has not learned of any start-ups being chosen as government suppliers.
The lifespans of biotech products are usually long, ranging from six months to two years in the lower end, and five to 10 years in the upper end. Steady funding is key to their success. That is why start-ups are in dire need of adequate funding to sustain their operation before they can become profitable. Cypress has kept its eye on the market and has applied for several types of funding and financial support from organisations including the Innovation and Technology Commission and HKSTP. Applications have been made to the Dedicated Fund on Branding, Upgrading and Domestic Sales (BUD Fund), the Patent Application Grant scheme and the recent Covid-19 Employment Support Scheme. The processing time for these applications is expected to be long, but Choi has to wait since any funding will become the operating capital of Cypress. If the processing and approval times stretch longer than expected, he will adjust some of the projects accordingly.

Strategy Shifts ​​​​​​​​​​​​​​
The outbreak of Covid-19 has altered market demand. The need for mosquito-repellent products is falling whilst there is a rising consumer demand for sanitisers and disinfectants. With the risk of a downturn in the market, Choi expected a drop in the sales of his company's products. In response, Cypress adjusted its product timeline and started producing lower cost daily necessities, such as shampoos, hair conditioners and herbal supplements. They plan to collect used coffee grounds from tourist accommodations in South Korea, and outsource to a mainland manufacturer to produce moisturising and skin-nourishing shampoo and hair conditioning products for hotel guests. In the belief that Covid-19 will be around for a prolonged period, Cypress is advancing the product timeline of a new sanitiser to bring it to the market more rapidly.
Cypress has set up sales offices in South Korea, Thailand and Malaysia to identify suitable business partners. As for the Guangdong-Hong Kong-Macao Greater Bay Area (GBA), Choi regards its development as beneficial to the growth of Hong Kong start-ups, particularly in terms of sales. Start-ups may use cross-border e-commerce to tap into the GBA market, which will in turn serve as a stepping stone to markets in other parts of China. In addition, Cypress has set up a production base in Zhuhai. A few years back Cypress planned to produce a mosquito detector and approached a Hong Kong company producing facial detection devices for collaboration. The deal failed to materialise because of the high cost involved, but Cypress was referred to its current partner in Zhuhai city where it subsequently set up a production base. In addition to enjoying rental concessions, Cypress can apply for a support fund of up to RMB1 million from the Zhuhai municipal government. "In short," says Choi, "Hong Kong start-ups should seize the business opportunities presented by the GBA and capitalise on its resources for corporate development."
Technology
Household Products
Quality Inspection and Testing
Health & Beauty
Technology
Household Products
Quality Inspection and Testing
Health & Beauty
Technology
Household Products
Quality Inspection and Testing
Health & Beauty
Technology
Household Products
Quality Inspection and Testing
Health & Beauty
Technology
Household Products
Quality Inspection and Testing
Health & Beauty
Technology
Household Products
Quality Inspection and Testing
Health & Beauty
Technology
Household Products
Quality Inspection and Testing
Health & Beauty
Technology
Household Products
Quality Inspection and Testing
Health & Beauty
Technology
Household Products
Hong Kong
Hong Kong
Hong Kong
Hong Kong
Hong Kong
Hong Kong
Hong Kong
Hong Kong
Hong Kong
Hong Kong
Hong Kong
Hong Kong
Hong Kong
Hong Kong
Hong Kong
Hong Kong
Hong Kong
Hong Kong