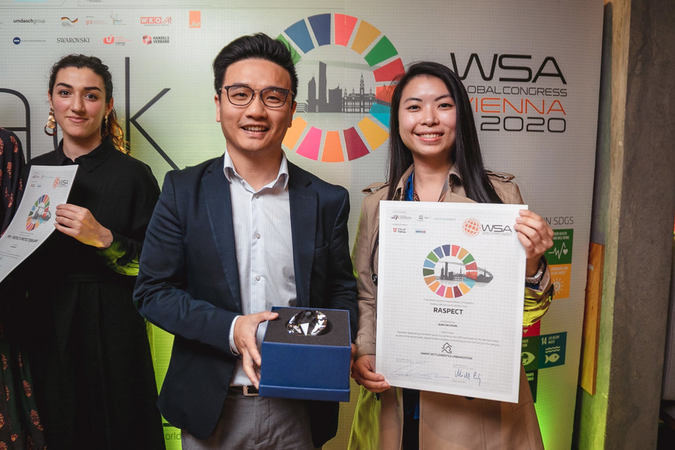 https://origin.hkmb.hktdc.com/en/NjI0MDI5ODY5
Navigating Covid-19: An Intelligent Building Inspector
Covid-19 continues to spread around the globe, and various measures have been taken by governments to reduce the risk of community transmission. As a result of these controls, urban residents worldwide are choosing to stay at home as much as possible and minimise social contact. As more time is spent indoors, the safety of building clusters in urban areas has become a greater concern than ever.
Hong Kong-based technology start-up, RaSpect Intelligence Inspection Limited (RaSpect), offers autonomous building inspection solutions coupling artificial intelligence (AI) with IoT sensors, drones and robots to enhance building safety. These solutions are designed to benefit Hong Kong's commercial buildings, lift companies, property management firms, developers and power suppliers.
Building upon the accolades it received at the 2019 United Nations based World Summit Awards, and the opportunities for international exchange that followed the award, RaSpect is seeking to work closely with the UN to propose low-cost, high-efficiency building safety inspection for developing cities. This promotes the sustainable development of safe and smart cities in Hong Kong and beyond.
Advantages of Intelligent Solutions
With increasing urbanisation, buildings are integral to the daily lives of city dwellers. A typical urban building includes a façade, ventilation systems, and escalators, lifts, as well as power and water supplies, sewage and waste disposal, and fire prevention systems. All of these are essential and any failures could result in loss of life or property damage.
"Buildings in Hong Kong may only receive a comprehensive safety inspection once every 10 or 20 years, and the majority of owners only arrange for an inspection after accidents have occurred," says RaSpect's founder and CEO Harris Sun. "Many property management companies in Hong Kong require the janitors to check for defects while they are cleaning façades. Expecting cleaning personnel to carry out safety checks might substantially reduce costs, but it will not provide the quality of an official inspection.
"External building inspections are still mostly done manually. These gondola inspections manual practice puts the inspection personnel at risk, and the inspection cost is relentlessly high. As gondolas are usually supported by only two independent suspending steel cables, they may swing back and forth despite the weather condition, and may damage a façade or even endanger the inspection personnel's lives."

By using drones, crane robots and wireless sensors, RaSpect's AI solution not only reduces safety risks in the inspection process, but can also significantly cut costs. Sun explained: "We first use a drone to carry out quick, non-intrusive façade inspection to identify defects by using big-data analytics on the AI Cloud Platform. We also install wireless IoT sensors to monitor specified anomalies in a building's electrical and mechanical systems. The platform sends out real-time alerts to staff telling them to take appropriate action to guard against safety risks."
Sun believes that Hong Kong provides great opportunities for the expansion of intelligent building inspection, "Globally, there are around 5,000 skyscrapers taller than 150m. Hong Kong is the home to about 350 of them, giving it the densest concentration of high buildings in the world. Also, Hong Kong is located in Asia, where the world's 10 tallest buildings are found, so the overall market demand for façade inspection is huge.
"This year, we carried out a safety inspection on the 490-metre International Commerce Centre (ICC). Our track record in Hong Kong demonstrates our capability to overseas users and strengthens our brand."
In addition to growth potential, Hong Kong also provides comprehensive start-up support for intelligence building inspection companies. Sun said: "Since day one we have received strong support from start-up incubators like the Hong Kong Science and Technology Parks, HKAI LAB, Mizuho Bank and the Qianhai Shenzhen-Hong Kong Youth Innovation and Entrepreneur Hub. As our business progressed, we became a favourite of private and public investors from Hong Kong and the mainland.
"Our current shareholders include Alibaba Entrepreneur Fund, Particle Accelerator Limited and MindWorks Ventures. We are also getting support from the Hong Kong SAR Government's Innovation and Technology Fund."
Smart Cities
The UN based World Summit Awards is a major event for the global IT sector. Last year, out of 430 nominations from 182 countries, RaSpect emerged as one of the winners under the Smart Settlements & Urbanisation category. This award recognised RaSpect's contribution towards sustainable cities and communities – one of the UN's sustainable development goals – and provided them an unique channel to touch base with communities around the world.
A safe living environment is an important aspect of sustainable cities. Even in a highly developed city like Hong Kong, there are many buildings over 50 years old that are not covered by insurance or managed by an owners' corporation. Serious incidents, such as collapsing buildings or power failures, are sometimes reported from developing regions. Although most people dwell in buildings for at least 10 hours a day, regardless of the development status of the city, building safety is often overlooked.
During the Covid pandemic, many densely populated cities have adopted more stringent social distancing and self-quarantine measures than rural areas in order to reduce transmission of the virus. Urban dwellers are spending more time indoors, increasing the focus on building safety.
Sun is keen to spread the use of his company's technology, "Ever since we flew to Vienna, Austria in March to receive our award, we have kept in close contact with the UN. We want to introduce intelligent inspection solutions to cities around the world, to protect the life and property of their inhabitants."
Going Global
Sun thinks that AI and automation cannot only improve the efficiency of Hong Kong's professional services, but also help local professionals expand into overseas markets. He said: "There are currently about 10,000 buildings being inspected every year in Hong Kong. Yet according to the Census and Statistics Department, there are only 410 surveying firms in Hong Kong are related to construction and real property as of 2019. More importantly, the most 'productive' firms can only provide inspection services to about 10 buildings every year, so there is insufficient capacity to meet the demand. This severe shortage of inspection services has caused many aged buildings missing the prime time for carrying out repairs."
Sun sees RaSpect's solutions as a means of using resources more efficiently. He said: "With the utilisation of our technology, 95% of inspection procedures can be relegated to robots or AI systems. Surveyors will only be responsible for reviewing the inspection report generated by an AI system. This means that our technology can reduce the complicated and repetitive work currently done by surveyors manually, and can free up resources to satisfy the huge demand for inspections.
"We are studying the feasibility of working jointly with overseas partners on data collection. Hong Kong-registered surveyors recognised by the local authority can take care of the endorsement of the report. In this way, surveyors in Hong Kong will be able to service overseas markets."
"Recently, a robot company in Singapore showed interest in collaborating with us," says Sun. "Their team wants to use inspection robots for data collection, and then analyse data with our cloud platform. Also, we are looking to expand our business by finding overseas partners. Our first stop will be Dubai – the location of the world's tallest building, the Burj Khalifa – to be followed by Tokyo."

Quality Inspection and Testing
Quality Inspection and Testing
Quality Inspection and Testing
Quality Inspection and Testing
Technology
Quality Inspection and Testing
Technology
Quality Inspection and Testing
Technology
Hong Kong
Hong Kong
Hong Kong
Hong Kong
Hong Kong
Hong Kong
Hong Kong
Hong Kong
Hong Kong
Hong Kong
Hong Kong
Hong Kong