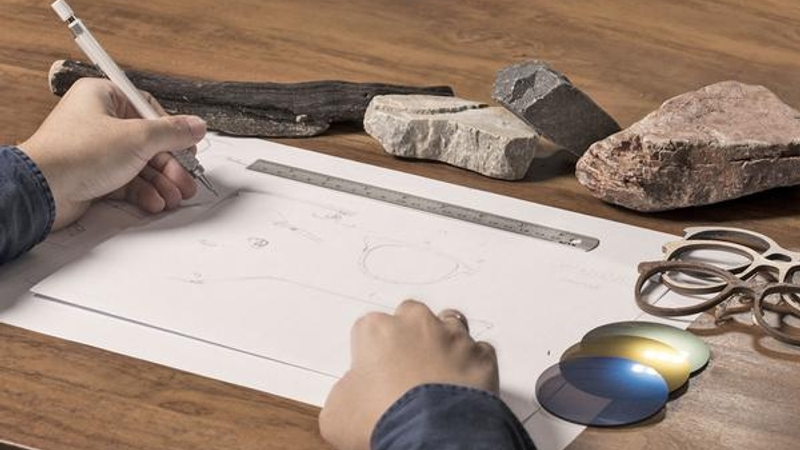 https://origin.hkmb.hktdc.com/en/NjI0ODg2MDMx
Start-Up Hong Kong: An Eyewear Designer's Entrepreneurial Journey
There is no lack of well-known designer brands in a cosmopolitan city like Hong Kong, but local creative designs are receiving increasing attention as some consumers look more for original designs than brand names. Many young designers have started their own business and successfully secured a foothold in the local market in recent years. Brian Chan, founder of Double Black Co Ltd told HKTDC Research about his experience in creating his own Unsuikyo brand and turning from designer to entrepreneur three years ago. He is confident that Hong Kong designer brands will have a place in the international market and hopes the government will allocate more resources to help market Hong Kong's original designs in overseas markets.
Pop-up Stores to Gauge Demand​​​​​​​

As a nature lover, Chan wants consumers to experience the vitality of nature through his designs. That was the reason behind his creation of the Unsuikyo designer brand eyewear, a fusion of technology and natural raw materials. The eyewear frames are made of raw stone and premium quality wood like black walnut and sandalwood. Wearers appreciate the comfort and lightness of the products. Double Black is in the early stage of growth and targets consumers in the 30-50 age group who love unique designs. It has ventured into overseas markets and its products can now be bought in retail stores in Taiwan, Thailand, Malaysia, Vietnam, Germany and the UK.

Double Black has been selling its designer products online since 2017. Recognising the potential of this sustainable brand, the Hong Kong Federation of Youth Groups recommended the company to Cityplaza's "Maker House" sustainable retail start-up partnership programme in 2018. The programme offers a two-month rental waiver for start-ups to set up "pop-up stores" in a shopping mall with strong footfall. Chan took advantage of this opportunity to have more face-to-face contact with consumers to find out about their interests and demands. He said: "It's true that we do not have to pay high rent operating an online store, but the benefit of physical stores is that they allow customers to actually touch the merchandise and feel for themselves the unique lightness of our wood and stone frames. This helps boost consumer confidence and establish our brand image." Besides setting up physical sales outlets, Double Black also offers a "try before you buy" option at its online store, giving consumers a three-day free trial before purchase.
From Designer to Entrepreneur​​​​​​​
Chan says he had zero income during the first year of starting his business and is still searching for a business model that suits his brand concept. As a designer turned entrepreneur, he needs to learn marketing and management know-how, including logistics, operation, sales and even product photography. He is thankful for the support given by the government and the private sector to design start-ups through funding and competitions. In the early days of his business, he often turned to the Hong Kong Federation of Youth Groups for help on issues like fund-raising, procedures for expanding the business and marketing.
Double Black was later admitted into the Design Incubation Programme (DIP) of the Hong Kong Design Centre. This programme, which offers free rental for office premises for the first year and 50% discount rental for the second year, greatly reduced the company's operating costs. In addition, mentors at the DIP helped Chan manage his start-up and gave him opportunities to take part in overseas exchanges and exhibitions. Thanks to the DIP's mentoring, Double Black was able to grow quickly and establish its brand. (For more on the DIP, see Hong Kong Starts-Up: Government Looks to Incubate Design and Fashion Talent.)
Chan says he continues to look for other support programmes and would welcome their involvement if he sees opportunities for his company's development. Because of the help he got through DIP's mentoring, he hopes to contribute to Hong Kong's start-up ecosystem and become a mentor to work with other design start-ups.
Promoting Original Hong Kong Designs
In Chan's view, appropriate policies and a good business environment are essential for the growth of start-ups in all sectors. For example, with the pandemic affecting people's desire to spend, market response will currently be slow no matter how good a product is or how much publicity has been done. The government must be sensitive to market changes and understand the impact of social and economic development on the start-up community in order to be able to formulate suitable policies to support the growth of businesses.
Chan is confident that Hong Kong designer brands can appeal to international markets, but believes that more positive support from the government is needed to push start-ups to the world. For example, participation in international trade exhibitions is an important channel for designer brands to expand overseas, and exhibition funding can reduce the financial burden for start-ups. From his observations at overseas exhibitions, many pavilions, such as those from Taiwan and Japan, have special areas set aside for outstanding start-ups in different sectors. These booths often attract a lot of visitors and help local brands make their name in their target markets.
On the subject of "Hong Kong people using Hong Kong goods", Chan hopes the Hong Kong government will give priority to the purchase and use of local products. Products used by government and business leaders in Europe and America often get high media coverage and become trending on the internet. He hopes to see the same in Hong Kong. "Such recognition will give local products and local brands great publicity and promotional support."
Front Shop, Back Factory Model
Double Black changed its business strategy by selling anti-fog cloths for glasses during the pandemic, a move that has helped stabilise its business in recent months. It will continue to adjust to suit market demand, launching low-price and high-value products made of special materials and expanding its online sales.
As the Guangdong-Hong Kong-Macao Greater Bay Area (GBA) develops, Chan is worried that the differences in culture and law between Hong Kong and the mainland, may mean that Hong Kong companies will find it difficult to adapt to business practices on the mainland. Some start-ups may find it risky and problematic to develop the GBA market. In e-commerce, for example, the use of social media is quite different, with Hong Kong businesses using mostly Facebook and Instagram and mainland businesses using Xiaohongshu (Little Red Book) and WeChat. However, Chan believes the GBA may provide powerful backing to Hong Kong designers in carrying out backend work procedures such as production of prototypes and design drawings, while Hong Kong focuses on marketing as the base for developing overseas markets.
Hong Kong
Hong Kong
Hong Kong
Hong Kong