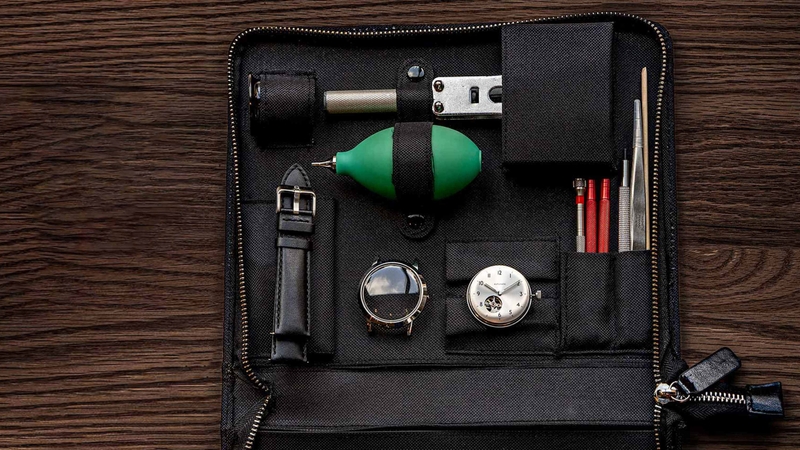 https://origin.hkmb.hktdc.com/en/NjI5MjU3NTYy
Navigating Covid-19: A Custom Watch Brand
The upheaval caused by the coronavirus pandemic has created unique challenges in delivering goods and services across the board. In response to social distancing measures and the suspension of face-to-face activities, Quinn Lai, founder of the Hong Kong-based custom watch brand EONIQ, has rapidly digitalised his mechanical watchmaking workshops and launched a sub-brand – DIY Watch Club – to cater to the thriving stay-at-home economy.
In an interview with HKTDC Research, Lai shared his thoughts on his custom watches and DIY watchmaking workshops, and discussed how he has managed to launch a new DIY watchmaking kit to overseas markets in these challenging times. He also told us about his aspirations as a Hong Kong watchmaker.
Online to offline
EONIQ was founded in Hong Kong in 2014. It has become renowned for its mechanical watchmaking workshops, which have attracted not only celebrities, but also many Hong Kong residents interested in spending time investigating craftsmanship. At its studio in The Mills – a landmark revitalisation project in Tusen Wan which involved the transformation of a 1950s textile mill into a cultural and shopping centre - those looking to take part in the watchmaking experience can design and make their own watches by customising the dials or rotors with their own text, handwriting and images. The more advanced participants can even try to work on the movements and assemble a wristwatch under expert guidance.
The appetite for experiential shopping like this began to grow long before Covid-19. Lai cites the early popularity of his company's workshops as evidence, saying: "Our DIY watchmaking workshops made a strong debut in April 2019. The 2-hour weekend sessions, with a capacity of 14 participants each, are frequently overbooked. The workshops have also been well received as a unique but fun team building activity by corporate clients such as W Hong Kong, ESTEE LAUDER, COACH, DFS and Abbott."
Lai and his team have made strenuous efforts to maintain the momentum of the company's successful launch, despite the difficult business environment caused by both the pandemic and the months-long social incidents. Pointing to the way the company has used both online and offline channels, Lai said: "Social media has become a major channel for us to promote the brand and the DIY workshops. During the most stringent times, we have to monitor our social media posts, ads and feedbacks every day. Somehow, we've managed to stay afloat even with fewer workshop participants."
Hong Kong's warm welcome for EONIQ has given the company a strong impetus to explore other Asian markets for opportunities. But its offline expansion plan has clearly been stalled by the Covid-19 pandemic. Detailing EONIQ's development strategy, Lai said: "Since as early as late 2019, we've been planning to fundraise for the opening of watchmaking studios and retail shops in ASEAN, Japan and South Korea, where we've already gained a firm online foothold with growing orders.
"In ASEAN, we've been warmly welcomed by English-speaking professionals such as lawyers, doctors and asset managers. The ASEAN e-shoppers enjoy designing their wristwatches on our website, where a great variety of watch straps, cases, hands, second hands, dials and so on are available. In terms of sales, our customer base in ASEAN is already over 5 times bigger than that of Hong Kong. To penetrate the ASEAN market better, we planned to start our offline DIY watchmaking workshops in Indonesia – the bloc's largest consumer market – with an extended product range including custom pens and bracelets, as well as a premium sub-brand under EONIQ. However, the pandemic has slowed everything down."
As of November 2020, Indonesia - with 500,000+ - and the Philippines - with 400,000+ - had the largest number of confirmed Covid-19 cases in ASEAN. Displaying a lack of optimism about the short-term prospects of his expansion plan for the region, Lai said: "The ASEAN market has been badly hit by the pandemic, with the discretionary income and demand of our target audience on a downward trajectory at least in the short run. While we'll continue to cultivate the ASEAN market, we're keeping a close eye on opportunities in other markets."
Digitalising watchmaking workshops
In early 2020, EONIQ shelved its offline expansion plan for ASEAN, in order to launch its sub-brand DIY Watch Club in the North American market. Instead of holding face-to-face workshops, DIY Watch Club uses online classes and a DIY Watchmaking Kit (a set of specially-made tools, parts and components) to provide its customers with the immersive watchmaking experience. In the video, the instructors guide the customers through the assembly of each and every watch part and component. It comes with a pre-set kit or made-to-order items custom-picked on the DIY Watch Club website. The watchmaking tools can also work with the parts and components of most popular watch brands, providing users with extra possibilities of mixing and matching still further.
Explaining the thinking behind this U-turn from ASEAN to the US, Lai said: "The prolonged pandemic has made us aware of the need to move our watchmaking workshops online. The US is not only one of the world's most lucrative e-commerce markets, but is also a timepiece trend-setter. The popularity of online shopping in the US, plus the relatively high spending power there, has made it a favourable market for our products. Prices for them start from US$200 (HK$1,550), which would generally be considered a light luxury in ASEAN, but is highly affordable in America.
"More importantly, the US is home to a blossoming content ecosystem of watch magazines, online and offline, which are essentially the KOLs (key opinion leaders) in the modern world of timepieces. Once a Singaporean or European mini-brand secures coverage in a few of the US watch magazines such as A Blog to Watch, HODINKEE, Monochrome or WORN & WOUND, sales in worldwide markets are almost guaranteed. The watch-savvy consumers and industry players, even those in Switzerland, Japan, Canada and Europe, all look to the US watch magazines for product recommendations and trends."
With the US e-commerce market in mind, Lai's team has carefully tailored the design and branding of the products offered under the new sub-brand DIY Watch Club. Lai detailed why this was necessary, saying: "As you can see from the brand names, we've adopted completely different branding strategies for the Asia offline market and the US online market. The name DIY Watch Club is specifically aimed at maximising our visibility on major online search engines for search engine optimisation (SEO). The name EONIQ , on the other hand, has little to do with SEO consideration. It is aimed at building a light luxury image, which has so far been well received in Hong Kong, Japan, South Korea, Taiwan and the ASEAN market.
"When it comes to the products, EONIQ's e-shop mainly features the skeleton models which allow the users to see through to the detailed workings of the watch inside. The watch models displayed on the DIY Watch Club website, on the other hand, are mostly classic designs, while the user experience (UX) design of the webpage also skews towards pre-determined sets of watch parts and components. The idea behind the difference is that we believe most US consumers nowadays prefer to have something more than just another watch, especially when it comes to micro-brands. A DIY experience with customisation would be a perfect fit.
Since February 2020, the DIY Watch Club has sold and shipped a few thousand kits to the US, despite some Covid-19-related logistics hassles. Lai explained that the US market is more understanding of delays, saying: "Our target demographic in the US is mostly made up of experienced e-shoppers who are willing to tolerate a reasonable waiting time for cross-border shipments. Given the price levels (US$200-800) of our products, we chose to rely on reliable international air carriers despite their premium, as other more economical alternatives could easily result in significant delays or even order cancellation."
Noting that DIY Watch Club customers come from all walks of life but all have a similar interest in watchmaking interest, Lai said: "Our social media and forums have become excellent digital channels for our fans to share their insights, experiences and thoughts about horology and watchmaking craftsmanship. Many have revealed that they had bought our DIY kits to assemble unique, custom watches themselves and present them as gifts to their friends and loved ones. So far less than 2% of the US customers have sought after-sale assistance. Most can completely assemble a watch in one to two hours by following our user-friendly instructions."
Double blow
One challenge facing Lai and his team in the US market is the US Executive Order 13936, which requires all imported goods produced in Hong Kong to be marked as "Made in China" after 9 November 2020. This at first created much confusion about whether the US Section 301 additional tariffs on wristwatches made in mainland China would be applicable to those of Hong Kong origin. Lai complained that this confusion hurt his company, saying: "Some US retailers have placed some trial orders with EONIQ to test the market. But before any official clarification to make things clear about whether "made in Hong Kong" watches will be subject to the additional 301 tariffs, which can be as high as 25%, we've had no choice but to call off all the US orders and postpone the launch of our premium collection. Of course, this is a costly shock to our business."
Fortunately, the US Customs and Border Protection (CBP) has recently clarified that Section 301 duties will not apply to products of Hong Kong origin, and that when filing custom papers and assessing customs duties "goods that are products of Hong Kong should continue to report International Organization for Standardization (ISO) country code HK as the country of origin".
In the case of wristwatches, the country of origin of the movement determines the country of country of the timepiece. Accordingly, a watch with one country of origin for the movement, another for the case, and another for the wristband, is considered, for purposes of US entry, to be a product of the country in which the movement was produced.
While that's the case for complete wristwatches, the application of the new marking rule on the brand's DIY kits can be far more complicated. Describing how that has affected the company's strategy, Lai said: "We couldn't find any similar products in the market as a reference. To play safe and avoid any possible violation of the rules, we're selling the DIY watchmaking kits – in which most of the tools are made in China, except for the movements and other parts and components which come mainly from Switzerland, Japan or Hong Kong – to the US market in one single package of mainland China origin.
"Luckily, the kits we sell to US consumers via e-commerce are all priced under US$800 – the de minimis threshold for duty-free entry [1]. We're also working on distribution deals with partners in the US, while assessing the practicality of separately marking the origins of the movements and other components sourced or produced from Switzerland, Japan or Hong Kong for our higher-priced items, so as to minimise import tax payments if any, and incorporating a USB flash drive with value-adding watchmaking teaching videos."
The future of Hong Kong watches
The global watch market is forecast to shrink in 2020, but Lai is confident that agile watchmakers with good branding and omnichannel marketing strategies will be able to survive and thrive in the so-called new normal. Looking at how Covid-19 has affected his industry, Lai said: "The watch distributors who rely on traditional offline channels are taking the biggest hit from the pandemic. As far as we understand, brands with e-commerce direct-to-customer capabilities are doing pretty well even in these challenging times."
Business support schemes such as the SME Export Marketing Fund (EMF) are already helping start-ups and SMEs like EONIQ to expand cross-border e-commerce business during the pandemic. Lai pointed out in what ways they have proved useful, saying: "These subsidies are helpful in supporting some solid year plans and major branding activities, such as setting up or upgrading e-commerce websites or apps. When it comes to fast-changing marketing activities, such as placing social media ads, companies are advised to rely more on their own resources in order to enjoy the greatest flexibility. At EONIQ, we're now relying on the Facebook algorithm to identify the most payoff channels where we can get the highest sales conversion or ROI (return on marketing investment) on a daily basis."

Lai believes having an e-content ecosystem is the key to enhancing the branding of Hong Kong watches worldwide, saying: "All e-commerce players are trying to get as many 'SEO spaces' as possible. Hong Kong watch brands could achieve a better synergy online if they had a core content source - a local watch review authority in the form of an e-magazine or YouTube channel, for instance. We may not be able to compete with the US or the UK in terms of English content, but we can create a global Chinese content circle."
Despite the problems its watchmakers are currently facing, Lai is confident that a stronger online presence, will help to bolster Hong Kong's position in the industry. He also pointed to the importance of the world's largest timepiece event, the HKTDC Watch & Clock Fair, saying: "The business-to-customer (B2C) e-commerce model will help us survive the pandemic, but it is just the stepping stone to further business-to-business (B2B) digital transformation. While it is already quite an achievement for us to have new orders from different online customers every day, there is still a long way to long to go before it can compensate for the loss of business buyers who used to place much bigger orders at sourcing fairs. My team and I are eyeing the coming HKTDC Watch & Clock Fair 2021 as an opportunity to further scale up our business."
---
[1] According to the US Customs Section 321 Programs, de minimis provides admission of articles free of duty and of any import tax, provided that the aggregate retail value of articles imported by one person on one day shall not exceed US$800.

Watches & Clocks
Gifts & Premiums
Watches & Clocks
Gifts & Premiums
Watches & Clocks
Gifts & Premiums
Watches & Clocks
Gifts & Premiums
Hong Kong
ASEAN
North America
Hong Kong
USA
Hong Kong
ASEAN
North America
Hong Kong
USA
Hong Kong
ASEAN
North America
Hong Kong
USA
Hong Kong
ASEAN
North America
Hong Kong
USA