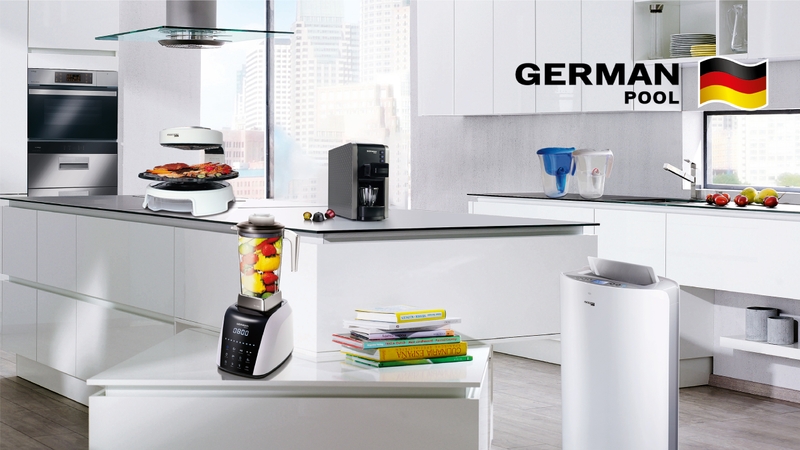 https://origin.hkmb.hktdc.com/en/NjQ3MjgxNzE2
Navigating Covid-19: A Household Appliances Brand
As the Covid-19 pandemic runs its course globally, governments continue enforcing varying levels of lockdown. Meanwhile, the pandemic is throwing the world economy into disarray, disrupting supply and demand, and challenging the response capability of manufacturers.
In the fast changing business environment of the past year, Hong Kong-based household appliance brand German Pool has striven to maintain online and offline product supply. At the same time, it has been pulling out all the stops to help consumers fight Covid-19. Its efforts include speeding up the development of home and commercial dual-use disinfecting and sanitising appliances, and working with food ingredient suppliers to offer novel cooking appliance and food packages.
German Pool started out as a water heater manufacturer and has since diversified into large and small home appliances and kitchen cabinets. Founded almost 40 years ago, it now designs and manufactures its own brand products. During the pandemic, the German Pool product design team used its technological advantage in customised kitchen cabinets to expand its product portfolio and enter the furniture market.
Pandemic-fighting Home Appliances
In the first 10 months of 2020, sales of electrical goods and other consumer durable goods (not elsewhere classified) amounted to HK$26.2 billion in Hong Kong, a 20.7% drop year-on-year. During the same period, retail sales of household appliances and audio-video equipment in mainland China totalled RMB651.9 billion, a decrease of 7% year-on-year.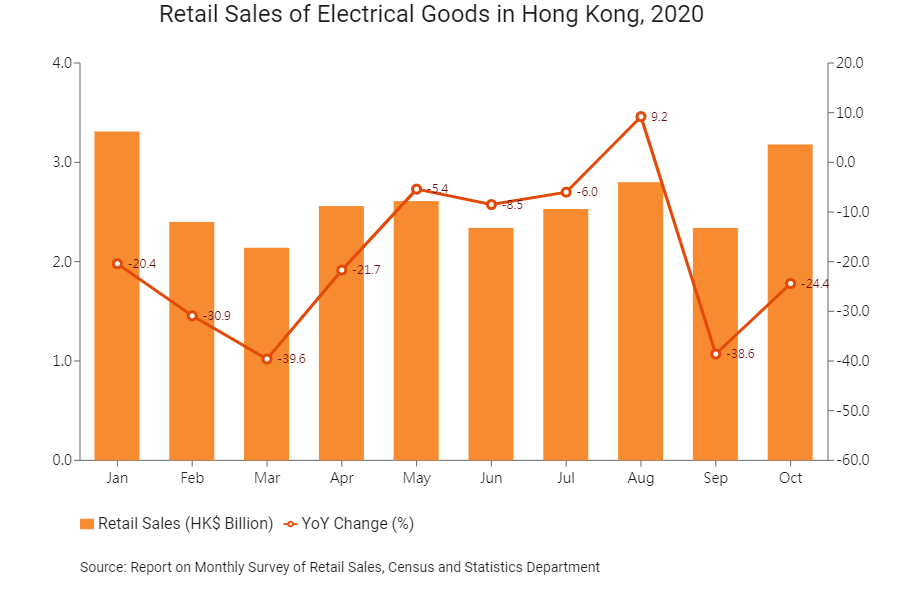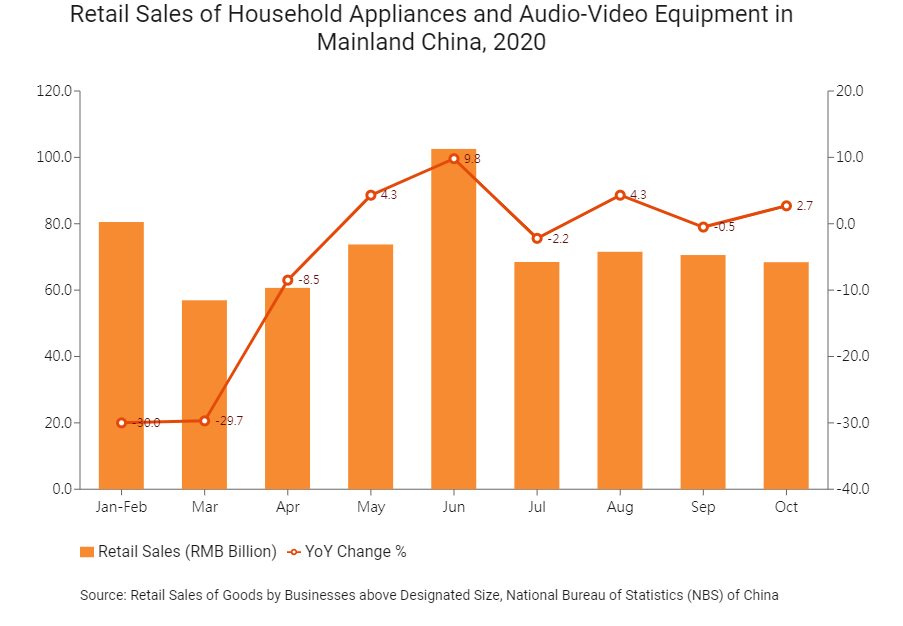 Looking back at 2020, German Pool Executive Director and Vice President (Sales and Operations) Ken Fung said the pandemic had brought new opportunities. He elaborated: "In the early stages of the pandemic, house building in Hong Kong and the mainland was halted, while restaurants and eating outlets had to observe social distancing policies. This substantially reduced customer traffic as well as turnover. Demand in the business-to-business electrical goods market was suppressed in the short term. However, household appliances are daily necessities for consumers, so consumer demand has not changed. The problem is only that the pandemic has disrupted supply-chains and logistics. The capability of manufacturers and brands to respond to the situation has been tested. Those companies that managed to operate effectively during the pandemic and could supply the products the market demanded were able to grab more market share."

"Since the start of the pandemic," Fung continued, "many Hong Kong and mainland families have been compelled to stay at home. And the free-standing cookware that we have been promoting for years fits right into their needs. Our bread makers, in particular, sold out in the early days of the pandemic because they are great for families with kids. Our Bento Steam Cooker is also immensely popular both in Hong Kong and on the mainland. It can be used to heat up cooked food as well as cook rice, so it is ideal for office workers who work away from home but find it difficult to take lunch in a restaurant."
Even though German Pool has a manufacturing base in Shunde with a tightly-knit supply chain in electronic parts, it still had supply problems during the pandemic. "At the end of the 2020 Spring Festival [in early February]," says Fung, "getting back to work was delayed by the pandemic. We had to secure an adequate supply of personal protection gear for our factory before we could resume production safely. Then we co-ordinated with raw material suppliers and other production partners to resume operation. We succeeded in avoiding large-scale problems in managing our supply and inventory."
The shockwaves through the global supply-chain caused by the pandemic have still not entirely subsided, according to Fung. "We let out a great sigh of relief when we realised that mainland production lines were gradually returning normal in the second and third quarters, but further shortages appeared in the fourth quarter. This was probably because production was affected by the European lockdowns, and there was a sudden surge in demand for seasonal appliances such as heaters. Meanwhile, the tight supply of sea and air freight services leading up to the peak shopping season at the end of the year created increased shipping costs."​​​​​​​
As it seeks to replenish the stocks of its bestselling goods, German Pool is also developing new products to help the public fight the pandemic. Fung said: "All our air purifiers were sold out during the Spring Festival, and this made us realise that there was a huge demand for pandemic-fighting products. In response, we have speeded up the development of a range of sanitising products to roll out as soon as possible. Using a variety of approaches including UVC, ozone, high-concentration anions and HEPA-13 filters, we have introduced automatic sterilizers in different sizes and models to help users sanitise fruits, tableware, mobile phones, watches, eyeglasses, cosmetics, baby products, and more.
"Many of the parts for making UVC lights or generating anions and plasma were in short supply, so we had some difficulties in design and production. Fortunately, with close co-ordination between the product design team in German Pool's Hong Kong headquarters, the technical team in Shunde and other suppliers, we managed to launch these products successively into the market in the second and third quarters."
Fung added: "The Hong Kong Brands and Products Expo held in December every year is an important time for us to roll out new products and test the market. In view of the fervent market demand for sterilizers, we substantially shortened the R&D stage which has previously taken about a year. We have been able to launch our pandemic-fighting products much sooner."
Fung believes that maintaining daily hygiene will become a post-pandemic new normal that will affect the long-term development of the household appliance industry. "The Covid pandemic has greatly raised public awareness of hygiene, making ease of cleaning one of the considerations in deciding which electrical goods to buy. We are going to include a disinfection function in all our household appliances whenever possible."
Innovative Home Deliveries
German Pool first made use of social media and video streaming platforms for e-commerce and digital marketing 10 years ago. It currently runs its own online store, and also collaborates with online distributors in Hong Kong and with mainland e-commerce platforms.
 "In the past year retail business in tourist areas has taken a severe beating, whereas retail sites in residential areas are now hotspots for offline marketing and retailing," says Fung. "The epidemic in Hong Kong has forced a lot of consumers to stay at home. So, German Pool has strengthened its digital marketing by adding a daytime WhatsApp customer service. We are also actively co-operating with KOLs to explore different promotional models."
One new approach is to collaborate with food suppliers to introduce home-delivery packages combining appliances with food products, an example would be their recent promotion of combining an infrared mini-barbecue grill with skewers of pork, Wagyu and chicken. "We recognised that many consumers like to enjoy restaurant-grade food without having to leave their homes," says Fung. "So we have partnered with this company not only to provide cooking package, but also to use refrigerated delivery trucks to ensure the freshness of the food."
German Pool supplies kitchen appliances to a considerable number of catering businesses, and has seen how many of them have switched from dine-in services to takeaways over the past year. "I was very impressed by a specialty oyster store which quickly switched to running an online order-taking and home-delivery operation at an early stage of the pandemic," Fung relates. "And it has spared no effort in perfecting every step of the operation, from food garnishing, presentation and decoration with blue LED light strips, to the use of ice, keep-fresh packaging and super-rapid delivery. As a result, their business is said to have grown to beyond their pre-pandemic levels!"
Fung believes that, under the new normal, many businesses not affected by the greater restrictions on cross-border tourism can maintain or even expand their activities through product or service innovations.
O2O Product Development
In Hong Kong, German Pool operates some 1,000 retail outlets in appliance chain stores, housing estate appliance stores and department stores, as well as three showrooms and customer service centres. On the mainland, however, it relies mainly on online retailing. "The mainland online shopping market is one of the largest in the world," explains Fung. If a company can stand out from its rivals on e-commerce platforms and win online consumers, it can reap huge rewards."
In October 2020, German Pool's flagship product — the Halogen Cooking Pot — won the "Global Craftsmanship Award" from mainland e-commerce giant Tmall. The quality of the product received enthusiastic praise from popular online hosts and KOLs on the mainland.

​​​​​​​German Pool will continue to focus on expanding into the mainland market through e-commerce, says Fung. "In the last 10 years, we have tried setting up regional showrooms on the mainland and striking up marketing collaboration with regional distributors, department stores, supermarkets, appliance malls and other sales channels. But the sheer size of the mainland market and the low population density outside first- and second-tier cities limit the cost-effectiveness and coverage of offline retailing. In contrast, mainland e-commerce platforms have grown exponentially in recent years while point-to-point delivery provided by third-party logistics has got better and better. Online stores can reach almost 700 million online shoppers from all provinces and cities, so their marketing effectiveness is much greater than that of offline stores."
In Hong Kong, German Pool will continue to carry out O2O retailing and run showrooms. "We discover that, even after looking up product information from online stores, many consumers in Hong Kong also want to try out a product in-store before making a purchase," explains Fung. "Luckily, Hong Kong has not been locked down even during the pandemic, so we could still follow our original plan of opening an all-new Mod Furniture Zone in our MegaBox showroom in June 2020. German Pool's product range in Hong Kong is more extensive than that on the mainland, and the showroom is an ideal medium for displaying our whole range of household appliances and kitchen cabinets, as well as our new collection of furniture."
During the pandemic, German Pool has continued to expand its range of furniture. "We have extensive experience in producing customised kitchen cabinets," Fung elaborated, "so we have the necessary talent base and production facilities to develop modular furniture. We received an excellent response to the tatami storage block bed we introduced before the onset of the pandemic, so our R&D team built on the success to launch new products such as foldable mattresses. Meanwhile, the Mod Furniture Zone in our MegaBox showroom is drawing large numbers of local consumers and sales have been excellent."
Electronics & Electrical Appliances
Food & Beverages
Furniture & Furnishings
Hong Kong
Mainland China
Hong Kong