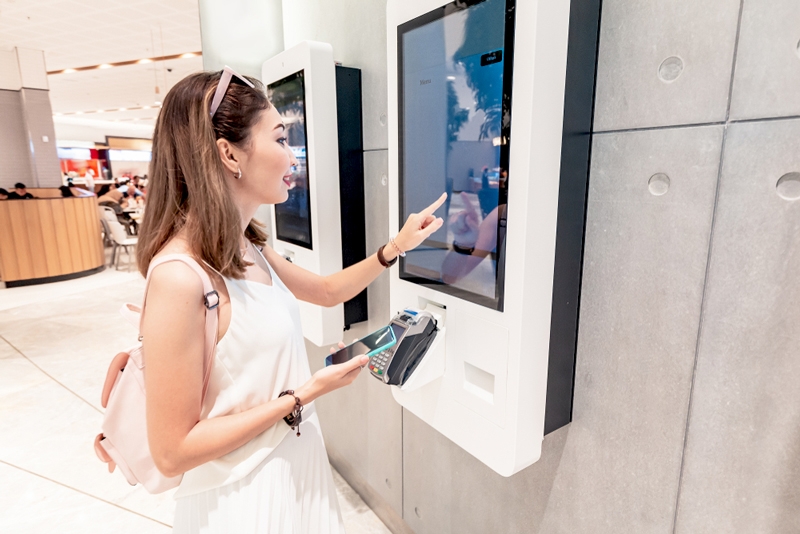 https://origin.hkmb.hktdc.com/en/NjQzODA1MzAy
Smart City Development: New Retail Experiences
The development of smart cities gives rise to the expansion of big data and the extensive use of technologies, which play a pivotal role in bringing new approaches to retail management and shopping experiences. In particular, the application of technological solutions such as data analytics, the Internet of Things (IoT) and sensors creates the possibility of transforming conventional brick-and-mortar outlets into interactive points of sale and opens up a series of new retail experiences.
Integrating Technology in Brick-and-Mortar Stores
Self-service is a concept that has been largely promoted by e-commerce, where consumers browse through products, add them to shopping carts and check themselves out. Consumers are now demanding a similar experience in brick-and-mortar stores. In order to meet modern-day consumer preferences, retailers around the world are introducing staff-free and smart stores to improve shopping experience and reducing labour costs while improving operational efficiency.
In Hong Kong, self-service kiosks and self-ordering systems are prevailing, especially in the food and beverages (F&B) industry. Aigens Technology, the architect of self-checkout and mobile ordering systems, is the market leader of F&B ordering solutions in Hong Kong, servicing a number of restaurant chains including Maxim's, Café de Coral and Fairwood.
Explaining that the expansion of self-service elements applied in the sector is closely linked with the development of mobile-payment platforms, Aigens' co-founder Hans Paul said: "With the launch of various mobile wallets such as WeChat Pay and Alipay a few years ago, self-checkout and mobile ordering systems are becoming more commonplace at restaurants and fast-food chains in Hong Kong in order to offer customers a better dining experience." It is also more common to see the adoption of such solutions in restaurant chains than small F&B businesses. Explaining why this is the case, Hans said: "Restaurant groups and food chains are more willing to invest as they understand the underlying benefits despite the fact that a hefty up-front investment is required. We're seeing more small businesses looking into this solution, but there are more concerns regarding the returns on investment."
Covid-19 has further accelerated a shift in the industry towards self-serve and contactless retail models by powering IoT and real-time analytics. One example is AS Watsons, the Hong Kong health and beauty retail giant. The coronavirus pandemic fast-tracked the company's launch of its touchless payment system – Watsons GO – in July 2020 as part of the digital transformation, which was originally scheduled for release at the end of the year. Watsons GO was introduced in Hong Kong and Singapore amid the pandemic, allowing customers to scan the barcode of any product in the physical store and pay in-app. Another example seen in the industry is the Singaporean telecom Singtel, which introduced a robot in its unmanned store UNBOXED, with a security system and temperature checks to ensure social distancing among customers. Given the unpredictable nature of the pandemic, it is important for retailers to continually evolve their services to prioritise customers' safety but without compromising the shopping experience.
​​​​​​​Augmented Shopping On the Rise
According to the 2019 Nielsen global survey, consumers listed augmented reality (AR) and virtual reality (VR) as the top technology they are seeking out to assist their daily lives and over half of the respondents expressed that they are willing to use the technologies to assess products and assist in buying decisions.
Not to be outdone, retailers began to experiment with these technologies to enhance customer engagement and create meaningful shopping experiences. "Try-before-you-buy" experiences have been on the rise among brands and across product categories, enabling customers to try on, try out, interact or personalise products virtually. Retailers in the home goods and furniture space were seen to have widespread and measurable success with the application of AR. Home Depot, IKEA, Wayfair and Target all have mobile apps to allow customers to reliably visualise furniture in home settings.
In Hong Kong, home-furnishing retailer Pricerite has incorporated technologies to provide customers with an unprecedented shopping experience through an online virtual store and "Pricerite 3D" mobile app. Customers can simply visit Pricerite in VR and browse product collections from the comfort of their home. The mobile app also allows users to generate a 1:1 preview of products and visualise home furnishings in their surrounding space with the help of AR.
An augmented shopping experience is also favoured by beauty and personal accessories retailers, because allowing customers to visualise a new look or colour on themselves is a critical element of the purchasing process. Sephora, a leader in global beauty retail, has introduced Virtual Artist on its mobile app with facial recognition feature to allow users to try on and compare different colour shades of makeup products such as lipsticks, blush and eye shadow. In 2019, L'Oréal Group's Lancôme teamed up with Alibaba Cloud to create an AR interactive game as part of its Chinese New Year campaign at its pop-up store in Hong Kong's Harbour City. Customers who find and capture AR images of its signature beauty product on smartphones will be given a chance to win a selection of prizes.
Delivered effectively, augmented shopping can help customers make informed and confident decisions when choosing products. The sweet spot for today's augmented shopping experience tends to lie with products that are highly standardised yet with much scope for customisation, such as automotive, furniture and home goods, and makeup products. To deliver value with this technology, brands should be mindful of the important attributes of their products, understand the needs of their customers and consider the context where customers would find the augmented shopping experience most valuable.
Proximity Marketing and Chatbots to Create Engagement
While technology has improved the quality and reach of advertising and information sharing, it has also enabled businesses to target potential customers with highly personalised messages based on their proximity to and within the physical store – also known as proximity marketing. According to Euromonitor, over 85% of global retail sales still happens offline. Proximity marketing presents opportunities for offline retailers to deliver hyper-local and personalised advertisement and messages to existing and potential customers.
Over the past years, retailers have leveraged different technologies such as Wi-Fi, GPS, near-field communication (NFC) and beacon technology to increase customer engagement and improve in-store experience through location-based communications. For example, Starbucks makes use of beacon technology to advance its mobile strategy by sending a personalised alert and discount offers when a customer is located near one of its stores.
Another technology retailers are turning to is chatbot, which allows brands to deliver a personal touch that is sometimes missing in the digital space. It is becoming extraordinarily popular due to the advancement in machine learning and other underlying technologies such as natural language processing. According to Juniper Research, interactions between customers and retail chatbots was estimated to be 2.6 billion in 2019 and is expected to surge more than eight times to 22 billion by 2023. Chatbots are not seen as a replacement of humans but a tool to provide time- and cost-savings yet engaging customer interactions for retailers.
While chatbot technology is rapidly evolving to make things easier, retailers must be realistic about its limitations. One of the challenges with chatbots is that they can only deliver a set number of responses, which may lead to repeated answers or even irrelevant messages when handling customer queries. Also, chatbots cannot help customers make purchase decisions, whereas in brick-and-mortar stores, customers can consult knowledgeable in-store staff to determine if the product truly fits their lifestyle and personal needs. Retailers are advised to always give customers the option to exit from a chatbot conversation into one with a real person to allow more authentic conversation and interaction.
Advancing Retail Management with IoT
When customers shop online, their every move can be tracked – which product category page they visit, how long do they look at a particular product, whether they add it to the shopping cart, and more. However, these information are not regularly tracked in traditional retail settings, making it difficult for retailers to optimise in-store operations and enhance customer experiences.
To uncover operational pain points and gaps in services, retailers as well as shopping mall operators are embracing technologies such as IoT to gain better insights into visitors' behaviour and in-store experiences. Sensors in the form of LiDAR or 3D facial recognition can be used to monitor footfall and average dwell time, plot customers' paths through stores and identify areas with most visits. Data collected can then be further analysed to get customer-centric insights such as peak days/rush hours, store conversion rate and customer-to-staff ratio.
Amid the Covid-19 pandemic, sensors are also particularly useful in tracking foot traffic and interactions between shoppers in retail settings in order to comply with social distancing regulations and occupancy restrictions. In Singapore, the Urban Redevelopment Authority has relied on IoT solutions and launched SpaceOut to provide regular updates on crowd levels in shopping malls and supermarkets across the country, aiming to assist the general public in making informed choices on where and when to visit those destinations and maintain safe distancing.
In places with limited labour supply and high labour costs, radio-frequency identification (RFID) technology appeals to retailers who embrace automated retail operations to provide convenience to customers. In AS Watsons CKC18 concept store in Hong Kong's Central district, the retailer made use of RFID tags to fast track the checkout process – customers can check out by placing their shopping baskets at the registers that automatically scan and tally up the total, and payment is processed automatically. Unmanned convenience stores in Singapore such as Octobox, OMO Store and Pick & Go have also adopted RFID to track products being taken off the shelves and checked out.
Technology presents opportunities for retailers to bring in greater levels of customer centricity and operational efficiency in their business models. The focus for retailers as they grow and evolve is the increasing need to enhance their capabilities through digital enablers to maintain competitiveness in a retail environment and keep up with the fast-paced change in customer expectations.