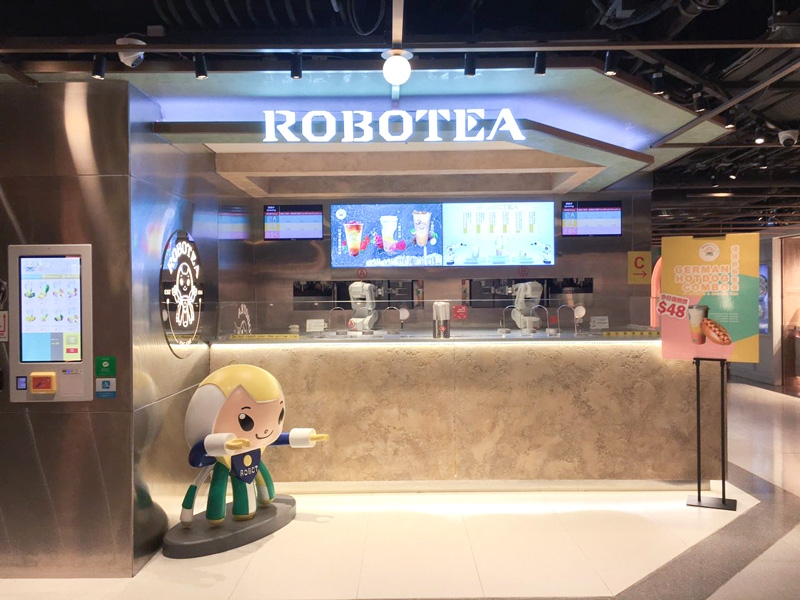 https://origin.hkmb.hktdc.com/en/NjY2MzAxMTYw
Smart City Facilitators: Robotising the Food and Beverages Sector
For better or worse, robots are becoming entrenched in retail's day-to-day operations and taking on greater roles. In Hong Kong, a tea shop is also addressing the manpower challenges facing the food and beverages (F&B) industry by employing an automated alternative: robotic arms that can prepare fruit tea in just 20 seconds.
Founded by Raymond Tse and his nephew Sammy Tse, Robotea employs two robotic arms in its K11 MUSEA store in Hong Kong to fully automate the preparation of fruit teas. In an interview with HKTDC Research, Robotea Director Raymond Tse shared his ambitions and experiences making this foray into automation.
Solving Operational Challenges with Robotics
Tse explained that the high employment turnover and labour issues have driven him to adopt automation in Robotea's operation, saying: "It is difficult to retain staff because of the long working hours in the F&B industry. We also noticed that in other similar establishments, such as bubble tea shops, they hire a number of stand-by staff who are able to attend work at a short notice when other staff fail to turn up, making human resources management more complicated.
"Using robots helps address all these problems."
Robotics also offer other benefits in tea making. Tse said: "The robotic arms are obviously more efficient and allow greater repeatability. Unlike humans, they won't get distracted or tired, and they don't need to go on holidays.
"Each arm can mix a cup of fruit tea in 20 seconds at its fastest speed, and with two arms in the store, we can make about 800 cups each day. These arms also offer great precision in the brewing process and allow us to achieve quality assurance and consistency."
Robots would seem to have a brilliant future in the F&B sector, but Tse believes that human workers still have a role to play. He said: "Robots can tirelessly do repetitive tasks all day, but they can't replace humans. For instance, when developing new tea flavours, we need a human to taste it and adjust as necessary. We also require human workers to conduct inventory count and stock refill. These are some of the tasks that robots cannot assist us with."
Seamless Experiences with Technology ​​​​​​​
Describing the purchase process at Robotea, Tse said: "Customer can order from the two self-service kiosks at the entrance of our store, where they can select from over 10 types of fruit tea made by our robotic arms. Orders will be automatically sent once cashless payment is made.
"Customers can choose to pay with Octopus card or other mobile wallets such as Alipay and WeChat Pay. They can then later collect their orders using the QR code on the receipt."
Robotea has integrated technologies to improve its operations in a number of ways. Elaborating on this, Tse said: "We don't have to be physically present to monitor the store operation. We can check our sales and transactions anytime through a mobile app. We can even control and adjust the speed of our robotic arms remotely."
The self-ordering kiosks are also equipped with cameras and AI capabilities which can be used to better understand customers, such as identifying their gender and give product recommendations accordingly. However, Robotea hasn't rolled out this function due to privacy concerns. Tse said: "We have disabled the cameras, as customers are anxious about the surveillance and facial recognition capabilities they may have."
A robotic arm can prepare a cup of fruit tea in 20 seconds but Robotea has adjusted the preparing time to around two minutes. Tse said: "Many customers and mall visitors are interested in the robotic arms. Setting a longer preparation time allows them to take a closer look of how the tea is actually made. When there isn't any order, the two robotic arms will routinely perform dance moves to entertain customers and visitors."
Success in Building the Brand
Tse opened the first Robotea store in K11 MUSEA shopping mall in Tsim Sha Tsui early last year. Explaining the choice of location, he said: "Unlike other conventional shopping malls, K11 MUSEA was designed as a cultural destination alongside shopping experiences. It targets millennials interested in the latest trends and we believe this matches the characteristics of our target customers too."
Despite a small consumer market, Tse still chose to debut in Hong Kong because it performs as a showcase for potential overseas partners. Tse remarked that the store in K11 MUSEA is a crowd-puller and has attracted attention both locally and internationally, saying: "We have received enquiries from clients coming from Thailand, Singapore, Canada and even Russia, because they've seen our success in Hong Kong."
Highlighting the factors contributing to Robotea's achievements, Tse believes their experience and business networks play an important role, saying: "We have background and prior experience in engineering and automation, making it easier for us to design and program the robotic arm and tea-making process. We also have a reliable partner specialising in payment gateway solutions.
"The key to success is not simply having access to the technologies or infrastructure, but to combine and transform them into integrated shopping experiences for customers."
Tse also noted that being customer-centric matters in businesses like his, saying: "You have to make sure the whole buying process is smooth for customers so that they will come back for your products. For example, we have done several trials for our self-ordering system to make sure the interface is user-friendly. We also pay attention to small details, such as the physical distance between the robotic arms and customers, so that customers can observe the tea-making process while maintaining a safe distance."
Expansion Amid Pandemic
Covid-19, however, has created uncertainties and wrenched the business from its growth. Tse said: "We planned to open three more Robotea stores last year in popular neighbourhoods in Hong Kong, including Mong Kok, Causeway Bay and the international airport, however, plans were stalled due to the pandemic. It has also brought new challenges in building business partnerships with overseas clients because travelling is not an option right now."
Despite the challenges, Tse remains undeterred and determined to scale his business, saying: "K11 MUSEA has a kids' game zone and a concentration of kids clothing stores, and that has attracted visitors of younger ages. Although we cannot expand our stores locally, we're looking to introduce new products such as ice cream to attract this new segment of customers. In fact, we are ready to sell robot-made ice-cream, pending the approval from the Food and Environmental Hygiene Department."
Tse is now looking towards the post-coronavirus future and is hopeful that Robotea can develop overseas markets. Describing his company's expansion plans, Tse said: "We aim to expand our businesses through franchising using our Robotea brand." Apart from those who have showed interest from Canada and ASEAN countries, Tse is also keen to expand to Europe and the Middle East. He said: "From our experience participating trade shows in the Netherlands and UAE, we learnt that consumers there are generally more willing to try new things and likely to embrace innovative ideas. We believe our robotic arms would be a point of interest for them."
Tse saw the mainland market, while attractive, as not without challenges, saying: "It is an enormous market, however, is very competitive when it comes to the robotics solutions in food services. There's concern over copying and reverse engineering of our robotic arms if we introduce it to the market. There're also other hurdles we'll have to overcome, such as the cross-border capital flows control." Looking forward, Tse remarked that he will further explore the Chinese market, but his priorities remain outside the mainland.
Technology
Food & Beverages
Technology
Food & Beverages
Technology
Food & Beverages
Technology
Food & Beverages
Technology
Food & Beverages
Technology
Food & Beverages
Technology
Food & Beverages
Technology
Food & Beverages
Technology
Food & Beverages
Technology
Food & Beverages
Technology
Food & Beverages
Technology
Food & Beverages
Technology
Food & Beverages
Technology
Food & Beverages
Hong Kong
Hong Kong
Hong Kong
Hong Kong
Hong Kong
Hong Kong
Hong Kong
Hong Kong
Hong Kong
Hong Kong
Hong Kong
Hong Kong
Hong Kong
Hong Kong
Hong Kong
Hong Kong
Hong Kong
Hong Kong
Hong Kong
Hong Kong
Hong Kong
Hong Kong
Hong Kong
Hong Kong
Hong Kong
Hong Kong
Hong Kong
Hong Kong