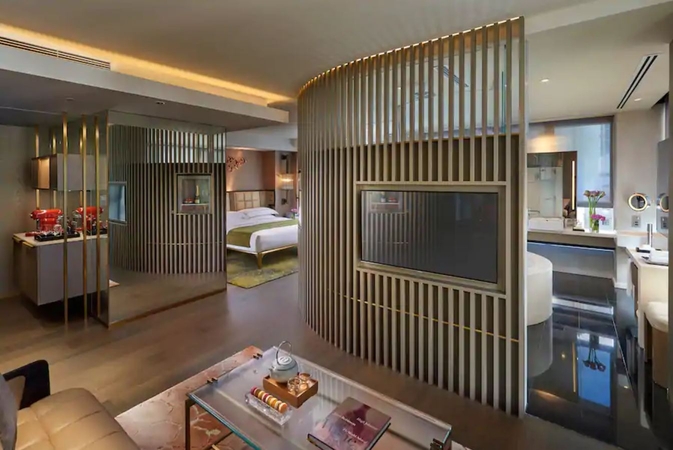 https://origin.hkmb.hktdc.com/en/Njc4MzYxMjQy
Navigating Covid-19: A Hazard-Aware Hotelier
The Covid-19 pandemic has triggered a massive response from governments across the globe, closing borders partially or completely, in addition to imposing a number of requirements for incoming tourists, including negative Covid tests before arrival, as well as quarantine requirements upon entry. The time and cost of cross-border travel – whether for business or leisure – has become unprecedentedly high, almost halting the entire hospitality industry.
In hope of a fresh start in 2021, HKTDC Research sat down with James Riley, the Chief Executive of Mandarin Oriental Hotel Group to understand what strategy the Hong Kong-headquartered global chain has deployed so far and how the pandemic will serve as a trend accelerator for the hospitality industry.
Pandemic Plight
The Tourism Recovery Tracker from the World Tourism Organization (UNWTO) captured the impact of the pandemic and the subsequent containment measures on the hospitality industry. In general, the effect on the global hospitality sector was devastating, especially during the first two months of the outbreak.
All 217 countries under the UNWTO introduced travel restrictions of different extents, from late March to May 2020 after the World Health Organization (WHO) declared the Covid as a pandemic. This explains why the global hospitality sector experienced a free fall in April, with occupancy rate plummeting to just 22% and room rates down almost 30% year-on-year.
Riley also affirmed the plight of the global hospitality industry and shared a set of stunning operational figures to demonstrate how Covid has had a cataclysmic impact on the hotel group. He said: "In a point in late April 2020, 75% of hotels operated by Mandarin Oriental were closed down and there were no more than 200 guests in all 33 hotels operated by the group worldwide. In other words, as a hotel group employing 12,000 people globally, we almost had zero cash inflow."
This goes some way to explaining why the hotel group reported a loss of more than a US$100m in the first half of 2020, in stark contrast with its yearly profit of US$41 million in 2019.
The calamitous impact of the Covid-19 pandemic also reminded Riley of the 2003 SARS outbreak, when Mandarin Oriental, Hong Kong was down to just one guest. There is no doubt that the current global phenomenon has a more far-reaching impact on the hotel group, as the pandemic has weighed on revenue streams in every market, rather than just affecting some of its hotels, along with the pandemic having lasted almost a year.
To support the beleaguered industry, some governments have made various support measures available to the hospitality sector, including financing and cash subsidy programmes. Riley pointed out that these measures were important to help the industry to retain as many staff as possible, when every hotel is facing shrinking cash reserves. He highly praised the programmes available in the EU, Singapore and Japan, and urged the continuation of such support measures.
The Local Market
As global governments have taken bold steps in addressing the pandemic, this has encouraged, if not forced, the hospitality industry to recalibrate its strategy to target the domestic market in the absence of international tourists. The industry has therefore launched various "staycation" and "eatcation" packages, offering a hotel stay in combination with a wide spectrum of experiences, from dining, to spa, and other wellness and entertainment activities. This allows local consumers to invigorate themselves physically and mentally while travelling abroad is unavailable.
Riley indicated that this strategy has been more prominent in Asia Pacific, as government intervention in the region is generally greater, a legacy of lessons learned in the 2003 SARS outbreak. Asked to what extent the domestic-focus strategy can revive the industry, Riley said: "It depends largely on the size of the domestic market relative to the volume of inbound tourists in more normal times.
"Although mainland China's borders remain closed, the sheer volume of domestic businesses is enabling hotels to continue to operate. Within the country, people are travelling and, thanks to that, the occupancy levels of our hotels are pretty much as normal.
"However, for some small open economies, such as Hong Kong, there is a limit to how much staycation can help, especially when the achieved room rate is just half of the usual."
The Quarantine Stay
Along with compulsory quarantine requirements, many governments have launched designated quarantine hotel programmes to minimise the chance of Covid-19 spread from travellers to the local community, without having to shut down borders completely, in order to reduce the impact of containment measures on the domestic economy.
Believing there will be continual inflow of travellers returning to Hong Kong, where thousands of multinational companies are located, Mandarin Oriental enrolled The Landmark Mandarin Oriental Hong Kong as a designated quarantine hotel. It offers inbound travellers upscale accommodation and in-room dining during the 21-day compulsory quarantine.
Riley emphasised that the new programme will not undermine the safety of other guests and colleagues, as guests under compulsory quarantine have already obtained a negative Covid-19 test on their arrival. Many other precautionary measures are also in place, including a separate entrance for quarantine guest rooms. Deliveries to guestrooms are contact-free, via a service trolley placed outside the guest room while guests communicate with colleagues via the hotel's instant messaging service 'Hello MO'.
Business Prospect
2020 was a tough year for the hospitality industry, regardless of business size. Looking ahead, Riley sees an improvement for the accommodation business in the second half of this year, saying: "Governments are likely to relax certain travel restrictions once their vaccine programs have begun to have an impact. However, Asia-Pacific is likely to lag behind as its success in controlling the virus makes it more of a priority that carriers are not permitted to enter in the future and thus borders are likely to remain closed for longer."
The hospitality industry has carefully assessed the long-term impact of the Covid-19 pandemic. Riley has seen several trends accelerated during the pandemic. He said: "The first trend is that leisure travel will become increasingly important to the luxury hospitality industry. This comes as business travel may reduce at a faster pace in the post-pandemic era, as businesspeople become more used to working virtually."
Riley is optimistic about the prospects for leisure travel, which makes up around 60% of the group's rooms business. He said: "People now value the freedom to travel more, to see the world and to experience new things outside their home territories. These travellers may opt for a refreshing longer journey, rather than having several shorter trips."
Riley believes that the deciding factor in booking guests is how attractive hotels' locations are as a leisure destination – and in the midst of a pandemic – how open to visitors those locations are.
The second growing trend that Riley identifies is the adoption of technology in communicating with guests. He said: "This should be done in a manner that takes away repetitive, mechanical processes and procedures, enabling hotel colleagues to have more meaningful interaction with guests that can create personal touches to make the luxury hotel experience memorable.
"This could be accomplished by a smoother flow of information from core hotel management systems and the other digital infrastructure to empower hotel colleagues with better knowledge to serve guests' needs. Mandarin Oriental is a leader in this regard, having kick-started the digitalisation process as early as in 2018."
In addition to having started to modernise its core hotel property management systems in 2018, the group also launched Fans of M.O. guest recognition programme in the same year. The digital initiative offers members an extensive range of complimentary privileges and a personalised stay experience by indicating their preference in the digital platform.
Mandarin Oriental also strives to fit the modern lifestyle, with people increasingly comfortable communicating virtually. From ordering breakfast to making a special request, guests can reach hotel staff through instant messaging systems anytime and anywhere. This digital approach has become key to how the hotel group can maintain its level of personalised service for guests that choose to minimise face-to-face contact.
Hong Kong
Hong Kong
Hong Kong
Hong Kong
Hong Kong
Hong Kong
Hong Kong
Hong Kong
Hong Kong
Hong Kong