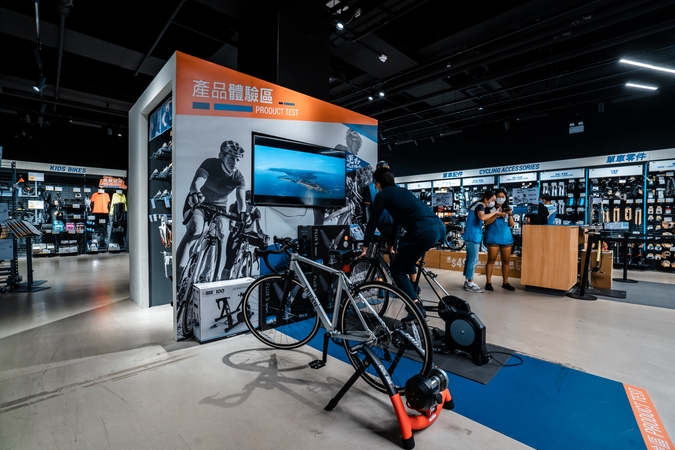 https://origin.hkmb.hktdc.com/en/NzQ1ODc2NjA1
Playing to Win in Hong Kong: Making Sporting Goods Accessible
Interview with Matthew Lam, Head of Marketing at Decathlon Hong Kong
The Covid-19 emergency has changed the way people live a great deal, with 2020 seeing many business sectors, including the sporting goods industry, shrinking for the first time since the global financial crisis. Many businesses are still cataloguing the damage done by the year's disruptions, but the shifting landscape has provided a boost in sales and revenue for some well-prepared companies. Among these are many of Hong Kong's sports equipment and accessory exporters – particularly those with a strength in the camping goods, fishing tackle, cycling gear or sailing supplies sectors – who, in 2020, collectively registered impressive yearly growth of 7%.
The pandemic and subsequent restrictions on movement have made work and study from home the new normal for many. They have also made people increasingly conscious of their health and general wellbeing. In order to let off steam whilst following social-distancing and containment measures, many have changed from going to big box gyms and boutique fitness studios to taking up home workout routines and individual outdoor sports.
With time on their hands due to the lack of social activities and the cancellation or postponement of many major sporting events, fitness enthusiasts have been trying out new training routines. Some have joined recorded or live-streamed virtual workouts or set up a home gym featuring smart fitness equipment, such as interactive exercise bikes, sensor-embedded boxing gloves, touchscreen display treadmills and AI-powered intelligent mirrors. Many emerging brands and tech companies have profited from these changing habits.
To see how the sporting goods industry is adapting and evolving and how Europe's number one sports retailer has moved forward during the fitness boom in Hong Kong, Louis Chan, Assistant Principal Economist (Global Research) talked to Matthew Lam, Head of Marketing at Decathlon Hong Kong.
Chan: How did the sporting goods industry fare in 2020, the year of the coronavirus? Is Hong Kong outperforming the rest of the world?
Lam: 2020 has been a challenging year. Sports buffs have had to adapt to new realities, and so have sports brands, gyms, fitness studios, manufacturers and sporting goods retailers. Many have made a loss last year, despite short recoveries between successive waves of shelter-in-place measures.
There is a more discernible health consciousness among the public than there was previously. Some industry researchers suggest that more digital platforms and tools are being developed. The use of digital fitness services including online cycling, yoga, Pilates, barre and other workout classes has risen dramatically during the virus outbreak.
This is going to shift the entire landscape of the sporting goods industry away from big box gyms to boutique fitness studios and home-based alternatives. For example, we've seen popular online cycling classes teaching more than 50,000 people at a time, when a typical spin studio usually houses no more than a few dozen bikes.
With a higher proportion of the public exercising regularly, and doing it online during the pandemic, we have been investing heavily in digital solutions for our suppliers and customers. We want to ensure they have a great online experience from product enquiry and purchase to payment and membership management.
Hong Kong, like other cosmopolitan cities, is a hectic place to live and to work. Many see sports and exercise as their number one means of de-stressing. As a leading sports retailer, we want our customers to discover new interests, choose quality products and be able to test, upgrade or repair their sporting equipment and accessories.
That's why soon after entering the Hong Kong market via online channels in 2015, we opened two small offline stores in prime shopping areas – Causeway Bay and Mong Kok. We have now added a flagship 72,000 sq. ft (7,000m²) space at Tseung Kwan O, the largest sports store in Hong Kong. This offers products across 70 indoor and outdoor disciplines including hiking, basketball, football, running, cycling, tennis, badminton, camping, ski, yoga, and cross training. Here customers can explore and try out the sports products they are curious about. That is not an experience they can get digitally. We were fortunate that even with the many Covid hardships and uncertainties, we managed to open two more in-city stores in Kowloon Bay and Central in 2020. We have just added two more stores in Sha Tin and Ma On Shan in April 2021, and we have announced that we will open a new store in Tuen Mun around summer time this year.
The stores feature digital innovations such as app-based automated checkout solutions and digital showcases of the complete product range of 13,000-plus models. We also have passionate Sports Leaders in the store, to help customers fully understand a product before they purchase it. We aim to make sports accessible to the many through high quality products at competitive prices.
Sports fans can find community areas across the store to talk to the Sports Leaders about their needs or to share ideas with like-minded enthusiasts on their journey to an affordable yet well-equipped home gym. We offer 200+ pick-up points and free next-day delivery services and, for those who cannot wait, our Click & Collect service will allow them to pick up an online purchase at their preferred store in just one hour.
​​​​​​​

Chan: What are the most important elements for finding success in the post-coronavirus future? What are Decathlon's trump cards?
Lam: To stay relevant and attractive in the ever more competitive sporting goods market, a business needs to always keep sport at the core of its product development and service delivery. Here in Decathlon, we work with a team of sports enthusiasts and professional athletes. This helps make sure our products are made by sports lovers, for sports lovers of all ages, backgrounds and skills.
Our R&D team plays a critical role in our integrated business model, which covers everything from product design, production, and logistics to distribution. During tough economic times, when people are more conscious of their spending, it is important for us to work with our suppliers worldwide to create in-house brands as budget alternatives for our customers.
Since the onset of the pandemic, the shopping habits of our customers, old and new, have moved more online. We have seen an increase in overall sales, but a drop in traffic at physical stores. Customers' purchasing behaviour has become increasingly sophisticated, complex and specific, and that was happening even before the global health crisis.
Some customers will only make a decision to buy when they have gathered as much information as possible from a variety of sources. So we are taking an omnichannel approach that focuses on the entire customer experience, both online and offline. We aim to offer seamless services ranging from real-time customer feedback, user reviews and inventory control analytics, whether our customers are shopping online using a smartphone or offline in brick-and-mortar stores.
Above all, with online penetration expected to stay high, digital development will continue to be a strategic focus for us and the whole sporting goods industry going forward. What makes us optimistic is seeing that our customers, partners and peers in Hong Kong and worldwide can not only adapt but thrive on change.

​​​​​​​Chan: What have been the most promising lines of sports goods during the Covid-19 crisis?
Lam: After various cluster outbreaks, infection control measures have been tightened in many premises in Hong Kong, including gyms and fitness studios. The mandatory requirement to wear a mask in public has made home workouts and individual outdoor sports even more popular.
Some of the most popular product lines now are at-home fitness gear and camping and hiking equipment. These include fitness elastic bands, yoga mats, abdominal rollers, backpacks, trekking shoes, camping pillows and sleeping bags. We have also seen a growing demand for innovative product lines, such as convertible trousers, reflective camping tents, portable badminton nets and inflatable football goals.
Behind these novelties is our SportsLab team of scientists, which is based at our headquarters (or "campus" by internal staff) in the northern French city of Lille. Specialists in 3D body shape analysis, thermal physiology and movement, behavioural and sensory sciences all work on product design and testing.
Hong Kong
Western Europe
Hong Kong
France