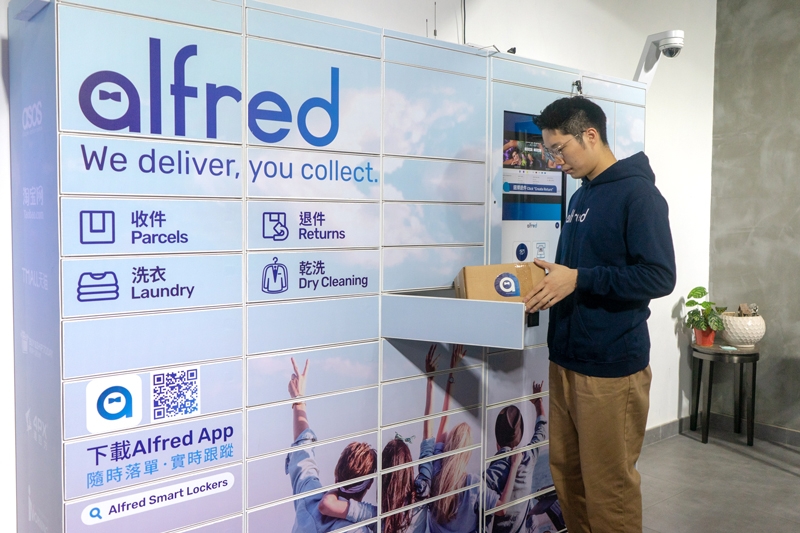 https://origin.hkmb.hktdc.com/en/NzQ1ODgwODgw
Smart City Facilitators: Sustainable E-commerce Fulfilment
Interview with Christian Secci, Co-founder and CEO of Alfred24 (by Pakpobox)
With more people shopping online, consumers expect faster and more flexible delivery options but are often frustrated by last-mile delivery. Consumers receive a notification that their package is "out for delivery" but often they are not given clear details about the actual delivery time, and sometimes consumers might not be at home to receive the packages.
Given the last-mile efficiency problem and the tremendous growth of parcels due to the rise of e-commerce, the use of parcel lockers are fast becoming familiar sights as retailers and logistics providers look for more efficient and cost-effective ways to deliver packages. Pakpobox, which began operating in Hong Kong in November 2014, has been a pioneer in optimising deliveries through a network of intelligent parcel lockers, which consumers can access 24/7.
"We Deliver, You Collect"
Under the brand Alfred24, the company has built a network of intelligent parcel lockers and pickup points as a last-mile delivery solution for e-commerce logistics, allowing customers to shop online and collect their purchases from the lockers, supported by touchscreen and QR code scanning. Christian Secci, Co-founder and CEO of Alfred24, shared about the concept behind it, saying: "It can be dated back to when letterboxes were invented – where you can leave the letter safely for the receiver to pick up at any time. Why do we have letterboxes for letters but not an equivalent for parcels?"
Alfred24's services are trusted by many e-commerce platforms and merchants including Zalora, ASOS, HKTVmall, and Decathlon, to allow their customers to collect or return their orders from hundreds of Alfred24 pick-up points. Secci said, "This gives customers greater convenience and flexibility over their shopping, especially when customers can access the Alfred24 lockers around the clock. For retailers, they can save up to 60% on shipping costs. With such cost savings, they can lower the minimum purchase amount for free deliveries and sell more."
Besides Alfred24, another aspect of Pakpobox's business is to provide parcel locker solutions to logistics service providers, postal organisations and supermarkets across many countries. Secci said, "We have developed a reputation as a reliable partner for many postal organisations, such as Hong Kong Post, Singapore Post, Pos Malaysia, and Australia Post." The company customises solutions according to different requirements and locker configurations, and provides functions such as self-collection and sending, self-return and stamp purchasing.
Riding on the E-commerce Boom
The company now operates about 500 Alfred24 pick-up points in Hong Kong. Optimistic about the growth of e-commerce adoption in the city, Secci looks to scale its Alfred24 network through franchising, saying: "The Covid-19 disruption to brick-and-mortar stores seems to have pushed Hong Kong consumers increasingly towards shopping online. Our parcel lockers in some popular locations were even overloaded due to the surging growth in parcel orders." Secci believes that consumers are poised to continue shopping online even beyond the pandemic and hopes to scale fast in the ensuing e-commerce boom.
Choosing a proper location for parcel lockers is believed to be essential in facilitating the growth and utilisation of the locker network. Secci remarked the key elements in picking the right location, saying: "We tend to place our Alfred24 lockers in places with high footfall such as shopping malls and office buildings. Hosts of our lockers could better utilise unused spaces and at the same time benefit from a boost in foot traffic. Lockers also need to be in secure locations with good surveillance to minimise the risk of theft or vandalism.
"It is also ideal to install lockers in places where customers can pick up the parcel along their usual journey, without a detour." Secci believes that MTR stations would be strategic for the growth of the Alfred24 network in Hong Kong, explaining: "MTR is the most popular means of public transportation and it has an extensive train station network covering most areas in Hong Kong."
As well as using the lockers to pick up and return e-commerce parcels, consumers can also use Alfred24 lockers for laundry and dry cleaning. The company is also launching temperature-controlled lockers to expand its services into groceries and food. Ultimately, says Secci, the company envisages a time when smart lockers will replace letterboxes in many residential estates and provide a one-stop platform for different delivery services.
Sustainable Way Forward
Secci remarked that Alfred24 lockers are also a means to create a more sustainable and greener delivery network, saying: "With parcel lockers, couriers can drop off dozens of packages at each delivery point, delivering up to 600 parcels per day to a single address as opposed to delivering a maximum of 60 parcels a day. Delivering more parcels with shorter and fewer trips translates into lower CO2 emissions."
Due to factors such as rising urbanisation, the growing appetite among consumers for online shopping, and ongoing online penetration across product categories, demand for last-mile delivery services is projected to increase by almost 80% in less than ten years. Correspondingly, CO2 emissions and traffic congestion is likely to increase more than 30% without effective interventions.[1]
Keeping this in mind, Secci emphasised the importance of sustainability and looks to bring the industry into a greener and more environmentally responsible direction. Outlining one of the green initiatives, Secci said, "We have started to offer bio-degradable bags to e-commerce sellers who have subscribed to our delivery services. About 250 merchants, including Shopline, Yoho.com and Shopify merchants, can use our eco-friendly bags as packaging for their parcels and packages.
"Eventually, we would like to switch to plant-based packaging and go completely plastic-free."
The Covid-19 pandemic has also driven businesses, including Alfred24, to overhaul traditional operations and beliefs and focus more on sustainability. Secci believes that the pandemic has offered the industry a chance to unfold the environmental footprint of e-commerce and urges stakeholders to take greater responsibility in protecting the environment, saying: "It's not only about making our business profitable but more importantly, how we can drive positive changes in the industry and move towards sustainability." Looking to the future, Alfred24 looks to deploy electric vehicles for its deliveries, as part of its continued effort towards achieving a zero-emission future.
---
[1] World Economic Forum, "The Future of the Last-Mile Ecosystem"