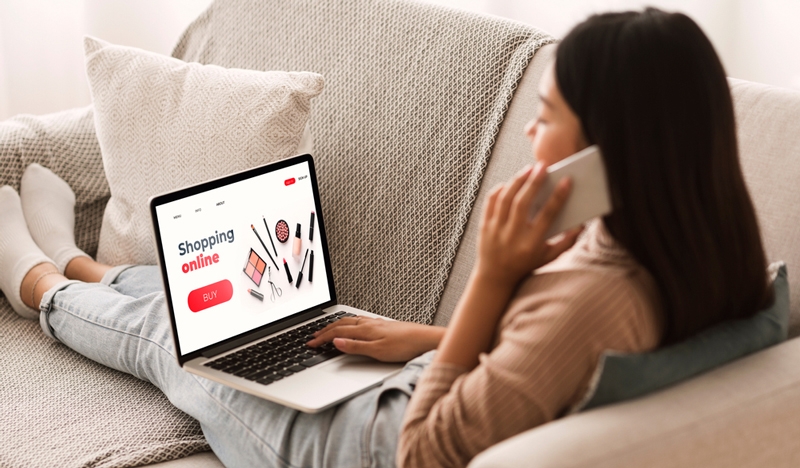 https://origin.hkmb.hktdc.com/en/NzY4MzkzMzg1
ASEAN E-commerce: Beyond the Pandemic
Melissa Ho
The spread of Covid-19 has compelled ASEAN leaders to impose social distancing measures and lock down cities from time-to-time, since the beginning of the outbreak in early 2020. It has put strain on traditional retail given the widespread closures of physical stores and diminishing consumer demand. While the pandemic has led to a period of extreme upheaval for brick-and-mortar stores, it has driven a dramatic uptake of digital adoption across ASEAN countries, accelerating the shift towards online retail channels that was already underway.

Bricks-and-mortar Takes the Hit
​​​​​​​Store-based retail sales plunged and remained weak over the last year in major ASEAN consumer markets. Retail sales in Singapore and Indonesia dropped the most at around 18%, mainly due to the almost two-month long "circuit breaker" measures adopted in the island-nation and the citywide lockdown in Indonesia, to steam the spread of the outbreak. In comparison, Vietnam's effective control of the pandemic has led to its outperformance in brick-and-mortar retail sales among stores in the region, down only for less than 0.1% in 2020.
​​​​​​​The Accelerated Switch to Online
As the pandemic progressed, however, it has sped up digital transition and accelerated an expansion of e-commerce. Consumers are provided with access to a significant variety of products from the convenience and safety of their homes, while retailers scramble to bolster their online channels to minimize impacts from social distancing measures or contact restrictions.
There was a dramatic uptake of digital technologies across key economies[1] in Southeast Asia, with 40 million people came online for the first time in 2020 alone, bringing the total number of internet users to 400 million, up from 250 million in 2015.[2] More than three out of five people in these economies are now online and since the pandemic began they have been spending more time on the internet. Time spent online per day rose by an average of one hour across ASEAN countries, with the highest spike in the Philippines, where consumers spent more than five hours a day online.
The use of e-commerce has also surged since the start of the pandemic, with the strongest uptake in Indonesia, followed by the Philippines and Malaysia.[3] As consumers increasingly embrace the benefits of safety and convenience over e-commerce, the shift to online shopping is expected to stay post-pandemic. Interestingly, many ASEAN countries have seen stronger e-commerce adoption among internet users than the world average as well as many mature markets. Indonesia was found to have the highest e-commerce adoption in the world last year, with 87% of its internet users having purchased online via an electronic device, followed by the U.K. (86%), Thailand (84%) and Malaysia (83%).[4] Adoption in other ASEAN countries, such as the Philippines, Singapore and Vietnam, has also outrun mainland China, which is considered one of the world's largest e-commerce market.
Being late adopters to the internet, most consumers in the region have never owned a desktop computer. Instead, with smartphones becoming increasingly more affordable and accessible, mobile devices have become the main means to stay connected and shop online. Indonesia emerged as the world's most enthusiastic adopter of mobile e-commerce last year, with about 79% of Indonesia's internet users purchasing something online via a mobile device, followed by Thailand (74%) and the Philippines (70%). Meanwhile, mainland China ranked the sixth in mobile e-commerce usage, with 64% of internet users having shopped online using a mobile phone.
E-commerce was previously factored by many retailers in ASEAN as a good-to-have option rather than being an essential business strategy. As Covid-19 reshapes consumers' behaviours and accelerates transition to online shopping in ASEAN, e-commerce has become an effective channel for companies, including Hong Kong SMEs and exporters, to reach local consumers or grow their existing footprint in ASEAN markets.
A Closer Look to E-commerce Landscape
The value of ASEAN's e-commerce has expanded almost six times in just four years' time, increasing from US$9.5 billion in 2016 to US$54.2 billion in 2020. Spurned by the rise of digital consumers, the sector is set to grow at an annualised rate of 22% and reach US$146 billion by 2025.[5] Online penetration continues to rise in the ASEAN e-commerce market and is likely to grow gradually as businesses acclimatise to the new normal. In 2020, e-commerce sales as a percentage of total retail sales hit 9%, up from 4% in 2018.
However, there is still considerable room for growth. Despite the strong growth in online sales in ASEAN in recent years, sales ratio of online retail to total retail remains much higher in mainland China and the US, accounting for 27% and 20% in 2020 respectively, when compared to 9% in ASEAN in the same year.
ASEAN's e-commerce market is quite fragmented, with the presence of several regional players and many local B2C platforms. Lazada and Shopee are the two key online platforms with operations in major ASEAN countries, including Indonesia, Vietnam, Thailand, Singapore, Malaysia, and the Philippines. While these two leading e-commerce players took a regional approach, there are also many local B2C platforms in individual ASEAN countries. For example, Tokopedia and Bukalapak are popular in Indonesia while Sendo is well-liked by Vietnamese consumers.
Consumer electronics and apparel are the key product categories purchased online by Southeast Asian consumers, accounting for over half of the region's e-commerce gross merchandise value (GMV) in 2020. Meanwhile, the "stay-at-home economy" has disrupted food purchasing and consumption habits, forcing many consumers to cook or eat at home, and experiment with ordering food and groceries online. The e-commerce GMV share of food and groceries jumped from 4% in 2015 to 11% last year, with more than two out of five ASEAN consumers are new to online groceries purchase.[6]
---
[1] This refers to Indonesia, Malaysia, Singapore, Thailand, the Philippines and Vietnam
[2] Google, Temasek and Bain & Company, e-Conomy SEA 2020 report
[3] Same as 2
[4] We Are Social, Digital 2021 Report
[5] Euromonitor Passport database
[6] Same as 2
ASEAN
Southeast Asia
Singapore
Malaysia
Viet Nam
Thailand
Philippines
Indonesia
Cambodia
Myanmar
Brunei Darussalam
Laos