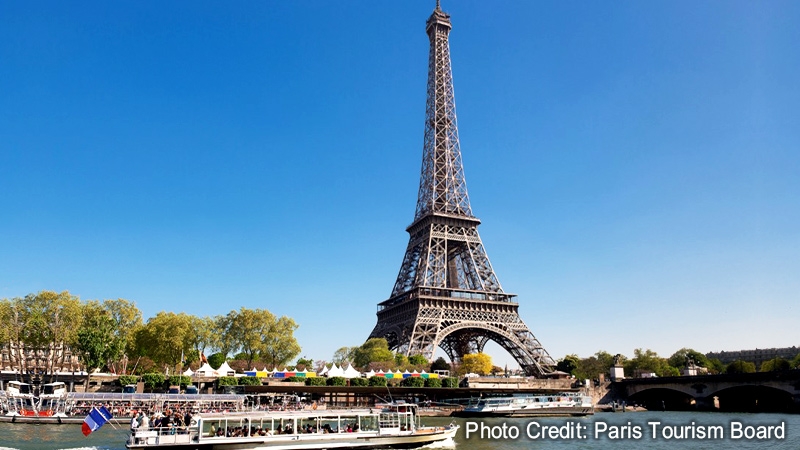 https://origin.hkmb.hktdc.com/en/ODY0MjM5Mjg0
Post-Covid Prospects: France
Louis Chan
France's two nationwide coronavirus lockdowns ("confinements") in 2020 – from 17 March to 11 May and the end of October to mid-December – caused the second-largest euro area economy to suffer its worst peacetime recession, with GDP plunging by 7.9%.
To bail out the Covid-19-troubled households and businesses, the French government has put in place emergency aid, in conjunction with an EU-backed €100 billion stimulus plan for 2021 and 2022. Other, perhaps more important, weapons in the fight against the pandemic – vaccines – have also been brought to the battlefield since 27 December 2020. By the end of September, 93 million jabs had been administered and 45 million adults had been fully inoculated.
With the country proving resilient, the French economy has been moving quickly towards pre-pandemic levels after lifting stay-at-home orders, while domestic and cross-border mobility has been buoyed by the July introduction of EU Digital Covid Certificates, and the use of the health pass (pass sanitaire). France has hit the target of 50 million people (aged 12 or above) vaccinated with their first dose by mid-September, with 85% of the French adult population now fully vaccinated.
Thank to a very ambitious financial support initiative, the French economy is expected to bounce back with 6.5% GDP growth this year. In addition, a booster vaccine programme for seniors (aged 65+) and vulnerable people (those with underlying health conditions) was launched on 1 September in line with growing concerns over possibly more infectious variants.
To discover how France is prepared for a recovery and how its businesses are ripe for closer partnership with their Hong Kong counterparts in the post-pandemic future, Louis Chan, Principal Economist (Global Research) at HKTDC, interviewed Alexandre Giorgini, Consul General of France in Hong Kong and Macao.
Chan: How is the implementation of the vaccination programme in France going? Do you have a timetable and roadmap of, for example, when the majority of the adult population will be sufficiently vaccinated? Do you have high hopes for the EU-wide initiatives such as the Digital Covid Certificates, which are aimed at facilitating safe and free movement in the EU?
Giorgini: Vaccinations in France began on 27 December 2020 after the approval of the Pfizer/BioNTech vaccine. The vaccine rollout progressed rapidly and we had fully vaccinated 85% of the adult population by the end of September.
Ever since it was started, France's Covid-19 vaccination campaign, now boasting four vaccines – Pfizer-BioNTech, Moderna, Oxford-AstraZeneca and Janssen – has been implemented in phases with three objectives: prevention of deaths and severe complications, protecting caregivers and the healthcare system, and ensuring the safety of the vaccines.
Priority has been given to certain groups such as vulnerable elderly individuals and people with underlying health conditions, before it was extended to all adults on 31 May and further to those aged 12 to 17 on 15 June, as part of the nation's drive to expand the number of people who are protected against the disease to mitigate the risks of further waves of infections caused by new virus variants.
As a result, as of the end of September, 88% (47m) of the adult population, had received at least one jab and 85% (45m) of the adult population were fully immunised. At the same time, very encouraging results have also been seen among the younger population, with 88% of the French population aged 18-to-24 and 86% of those aged 25-to-29 having received at least one dose. In order to counter the more contagious coronavirus variants, we also launched a booster vaccine programme on 1 September for the elderly (aged 65+) and vulnerable (those with underlying health conditions).
One major contributing factor to the acceleration in vaccination rates is the extension of the use of the French health pass (pass sanitaire) to a wide range of public spaces such as bars, restaurants, museums and malls, as well as long-distance transport networks. According to recent surveys, the health pass is supported by the vast majority of the French population. It is also interoperable with the EU Digital Covid Certificates, which may be in a digital or paper format, and can be acquired free of charge by every person staying or residing in an EU Member State who has been vaccinated, recovered from the illness in the past six months or who has had a recent negative test. It has been a big step to facilitating the resumption of the free movement of individuals within the EU since its inception on 1 July 2021.
Due to the successful rollout of both the vaccines and the health pass, the French economy is not paralysed, but buoyed by vibrant public places and dynamic air traffic. This gives confidence to our scientific experts such as Professor Alain Fischer, chairman of the Vaccine Strategy Orientation Council, that the nation could reach herd immunity with 90% of the population inoculated by the beginning of this autumn.
Chan: What is the near-to-medium-term outlook of France's major industries and trade, especially in the wake of the EU-wide and French government support?
Giorgini: The global health crisis has caused unprecedented economic shockwaves in France and worldwide. The French economy has been hard hit by the different lockdowns introduced all over the world since the spring of 2020, while the ensuing social-distancing measures, travel restrictions and factory closedowns have all contributed to unseen international supply chain bottlenecks. Many, if not all, of France's industrial sectors such as automotive, aeronautics and industrial equipment have been directly hit by the Covid crisis.
However, despite the economic fallout, France has held its leading position in Europe when it comes to investment attractiveness. Last year, France, with 985 projects of foreign investments announced, remained the leading foreign direct investment (FDI) destination in Europe, ahead of the UK (975) and Germany (930). We are optimistic about maintaining the investment momentum in 2021, as a survey published by EY in June revealed that 74% of investors believe France's attractiveness will improve through 2025.
Having said that, as in other economies worldwide, emergency fiscal measures have been rolled out in France since March 2020 to safeguard household income and support domestic consumption. To further sustain these emergency measures, in September 2020 the French government launched a two-year €100 billion stimulus plan, France Relance, including €40 billion in funding from the NextGenerationEU recovery fund. The plan, with a clear strategic objective to buttress the virus-stricken economy and ready the French economy to roar back to its pre-pandemic (2019) levels by 2022, is also serving to pave the way for a greener, more competitive, more resilient and more inclusive France of 2030, with a focus on three pillars:
Supporting the transition to a greener, more sustainable economy: €30 billion is earmarked to speed up the greening of the economy, including investments in green buildings and renovations, green infrastructure and sustainable mobility, reduction of carbon-intensity of manufacturing processes, and the development of new green technologies such as green hydrogen, biofuels and recycling;

Creating the most favourable conditions for companies to grow their businesses and protect jobs: €34 billion is allocated to boost competitiveness and economic resilience, including substantial cuts in production taxes, support for equity funding for businesses, investment in industrial innovation, support for exporters and enhancement of industrial resilience and independence through measures to secure critical stocks and support for productive investment in France;

Ensuring solidarity between generations, regions and all French citizens: €36 billion is ringfenced to support economic, social and territorial cohesion by investing in safeguarding training to help vulnerable groups, especially young people, become more employable and productive through apprenticeships, vocational training and recruitment incentives, while supporting the purchasing power of the most vulnerable households, bolstering digital inclusion and revitalising shops in urban centres.
Chan: The Covid‑19 outbreak has seen struggling businesses obliged to embrace e‑commerce, work, study, play, exercise from home or telecommuting. Are there any good indicators to show the digital transformation since the onset of the virus outbreak in France? Do you see these behavioural changes overhauling the consumer and industry landscape of France post-pandemic?
Giorgini: France, as the EU's largest e-commerce market [1] with 41 million active online shoppers, has entered a new era of e-commerce, significantly accelerated by the global pandemic. The "one of a kind" year of 2020 saw an 8.5% increase in e-commerce sales (goods and services) to €112 billion, with the sales of goods soaring 32% but services down 10% due to the sharp drop in travel and leisure activities.

Following the opening of 17,400 new e-shops, the share of e-commerce in France's overall retail trade jumped to 13.4% last year from 9.8% in 2019, boasting a total of 1.8 billion online transactions – up 5.8% from 2019 – at an average basket amount of €61, up from €59 from 2019.
Many sellers have developed and expanded their virtual footprint as a way to absorb the shock to their brick-and-mortar businesses, with sales, driven by home deliveries and drive thru click-and-collect services, climbing by more than 50% year-on-year and seeing 100%-plus spikes during the two confinement periods.
With 68% of internet users making an average of 18.8 purchases online in the first quarter of 2021, we believe the coronavirus crisis has already elevated digital channels as a must-have for not only French retailers and brands, but also consumers. The expansion of e-commerce towards new firms, customers and products will likely continue in the post-Covid future, engendering a new ecosystem for new winners including innovative start-ups.
Chan: International logistics have been upended during the pandemic, hampering both air and sea transportation. How has it affected the French logistics sector?
Giorgini: Despite the long tail of the coronavirus pandemic and the sweeping lockdowns and travel restrictions across the world, France secured 89 new logistics-related FDI projects in 2020, driven mainly by the surge of e-commerce activities.
While few could deny that the pandemic is the biggest crisis ever experienced by the global commercial aviation sector, the French air-freight sector has been able to swiftly reinvent and reorganise itself to cope with public-service missions such as the delivery to France and other third countries emergency medical equipment such as surgical masks, ventilators, testing kits and vaccines.
Part of the response was provided by existing cargo fleets of airlines such as Air France, whose planes were actively used in spring 2020 in "airlift" operations between China and France, for the benefit of French hospitals, caregivers and patients, during the first wave of Covid-19 infections. Our efficient airport infrastructures have made it possible for France to accommodate the huge air-freight flows during the global health emergency.
The limited availability of cargo planes has obliged regulators, airlines and logistic companies to innovate by, for example, converting (temporarily or in certain cases permanently) passenger planes into cargo carriers. Even though the volumes of air freight transported have remained below the pre-crisis levels, the Covid-led jump in air-freight rates and, in turn, the revenues generated by the cargo activities have made it possible for airlines and logistic companies to make up some of the losses resulting from the cessation of virtually all long-haul passenger traffic. In February 2020, the major French maritime group, CMA-CGM, even set up a new dedicated air-freight division called CMA-CGM Air Cargo to better handle and develop their air-cargo businesses, with access to several Airbus A330 cargo aircraft. 
The global health crisis has also had a detrimental effect on global shipping and the maritime industry. It was not until around August-September 2020 that the impact was particularly marked, with sea-freight rates and surcharges starting to skyrocket to unprecedented levels.
In recent months, the ocean freight costs and surcharges for Asia-Europe cargo have continued to soar as a result of the global shortage of shipping containers and vessels amid the lockdowns in some port cities. Further compounding the problem was the recent disruption due to the Suez Canal blockage caused by the giant container ship Ever Given and the lockdown of some of the world's busiest container ports. Although more and more ocean freight and port operations have gradually returned to normal, the impact will likely continue to be felt in the common holiday seasons. Against this backdrop, France, as with other European economies, has seen increases in the cost of goods imported from Asia and of their own exported products.
Chan: Global trade and investment was weakened by the pandemic when many travelling and business plans were shelved or postponed last year. Looking forward in 2021 and beyond, what do you see as the most promising sectors or areas for France-Hong Kong collaboration?
Giorgini: Let's begin with the international momentum to prepare a more resilient and healthy future for our planet. The 26th UN Climate Change Conference of the Parties (COP26) is going to take place in Glasgow, one of Scotland's largest cities, from 31 October to 12 November 2021, a few weeks after the first session of the 15th Conference of the Parties to the Convention on Biological Diversity in the city Kunming in southwestern China from 11-15 October. As part of a concerted effort, France is also very active at the WTO level in pushing for the removal of subsidies to illegal fishing, while Washington has re-joined the Paris Agreement on Climate Change, Beijing aims for carbon neutrality by 2060 and Hong Kong is playing its part with plans to achieve the same goal before 2050.
At the EU level, Member States have already agreed to spend 30% of the bloc's 2021-27 budget to fight against climate change, in addition to the 2019 European Green Deal, an action plan that reflects the EU's long-term ambition to achieve climate neutrality by 2050. In July 2021, the EU published a plan to become the world's first mover in achieving net-zero emissions in a bid to curb global warming by turning a long-term net-zero goal into real-world policies, with a strategy mobilising all sectors of the economy and trade. To this, the European Commission has unveiled 13 policy proposals in its Fit for 55 green transition plan to address climate change by ensuring the EU can meet its goal of reducing average greenhouse gas emissions by 55% by 2030 compared with 1990 levels and becoming the first climate-neutral continent by 2050.
As a green forerunner, France has ringfenced at least a third of its €100 billion stimulus plan to speed up ecological transition. In particular, we will support the thermal renovation of buildings, the decarbonisation of industry, green hydrogen R&D, cleaner transport and sustainable transformation of the agricultural sector. Simplified procedures have been put in place to facilitate foreign investment into the green economy, opening up a new window of opportunities for Hong Kong entrepreneurs and investors.
Sustainability and the green economy are keys to the success of future France-Hong Kong co-operation. Many joint projects are already underway in these fields, while the Consulate General of France in Hong Kong and Macao as well as the French Chamber of Commerce and Industry in Hong Kong (FCCIHK) have been very active in organising events and conferences with different stakeholders such as universities and the business community over the years. Also noteworthy is that both Paris and Hong Kong are part of the C40 Cities, a group of 97 cities around the world that are taking bold climate action to lead the way towards a healthier and more sustainable future. Being an Earth citizen creates a common ground for us to tackle the similar challenges we face every day as to how we can fight against climate change by, for example, improving air quality and optimising the role of nature in our city development.
Willing to offer their best solutions are French companies, including some of the leading innovators operating in Hong Kong, such as Suez and Veolia, which manage many key waste treatment facilities here. This includes T-Park, one of the world's largest waste-to-energy facilities, which turns sludge into electricity, and Alstom an organic waste to biogas facility, (mobility technology), Thales (digital and "deep tech" innovation), ADPi (airport engineering) and RATP-Transdev (public transport), Systra and Egis (engineering companies), Bouygues Dragages and Bachy Soletanche (sustainable and energy saving construction), and Schneider Electric (energy management).
Hong Kong, as an international financial centre, has a big role to play as the whole world is setting off on a carbon-neutral or net-zero journey, when sustainable or green finance has become increasingly a primary tool in the fight against climate change. With the fact that the euro zone alone accounts for half of the global green finance market, the successful participation of world-leading French banks in the design of Hong Kong's sovereign and private sector green bonds has provided a lot of relevant expertise for their Hong Kong, mainland Chinese and other Asian counterparts on their environmental, social, and governance (ESG) transition pathways. French financial institutions have been pioneers and are deeply committed to building sustainable financing solutions in Asia, most notably: AXA,BNP, Crédit Agricole, Société générale, Natixis, Amundi.
Chan: How about the Greater Bay Area (GBA)? Are French companies – start-ups and scale-ups – keen to make inroads into the GBA? What Hong Kong companies can best help, and how?
Giorgini: With a steadily growing presence since 2011, some 400 French companies, with a combined employee level of 32,000 people, currently call Hong Kong their home. The FCCIHK has a membership of more than 800 businesses, and the Hong Kong-Shenzhen "FrenchTech" start-up community has seen some 60 start-ups founded locally by French people or as subsidiaries of French start-ups. Most of the French companies based in Hong Kong closely follow the mainland market, including the GBA area. And of course, they are willing and ready to expand into Guangdong, which has long been seen as a fast-developing and dynamic province.
For one thing, the vast majority of French companies already established in Guangdong are manufacturing companies such as Idemia (augmented identity), Danone (food), Legrand (electrical and digital building infrastructures), Schmidt (home design), Sagemcom (ICT), Tereos (sugar production), Saft (battery solutions), Extruflex (flexible PVC), Faurecia (automotive technology), Valeo (smart mobility), Forsee Power (smart battery systems), Scantech (online control and measurement), Axon (interconnect solutions) andCNIM (industrial engineering contractor and equipment manufacturer), which contribute to the region's industrial dynamism.
French firms currently operating in the GBA include those with projects in areas ranging from efficiency energy (Total, EDF and Schneider Electric), environment conservation (Suez and Veolia), smart city and mobility (Indigo, Dassault Systèmes, Airbus Helicopters and ADPi), design and architecture (Arep, Jean Nouvel and Dominique Perrault) or advertising (JCDecaux). Also worth mentioning is the increasing number of projects concerning technology and innovation, particularly in Shenzhen, involving French companies such as Airbus (aerospace), Capgemini (IT), STMicroelectronics (semiconductors) and Sanofi Pasteur (biopharmaceutical).
In similar fashion, Guangdong will continue to attract French sourcing experts, many of which are looking for high-end and eco-friendly products to whet the shopping appetite of those French and other European consumers who enjoy strong purchasing power. Trading will, therefore, prevail and grow in the post-pandemic future, a period we see as having significant potential.
​​​​​​​Chan: Finally, are there any other areas that you see as vital for future synergy between the two trading partners?
Giorgini : To conclude, let's evoke another facet of France-Hong Kong cooperation -culture. Culture can be a booster for businesses: it brings not only tourists, but also investments. Culture is, nowadays, very much part of economic attractiveness. In line with this, France's investment in culture and the preservation of heritage is economically rational and usually profitable.
We believe this is a field in which France can have a lot to do with Hong Kong, where new cultural institutions and museums will open in the near future, especially in the West Kowloon Cultural District. We are active on the cultural front in Hong Kong, with a very dynamic Alliance Française having been active since 1953 and an exceptional annual art and culture exhibition event, French May Arts Festival, which has fast grown into one of the largest cultural events in Asia following its 1993 debut.
Going forward, following the recent Surrealism and Beyond exhibition featuring masterworks of the Centre Pompidou in the Hong Kong Museum of Art, which was visited by more than 100 000 Hongkongers, we are working extensively for the 30th edition of the French May Arts Festival, which will take place next spring.
---
[1] Europe's second-largest after the UK.

Western Europe
Hong Kong
France
Hong Kong