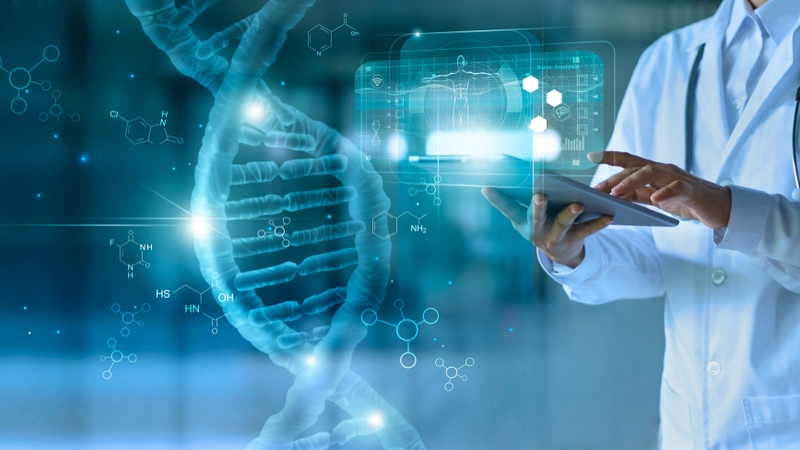 https://origin.hkmb.hktdc.com/en/OTA3MzEwMjE4
Greater Bay Area Start-Ups: Biopharma Incubation Platform
Interview with Li Chaoxing, Founder, Shenzhen Riemann-Hypothesis Technology Co Ltd
Alice Tsang
Li Chaoxing founded Shenzhen Riemann-Hypothesis Technology Co Ltd, a venture capital service firm specialising in the bioscience sector, in Shenzhen in August 2018. After obtaining his bachelor's degree in clinical medicine in China, Li attended Arizona State University/Mayo Clinic in the US and was awarded a doctorate in molecular cell biology. While studying in the US, he was admitted to a renowned business incubator programme run by Draper University. Li saw that biopharmaceuticals were developing rapidly and scientific research was making good progress in China, and calculated that the demand for capital from the biopharmaceutical sector was set to grow. He returned to China to start his business under Shenzhen's Peacock Plan, which aims to attract high-level talent from overseas. Li gave HKTDC Research his analysis of how the mainland's biopharmaceutical sector is set to develop and told us about his entrepreneurial experience in Shenzhen.
New growth in biopharmaceuticals
In recent years, research on biopharmaceuticals in China has advanced rapidly, with colleges and universities proactively converting research achievements into new products and services. While the Covid-19 pandemic has dealt a blow to various industries, it has accelerated the growth of the biopharma market. This, coupled with the proposal in China's 14th Five-Year Plan that innovation and technology should drive development, has created huge growth potential for the sector.
Li explained that this in turn boosted its demand for capital, saying: "2020 was seen as the boom year of biopharmaceuticals, with publicly listed pharmaceutical companies mushrooming and the capital market placing more emphasis on pharmaceutical projects such as the R&D of drugs and new vaccines."
To capitalise on the demand for diversified services during different development stages of biopharma enterprises, Li formed a team and built two platforms: a trading platform and an investment and incubation platform. Describing their different roles, Li said: "The trading platform mainly serves equity transactions and drug pipeline1 deals. Equity transactions refer to equity financing for early-stage biomedical industry players. Equity financing for biomedical projects presents great challenges because of the high risk and technical difficulty involved. Traditional investors tend to shy away from such investments. Given our backgrounds in biologics, we are well placed to connect project owners with potential investors. The drug pipeline platform mainly serves small- to medium-sized biopharmaceutical businesses which possess sound innovative technology. However, since pre-clinical studies and clinical trials are massive projects requiring a huge amount of human and financial resources, some of these small- to medium-sized businesses have to transfer their technology to large pharmaceutical firms for further development.
"Platforms for early-stage biomedical project equity financing and drug pipeline platforms are new business models in China and work much like third-party business development (BD) platforms that require an extremely high level of professionalism and a large reserve of resources as well as a lot of overseas resources and personal connections. In this regard, we have done a lot of preparation work. Since biopharmaceutical projects generally involve enormous transaction amounts reaching over RMB100 million and the demand for transactions has been on the rise, we therefore built the financing platform and the pipeline platform to provide major income sources (one from financing and the other from trading pipelines) for biopharmaceutical players during different stages of development.
"Naturally, we have a longer-term plan, which is investing in seed rounds and business incubation in the next two years. In other words, we will invest in the incubation of early-stage biopharmaceutical projects. We hope to start investing in seed rounds and business incubation as soon as possible, we do not rule out the possibility of forming limited partnerships in the meantime.
"At present, there is no investment fund in China dedicated to seed rounds in biopharmaceuticals because the risks are too high and risk management is too difficult. Moreover, since the exit period for funds is normally seven to nine years after investment, most funds are not interested. So we are actually doing what others would not do. We believe the financing platform and pipeline trading platform built by us will serve as the lifeline for biopharmaceutical companies. By creating this lifeline and with the help of our risk control system, we can go ahead with seed round investments."
Funding differences
Pointing to the differences between China and the US in their investment in early-stage biopharmaceutical projects, Li said: "In China, many higher education institutions have set up innovation centres or incubators, but all investments in early-stage projects come from government funding. For instance, preliminary research on projects such as target validation, pathway validation, and micro-molecular design conducted in university laboratories normally uses the scientific research funding for the lab. It is basically impossible to acquire private capital at this stage because investors would inevitably ask for equity. Even if interested investors are found, the limited partners (LPs) of the fund would not agree. Another mode of funding is for the government to raise capital and bring in the technology required and under such circumstances the government may make the initial investment.
"In the US, early-stage development of biopharmaceutical technology mostly uses private equity funds and when a technology is still in the laboratory stage, private funds would have already poured in. But in China, as of now, both its technology and talent are not strong enough to convince investors that seed round projects will succeed, and funds are only willing to invest if a start-up project has recruited talent from famous universities abroad. In other words, projects with overseas resources are more likely to attract initial investment. Generally speaking, in China's biopharma sector, there are hardly any institutions engaged in seed round investment and business incubation. We are making great efforts to fill this gap. Since we participate actively and hold equity in every project, plus the fact that we are an investment institution with plenty of investor resources, it is not only easy for shareholders to sell private shares2, it is also easy for them to exit via other channels."

Explaining how investors judge the quality of biopharmaceutical projects, Li said: "First of all, it depends on whether the team is outstanding. Usually, team members are expected to have doctorate degrees or above, preferably PhD holders from the likes of Harvard, Stanford or MIT. Then it depends on the scope of the R&D. One example is membrane protein which still requires a lot of effort in development and the technical barriers are high. It also depends on whether the technology of the start-up company is mature enough, what risks are involved, whether the risk period has expired, and the availability of clinical trial data."
Many people feel that Hong Kong investors place more importance on short-term returns. Li believes that this is related to the characteristics of Hong Kong's industries, saying: "Hong Kong is known for its vibrant secondary market3, where investors can exit any time and there is great flexibility. These investors are used to doing short-term trading and are unlikely to invest their money in a project for six to seven years. But investing in biopharmaceuticals takes time."
Boosting management efficiency
At present, all six members of Li's financing team and industry research team are responsible for the investment and financing business. Explaining his hiring policy, Li said: "Our financing team also handles investment, so when we recruit talent we use the hiring standards of investment banks. Every team member is capable of managing the whole process of completing a deal independently."
Li added that he is currently building a staff management platform, saying: "We have to establish a project management system suited to the nature of the biopharmaceutical industry. Without sound management, a project can hardly progress well. That's why we have set up a staff KPI4 and customer management system. This is a huge system covering time management, meeting management, project progress management, and so on. In the past, the six of us managed 10 projects simultaneously. After the system becomes operational, we can expect to handle 30 projects efficiently and in an orderly way at the same time, and management should further improve. As the six of us are already working at our maximum capacity, steps must be taken to raise the efficiency of project management by improving the system."
Li is a high-calibre talent who returned to China to start a business under Shenzhen's Peacock Plan. Describing how he has found the environment for entrepreneurs in Shenzhen since his return, Li said: "Shenzhen offers subsidy policies to overseas returnees with a doctorate degree under the plan, whereby qualified returnees can enjoy preferential treatment with regard to residence, entry-exit, domicile, schooling for children, employment for their spouse, and medical insurance. All these provide basic protection and ease of mind to entrepreneurs when they are starting their business. In addition, various districts in Shenzhen also offer extra subsidies on a local basis, creating a highly friendly environment for technology personnel returning to the country to start a business.
"Compared with cities which were first movers in the biopharmaceutical sector, such as Beijing, Shanghai, Suzhou and Chengdu, Shenzhen is a late starter. But in terms of innovation, Shenzhen has surpassed these cities in certain areas. There are some highly innovative enterprises which are found only in Shenzhen but not in Beijing or Shanghai. We have many friends from Beijing and Shanghai who came to Shenzhen to start a business because the local government, investment institutions and industrial sector in Shenzhen value each and every entrepreneur. Compared with Beijing and Shanghai, it is obvious that Shenzhen attaches the greatest importance to talent.
"Besides, since there is already an ample supply of talent in Beijing and Shanghai, starting a business in these cities does not have as many advantages as it does in Shenzhen. In the last few years, Shenzhen has been actively attracting talent and has created an excellent entrepreneurial environment. The various subsidies offered by the local government to entrepreneurs are really a kind of soft advantage."
There are many factors contributing to the success of entrepreneurship, such as entrepreneurial culture, entrepreneurial environment and entrepreneurial spirit. But Li pointed out that government support is also very important, saying: "I am a director of the Shenzhen Pingshan District Overseas Chinese Returnees Association. Tao Yongxin, the former Pingshan district party secretary, used to join our activities and show his genuine support by staying from the beginning to the end of the events as well as exchanging views with us on an equal footing.
"Now a vice mayor of the Shenzhen municipal government, he still cares a lot about the development of Pingshan district. At the first anniversary of the Pingshan District Overseas Chinese Returnees Association, Tao attended the celebration event and listened to our ideas and suggestions so that he could co-ordinate various government departments in Shenzhen to give us help. Shenzhen's greatest advantage is that the city's policies are very pro-business."
Synergy with Hong Kong
Discussing Hong Kong's start-up ecosystem, Li said that the dominance of the financial sector as Hong Kong's economic pillar and the acute shortage of land have stifled the diversified development of industry. Li argued that, because of this, Hong Kong should seek closer integration with Shenzhen to achieve synergised development and complementariness, saying: "Where biopharmaceuticals are concerned, the academic research conducted by the University of Hong Kong and Chinese University of Hong Kong is impressive. At the same time, several universities in Hong Kong have set up satellite campuses in Shenzhen, as well as started co-operation in the medical field. Examples include the HKU Shenzhen Institute of Research and Innovation, the Chinese University of Hong Kong (Shenzhen), the Hong Kong Baptist University Shenzhen Research Institute, and the University of Hong Kong-Shenzhen Hospital.
"Shenzhen and Hong Kong could co-operate under the division of labour mode, with Shenzhen devoting its efforts to developing a complete industry chain linking technology, finance and manufacturing, while Hong Kong focuses on areas such as international finance, education, scientific research and culture. Look at Singapore - although it is a small country, the development of the biopharmaceutical industry is distinguished because the scientific research of its universities is outstanding and many industry players have set up their headquarters there while industrialisation is carried out in the US and Europe.
"Hong Kong can capitalise on the GBA mainland cities to develop industries other than finance, just as Macao capitalises on Hengqin in Zhuhai to adopt the 'remote incubation' mode, whereby Hong Kong-registered companies can operate in Shenzhen. Doing this would mean that Hong Kong could leverage its advantage in raising funds to drive the development of other industries."
Pointing out, however, that there are some hurdles in the path of closer Shenzhen-Hong Kong integration, Li said: "When mainland entrepreneurs visit Hong Kong, they are required to apply for an entry permit, which is an invisible barrier restricting their freedom of movement. Also, in the biopharma sector, since the rules and regulations in Hong Kong and the mainland are different, application procedures have to be completed separately, which means it takes more time and is more expensive."
Li also complained that, compared with Shenzhen, the entrepreneurial environment in Hong Kong is less vigorous, saying: "Hong Kong has a large pool of talent, but not all have the entrepreneurial spirit. Even though the scientific research of Hong Kong universities is remarkable, commercialising technology requires a strong entrepreneurial spirit. While this innovation and entrepreneurial culture in the mainland is flourishing, it is rather lacklustre in Hong Kong."
The 14th Five-Year Plan says that support will be given to develop Hong Kong into an international innovation and technology centre. The Hong Kong Chief Executive's 2021 Policy Address also sets out that the government will reserve several plots of land for the development of innovation and technology. For instance, the Lok Ma Chau Loop, the Hong Kong-Shenzhen Innovation and Technology Park, and areas around Lok Ma Chau/San Tin are to be consolidated to form the San Tin Technopole, with an estimated 240 hectares of land devoted to the development of innovation and technology. The San Tin Technopole, together with the Shenzhen Innovation and Technology Park, will form the Shenzhen-Hong Kong Innovation and Technology Co-operation Zone, covering an area of about 540 hectares. This co-operation zone is designed to pool the strengths of Shenzhen and Hong Kong as well as gather together overseas and mainland talent to serve as the engine driving the construction of an international innovation and technology centre in the GBA. The hope is that in the near future Shenzhen and Hong Kong will have greater room for integration in the development of innovation and technology.
Note 1: This article forms part of a joint study conducted by HKTDC Research and HSBC: "Exploring the Greater Bay Area Start-up Ecosystem"
Note 2: The opinions and views expressed are those of the interviewees and do not necessarily reflect the views of HKTDC or HSBC. HKTDC or HSBC shall in no way be responsible for the accuracy, completeness or timeliness of the information provided by them, and for any loss associated with the use of such information.
---
1 Biopharmaceutical pipeline generally refers to the process from pre-clinical studies (concept), through clinical trials (phases 1, 2 and 3), to market launch.
2 Selling private shares means the public sale of shares by shareholders to investors in initial public offerings.
3 Secondary market refers to the capital market where the stocks of listed companies are traded.
4 KPI (Key Performance Index) is the most important indicator measuring how effectively a task is managed.
Finance & Investment
Medical Supplies & Medicine
Medical & Healthcare Services
Hong Kong
Mainland China
Hong Kong