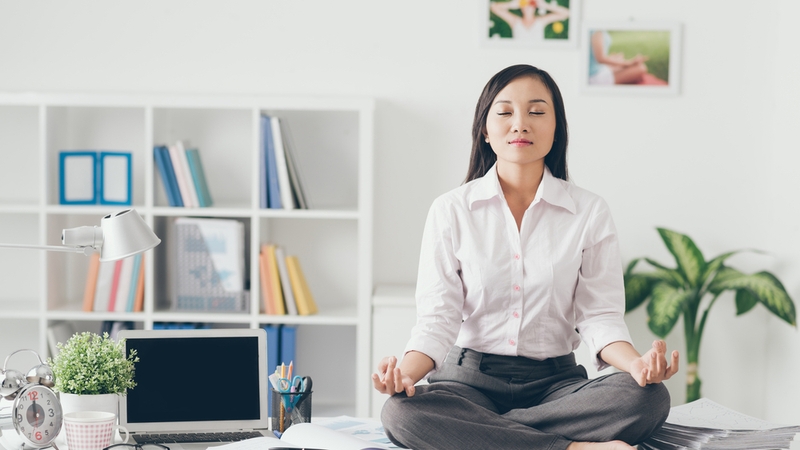 https://origin.hkmb.hktdc.com/en/OTMzMzc5NTA4
Greater Bay Area Start-Ups: Wellness App Promotes Mental Health
Interview with Cancan Jin, Founder of 5P Medicine
Alice Tsang
As society undergoes rapid changes the pace of life is getting faster, which in turn exerts increased psychological stress and mental burden on people. Against this backdrop, Guangzhou-based start-up 5P Medicine offers offline and online exercises and courses on mindfulness meditation and psychology-related topics to help people's mental health in stressful environments. In an interview with HKTDC Research, Cancan Jin, Founder of the company, described how his app can help users improve their psychological health and what challenges start-ups are facing in Guangzhou.
The 5P Medicine App​​​​​​​
The company's 5P Medicine app is designed to help users relieve emotional stress and mood disorder by practising mindfulness meditation. Explaining the app, Jin said: "Take women for example. We have designed courses to help women deal with pressures occurring in different phases of their life. These include emotional problems in the workplace; prenatal anxieties and postnatal depression; parent-and-child relationship; as well as the more common disorders such as insomnia, anxiety and depression.
"There are many critical moments in women's lives that are closely related to emotions. In view of this, our products and services aim to help people 'avert pain' on the one hand and 'embrace happiness' on the other."
Jin noted the disconnect between improving material wealth and declining mental health, saying: "In modern society, the living standards of many people may be high, but their quality of life is low due to various emotional and psychological problems. Hence, in helping people 'avert pain and embrace happiness', 5P Medicine is designed not to cure physical illness but emotional distress."
AI-enhanced services
Before launching the 5P Medicine app, Jin's company mainly focused on offline classes. When asked why they switched online, Jin explained: "We used to be an offline training institute1, but then it occurred to us that many of these meditation exercises and psychology courses should also have an audio version for convenience. We therefore launched an app in 2018 which mainly provides an audio version for practising meditation.
"Later, as we found that it was very important to digitise the course content, so we set up a cloud computing start-up named Xinliu in December 2019 digitising our courses using the internet and big data. Now we are also in the process of using artificial intelligence (AI) to provide users with enhanced personalised services."
Currently, 5P Medicine users are mostly from Chinese-speaking markets including mainland China, Taiwan, Singapore and Malaysia. Jin said: "Users on the mainland are mainly the general public, while the majority of users in other markets are professionals. Since there are not many companies offering non-medical mental health services in the mainland, we have attracted a large number of people to join our courses. As we have organised training courses in many places such as Guizhou and Yunnan and the response from the participants has been positive, our services gradually became widely known by word of mouth.
"At present, there are two major groups of participants in our courses. The first are professionals such as psychologists and university psychology teachers who wish to gain an understanding of the stress and emotion related problems of the general public through our courses. The second group are people who seek help from these practising psychologists and psychology teachers and are referred to the courses by them."
To date, the 5P Medicine app has about 100,000 users, many of whom are regulars. Although some of the user groups are from Tibet, Guizhou, Qinghai, Gansu, Hunan and Hubei, the company's future market development focus will be on the Greater Bay Area (GBA). Jin said: "The GBA has a population of over 86 million, which is larger than that of many European countries. As life pressures increase, many people need psychological support in order to manage their emotions and enhance their quality of life. At the present stage, our development goal targets the cities of Guangzhou, Shenzhen, Dongguan and Foshan."
However, Covid-19 has dampened business growth. Jin said: "The pandemic has dealt a serious blow to our business. Our company income used to be derived from online and offline operations. But due to the pandemic, teachers from abroad cannot come to China to give lessons and so all offline courses and activities have been suspended. Meanwhile, income from online courses and activities is not too steady."
Lack of start-up support
On the support given by Guangzhou to start-ups, Jin said: "Our company, located in the Guangdong Venture Factory, is a small business with only about 10 staff. Since our company is not a new- and high-tech enterprise, it is difficult for us to acquire funding. We are currently developing some digital therapies by using AI to raise the quality of service. Although we tried to apply for funding, the application was not successful. We believe only those companies engaged in high precision and state-of-the-art technologies would find it easier to obtain government subsidies."
Start-ups are not only denied government support, they are also pressured by the high cost of employing scientific research or technical talent, which is indirectly caused by the high concentration of new- and high-tech companies in Guangzhou and Shenzhen. Jin said: "For example, the monthly salary of our company's Java engineers is RMB20,000 and that of mobile engineers is RMB20,000. Any pay lower than these levels is unlikely to attract the right personnel.
"In the case of Shenzhen, it is practically impossible to recruit any talent at these pay levels because the accommodation costs there are too high and the average monthly salary is about RMB20,000. In other words, for a newly established company, the operating costs for the first half year would be as high as RMB500,000-600,000 while human resource cost keeps going higher and higher. Also, there are many enterprises in Shenzhen offering high salaries which have further pushed up human resource costs across the board. To a company like ours, we not only need technical staff, we also need product managers and designers. All these posts added together would raise the monthly cost to over RMB200,000."
Hong Kong's advantage
On Hong Kong's functions and role in the GBA start-up ecosystem, Jin said: "The position of Hong Kong as an international financial centre can help the mainland in areas such as fundraising, investment, management and market exit2. Hong Kong's capital market serves as an excellent exit channel. Also, in Hong Kong, where there is no foreign exchange control and financing cost is low, funds are available from all over the globe. However, in reality, unlike sizeable companies, small businesses are unable to capitalise on these financial advantages."
Because of this, Jin hopes that Hong Kong can attract more foreign capital to support entrepreneurs in the GBA so that start-up companies in the region can grow strong before expanding into overseas markets. After all, Hong Kong is an ideal financing platform for mainland start-ups.
Note 1: This article forms part of a joint study conducted by HKTDC Research and HSBC: "Exploring the Greater Bay Area Start-up Ecosystem"
Note 2: The opinions and views expressed are those of the interviewees and do not necessarily reflect the views of HKTDC or HSBC. HKTDC or HSBC shall in no way be responsible for the accuracy, completeness or timeliness of the information provided by them, and for any loss associated with the use of such information.
---
1 The offline training institute was run by Guangzhou Blunt Force Network Technology Co Ltd.
2 Fundraising, investment, management and market exit are the four phases of private equity investment.
Medical & Healthcare Services
Hong Kong
Mainland China
Hong Kong