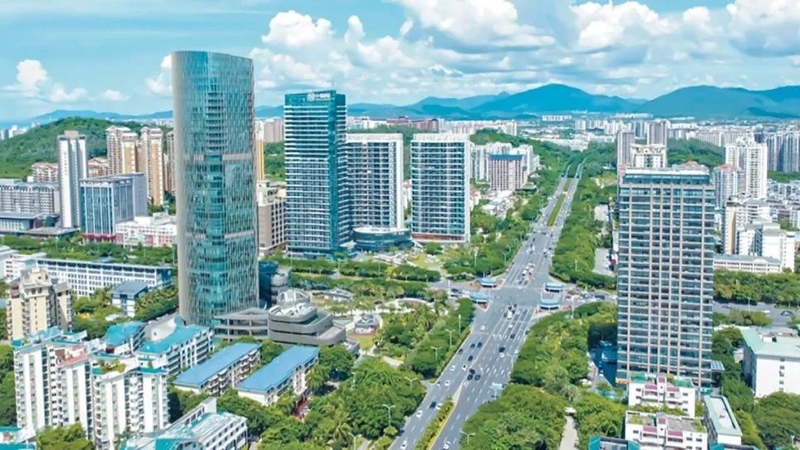 https://origin.hkmb.hktdc.com/en/OTQ4OTI4NTQw
The Hainan Free Trade Port (3): Development Directions of Key Cities
C H Poon
Cities in Hainan are developing new local industries according to their respective strengths, leading to commercial diversification in the Hainan Free Trade Port. As Hainan's institutions and infrastructure become more mature, Hong Kong companies are expected to find more business opportunities to exploit. To gain insight into current business and trade in Hainan cities and their future development, HKTDC Research recently interviewed the departments of commerce and other departments of Haikou, Sanya and Qionghai. This article aims to help Hong Kong businesses gain a deeper understanding of Hainan's government policies, infrastructure plans and industrial development so that they can better assess Hainan's overall business potential.

Haikou
Overall development and planning
As the provincial capital of Hainan, Haikou is the economic centre of the province. Haikou is the largest city in Hainan in terms of both the population and the number of businesses. In 2020 the city was home to 2.89 million people and 68,416 legal entities, accounting for 28.5% and 48.7% of the provincial total respectively. The GDP of Haikou made up 32.3% of the provincial total while the output value of its secondary and tertiary industries accounted for 25.5% and 43.2% respectively. 1Haikou's industrial and commercial development leads the province.
The focus of Haikou's development planning is on reinforcing its status as a business and trading hub. The Outline of the 14th Five-Year Plan for National Economic and Social Development of Haikou and the Long-Range Objectives Through the Year 2035 targets that modern services will account for over 40% of Haikou's GDP by 2025. The plan proposes that by establishing free trade port policies and systems to facilitate free trade and investment, the total value of imports and exports and use of foreign capital will both grow at an average annual rate of over 12% during 2021-2025.
Haikou Jiangdong New Area
To achieve the above targets, the government of Haikou is pushing for the development of Jiangdong New Area. Established in 2018, Jiangdong New Area is located in the eastern part of Haikou; it encompasses the areas around the Haikou Meilan International Airport. With a planned area of about 298 sq km2, it is about one-eighth the size of Haikou City. Jiangdong New Area is seen as the innovation area of the pilot zone for furthering all-round reform and opening up, the national ecological civilisation pilot zone, the international tourism centre and the strategic service guarantee zone. It will focus on promoting sectors such as tourism, finance, shipping services, commodity trading, aviation and offshore trade.
The infrastructure for Jiangdong New Area is currently being built. To improve transportation, the Haikou government has renovated Baiju Avenue and the east extension line project that connects the city centre of Haikou to Jiangdong New Area. Both facilities have been open to traffic since August 2021. Another road, the interchange between Hairui Bridge and Binjiang West Road, has been open to traffic since December 2021. These projects will make it easier for people to travel between the city centre of Haikou and Jiangdong New Area.
Meanwhile, several office buildings are under construction for companies which plan to move into Jiangdong New Area. Phase one of Level 1.5 Incubation Park, a project with private capital input situated on the eastern side of Baiju Avenue, is already completed. Some 100 enterprises have moved into the Park, which is designed to satisfy the needs of businesses for temporary offices, display and meeting venues in the Jiangdong New Area.3 
The development of an airport economy at the Haikou Meilan International Airport (Meilan Airport) and its surrounding areas is one of Jiangdong New Area's key initiatives. Meilan Airport has the highest passenger and cargo throughputs in Hainan. In recent years it has undergone massive expansion, and its phase two expansion project has been operational since December 2021, significantly increasing the operational and carrying capacity of the airport. Haikou is also developing aircraft maintenance capabilities, and its newly built maintenance base is expected to be operational in early 20224. The base is located inside the Haikou Airport Comprehensive Bonded Zone, established with the approval of the State Council in May 2021. Aviation materials trading, air express delivery, cross-border e-commerce, bonded warehousing and processing will also be promoted in the bonded zone.
Development and investment promotion policies in other districts
In addition to the Jiangdong New Area, the government of Haikou is developing other areas to support a range of industries, including the convention and exhibition industry. Phase two of the Hainan International Convention and Exhibition Center in Xiuying District was completed in 2020, and the first China International Consumer Products Expo was held at the centre on 7-10 May 2021. This inaugural expo attracted 2,628 consumer brands from 70 countries and regions and more than 230,000 visitors5. The second edition of the expo is scheduled to be held at the same venue during 12-16 April 2022.
The Haikou government is also encouraging the growth of biotechnology, cultural and creative industries, and internet-based industries, through the Haikou National High-Tech Industrial Development Zone, the Hainan Resort Software Community, and the Haikou Fullsing Internet Industrial Park.
The Haikou government encourages businesses to set up headquarters in the city. According to the Several Policies Supporting the Development of Headquarters Economy in Haikou released in June 2018, enterprises engaged in tertiary industries such as tourism and modern services will receive a one-off reward of RMB5 million from the Haikou government if they establish an integrated or regional headquarters in Haikou after 1 January 2018 and contribute at least RMB20 million to local revenue within one year of registration. Those engaged in secondary industries, like the high-tech industries, will receive RMB10 million if they make a contribution of no less than RMB30 million. In addition, for enterprise headquarters verified for the first time, Haikou will offer a one-off office rent subsidy up to 50% of annual rental but not exceeding RMB3 million. These policies cover the whole city including Jiangdong New Area.
Sanya
Overall development and planning
Sanya is the second-largest city in Hainan. In 2020, its population of 1.04 million and GDP of RMB69.5 billion accounted for 10.2% and 12.6% of the provincial total respectively6. Though Sanya trails Haikou in terms of population, GDP and number of legal entities, it has the fastest population growth in Hainan. In 2011-2020, Sanya's population grew by 3.9% annually, higher than the 3.4% growth of Haikou and the 1.4% growth of Hainan as a whole. After the central government announced the establishment of the Hainan Free Trade Zone in 2018, the average annual growth of population in Sanya in 2018-2020 was 4.0%, compared to 3.8% for Haikou and 1.5% for Hainan as a whole.
Sanya is the tourist centre of Hainan. In 2020, it received 10.63 million overnight visitors, accounting for 43.6% of the provincial total7. The growing population combined with tourism have fuelled a flourishing retail sector, and the city's sales of consumer goods have expanded at a faster rate than the rest of the province since 2018. In 2020, the growth in retail sales for Hainan as a whole fell to just 1.2% due to the pandemic8, but Sanya's retail sales of consumer goods increased by 12.1%9.
Though Sanya's tourism and retail industries are booming, the government is keen to facilitate the continued diversification of industry. In the Outline of the 14th Five-Year Plan for National Economic and Social Development of Sanya and the Long-Range Objectives Through the Year 2035 (Sanya 14th FYP), it is proposed that Sanya will develop advanced manufacturing industries such as yacht design in addition to forming the core of an international tourism centre. The city aims to develop a modern services industry around finance and logistics. There will be measures to facilitate cross-border trade, investment and capital flow. Sanya also plans to diversify into agriculture, technology and tourist finance, and set up cross-border e-commerce industrial parks.
Industrial parks construction
To drive Sanya's industrial diversification, the government is establishing several industrial parks, including the Sanya Central Business District (CBD) and the Sanya Internet Information Industrial Park. The CBD will become a business district serving the headquarters economy, finance, consumption, hospitality and education sectors. The Sanya Internet Information Industrial Park, located in Jiyang District 30 minutes away by car from the city centre, will prioritise industries in online creative entertainment, e-commerce and digital technology (such as the internet-of-things). Special attention will also be given to supporting the development of innovation and entrepreneurship. So far, more than 200 patents, intellectual property rights and copyrights have been acquired by enterprises in the park.
Sanya's efforts to encourage industrial diversification have already achieved initial success, with 12 new corporate headquarters being established in 202010. After Hainan's promulgation of interim measures for the Qualified Foreign Limited Partnership (QFLP) and Qualified Domestic Limited Partnership (QDLP) schemes, the first QDLP pilot enterprise and the first batch of QFLP funds in Hainan Free Trade Port have moved into the Sanya CBD. In September 2021, Hainan's first bonded logistics centre (Type B) inside Sanya Phoenix International Airport was approved by Customs and the Ministry of Finance. The 49,000 sq m logistics centre will soon begin operation in bonded warehousing and cold-chain warehousing.
Tourism and investment promotion policies
Sanya is gradually upgrading its tourist facilities in a bid to receive more visitors. Three new duty-free shops were opened in 2020, bringing the total number to four. The city also plans to capitalise on its favourable weather to develop a health tourism industry. According to the Sanya 14th FYP, the city will promote tourist attractions such as its hot springs, forests and pleasant climate, and will establish a national health tourism centre based around traditional Chinese medicine. By diversifying industries and rolling out more tourism products, Sanya aims to become a holiday hotspot for businesses and consumers all year round, and not just a cold-weather retreat.
Meanwhile, the Sanya government has also introduced policies to encourage businesses to establish themselves there. According to the Interim Measures to Promote Headquarters Economy in Sanya issued in June 2018, the government will grant a subsidy equivalent to 1-3% of the paid-in registered capital, up to a maximum of RMB20 million, for new corporate headquarters. Additional support is available in line with the enterprise's contribution to local revenue. According to the Implementation Opinions on Supporting the Internet-based Industry by Sanya Municipality (Revised Edition) issued in December 2018, the city provides an office rental subsidy of up to RMB1 million over a three-year period. For start-ups, a full interest discount for three years for loans under RMB5 million is granted, while guarantee companies putting up loan guarantees to these start-ups are granted 1.5% in risk subsidy.
Qionghai
Qionghai City's population of 530,500 and GDP of RMB29.2 billion account for 5.2% and 5.3% of the provincial total respectively11. Qionghai's appeal to Hong Kong and overseas companies lies not so much in its local market, but its vibrant convention and exhibition industry and special medical tourism policies. The town of Boao in Qionghai is the permanent venue of the annual Boao Forum for Asia since 2001 (it was cancelled in 2020 because of the pandemic but resumed in 2021). Thanks to the event, Qionghai hosted 212 conventions and exhibitions during the first nine months of 2021, up 63% year-on-year12.
Since its establishment in 2013, the Boao Lecheng International Medical Tourism Pilot Zone (the Pilot Zone) has received a lot of central government support in piloting special medical tourism policies (See also: Hainan Free Trade Zone (3): The Burgeoning Medical Tourism Sector). Since 2019, new policies related to medical tourism have been launched at an accelerated pace. An implementation plan issued by the National Development and Reform Commission (NDRC) in 2019 to support the establishment of the Pilot Zone, states that any patient attending a medical institution in the Pilot Zone is conditionally allowed to take a reasonable amount of imported drugs for their own use out of the Pilot Zone provided that the patient abides by commitments filed. This policy provides convenience to patients by helping them avoid interruption of medication after leaving the Pilot Zone.
In 2021, the NDRC and the Ministry of Commerce issued the Opinions on Special Measures for Relaxing Control over Market Access to Support the Construction of Hainan Free Trade Port. The Special Measures points out that, except for those specifically subject to special administration as stipulated in China's Drug Administration Law, prescription drugs sold in China can be sold online via Hainan's e-prescription centre, without separate approval. The Special Measures also allows medical cosmetology institutions in the Pilot Zone to use medical cosmetology products marketed in the United States, the European Union, Japan and other countries and regions. In addition to offering more medical solutions to patients on the mainland, these policies strengthen the role of the Pilot Zone in fostering medical innovation.
The pace of development of international medical tourism and high-end medical services in the Pilot Zone has accelerated. By June 2021, the Pilot Zone had already brought in some 151 licensed drugs and medical devices13, and had recorded 68,200 medical tourist admissions, which is equivalent to 81% of the total admission (of 83,900) for the whole of 202014. A public bonded drug warehouse has been set up in the Pilot Zone to reduce the time from import to distribution. During the first half of 2021, the value of imported licensed drugs and medical devices in the Boao Public Bonded Drug Warehouse reached RMB120 million, which is equivalent to 70% of the value (RMB171 million) for the whole of 202015.
To encourage the use of advanced drugs and medical devices, the Hainan provincial government launched the "Ever Lasting" International Innovative Medicine Equipment Exhibition in the Pilot Zone in April 2020. This is the only mainland venue that can exhibit drugs and medical devices not yet marketed on the mainland. It offers a platform for the long-term display of products and contacts for drug companies, medical institutions and investors. The exhibition has attracted more than 80 international drug and medical device manufacturers from 16 countries to showcase 810 innovative drugs and medical devices from around the world16.
According to the Regulations of the Boao Lecheng International Medical Tourism Pilot Zone in Hainan Free Trade Port, enterprises and individuals in the Pilot Zone enjoy preferential treatment for customs duties, enterprise income tax and individual income tax in accordance with the relevant tax regulations of the Hainan Free Trade Port. Practising medical practitioners (including those from outside the mainland) in the Pilot Zone can practise directly in other medical institutions in the Pilot Zone, while nurses can work in multiple locations inside the Pilot Zone. The project access list of the Pilot Zone is available on its website.
Conclusion
Hainan lies further away from the main markets on the mainland compared to other regions. In order to link up with other economically developed areas and become a new growth driver for the Chinese economy, Hainan will need to develop a diversity of industries and advanced infrastructure and take full advantage of the respective strengths of its cities. It is only by doing so that Hainan can offer distinctive choices for the market and attract enterprises to expand their operations there. The main cities in Hainan are making good use of the free trade port policies to nurture specialised industries based on their own strengths. Haikou strives to become the preferred location for regional headquarters, Sanya is strengthening its internet-based industries and financial industry, and Qionghai is stepping up the development of its convention and exhibition and medical tourism industries.
Hainan is fully supported by the central government in developing multiple industries as the country pursues a 'dual circulation' development model. This not only attracts the clustering of enterprises in Hainan to achieve unimpeded domestic circulation, but also offers businesses a new gateway to the global market. Hainan has been developing rapidly since becoming a free trade zone in 2018. In 2018-2020, more than 30,000 legal entities were registered while some 1,500 foreign direct investment projects were signed17. Hong Kong companies are advised to gain an in-depth understanding of Hainan's latest developments and seize the new opportunities available on the mainland and in global markets.
---
1 Source: Hainan Statistical Yearbook 2021
2 Source: Haikou Jiangdong New Area Administration
3 Source: Haikou Jiangdong New Area Administration
4 Source: Xinhua News Agency
5 Source: Hainan Provincial Bureau of International Economic Development
6 Source: Hainan Statistical Yearbook 2021
7 Source: Hainan Statistical Yearbook 2021
8 Source: Statistical Communiqué on the National Economic and Social Development of Hainan in 2020, Hainan Provincial Statistics Bureau, February 2021
9 Source: Statistical Communiqué on the National Economic and Social Development of Sanya in 2020, Sanya Municipal Statistics Bureau, February 2021
10 Source: Statistical Communiqué on the National Economic and Social Development of Sanya in 2020, Sanya Municipal Statistics Bureau, February 2021
11 Source: Hainan Statistical Yearbook 2021
12Source: Qionghai Municipal People's Government
13 Source: Hainan Daily
14 Source: Qionghai Municipal People's Government
15 Source: Hainan Boao Lecheng International Medical Tourism Pilot Zone
16 Source: Hainan Boao Lecheng International Medical Tourism Pilot Zone
17 Source: Hainan Statistical Yearbook 2018 and Hainan Statistical Yearbook 2021