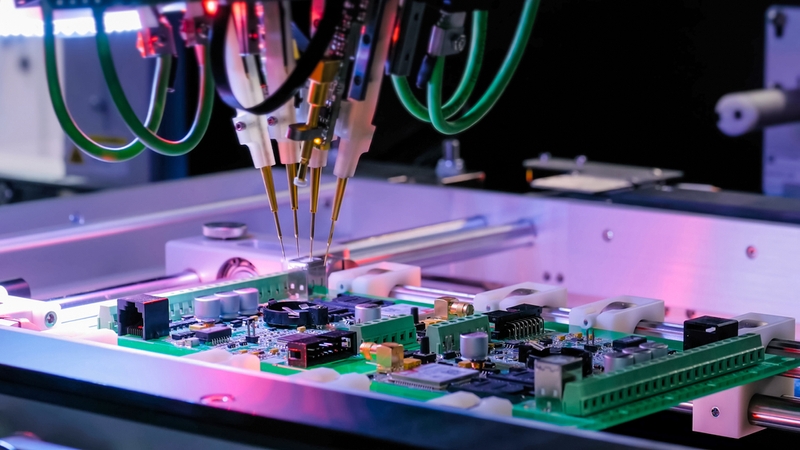 https://origin.hkmb.hktdc.com/en/OTU4MTk1MDgz
HKTDC Hong Kong Electronics and Lighting Fair Survey Autumn 2021: Industry Sentiment Positive despite Covid-19 Pandemic
Samantha Yim
The Covid-19 pandemic acted as a massive restraint on the electronics and lighting industry in 2020 as supply chains were disrupted. With the resurgence of global economic activity, merchandise trade has somewhat recovered and in the first half of 2021 it approached its pre-pandemic peak. Looking ahead, the World Trade Organisation (WTO) has forecast that merchandise trade will expand further in 2022, growing at a rate of 4.7%.
Against this backdrop, HKTDC conducted an on-site questionnaire survey at the Autumn Edition of the 2021 Hong Kong Electronics Fair and Lighting Fair. The aim was to discover what the views of the electronics and lighting industry are on its prospects, and what product trends are likely to prove significant over the coming year. A total of 454 industry players responded to the survey between 27 and 30 October. In general, industry confidence has been boosted despite the ongoing pandemic by the opportunities brought by e-tailing and recovering purchasing power. Nevertheless, the respondents remained concerned about market uncertainties ahead and rising operating costs.
Covid-19 hit hard
The Covid-19 pandemic struck the global economy hard, and as a result global trade experienced a sharp deterioration. Lockdowns in many countries led to less demand for merchandise, resulting in a sharp fall in trade performance. A majority of industry players in electronics and lighting (64% of those in the survey) reported a drop in sales, while 23% were negatively affected by rising logistics costs and 19% by increasing sourcing/production costs.
To cope with the negative impacts of the pandemic, 16% of respondents boosted their e-commerce expansion, and 14% developed new markets and 9% developed new product categories. On a positive note, 9% of respondents actually benefited from increased revenues during the pandemic. This can be partly attributed to the Covid-inspired acceleration of the digital transformation process, which saw a heavy investment in electronics and other digital-related products.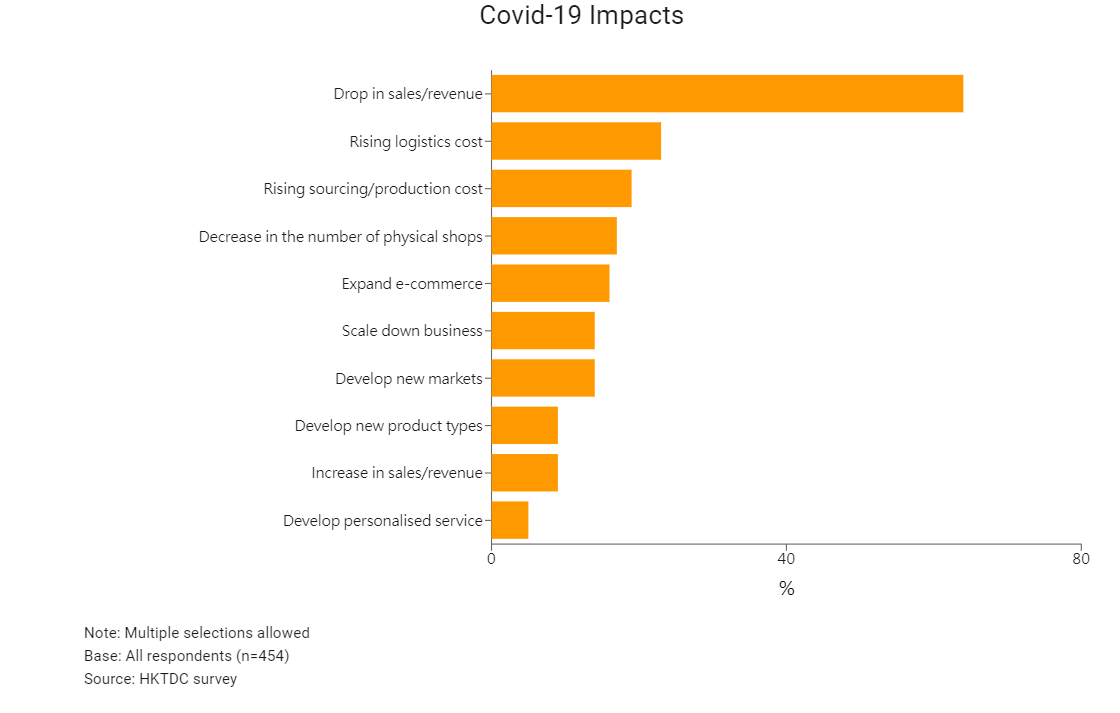 Optimistic outlook for 2022
With merchandise trade approaching its pre-pandemic peak in the first half of 2021, the electronics and lighting industries are optimistic about market growth in the coming year. 55% of respondents said they expect sales to grow in 2022 largely because of three key business trends - namely, the rise of e-tailing (37%), recovering purchasing power (36%) and increasing demand in emerging economies (34%).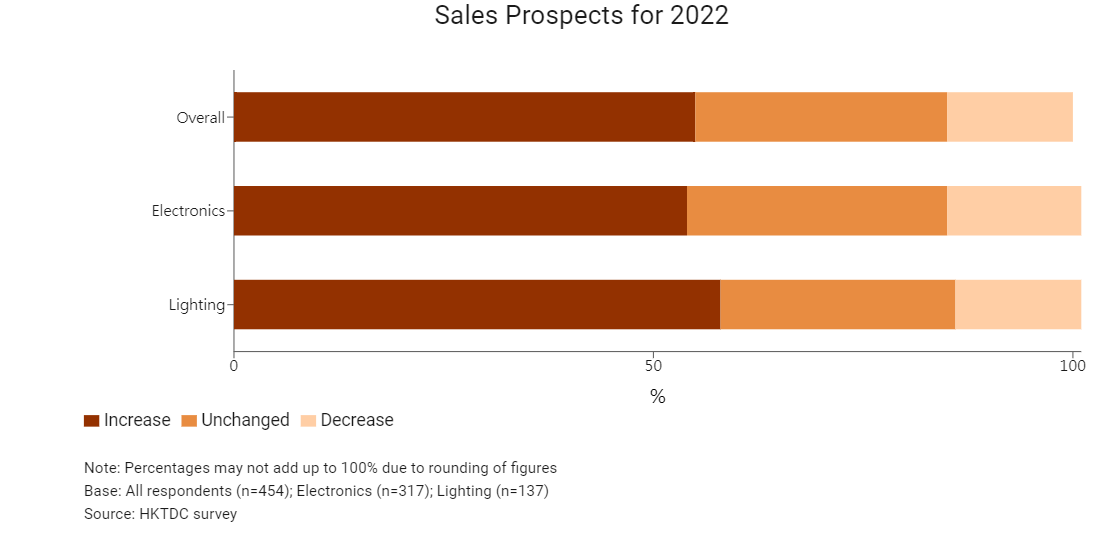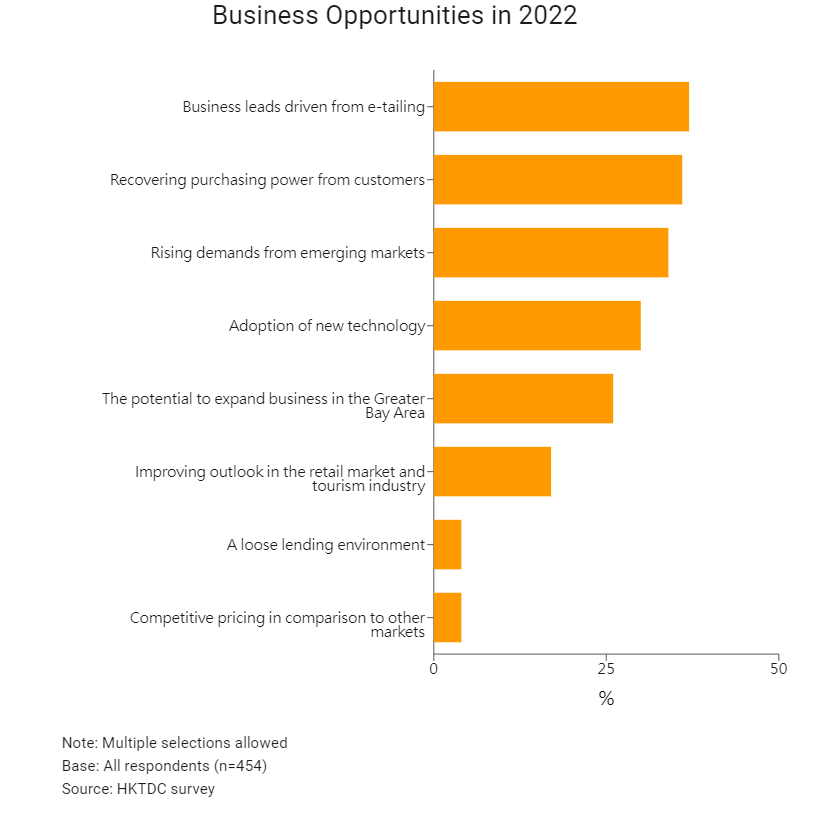 Caution about market uncertainties
Despite the overall positive sentiment, many industry players in the electronics and lighting industries are concerned about the possible negative impact of stuttering growth in the global economy. This was mentioned by 44% of those who responded to the survey. Some also cited problems such as rising operating costs (32%), changing political developments (29%) and Covid-triggered production/supply bottlenecks (28%).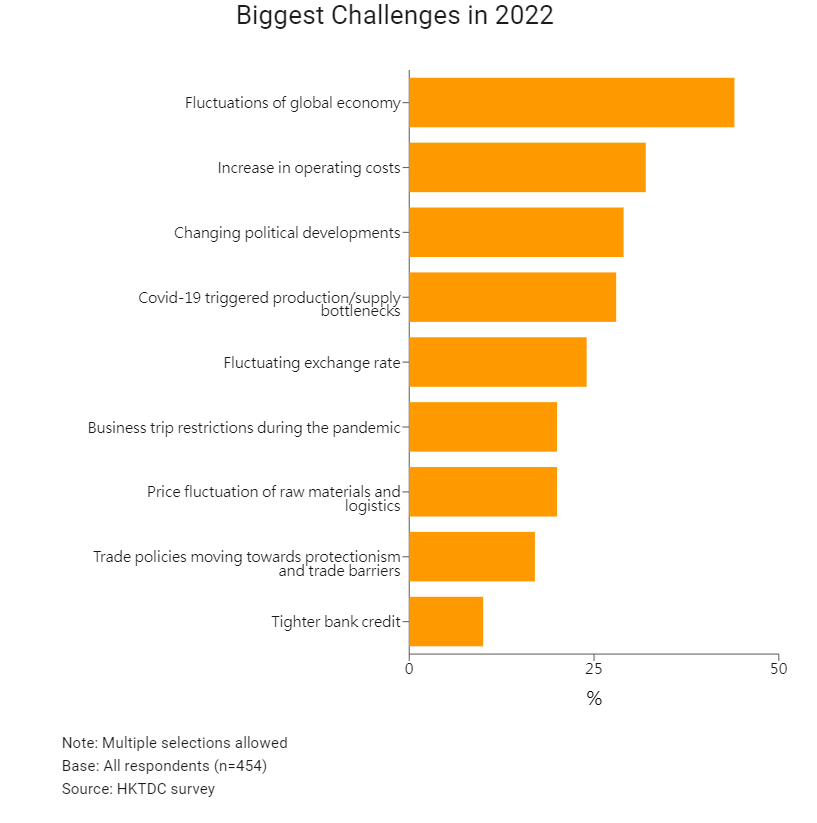 Promising prospects in Asian markets
When asked about the potential performance of different markets, respondents from the electronics industry said they view Asian markets with particular optimism. Rating markets on a scale of 1 to 5, where "1" denotes "very unpromising" and "5" a "very promising", India was rated as the market with the greatest potential for electronics exports over the next two years, scoring 3.86. Mainland China scored the next highest, with 3.81, followed by Taiwan on 3.74.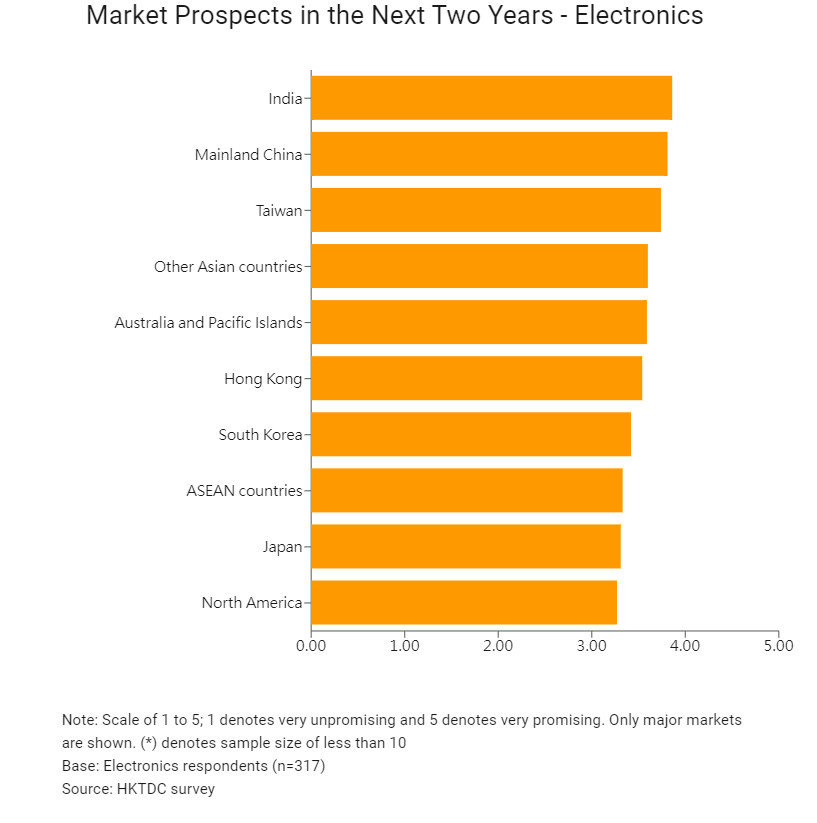 Respondents from the lighting industry are also optimistic about the prospects of Asian markets. South Korea's lighting market is seen as the most promising, achieving a rating of 3.86. Mainland China was rated the next most promising, on 3.74, followed by Japan (3.70), the Middle East (3.67) and Taiwan (3.67).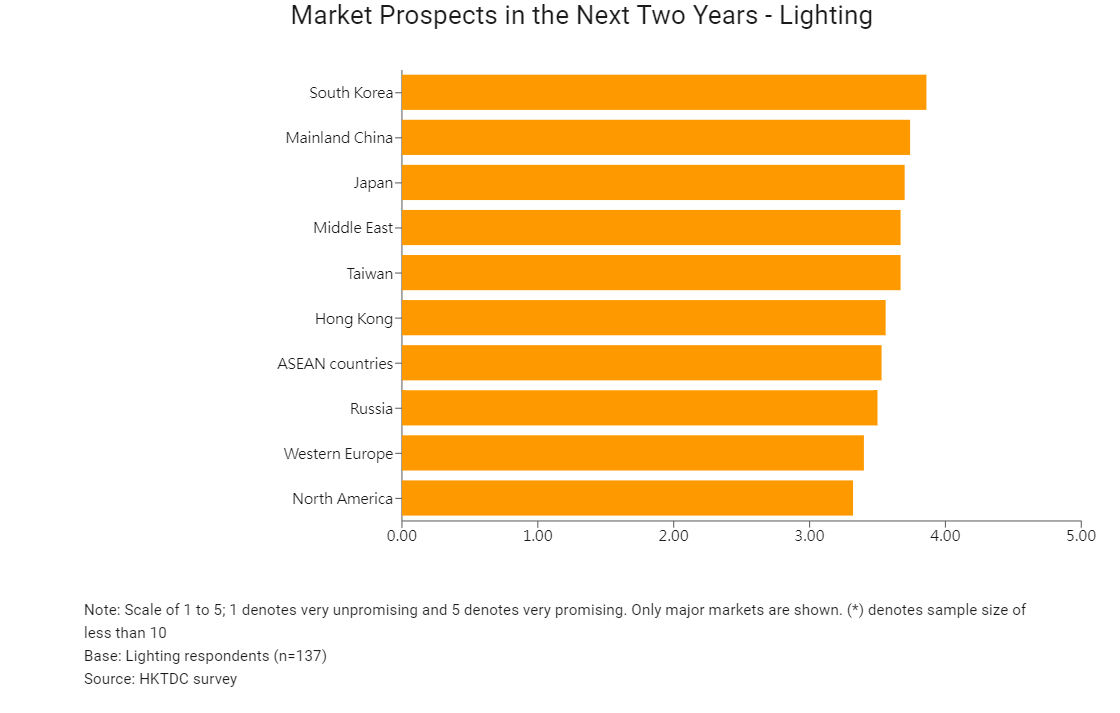 When it comes to product categories, electronic and electrical accessories was seen as the one with the most promising prospects in 2022, with 14% of respondents picking it out. This was followed by healthcare electronics (10%). Healthcare has seen the increasing adoption of IoT-based smart medical devices and an escalating demand for portable medical devices and wearable electronics driven by the Covid-19 pandemic. Other electronics products tipped to shine in 2022 include home appliances (9%) and audio visual products (8%).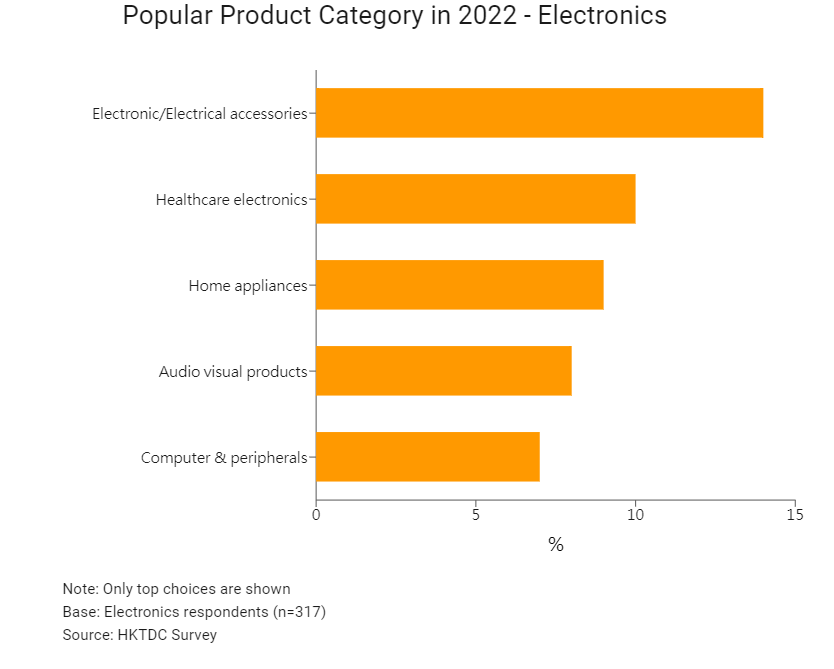 Regarding lighting products, nearly half of the respondents (46%) anticipated a growing demand for LED light in the coming year, with smart lighting & solutions (15%) and residential lighting (15%) also proving popular choices.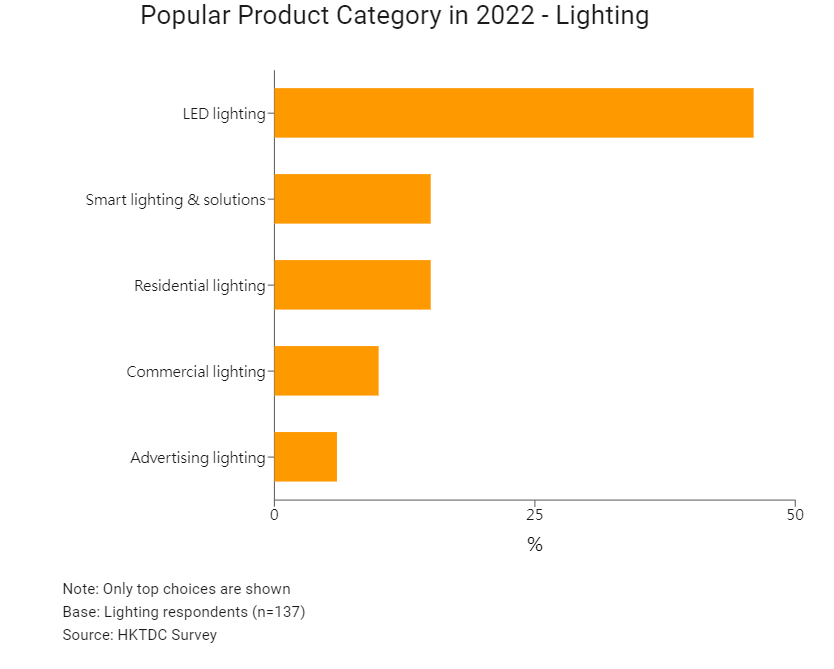 E-tailing on the rise
Close to half (47%) of the respondents said they had developed e-commerce channels. Among those who have already engaged in e-tailing business, 57% of respondents from the electronics sector said they expected the share of e-tailing sales to total sales to increase by between 11% and 30% in the next two years, while 5% forecast a growth of over 50%. Similarly, 44% of respondents in the lighting sector anticipated an increase of 11-30% in e-tailing's share of total sales in the next two years, while 9% forecasted a growth of over 50%.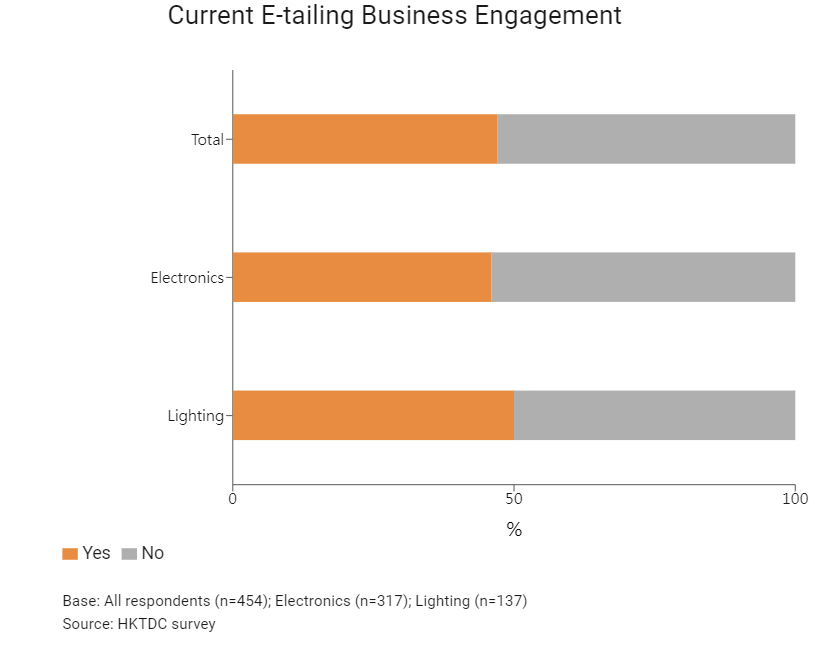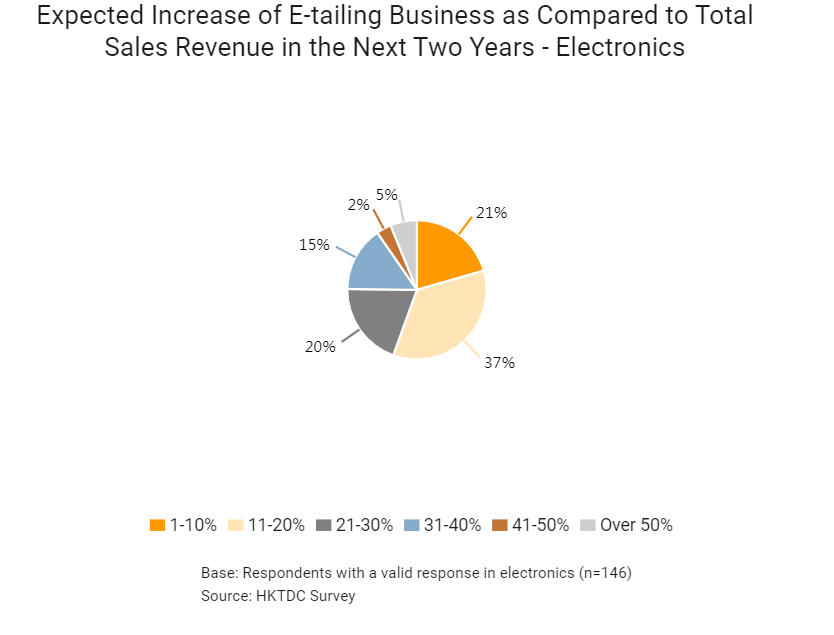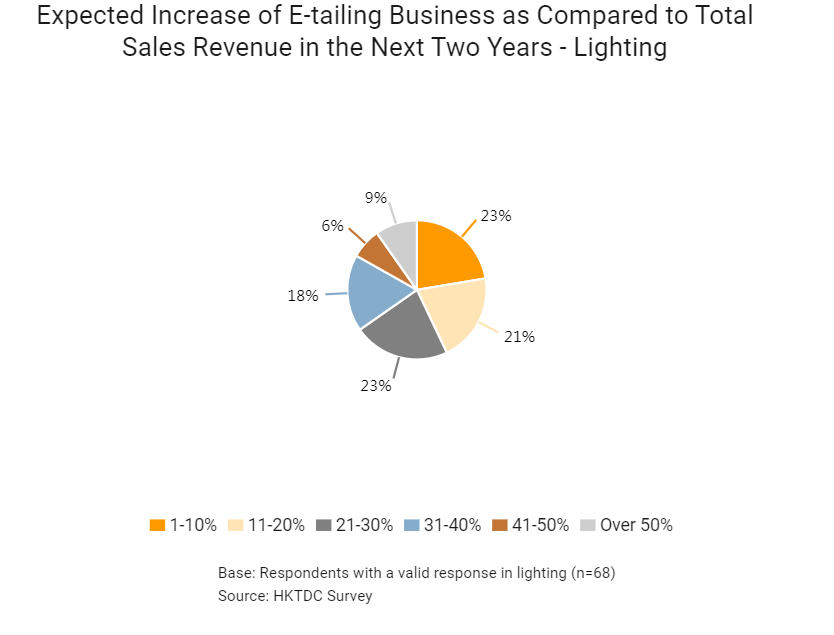 Profile of respondents
Electronics (317 respondents) – major markets in Hong Kong (49%), Asia excluding Hong Kong and mainland China (44%), mainland China (25%), Europe (21%) and North America (18%).
Lighting (137 respondents) – major markets in Hong Kong (52%), Asia excluding Hong Kong and mainland China (41%), mainland China (28%), North America (20%) and Europe (15%).
HKTDC Hong Kong Electronics Fair (Autumn Edition) 2021 and HKTDC Hong Kong International Lighting Fair (Autumn Edition) 2021 took place from 27-30 October 2021 at the Hong Kong Convention and Exhibition Centre. HKTDC Research canvassed opinions from 454 industry players in order to discover their views on the electronics and lighting industry's prospects and the product trends likely to prove significant over the coming year.
Electronics & Electrical Appliances
Lighting Products