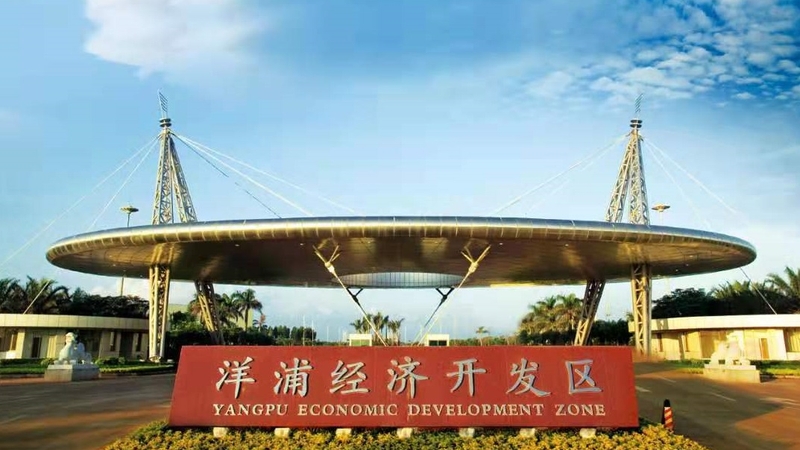 https://origin.hkmb.hktdc.com/en/OTg4NTgxNjky
The Hainan Free Trade Port (5): A Yangpu Logistics Firm's Take on the Business Environment
Interview with Linda Lee, Cross-Border SCM CEO, Guangdong Top Ideal SCM Technology Group Corporation
C H Poon
Yangpu on the northwestern coast of Hainan is a key industrial and logistics base for the island.1 The Overall Plan for the Construction of Hainan Free Trade Port released by the CPC Central Committee and the State Council in June 2020 states that the Yangpu Bonded Port Area will pilot an import and export management system described as "free flow through the first line, control at the second line". The specific implementation measures were unveiled in July 2021.2 This policy is attracting many businesses to Yangpu, including cross-border service providers such as Guangdong Top Ideal SCM Technology Group Corporation. Linda Lee, Top Ideal's Cross-Border SCM CEO, shares her views on the prospects of logistics services in Yangpu and the business environment of Hainan as a whole.
Founded in Guangzhou in 1997, Top Ideal specialises in comprehensive cross-border supply-chain management (SCM) services designed to meet the demand of branded businesses for integrated online-offline operations. The company positions its services as a "through train for overseas brands entering China" and a "one-stop portal for Chinese premium products going overseas". Top Ideal does not operate any cross-border e-commerce platforms but provides clients with services to support the clients to operate their online shops on e-commerce platforms. These include selecting goods suitable for online sales, online marketing, online store operation, and distribution and logistics services. The group signed an investment agreement with the Yangpu Economic Development Zone on a cross-border logistics-related project in June 2020 and completed the construction of a 12,000 sq m distribution centre in the Yangpu Bonded Port Area in August 2020. It conducted its first cross-border e-commerce retail import business in October of the same year.

Yangpu's business environment
Top Ideal was quick to respond to the development of the Hainan Free Trade Port. Explaining the pull factor for the group's move to Yangpu, Lee said: "Construction of the Hainan Free Trade Port is an important part of the country's development because Hainan's tourism and consumer goods markets play a crucial role in boosting domestic demand. This is particularly true during the current pandemic situation because consumers cannot go overseas for shopping. Cross-border e-commerce becomes the best channel for buying premium overseas consumer products. Duty-free shops in Hainan offer consumers the kind of experience they get when shopping overseas. Construction of the Hainan Free Trade Port gives the Top Ideal Group a great opportunity. The Yangpu Bonded Port Area has very limited space. We decided to invest in Yangpu as soon as we learned there was a chance to establish ourselves there."

Highlighting the local government's focus on the provision of services to businesses, she said: "The Yangpu government lends great support to businesses there. Local officials have a sense of service and are willing to help businesses settle in Yangpu. The government continues to help them solve any problems after they are established. The Yangpu Bonded Port Area carried out its first customs clearance testing for cross-border e-commerce retail imports in July 2021 and Top Ideal was chosen as the service provider for this exercise. The Yangpu government helped us integrate our systems with customs and co-ordinated on-site investigations and studies during the test. Top Ideal completed the delivery of its first cross-border e-commerce retail import order on 30 August 2021. The group has been able to unfold its e-commerce business without a hitch with the strong support of the Yangpu government."

Yangpu is currently growing rapidly with state-owned and private businesses developing side by side. Lee does not think state-owned and private enterprises are rivals. She pointed out: "We need to understand that state-owned and private businesses have their own parts to play in the development of Yangpu. State-owned enterprises are mainly concerned with infrastructure projects such as ports and petrochemical plants, whereas private businesses seek to provide professional services. State-owned and private enterprises are both doing their part to promote Yangpu's economic development."
GBA-focused business model
Top Ideal's business operation in Yangpu is closely connected with the development of the Greater Bay Area (GBA). Lee said: "As a service provider for cross-border business in Guangzhou, we have the Nansha Port as one of our core operating bases and many of our shipments to Yangpu transit via Nansha. The Yangpu and Nansha authorities have signed a strategic co-operation agreement to strengthen their port and shipping services.3 Actually, many of our goods are transited via Hong Kong too because its extensive network of international shipping routes enables us to quickly replenish stocks. Our distribution centre in Yangpu focuses on the storage and dispatch of consumer goods such as food, cosmetics, garments and footwear. We have few processing or value-added services in our distribution centre in Yangpu at the moment. We don't get involved in commodity trading either for reasons of market demand and distribution of resources. Hainan is mainly an end-user market for consumer products. Other activities are carried out in other bases of our group in order to achieve optimum results through allocation of resources."
Top Ideal is good at reaching out to overseas companies and expanding its business through channels such as the China International Consumer Products Expo. Lee pointed out: "At the First China International Consumer Products Expo held in Haikou in May 2021, we launched a 'Hainan Plan' to assist companies in gaining access to the Hainan market. Domestic and overseas companies encounter many difficulties when doing business in Hainan. For example, they may not know how customs declarations are done there. We provide them with one-stop services. Companies that store their goods in our warehouse in Hainan can save themselves a lot of trouble in their business ventures there as they can sell their merchandise through their offline duty-free channels and online e-commerce channels. Our 'Hainan Plan' has received a positive response. A number of multi-national food and baby product companies are now using our distribution centre at Yangpu so as to more quickly respond to the demands of Hainan consumers."
Future prospects
Elaborating on the company's plans to invest more in digital supply chain technology to provide clients with a better customer experience, Lee said: "Since the logistics industry has been undergoing the process of digitalisation, we think it is not sufficient for supply chain service companies to provide clients with hardware support alone. Software support is equally important. First, software makes the processing of customs documents and procedures more efficient. Given the speed with which China Customs is going digital, logistics enterprises who digitalise their business processes will be able to better connect to government systems and increase their efficiency. Next is visualisation. A lot of software for real-time cargo tracking is available these days. Visualisation platforms can give clients greater confidence. Then there is paperless operation. With full digitalisation, paper documents are no longer required for many procedures. This allows companies to conform to green logistics trends. Thus, we will continue to invest in digital supply chain technology."
Exuding optimism about the development of the Hainan Free Trade Port, Lee said: "We think the Hainan Free Trade Port will develop rapidly over the next 10 years. Independent customs operation is due to launch island-wide in 2025, but before then businesses will find opportunities through free trade port policy pilots such as the Yangpu Bonded Port Area. After 2025 the policy framework in Hainan will become more comprehensive and there will be even more opportunities. We should look at the development of the Hainan Free Trade Port from a long-term perspective. Opening to the outside world is the long-term direction for China's economic development. We have full confidence in the government's policy of promoting the high-level development of the Hainan Free Trade Port."
Takeaways for Hong Kong businesses
Hong Kong businesses may encounter difficulties in their Hainan ventures, and Top Ideal's experience should provide a useful reference for them. Hainan Free Trade Port is expected to introduce new reform measures from time to time, so understanding these policy updates is essential. The Hainan Free Trade Port attaches great importance to co-operation with overseas markets and other parts of the country in its development. Companies should use channels such as the China International Consumer Products Expo to seek out and connect with potential customers. A presence in Hainan can be part of a long-term strategy for expanding the domestic sales market. The Hainan Free Trade Port is a long-term development and there are many new policies for different sectors.4 Hong Kong companies are advised to actively explore the opportunities presented by these policies.
Hong Kong
Mainland China
Hong Kong