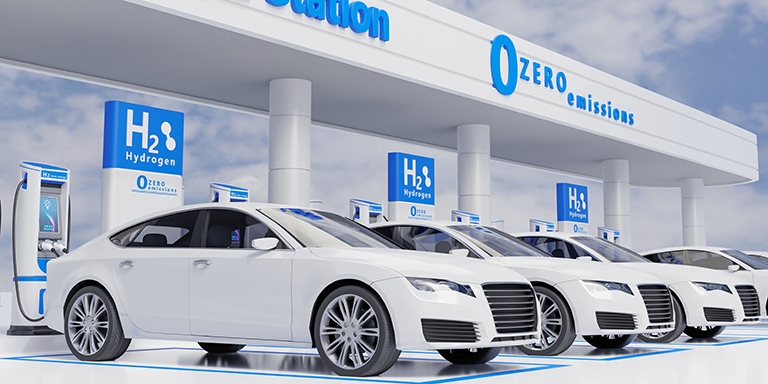 https://origin.hkmb.hktdc.com/en/ww3ZgHvQ
Powering the future
Storing cheap, abundant renewable energy is as simple as splitting water – the problem is the cost, an AFF panel on hydrogen use found.
"Whisky is liquid sunshine," playwright George Bernard Shaw famously quipped. Unfortunately, while sunshine is free of charge (unlike the best Irish spirit), it cannot be bottled and poured as needed.
The intermittency of solar and wind power is a key stumbling block to large-scale renewable energy adoption, and one solution often proposed is using renewable electricity to split water into hydrogen and oxygen. Hydrogen (like whisky) can be bottled, stored and transported. Then why has the much-discussed hydrogen-fuelled economy not appeared? A panel of key players in the industry addressed this question at a session during the online Asian Financial Forum (AFF) last month.
The key stumbling block for hydrogen is cost. Hydrogen produced by electrolytically splitting water using renewable power – green hydrogen – costs US$4 to $5 per kilogram. Used to generate power in a fuel cell (which combines hydrogen with oxygen, generating power and producing water), 1kg of hydrogen would deliver about 24 kilowatt hours in energy.




Tobias Chen, Asia-Pacific Head for Shell Hydrogen, said hydrogen was closest to viability as a fuel for heavy transport. "Many light duty vehicles run on batteries, but heavy vehicles cannot," he pointed out when fielding a question from session moderator Eugene Sullivan, Principal Investment Officer at the International Finance Corporation.
Issues with range and recharge time put hydrogen fuel cells ahead of batteries for big vehicles. At US$4 to $5 per kilogram the cost of ownership is close to parity for a heavy vehicle owner, he said. Industrial processes, shipping and aviation were also likely candidates for the use of hydrogen power.
Price declining
Mr Chen said the price of green hydrogen was dropping quickly. The Hydrogen Council estimated a price of just US$1.40 to $2.30 per kg by 2030 in areas with abundant renewables such as the Middle East and Australia, comparable with the present price of grey hydrogen, derived from coal.
Supplied to a fuel cell, 1kg of hydrogen produces about 25 kilowatt hours, delivering about the same power as 12 litres of petrol.
Mr Sullivan asked what the main barriers to hydrogen adoption were.
Mr Chen said there were many, with cost the foremost, but he predicted costs would fall through economies of scale. Another issue that needed attention was timing – large-scale hydrogen adoption required coordination with demand, supply and the supporting infrastructure all synchronised. This calls for cooperation by both the public and private sector.
Mr Chen said outdated regulations presented a hurdle in many developing countries. In several Asia-Pacific emerging markets, hydrogen is still labelled as hazardous, with production confined to chemical plants and pressure confined to 200 bars for transport, making it unsuitable for energy storage. The situation in north-western Europe and California was very different, he said, with authorities seeing hydrogen as an energy-storage medium, not a chemical product, while Mainland China was moving towards recognising hydrogen as an energy-storage medium.
Overcoming hurdles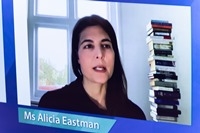 One way to avoid barriers is through geography – going to places with the fewest barriers. Alicia Eastman, President of InterContinental Energy, said the green hydrogen maker avoided regions with complex regulatory barriers as well as zones where hydrogen production facilities could have a negative environmental impact. InterContinental preferred empty coastal deserts, where they would incur minimal damage on animals and vegetation, she said.
In Australia the company partnered with traditional landowners to avoid unintended harm while in the Middle East InterContinental partnered with government entities such as Aramco in Saudi Arabia.
She saw the price falling to less than US$1.50 per kilogram by 2030 as economies of scale in large projects bore fruit. Ms Eastman pointed out that "blue" – natural gas derived – hydrogen prices were unpredictable as they were based on the price of the fuel. Conversely green hydrogen prices, based on renewable energy resources, were predictable once capital outlay is complete.
Developing countries in sunny regions such as the Middle East, North Africa and Chile had potential as hydrogen producers. Many developing countries in Asia were not particularly sunny or windy but had a potential role in the supply chain, producing equipment such as solar panels and electrolysers.
Planned switch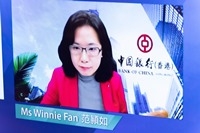 Winnie Fan, Managing Director of Sustainable Finance, Corporate Banking Deputy General Manager, Global Corporate Banking Department at the Bank of China (Hong Kong), said Mainland China made two million tons of hydrogen a year at present, mostly from coal. The 14th Five Year Plan, which went into effect last year, identifies hydrogen as a priority industry and targets renewable hydrogen accounting for 50% of the total by 2030.
Ms Fan pointed out that most markets and sectors were not optimised for hydrogen because it was difficult to transport and store. Green hydrogen was in the same position as renewable electricity had been 10 to 15 years ago – government support and falling costs had since made green electricity self-sufficient.
One deterrent for hydrogen investment was uncertainty over revenue – would the market be big enough? A solution could be to tie in customers to long-term contracts.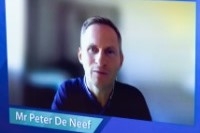 Peter de Neef, Vice President, Hydrogen Asia Pacific at BP, said hydrogen adoption was important for achieving a low-carbon future because it served as a buffer, storing energy from intermittent solar and wind energy sources. He said he expected hydrogen to eventually account for 50% of energy use, with the level reaching 10% as soon as 2030 in core markets such as the United Kingdom and the Netherlands.
Related link
AFF